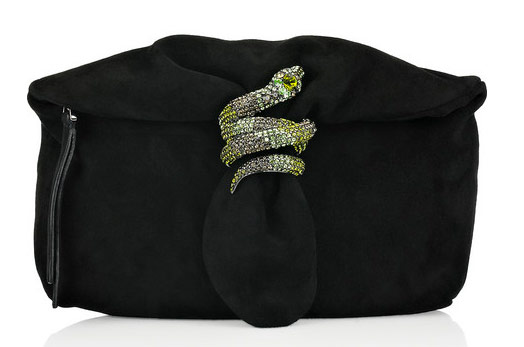 If you spend as much time on the Internet as we do (for your sanity's sake, we hope you don't), you've surely heard that a poisonous cobra has escaped from the Bronx Zoo and is now amusing and terrifying much of New York City. No one has any idea where the snake has crept off to, but now has its own hilarious Twitter account and has taken the place of Charlie Sheen as the Internet meme du jour. The Bronx Zoo cobra is doing all the winning now, Mr. Sheen.
There's only one proper way to celebrate this slithering little wastrel, and no, it's not with a snakeskin handbag. That would probably just upset him, and if you were to come across a poisonous cobra, the last thing you would want to do is hurt his feelings. (Or worse, make him think that you want to catch him and make him into a tasteful evening bag.) No, ladies, you need to immortalize the Bronx Zoo cobra in gemstones with the help of the Jimmy Choo Candice Snake Suede Clutch. I think there's a "snake charming" pun in here somewhere. (more…)
We'll be doing the requisite rundown of all of Fall 2011's accessories trends over the next few weeks, but when I saw the Jimmy Choo Saba Python Hobo Bag, I just couldn't help myself. Mixing textures and python are both very important for this year's looks, and this bag combines both of them in a very wearable, functional tote.
I've felt more positive about Jimmy Choo's designs for Spring 2011 than I have about the company's handbags in what seems like quite a while, and this bag in particular is an example of what Choo tends to do right. It has a note of bohemia without being outright hippie-dippy, and the metallic finish on the python adds an extremely luxurious touch. The deep suede trim provides just enough contrast to keep the gunmetal python from looking over-the-top. Balance: It's a beautiful thing. (more…)
I'm hard on Jimmy Choo, but only because the company has such rich promise and resources that I tend to hold it to a higher standard than I would a smaller label with more limited ability to hire design firepower. To whom much is given, much is expected, and I expect greatness from Tamara Mellon and her design team. Occasionally, I get it.
The Jimmy Choo Phebe Woven Leather Tote might not seem like an innovative design achievement, and that's because it's not. What it is, though, is perhaps as close to an ideal high-end summer bag as you can get. And maybe that's just as good, if not better. (more…)
For people with very expensive shoe collections or those who treasure their favorite shoes dearly, I'm sure that travelling with footwear is a consistent and irritating problem. Shoes don't lend themselves to packing, particularly in the day and age when no one wants to check her bags for fear that they'll be lost, stolen or some combination thereof. Not to mention the moronic baggage fees, but if you've got the five-figure shoe collection to tote around the world, I'll go ahead and assume that you're not hurting for the $25 each way.
In a sense, then, I suppose that the Jimmy Choo Tone Leather Shoe Case would solve some people's problems, but for me, it just creates a lot of confusion and questions. First and foremost, why does it cost over two grand? Some luxury brands don't even charge that much for an actual suitcase that will hold both clothes and shoes. (more…)
While so many expect and embrace bright colored hues for Spring, sometimes a subdued neutral is precisely what we need. I adore the look of neutral accessories paired with crisp whites or colorful spring prints. Jimmy Choo sometimes delights us and sometimes lets us down in the handbag department, but this Jimmy Choo bag is nothing short of gorgeous.
I have previously covered the Sky Hobo which was met with positive reviews. But now I found a version I love even more, the Jimmy Choo Sky Snake-Trim Leather Hobo. (more…)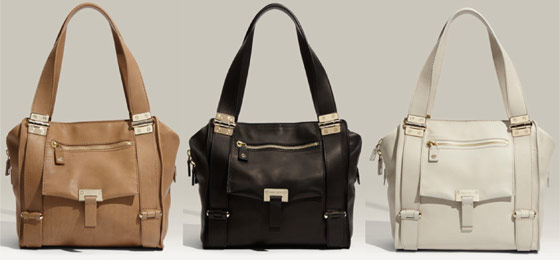 For the past couple of seasons, it has seemed as though Jimmy Choo has been a brand adrift. Caught somewhere between trying to appease its longtime customers and attempting to reach a new, younger audience with bags covered in patterns and studs and trims of various sorts, I've struggled at times to find something I like from Choo, a brand that has the resources and talent to be constantly churning out hits.
In that context, the Jimmy Choo Parker Shopper makes me feel strangely optimistic. This bag isn't a continuation of a previously successful line (as so many of Choo's simpler bags tend to be) and it's not an unedited mishmash of visual elements intended to be "edgy." Instead, it's just functional and expensive-looking, which shouldn't seem like such a massive revelation but sort of does anyway. (more…)
I fell in love with the easy and simple Jimmy Choo Zulu Clutch a while back. The pouch shape is nothing to write home about, but it is something that grabbed my attention. I realized that I spent so much time straying from buying a pouch bag that I didn't own one. But I wanted one. So I bought a black version of this Jimmy Choo clutch and have constantly received compliments on it. Sometimes simplicity is truly the answer.
Just in, the Jimmy Choo Perforated Zulu Clutch is the same bag in three color options with a perforated leather finish. (more…)
I practically am having to drag myself away from the 80+ moving boxes to look at my computer. Oh, hello PurseBlog, I have missed you. And you know what else I have missed? Checking out every new bag hitting the online world. You would think after over five years of writing about bags I would be sick of it, but that is not the case.
There wasn't much new showing up on my favorite website haunts (obviously aside from the fabulous bags going down the runway at Milan Fashion Week right now). But I did find a little gem from Jimmy Choo. And I am liking what I am seeing. The Jimmy Choo Alina is quite simple but somehow drawing me in. (more…)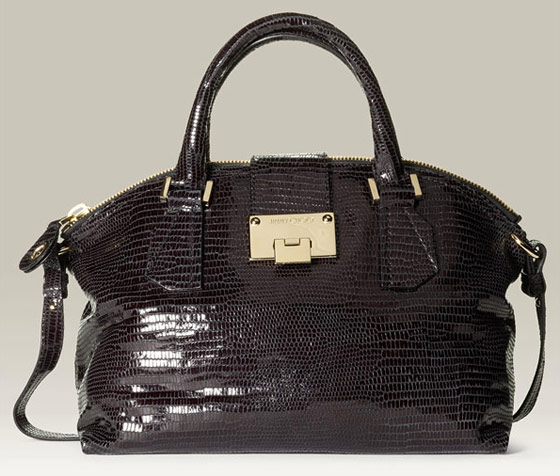 Things from Jimmy Choo have been a bit "blah" lately. They've continued to make a lot of popular styles from previous seasons in new materials and finishes, which should make the brand's devotees happy, but I always prefer to see something new alongside old favorites.
The Jimmy Choo Rosa Satchel maybe not seem all that striking or innovative to the casual observer, but for Choo, it's something a bit different. Many of the brand's bags have been a bit over-designed in recent seasons, and with that in mind, the restraint and editing that went into this design are admirable, not to mention very attractive. (more…)
It's always a bit disappointing to be able to look at a bag and know immediately how it could have been better. I can understand that after a certain point, design teams are unable to be objective about their products and less-than-perfect bags get made by every brand, ever season, but I still get a little frustrated when I see one.
The Jimmy Choo Nica Tote would be a part of that group. I like nearly everything about it – the rough, tough finish of the leather, the chaotic tangle of chains that forms the handle attachments, the slightly unfinished feel of the design. All that stuff is great, but the proportion is totally throwing me off – if only the body of the bag had been a bit bigger and a bit wider, I would absolutely love this tote. (more…)
There are times when I think I've missed my calling as a stylist. Ya, ok, maybe not. But, I have to say, as much time as I spend looking at and loving handbags, I spend almost as much time imagining which friend or celeb would be best suited for a particular bag.
But today, when I came across this beyond fabulous Jimmy Choo clutch I thought of so many different people who would look beyond fabulous with this clutch in their hand. In fact, I can see some of my friends who tend to go for an edgy look carry this as often as my friends who are a bit more feminine. I love when a bag can do that! (more…)