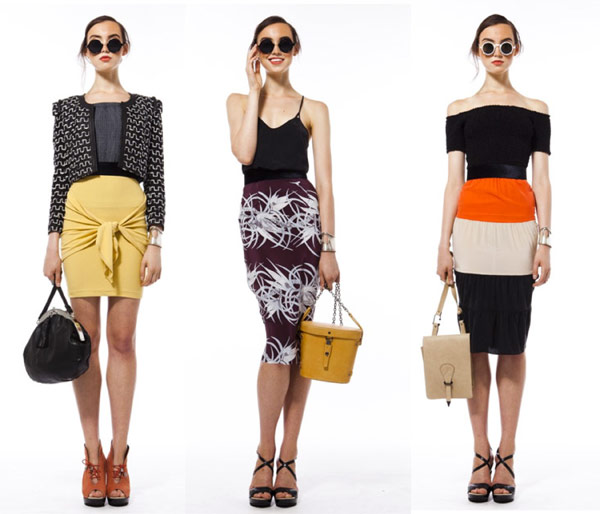 Images via WWD
If you've done any shopping in the contemporary department of your local high-end department store in the past few years, then you're probably well familiar with the slightly retro, very It Girl look of Vena Cava. The brand works brilliantly with off-kilter prints and vintage inspiration to create memorable clothes at a somewhat attainable price point, and according to Women's Wear Daily, we'll also be seeing handbags from the insider-favorite line in the near future.
During the designer's presentation dinner a few days ago, the duo behind Vena Cava gave editors and buyers a little thrill by including bags, which they called "purposefully nondescript," on the arms of their model-muses. There aren't any detail shots just yet, but almost all of the lookbook outfits include bags, and it seems as though Vena Cava has the basis for a bright handbag future that will make the brand's devotees very happy. The line will be priced from $275 to $550, and we have more photos after the jump. (more…)
L'Wren Scott Lulu Python Satchel, $4307 via Matches
Admittedly, it's two bags for the price of one still-quite-expensive handbag, but just look at 'em! It's kind of hard to find fault with structured dark grey snakeskin, in my very humble (ok, not-so-humble) opinion. The L'Wren Scott Large Lulu Python Tote echoes the design of L'Wren's famous dresses – strong, modern and tailored to great effect. (more…)
Growing up, I had my lunch made for me every morning by my mom. In a brown paper bag, she meticulously packed healthy foods that no one wanted to trade for at lunch (thanks mom, you were ahead of the curve!). My childhood was filled with brown paper bags, and for this reason the Marie Turnor Picnic Bag called out to me from the first time I stumbled upon it.
You can't tell me there is not a tinge of nostalgia you feel when you see this bag. Whether you had an awesome hard case lunchbox or bought lunch everyday, the brown paper bag was part of all of our lives in someway or another. Marie Turnor uses this design to give us a pouch-like bag that can easily work as a clutch or be placed inside of a larger bag to hold some essentials. (more…)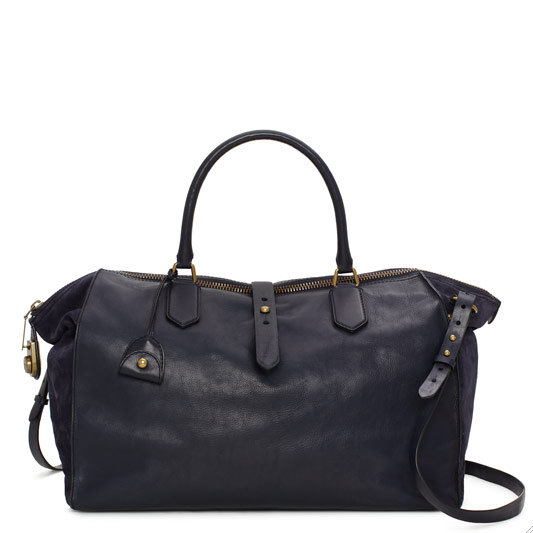 Well that was quick! We told you just last night about the newly announced capsule bag line that Current/Elliott founders Emily Current and Meritt Elliott would be doing for Kate Spade, and now we have images of all seven bags for you to peruse. As expected, the designs of Westward by Emily and Meritt for Kate Spade New York marry the competing East Coast and West Coast aesthetic of the two brands, and hopefully this time, no one will get shot. (RIP to Biggie and Pac.) (more…)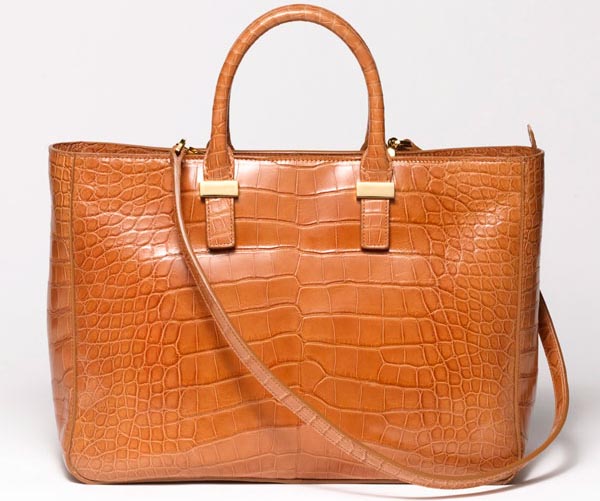 Photo via Marie Claire
The Row has two interesting and and seemingly incongruous distinctions: It's a clothing line owned by former child stars Mary-Kate and Ashley Olsen and it's one of the most expensive ready-to-wear lines in the entire industry. By all accounts, the prices of The Row's garments come as a result of the Olsens' desire to make clothing in as exacting and precise a way as possible instead of just having Another Celebrity Clothing Line, and even if the prices are out of your budget, their desire for quality instead of another quick buck is to be commended.
With the sisters' bag choices being a topic of discussion in the fashion world for some time, it was only a matter of time until The Row launched a line of bags, as it has for Fall 2011. And wow, are these things expensive. The price points for the regular leather day bags and smaller lizard and ostrich bags are in the $5000 range, but I've been unable to find firm prices for the alligator pieces. To me, that means, "If you have to ask, you can't afford it." And, well, that's probably true. The bags will be available exclusively through Barneys and Barneys.com. As many photos of the collection as I could find, after the jump. (more…)
If there's one thing on which we can all agree around here, it's that fake bags are the opposite of awesome. Both eBay and the Council of Fashion Designers of America are on board that ship as well, and they've gotten together to start the "You Can't Fake Fashion" tote bag campaign, which launches at 11 a.m. today on the eBay Fashion Vault.
To mark the launch of the $35 anti-fake tote bags, whose proceeds benefit the CFDA Foundation, eBay and the CFDA asked 50 American brands and designers to customize one-of-a-kind totes that will retail for $150 each. From a minimal, modernist version by The Row to appliqued black lace from Jason Wu to illustrations by Rodarte, the designers came through. Some of the designs are better than others, of course, but we've got pictures of all of them after the jump. Which one is your favorite? If you'd like to purchase one of the regular or customized totes to support eBay's and the CFDA's fight against fakes, visit the eBay Fashion Vault at 11 a.m. today. (more…)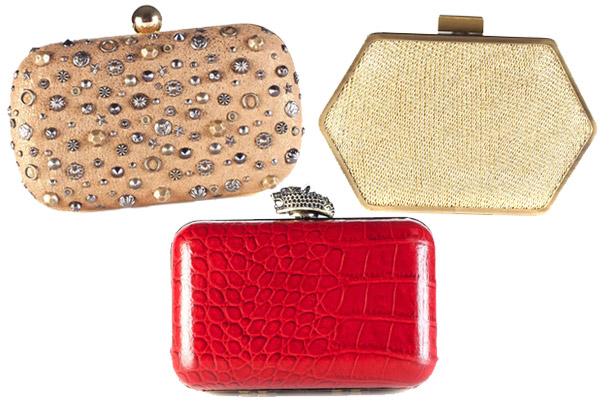 I know it's old news that Nicole Richie has transformed herself from Paris Hilton's snotty reality TV sidekick to a respectable mom with a very chic contemporary clothing line, but every time I hear something about House of Harlow, I can't help but reflect on how far Richie has come. And now that House of Harlow has announced that it will expand into handbags for Fall 2011, I'll probably be having those thoughts a lot more.
Women's Wear Daily reports that the 14-piece collection will run the gamut of bag sizes from clutches (some seen above) to hobos, with prices ranging for $150 to $625. It's surprising that it took the label this long to move into bags; Richie is known for her accessories, after all. Based on the clutches above, do you think you'll be moved to buy a House of Harlow bag? They'll be available through Neiman Marcus, Bergdorf Goodman, Nordstrom and ShopBop.com.
Image via Refinery 29.

Usually when a Bravolebrity starts a handbag or clothing line of some sort, everyone rolls their eyes and frets about the state of the creative arts. But superstylist Rachel Zoe isn't your average reality TV star; whether you like her personal aesthetic or not, you have to admit that she's beyond brilliant at what she does. So when rumblings were first heard six months ago that Zoe would be releasing her own line of clothing, shoes and accessories, most people reserved judgment until the line had actually surfaced. The verdict? Not bad, Ms. Zoe. Not bad at all. Not revolutionary, but very serviceable.
Now that the pre-orders for the line are available exclusively through NeimanMarcus.com, we can finally get a close look at the bags and handle on the type of prices Zoe hopes to command. As it turns out, the bags are neutral and functional, and the prices fit right in to the contemporary market. We have purchase information and bigger pictures of our favorites after the jump, or you can shop the entire collection via Neiman Marcus. (more…)
I have to be completely honest: I've never been much of a bag hook girl. I completely understand the idea behind them and know that some people live for using their bag hooks, but not me. When I was first contacted by Mon Mode, I glanced over the email and gave the image a quick glance. What first caught my eye is the design of the Mon Mode Fashion Purse Hook, sleek and entirely fashion-forward with options of exotic skin and jewel like finishes. So I decided to try the hook out myself. (more…)
Waiting really does suck. If you are a True Blood fanatic like we are, then you have also been suffering from True Blood withdrawal. HBO realized the fashion world had an uncanny obsession with the vampire, werewolf, and fairy world so the company teamed up with Hammitt Los Angeles to create a line of bags geared toward the show and its fans.
Vlad and I attended the launch event for the line at the end of March and were ultimately delighted with many of the bags being offered and the overall theme of the gathering. They served red velvet cupcakes, which were washed down with "Tru Blood," a fizzy, blood orange drink, and the tables were set with Black Magic roses. As we walked around the room and sipped on blood and dined on treats, we were able to view the bag collection. (more…)
Fashion power designer Nicole Miller has already dressed some of the most beautiful and stylish women on the face of the planet, and now she has her sights set on the handbag world. Typically when a designer first enters a new realm, there are a few seasons of trial and error before the designs start to flow. But the opposite can be said for Miller, who started with a innovative concept in her Bicycle Chain Bag and doesn't show any signs of slowing down.
Nicole Miller's Fall 2011 collection mixes edgy downtown style with an affordable price tag, which is a powerful combination indeed. The overall theme revolves around bike chains and other bike accessories. While that may sound chintzy, any trepidation disappears once you see how the designs have been realized. Rugged and biker-chic come to mind when we previewed the fall collection, and I can't wait to see how Miller expands on these ideas for future designs. Click for more images!