With the recent Fab or Drab activity, it is time we make our Fab or Drab category a more active part of PurseBlog.
Today's installment comes from an eclectic (and sold out) evening bag. The Celestina Espasol Filigree Clutch has every aspect of an ornate evening piece that may meet your fancy. The box shaped clutch is silver-plated and shows off cutout filigree design. The design is in the detail of this bag, so don't just glance over it. The clutch needs a better look. (more…)
I've made no secret that I'm a huge and adoring fan of almost every clutch that Celestina has ever made. The materials used are those that are rarely found in such abundance in other clutches, and they're used to amazing effect. The level of intricacy is unbelievably high on everything that they make, and they leave no detail unattended. But that doesn't mean that their clutches are overdone – they're usually sleek and modern-looking, despite their incredible uniqueness.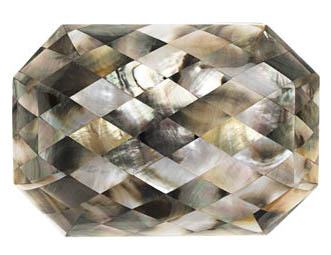 Which brings us to the Celestina Roseanne Blacklip Clutch. I can't imagine that anyone could look at this and have a negative reaction – it's sleek and simple, covered in diamond-cut tiles of blacklip mother of pearl. The colors are earthy and warm, but deep enough to function as a cold-weather event option despite the material. It reflects a great deal of light and would likely change colors fantastically in different settings. If you were to take it to an event, you'd easily stand out in a sea of boring black evening bags. Buy through Barneys for $1290.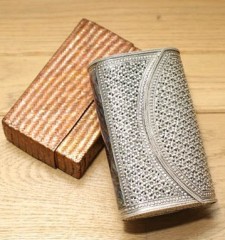 Not a lot of news to report on this subject, but I thought you ladies might enjoy seeing a picture of what's to come from my personal favorite clutch designer – the Celestina Cruise 2010 Collection.
One of Celestina's strong suits is making clutches out of unexpected, non-traditional materials. Most handbag designers limit themselves to animal skins and maybe some straw or canvas, but beyond that, there's little creativity. Well, not these folks. They specialize in using materials like wood, shell, and metals to craft incredibly inventive, stylish little bags for every occasion that you could imagine.
Here we have two excellent examples – first, their famous woven box clutch in what appears in be a new bronze iteration (they've done sterling silver in the past). The clutch is simultaneously subtle and complicated, a combination that is incredibly hard to achieve. The second clutch appears to be a completely new design, probably made out of sterling silver, which appears to have beautiful, glowing mother of pearl on the bottom. These clutches are typical of the Celestina aesthetic and I can't wait to see what else they have in store in future collections.
Fusing the organic with the fabulous, designer and former model Tina Maristela-Ocampo developed the brand, Celestina. A gorgeous collection inspired by the natural beauty, the Celestina collection is comprised of materials found in Maristela-Ocampo's native home in the Philippines.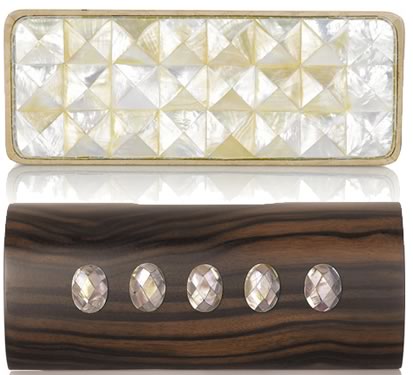 Using native materials including abalone shell and shagreen (stingray) Celestina's designs are created by local artisans. Celestina's collection of jewelry and clutches take on a dramatic architectural feel softened by natural materials. We are especially drawn to the mother-of-pearl wooden "Pina" oakwood clutch and tagnipis stud embellished Ebony "Macassar" clutch shown here.
What is going on here? The first image I came across was a straight on view of this handbag and at first glance, it looked kind of like a pillow. I couldn't figure out where to open the clutch, how it would store my essentials or how it would feel. When you think of leather or satin you can pretty much imagine what the texture of the bag would feel like. But, what does woven sterling silver feel like?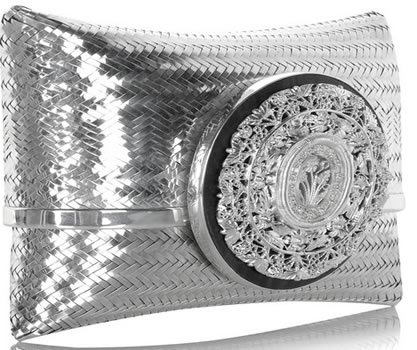 The Celestina Woven Silver Filigree Clutch uses a very eclectic combination of material. Who would have ever thought that sterling silver, kamagong (wood from a fruit tree which boasts very dense wood), filigree (wire work) and embossed wood would be used in one bag. Personally, I think the bag is a little over-the-top, but then again, I am sure there are plenty of you out there who would absolutely rock this clutch! Buy through Net-a-Porter for $1695.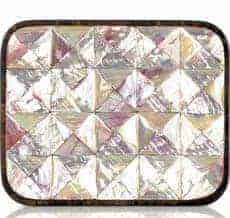 Suffice it to say that I look at a lot of handbags. It's kind of my job, and I'm lucky that way. And even with the enormous number of bags that I see, the Celestina Abalone Box Clutch has to be the best summer clutch I've seen in a while, and maybe ever. The exterior sides are encrusted with triangle-shaped pieces of abalone shell with a frame made of ebony and macasar wood, giving this little a bag a natural, beachy, organic feel that few bags have. Because of the multicolored, slightly shiny exterior, the bag could go with almost any summer outfit you could imagine, and the shell would pick up the colors of your clothes and look a bit different every time you wore it. It's small, so I don't know if it would hold everything I carry, but I'd may some cuts if it meant taking this little beauty along to have a beer on the beach. Are you sitting there reading this thinking "hey, I've seen this clutch already"? That is probably because you have!
Click here to read the earlier review. And buy this clutch through Net-a-Porter for $770.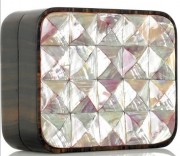 Although the holidays seem like so long ago, I continue my search for fabulous handbags I'd love to add to my wish list. After all, whoever said your wish list only applies during the holidays? As I am sure you know (because I say it all the time), I am a pretty practical girl. I like functional and fashionable handbags. But, from time to time, I do find myself interested in something that might seem a little more out there for my taste. The Celestina Abalone Box Clutch is unique, elegant and eye catching. The red abalone faceted box clutch boasts features you see often. Crafted from natural resources, the abalone shell makes this clutch one that is surely to be the topic of conversation while carrying it. Sure, there isn't a lot of room for all sorts of things you might typically carry with you, but there is enough space for the bare essentials. And honestly, I just think this would be a fun accessory to carry around. Buy through Net-a-Porter for $770.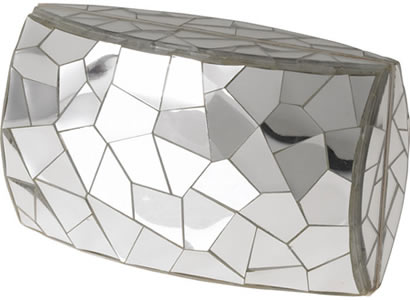 Celestina Cracked Mirror Clutch
I'm not much of a tiny-little-clutch fan. I mean, I've got a big key ring. It doesn't always fit. Add my cell phone, and the thing surely won't close. I'm particularly not a fan of the shiny-tiny-little-clutches. Judith Leiber? No thanks. In a pop culture that now bedazzles cell phones, her schtick it getting a bit old. I usually skip over the evening bag section of any online store, but maybe I should rethink that habit. The structure of Vivre's site kind of forces you to look at everything – their collection is so well-edited and so stylish that they don't really need a way to weed out the riffraff, since there's so little of it. While idly browsing handbags today, I came across the Celestina Cracked Mirror Clutch. Instead of thousands of tiny little crystals, the small hand-held bag is fashioned out of imperfect shards of glass reminiscent of a broken mirror. The effect is mosaic-like and very unique – correct me if I'm overlooking something, but I've never seen anything quite like it before. The verdict? I absolutely love it. The effect is sophisticated without being over girly and unique without being super flashy. This is a modern girl's fancy clutch, and I only wish I had someplace classy enough to carry it. Buy through Vivre for $1,130.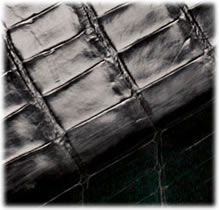 Timeless and beautiful, the Celestina Crocodile Clutch shows off stunning black crocodile in a structured envelope clutch. The bone edges make the black crocodile stand out further and offer dimension to the clutch. Take it out to dinner or to a white-tie affair, either way this clutch is sure to be a hit. Measurements are perfect to fit in your hand; 7 x 3½ x 2½". This clutch is far too beautiful to be used during the day, but dazzle the masses at night with a sleek number like this.
Buy via Vivre for $1,750.
View clutch in full below!
(more…)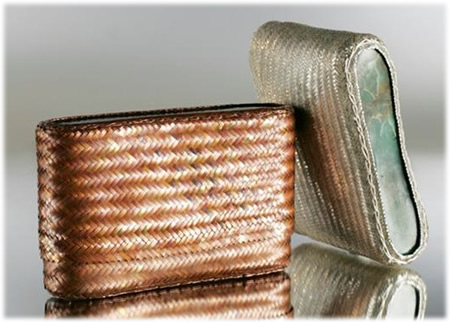 Going along with the theme that I am so behind schedule from my crazy hectic life, here is a nearly archaic picture when it comes to celebrity timing. At the oh-so-ancient People's Choice Awards, Halle Berry decided gold would make her golden (it did, she won!) and dressed in a bronze Gucci metallic dress. What we always focus on around here is the hand candy! Halle Berry's Celestina Moonlight Loop Clutch was the perfect finishing touch for the special night. Celestina accessories are eclectic, very detailed, and nothing short of fantastic. The clutch is available via Barneys New York for $530.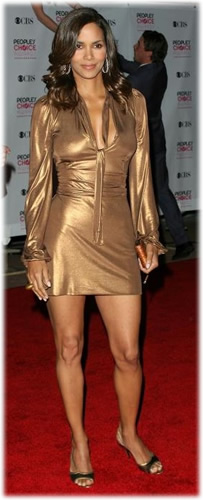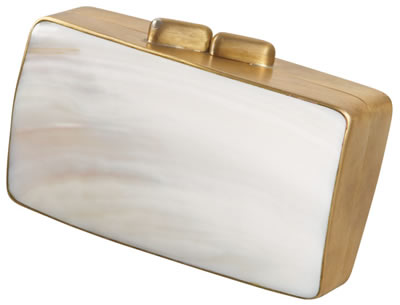 Over the weekend Vlad and I attended a wedding of a good friend of ours. As the toasts got a bit long, I found myself staring at the women's bags around me. I know that is probably the last thing I should be thinking of, but let's face it, I am just that shallow. So I browsed the room and peeked my head over shoulders admiring some bags and gagging at others. But a beautiful diamond in the rough caught my eye. A woman in her mid 40's was dressed to the 9's, wearing killer heels and a gorgeous clutch. The clutch looked to be made of mother-of-pearl, very similar to the Celestina Mother of Pearl Clutch. This clutch emanates beauty and refinement with its smooth mother-of-pearl exterior with an oversized brass bracket. Celestina minaudiere bags can be describes as being "meticulously designed by Ms. Tina Maristela-Ocampo, Manila's fashion icon, entrepreneur and designer, and painstakingly created by hand by the country's finest craftsmen using age-old techniques and unique materials from different parts of the Philippines." You all better believe I was dressed to kill (and had the most handsome date), but a clutch like this would have completed my outfit even more perfectly. Via Vivre for $1,115.