Is it just me, or is Chloe not a brand that makes a whole lot of hobos? Well, that's not entirely true – they usually manage to turn their popular bags into hobos at some point in order to capitalize on their popularity – but it seems like most of their bags don't start life as hobos, right? But today is a new day, because the Chloe Marcie Hobo is a hobo from birth and it's, eh, medium amounts of successful. (more…)
Gucci's leather bags are. I spoke last week about how much I normally love their python creations (except for one recent exception), but it took seeing one of their bags on a fellow shopper's arm while buying a Halloween costume yesterday to remind me that they usually do an obnoxiously good job with leather as well.
Sometimes I forget how beautiful
The Gucci Pelham Medium Hobo is an excellent example of Gucci's signature style – textured, supple, and with a bit of color variation that makes all the difference. (more…)
Just when temperatures begin their nosedive to frigidity in most areas of the northern hemisphere, we get a nice, fat reminder that none of us are going anywhere interesting for vacation this holiday season: Resort collections. And when I say that "none of us" are, I mean that I'm not. It's sort of like the "royal we," but with no people. It's the "royal none of us."
But for all those people that are taking the chillier weather as a sign to get the heck out of Dodge and down to the St. Barts, designers see fit to give you your very own between-collections collection of clothes and accessories that are appropriate for warm weather. These are often my favorite things of the year – it's warm in my neck of the woods for such a huge proportion of time that I get a lot more use out of things suited for high temperatures than low ones. Still, seeing something like the Gucci Jackie Raffia Shoulder Bag at this time of year is more than a bit startling. (more…)
MCM (Mode Creation Munich) is making a comeback. The renowned European luxury brand has taken major strides recently in the accessories market. Our take on it all: Bravo. We are really digging what MCM is doing. Quality, luxury, and craftsmanship goes a long way in a handbag. Best part is the price point for most MCM bags stays on the affordable end of the spectrum.
Take the MCM Notte Large Leather Hobo for example. The leather is exceptional in the soft shape while the double chain-link strap gives an edgy and current touch. What is not to like about this bag? As far as classic black bags go, this is an ideal buy. The inside is lined in suede and there is a zipper and two open pockets. Dimensions are 15″W X 10″H X 5″D.
While I have never seen an MCM bag in person, this week that will change. There is a MCM store in our hotel in NYC that we are planning on stopping by to see the bags in person. Once we get to touch the bags and see the quality for ourselves, we will report back with more information. Buy this MCM hobo via Saks for an affordable $925.
Leave it to Bottega Veneta to do something so intricate and yet still keep their aesthetic so classic and streamlined. They're playing the sequins trend perfectly with the Bottega Veneta Ebano Paillette Hobo. (more…)
Tylie Malibu Nomad Crackle. (more…)
I love a great big slouchy bag that I can throw over my shoulder and run out the door with. As much as I love to dress up and look all fancy, I am admittedly more of a casual chic kind of gal. This being said, you can probably imagine that my go-to outfit consists of great jeans, a fab t-shirt and sandals. I even have a couple casual yet gorgeous dresses that offer that bohemian look I tend to lean towards. I can't think of a better bag to fit my needs than the
Givenchy Eclipse Cut Hobo.
Well I didn't mean it this way, but apparently today is Texture Day at PurseBlog. Earlier this morning, we talked about the gorgeous quilting of the Bottega Veneta Quilted Briefcase, and now we've got the interesting destruction that has been visited upon the
So what exactly did they do to it? Exactly what it sounds like, actually. But you'll have to make the jump to see the close-up. (more…)
What is this? Do my eyes deceive me? Have I gone delirious from too many hours spent clacking away at my computer keyboard? Have the recession gods chosen to shine down upon us for a brief, fleeting, beautiful moment?
Has Gucci released a leather hobo with a price tag substantially under $1000? Because it looks like that's exactly what the Gucci Web Guccisima Hobo is. (more…)
What a perfect season for Be&D to make a comeback. They first did multitudinous studs years ago, before it was popular and trendy, and then they mysteriously disappeared from the face of the earth for a little while.
Their studded bags really didn't tickle my fancy back then; they were shiny, smooth, and gold, which is really not my thing. The bags they've introduced recently have been much better, though, whether they're studded or unstudded. I'm having a really difficult time choosing a favorite; my opinion on the matter changes from day to day. But today, it's the Be&D Cosette Hobo. (more…)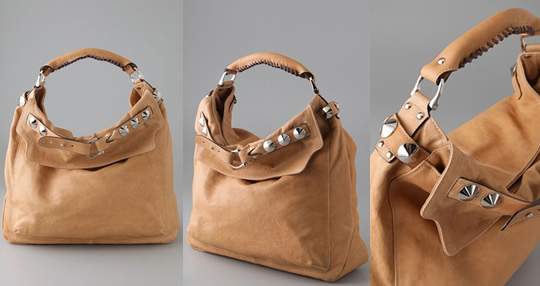 Like it or not, studded bags are a huge hit still for fall. So many of us continue to love the studded trend while others are ready for it to be over. While this may be a newer endeavor for some designers, the duo behind Be&D has been adding studs to their handbags for years. (more…)