Gucci
Page 8
Images via Fashionologie
Clothes may get all the love on the runways and in magazine editorials, but when it comes to keeping a business profitable, handbags, shoes and accessories are a company's bread and butter. Because of increased season-to-season durability and few to no issues with fit, the audience for those items is far broader than it would be for a cocktail dress from the same collection. Brands know this, which is why bags and other accessories always feature so prominently in their advertising.
Gucci's Fall 2011 ad campaign, shot by photography duo Merte & Marcus, shows just how well-acquainted the Italian brand is with the importance of bags, shoes and eyewear. Only a couple of the dozen shots feature ready-to-wear clothing by itself; all the rest shift their focus to the real objects of desire. Just as it should be. The rest of the shots, after the jump. (more…)

Left to right: Henry Beguelin Croc Embossed Tote with Fox Tail Charm, $1645. Gucci Smilla Top Handle, $5200. Henry Beguelin Fox Detailed Tote, $1520. All via Neiman Marcus.
I remember a couple of seasons ago when Louis Vuitton debuted detachable fox tails on the Spring 2010 runway and everyone threw a fit over how silly and tacky and unreasonable they were. Well, it's a year and a half later and now it looks like Vuitton and Marc Jacobs were, once again, more than a full calendar year ahead of the curve. It's gotten to the point that I don't doubt the brand's vision anymore; if Vuitton produces a bag I don't like, I just assume that I'm not yet advanced enough to understand its brilliance.
And that may have been the case, if the industry's sudden embrace of fox tail accouterments is any indication. Both Gucci and Henry Beguelin have produced bags adorned with tails (or tail-like furballs) for Fall 2011, and Gucci will sell you a loose tail charm to add to any bag in your collection as well. Suddenly Louis Vuitton seems like it was on to something. Would you wear this trend? What if the "fox tail" were faux? Mostly, I'm jealous that Megs picked up one of the hot pink Vuitton charms a few seasons back and I didn't. Also, if any of you guys see a faux option out there, let us know. (more…)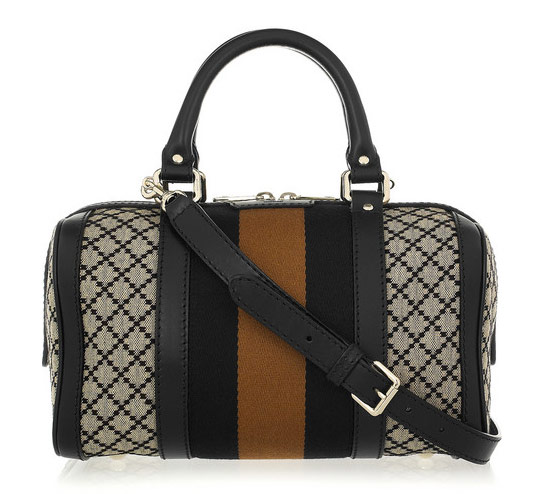 Gucci Boston Canvas Duffle, $960 via Net-a-Porter
I'm sure that we're do for a revival of the logo bag any season now. Fashion's like that; the trends you hate always come back around more quickly than the ones for which you feel genuine nostalgia. Some brands still do a very brisk business in their logo bags; Louis Vuitton has always been at the top of that list, but Gucci isn't far behind. And while it surely makes the company a ton of money and is important for branding purposes, logos have just never been my cup of tea.
But that's why I'm such a big fan of the Gucci Boston Canvas Duffle and bags like it. Gucci occasionally uses this jacquard diamond-check canvas in place of the brand's normal logo fabric, and it is such an improvement in my eyes. This bag looks stately and classic without the unnecessary Gs, and that's exactly the appeal of the non-logo logo. (more…)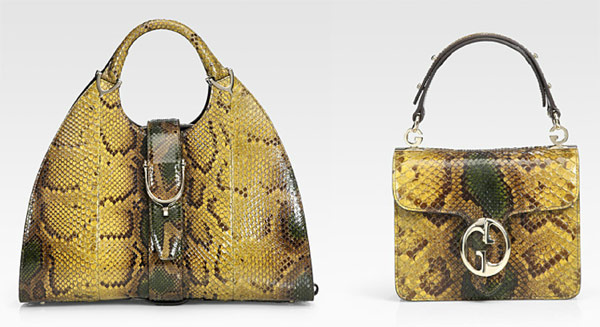 Gucci Python Stirrup Top Handle, $4700 via Saks. Gucci 1973 Python Small Top Handle, $2400 via Saks.
With so many choices in life, it's somewhat amazing that we don't all become hermits in the throws of deep existential crises. Skim or 2%? Decaf or regular? Heels or flats? To UGG or not to UGG? Even thinking about it makes me a bit dizzy. And if you're a fan of python and Gucci python in particular, you've got another choice to make for fall – big or small?
The Gucci Python Stirrup Top Handle and Gucci 1973 Python Small Top Handle may be made out of the same yellow-green dyed python, but they sit at opposite ends of the size spectrum. One is a bag big enough for your everyday life, the other is so petite that I'd only advise that you use it for a night out. Which way would you go? (more…)
Pictures of resort accessories can be difficult to come by because no such thing as Resort Fashion Week exists – shows are far-flung and photographed less extensively than traditional collections. We've come up with a few photos of the bags from the recently presented Gucci Resort 2012 show, though, and one thing is obvious: Someone out there is trying to make zebra happen.
And I feel more than fine about the advent of zebra; most of us should be stocked up on exquisite leopard pieces by now, and I'm itching for something a little different. I wish that Gucci had trimmed its zebra pieces in bright leather instead of neutral beige, but it does make the bags a bit more seasonless than they would be if the leather were colorful. Check out a few more pictures plus a python option after the jump. (more…)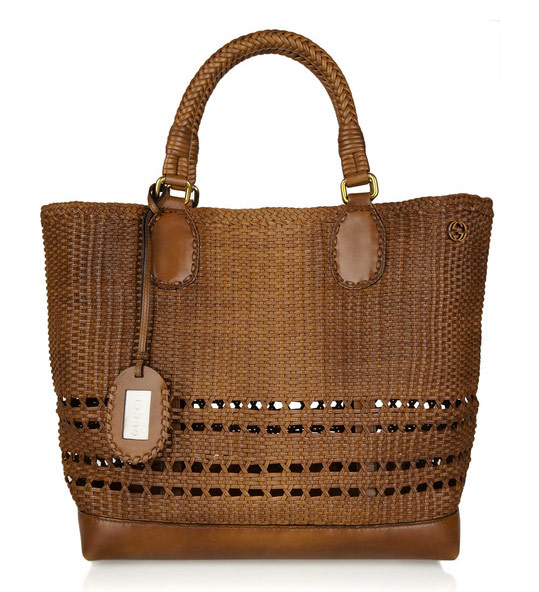 Gucci Hand-Painted Woven Leather Tote, $5900 via Net-a-Porter.
I bet you thought it was, didn't you? I did. But as the name would indicate, the Gucci Hand-Painted Woven Leather Tote is made entirely of intricately laced and painstakingly painted leather to give the bag the summery look and subtle variation of your favorite well-worn leather tote. This bag follows in the estimable footsteps of Bottega Veneta, who first fooled us with its leather-as-straw bags last year. Unfortunately for those of you who might be looking for a deal, the Gucci version is also in the exact same mid-four-figures price range. (more…)
Gucci's partnership with UNICEF enters its sixth year, with past collaborations including a holiday collection, a partnership with Rihanna, and the funky Joy Boston Bag with Snowmen.
Introducing another limited edition bag designed by Gucci Creative Director, Frida Giannini, for Mother's Day benefiting UNICEF, this bag is intended as a bag for a mom on the move. Both functional and fashionable, the bag features an off-white fabric body with Gucci's signature green-red-green web and leather trim. The exterior of the bag has a front-zip pocket along with two open side pockets, while the interior is also usable with a zip pocket and flat open pocket with three compartments. (more…)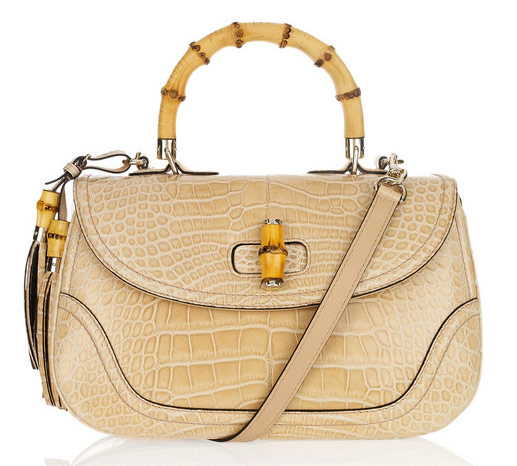 The Gucci New Bamboo Crocodile Shoulder Bag, $14,200 via Net-a-Porter
It's easy to become price-blind when you spend your days hunting down and discussing designer accessories, but sometimes life has a way of reminding you just how much a dollar is actually worth. I experienced that recently when trying to buy my first set of post-college, post-Ikea Big Girl furniture and found that I could decorate my bedroom rather elaborately for the same amount of money that I've been contemplating spending on a crocodile-embossed Celine Phantom Luggage Tote this fall.
For real croc, like the Gucci New Bamboo Crocodile Shoulder Bag? I could probably do a whole one-bedroom apartment, including a nice TV. At fifteen inches wide, this is a generously sized bag for the sort of structure it employs, but $14,000 means something different for me now than it did last week. Would you ever pay that much for a bag? Are you interested in crocodile at all? Buy through Net-a-Porter for $14,200.
[poll id="80″] (more…)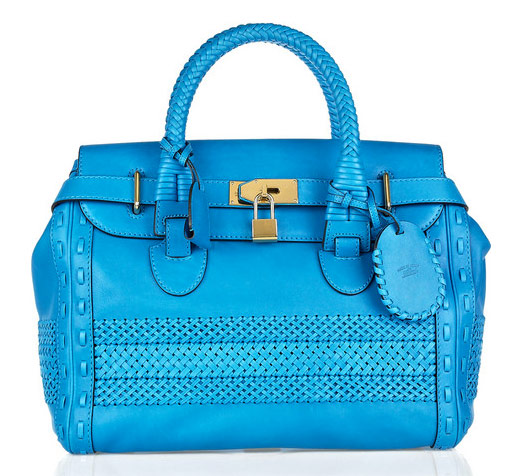 Gucci Handmade Leather Top Handle, $4200 via Net-a-Porter.
We spend a great deal of time around here telling you guys what we're loving and hating. Season after season, bag after bag, we've got lots of opinions. But so do you! So now's your turn – tell us what bags you're coveting for spring. What would you buy if money were no object, and what bags are actually in your budget for the season?
My ultimate Spring 2011 lust object finally arrived in the mail a few days ago – a Celine Luggage Tote in lipstick red. And if money grew on trees (and if I had any idea how to properly grow a tree), I'd also be picking up the bright blue Gucci Handmade Large Top Handle. Why don't more brands make bags in this color? Can someone out there get on that? Kate Spade, I'm looking at you. What bags are you stalking lately? Buy through Net-a-Porter for $4200.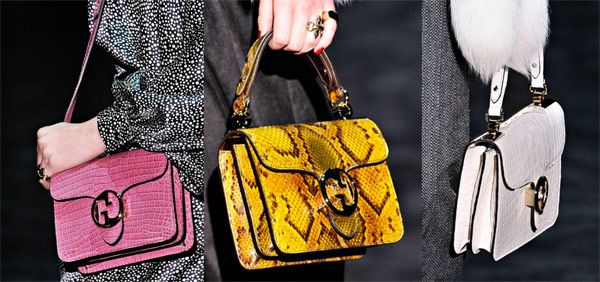 If Gucci Fall 2011 is any indication of what we'll see from the rest of Milan Fashion Week, then I think my credit card is going to be begging for mercy when fall pre-orders start. The ready-to-wear had an easy, colorful, jet-set hippie feel to it with lavishly draped chiffon and vibrant furs, and the handbags were just as luxurious. Exotics outnumbered regular leathers and some models carried multiple bags, indicating Gucci's emphasis on accessories for the season to come.
What was perhaps even more interesting than the colors or materials were the shapes that they took. Gucci is the latest brand to embrace the so-called "lady scale" bag, and most of the runway options were sized for essentials only. If you're a woman who needs to carry her whole life in her handbag, though, fret not; Gucci showed several larger New Jackie shoulder bags as well. (more…)
I don't know what a "snaffle" is, but if the Gucci Snaffle Bit Small Leather Shoulder Bag is any indication, I like it. This shoulder bag capitalizes on the tropical embellishments from Gucci's Spring 2011 runway show and adds a shot of bright color to create one of the season's best casual bags yet
It's still early, of course, so that designation may change, but somehow I doubt it. Gucci often tends to do its own thing regardless of accessories trends, and this design, with all of its details and stitching and stuff, feels refreshingly different from the sleek bags other lines are offering. (more…)