Gucci
Page 7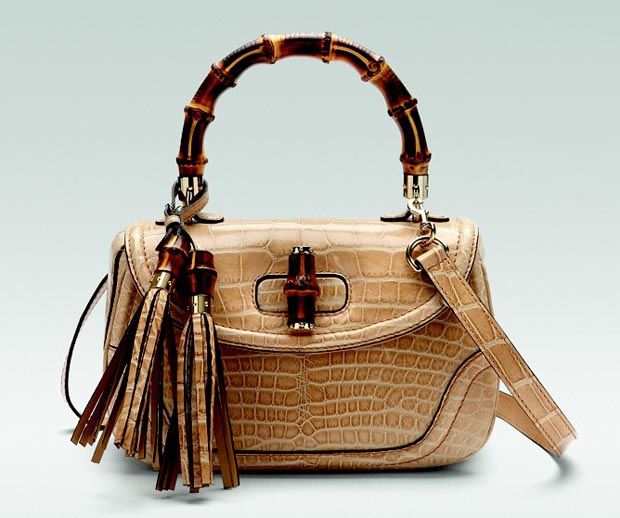 For a handbag collector, having a one-of-a-kind bag from your favorite brand is something you always hope to be able to do. Getting the opportunity, though, can be costly. Most major firms will make certain bespoke items for their VIP clients, but attaining that status requires a long history of major purchases before the privilege of buying such a bag is even granted, not to mention that the bags themselves usually cost well above the brand's other pieces because of the costly process of producing a one-off design.
If you'd like to skip that and merely shell out the back-breaking price for a piece that no one else will have, you might want to get in contact with Gucci's Seoul flagship store. Gucci recently revamped the location, and to celebrate, the brand launched both the Gucci Bamboo Crocodile Satchel above, a one-off piece priced at approximately $23,000 US, and a special line of Flora bags and accessories featuring the national flower of Korea, the Mukunghwa. Check out some of those pieces after the jump! (more…)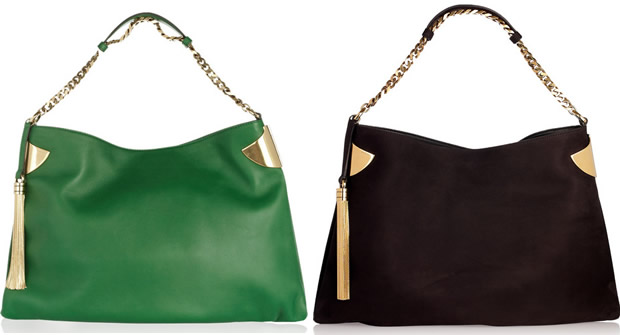 It's been a while since a new bag design has moved me enough to believe it will be the new must have bag. Celine is the brand that truly got everyone's attention and now that the Luggage Tote hype has dwindled a bit, there is room for a new bag to take center stage. I believe it may be the Gucci 1970 collection of bags.
Gucci delved into its accessories archives for their collection of SS12, and took inspiration from vintage pieces to create the 1970's shoulder bags. The graphic gold plaques give an art deco nod while the opulent chain tassel detail adds a 1920's flare. (more…)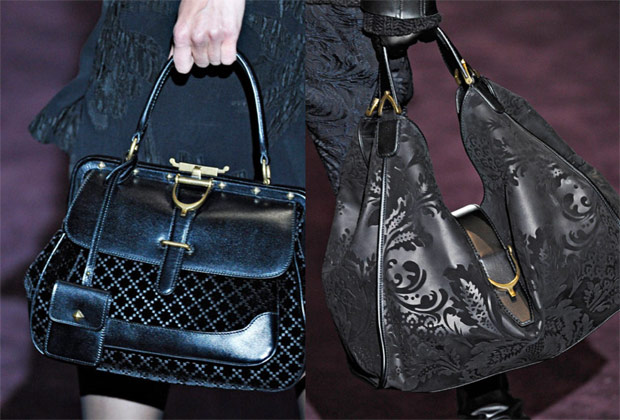 Images via Vogue.com
For a dedicated lover of black (on black on black) like me, a collection like Gucci Fall 2012 is incredibly difficult to resist. Even though I tend to buy colorful bags to pair with my dark wardrobe, black will always be my first and only true love, and a good black accessory deserves its own place in the wardrobe of every woman. If you're in the market for a new black bag, suffice it to say that Gucci will have some options for you come fall.
If your budget is particularly…creative, take special notice of the beautiful black crocodile bags that a few models were carrying. Want the full set? Check out the matching black croc riding boots over at TalkShoes. (more…)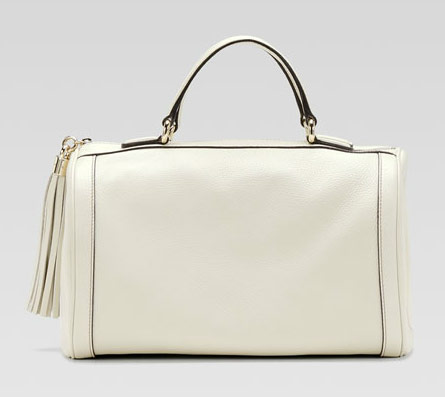 Gucci Soho Medium Boston Bag, $1395 via Neiman Marcus
Perhaps it's merely the inevitable grind onward of the fashion industry that's causing me to feel this way at the moment, but I'm really sick of winter clothing. We've all been looking at the bags, shoes and clothes that are currently on the sale circuit since they debuted at the various global Fashion Weeks nearly 10 months ago, and although resort is starting to slip into stores, it's stil winter outside and in our closets. Frankly, I'm done with it.
Cold weather may bring with it lots of great texture for accessories, but it usually means darker colors, more neutrals and less fun. What's the best way to cure that ennui with something that is still totally appropriate to carry right now? Winter white, darlings. Winter white. May I suggest the Gucci Soho Medium Boston Bag? (more…)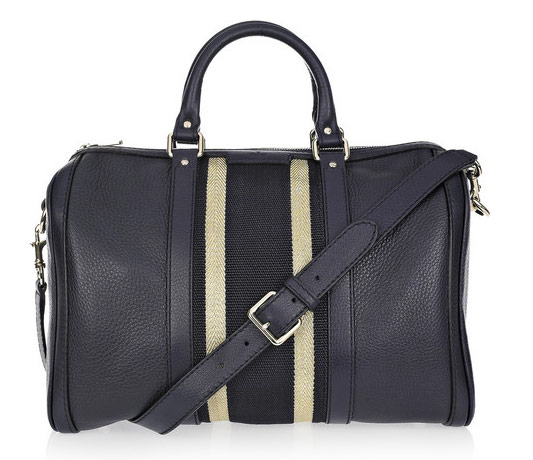 Gucci Striped Bowling Bag, $1350 via Net-a-Porter
Over the past couple months, I've written about a couple different Gucci Boston Bags – one had logo fabric, the other had a signature check flanking the webbed center stripes. I liked both, but I don't make a habit of buying bags that cost more than $300 or so if the main material isn't leather, so neither option was on my radar for personal use.
This version of the bag, though? This I can use. And would use. And maybe will use? $1350 isn't a price tag to sneeze at, but for a classic, functional leather bag (with a little bit of flair) from a highly sought-after handbag brand, it's not as bad as it could be. Particularly not when you consider how much a Louis Vuitton bag with a similar design would go for. (Hint: three times as much.) (more…)