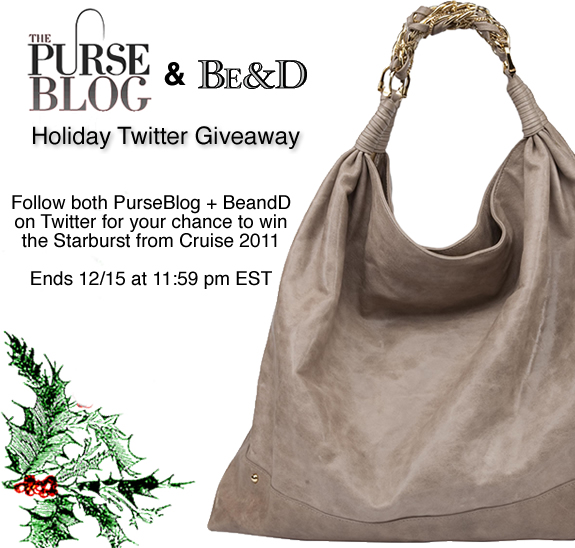 It truly is the most wonderful time of the year! We have another amazing holiday giveaway for you all, this time with Be&D. From the cruise 2011 collection, the Be & D Starburst in pebble colored leather caught my eye. The hobo shape is a wardrobe staple while the top handle adds the perfect touch to set this bag apart from others.
And we are giving it away! Entering is simple and winning will be the perfect sweet holiday gift.
To enter:
1. Follow both @PurseBlog and @BeandD on twitter.
2. Retweet the following
Follow/RT @PurseBlog & @BeandD to win the Be&D Starburst Hobo just in time for the holidays! http://bit.ly/f33TSO
Good luck and thank you Be&D for sponsoring this giveaway! Ends 12/15 at 11:59 EST.
Congrats to annabelle, comment #51! You are our winner
For the holidays we find ourselves in the sharing and giving spirit, as are some of our favorite websites and designers!
This week we are featuring Rebecca Minkoff's favorite holiday picks. With each item, Rebecca also shared why she can not get enough of it and why it would make a great gift (to someone else or for yourself).
We couldn't just tempt you with all of her goodies – we will also be giving one away!
The exotic Rebecca Minkoff Alligator True Love is a standout from the designer that infuses luxury with the most gorgeous jewel toned color. This is the bag we will be giving away and we are prematurely jealous of the winner.
So read on to see all of Rebecca's choices and how you can enter to win the Alligator True Love! (more…)
'Tis official, the holiday shopping season has arrived! We will be bringing you gift guides and holiday picks from some of our favorite designers and stores in the upcoming weeks. To kick it off we asked Monica Botkier what's her favorite bag for the holiday season.
Monica chose the Botkier Bleecker Satchel in oro – which she is currently carrying herself. When asked why she picked this bag Monica said, "I am obsessed with my Bleecker satchel in Oro- it is the perfect bag for the holiday season! The soft muted gold color and woven chain and leather handle add a super glam element for a little holiday festiveness." And Monica is giving the bag away to one lucky PurseBlog/Botkier facebook fan!
How to enter:
1) Like Botkier on facebook and PurseBlog on facebook.
2) Leave a comment on PurseBlog's Facebook Page telling us why you want to win this bag!
We will choose one random winner on Monday, November 29th, at 10:00 AM EST. Good luck everyone and thanks to Botkier!
We've been meaning to run this quick and easy giveaway for a while, so here it goes. We've giving away these four Coach key rings to four lucky winners. The winners will be selected randomly from all entries on Thanksgiving Day, November 25th.
How do you enter? Comment below on this post and make sure to enter with a valid address in the email form field, so we can contact you in case you win. Only one entry per person please. (more…)
We have been loving Foley + Corinna for quite some time! Their rugged urban chic vibe perfectly pairs everything that I love about a handbag in one, which makes a very wearable and stand out finished product. The most recognized design from the brand is the Foley + Corinna City Bag, and recently they shrunk down the City to make the Disco City bags, which we adore.
Good news for all of you is that we are giving away TWO Disco City Bags from Foley + Corinna! Each winner will be able to choose the bag of their choice from the stock (some newer renditions seen in the banner below!).
How to enter:
1) Follow Foley + Corinna on Twitter and PurseBlog on Twitter. Also, tweet this:
RT & Follow @PurseBlog and @FoleyandCorinna to win one of 2 Foley + Corinna Disco City Bags! Info how to enter: http://bit.ly/d51MnN
2) Like Foley + Corinna on Facebook and PurseBlog on Facebook.
3) Comment on both Foley + Corinna and PurseBlog's Facebook page to say why you would like to win one of the Foley + Corinna Disco City Bags! (more…)
Our winners are: Sierra T. and Adrienne Z.! Congrats and thanks to everyone who entered
We are always looking to bring you new handbag designers on PurseBlog. Today we have a new line that is not only from a designer we know and love but also in a great price range. Be&D Creative Director, Steve Dumain, is launching a new handbag brand called Roccatella tonight on QVC (7 PM EST).
The line will exclusively be featured and sold on QVC tonight, 9/30, at 7 PM EST. The assortment you will see will be a collection of nine pieces made with durable yet soft calfskin. Price range will be from $199 to $299. What you can expect to get from this line is luxury and style at a very attainable price. The aesthetic Steve brings to Be&D differs from Roccatella, but Roccatella remains trend-driven and statement-making.
We plan to tune in tonight to see the line in person (and see Steve!). You should tune in as well, not only because we think you will love the collection but also because we have a giveaway with Roccatella for you all.
Click below to find out how to enter to win TWO Roccatella bags of your choice! (more…)
We have teamed up with Net-A-Porter for a fabulous and plentiful giveaway! We are giving away FIVE of the highly sought after and coveted Chloe Marcie bags.
This Chloe bag has been designed in different styles, including a hobo, messenger, tote, and satchel. Instead of the exact same versions, we are giving away a combination of different Marcie reincarnations. As far as Chloe bags go, the Marcie is a staple. Don't miss out on being one of five lucky winners.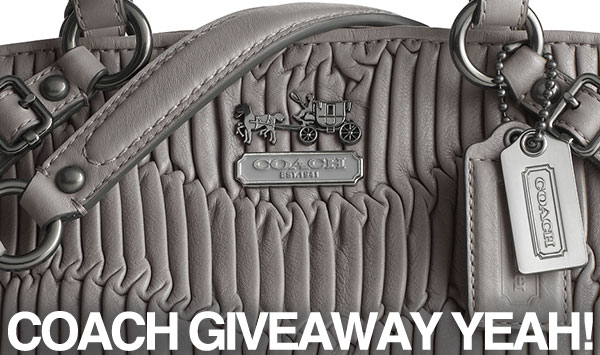 Earlier this month we asked for your vote on your favorite bag from the new Coach Madison collection. With over 40% of the total votes, the Coach Gathered Sophia was the overwhelming winner.
Not only was I able to include your voting results in for my guest blog for Coach.com, but also we have teamed up with Coach to giveaway a Coach Gathered Sophia to one lucky winner. (more…)
One of our favorite clutch designers is Lauren Merkin. Her designs are unmistakable and completely chic. The most recognizable Lauren Merkin Clutch is the Louise. Good news for all of you is that we are giving three away Lauren Merkin Louise Clutches!
How to enter:
1) Follow Lauren Merkin on Twitter and PurseBlog on Twitter. Also, tweet this:
RT & Follow @PurseBlog and @LaurenMerkin to win one of 3 Lauren Merkin Clutches! Info how to enter: http://bit.ly/bihm6f
2) Like Lauren Merkin on Facebook and PurseBlog on Facebook.
3) Comment on this post telling us why you want to win a Lauren Merkin clutch! (more…)
We have another great giveaway, this time with three bags! The sponsor is Moni Moni, a brand known for their subtly chic Italian leather bags that many celebs can not seem to get enough of. Major fans include Halle Berry and Jennifer Love Hewitt, though the full list is much longer (check it out here).
We are giving away three bags. One will go to a Twitter winner while the other two will go to Facebook winners. Contest starts today and ends August 8th at 10 pm EST. Good luck to everyone and thanks to Moni Moni for sponsoring this giveaway! (more…)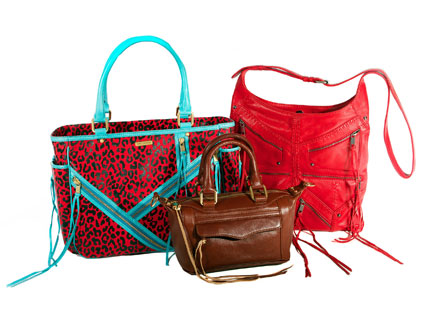 It's hot outside – why not cool down with some new handbags?
Ok, so these Rebecca Minkoff bags might not help regulate your temperature, but free bags are always cool nonetheless. We've teamed up with the fine folks at Parenting magazine to bring you a collection of three of Minkoff's bags, valued at $1185, that are up for grabs today and today only.
All you have to do to enter is sign up over at Parenting.com – what are you waiting for?