Lanvin is one of those designers that gets everyone at the PurseBlog office amped up and ready to shop – Vlad even has a pair of Lanvin kicks. We are total fan-girls (and guy). The silhouettes, the fabrics…and especially the accessories.
We teamed up with Barneys New York to hand pick our fave piece of the season, the Lanvin Quilted Amalia MM Bag and we want to share the love and give it away to one lucky PurseBlog reader.
We are obsessed with this bag. Buttery soft quilted leather, a classy gold tone chain link shoulder strap and the iconic grosgrain ribbon embellishment make for a classic bag with a playful touch.

Let us make your Holiday season a little sweeter and let us reward you for sharing your thoughts and feedback on our PurseBlog!
To Win…
You can enter to win this Marc by Marc Jacobs Natasha in Cherry Red (retails for $350) by commenting on ANY of our PurseBlog articles, new or past. You can use both the Facebook comments or our own comment form to post your commentary. The more you comment the more chances you have to win!
The contest is open to anyone and ends mid-day on December 18th. The winner will be picked randomly and notified via email / Facebook.
Good luck!
This may not be our own giveaway, but our friends at SHEfinds are giving away a bag that I many of us know and love. The schoolboy structured satchel bag has made a major resurgence, being created by some of our favorite brands. However, Cambridge Satchel Company knows this design in-and-out and has perfected it.
The really cool aspect of this giveaway is its tie-in to National Bullying Prevention Month. Julie, Deane, the founder of Cambridge Satchel Company, started her company with hopes of being able to send her daughter to private school after she had been a victim of bullying. It is fitting that orange is the color of National Bullying Prevention Month and this is the color of the bag SHEfinds is giving away. Enter on SHEfinds!
Congrats to our winner, Shana Levin!!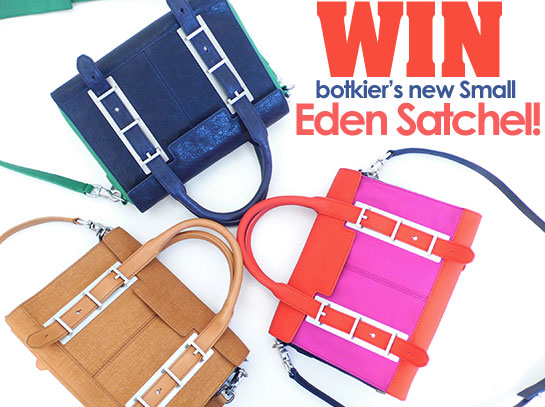 When Vlad and I visited the Botkier showroom last week, the bag that neither of us could take our eyes off of was the new Small Eden Satchel valued at $495. Monica sent me home with one myself and I can not stop singing its praises. The supple lambskin is absolutely luscious and the colorblocking adds a current spin on a classic shape.
Before the bag is available to anyone else, we're partnering with Botkier to give one away to a lucky PurseBlog reader. The winner will be able to pick the color combination of her choice (all shown above). Click to find out how to enter!
Update: Winner is Alexis Berry, comment #21!!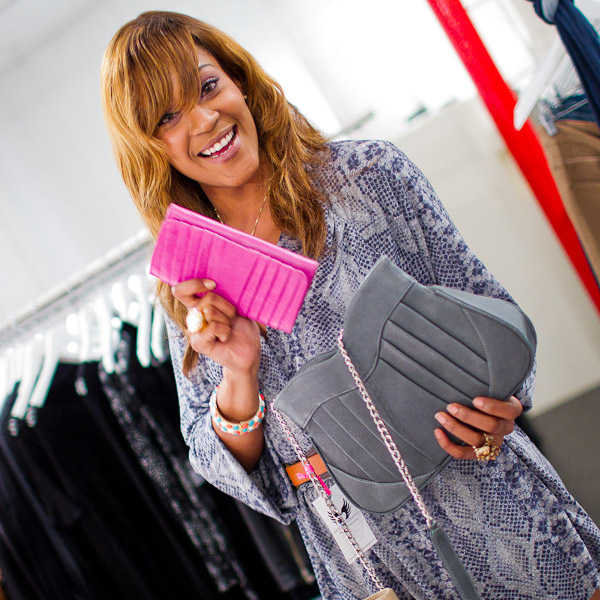 After seven days of amazing bags to give away that were picked by singing sensation Shontelle, our giveaway with Free Endearment has come to a close. The response was so amazing and I hope many of you not only discovered a new brand of handbags but also a new singer to add to your daily playlists. Click to find out who won!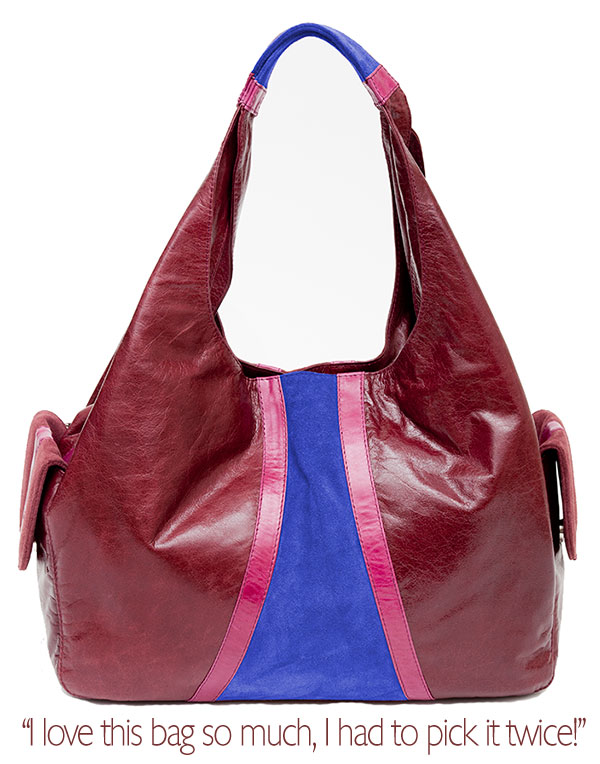 For the final day of this unique giveaway series, Shontelle opted for the Free Endearment Kristina Combo Bag again. She loves this bag so much that she chose it in two different color combinations (day 6 was the other). The bag is all about functionality and size while remaining on-trend, which is precisely why Shontelle loves it. Click to find out how to enter!
Hope you all had an amazing weekend and are ready for another week of great articles. Let us end Monday night with day six of our Free Endearment + Shontelle giveaway. Up for grabs is the sizable and funky Kristina in the bone/green/pink combination.
Priced at $297, this bag is all about usability mixed with a touch of funk. If you crave functionality, the two side pockets with magnetic closures will catch your attention. Of course the inside is amply equipped with other pockets as well. Click to find out how to enter!
The bag that caught Shontelle's eye first in the Free Endearment showroom was the Kristel Clutch in gray. With clean lines and a sleek design, this clutch will take you from day to night and back again, which is precisely why Shontelle loves it. Like other Free Endearment bags, the size of the bag will allow you to fit every essential without appearing overly cumbersome (dimensions are 7.5″ x 13″ x 2.5″). I love a long strap, and this bag has a double chain removable strap has a 16.5 inch drop length with a 33 inch strap length. Retailing at $275, this clutch would make a great addition into your bag rotation. Click to find out how to enter!
Wonder what bag Shontelle has been sporting the past few weeks? It is her new Free Endearment Julie Combination Color Bag. Shontelle tweeted about this bag last week and if you enter this giveaway you could be wearing it as well in the next few weeks.
Retailing for $275, the Julie Color Bag features geometric lines in different colors. The dimensions are large, 16″ x 18″ x 3″, so this can easily be your go-to bag. There is a secret front pocket and the inside features ample pockets for all of your storage needs. Click to find out how to enter!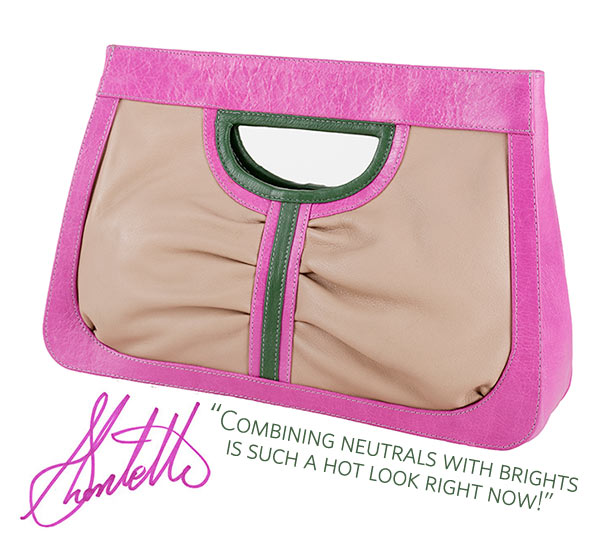 I have a little secret, today's bag in our Free Endearment + Shontelle giveaway is one of my favorites. Completely on-trend, a bit of bright pink and green colorblocking looks amazing against neutral leather.
Today we are giving away the Free Endearment Corinne-Bone/Green/Pink Clutch. Priced at $265, this clutch will amp up any outfit. Dimensions are rather spacious, 9″ x 14″ x 3″. Like other Free Endearment bags, usability is key as this bag offers flat and zipper pockets on the front and back interior wall of the bag. Colorblocking remains a huge trend and this clutch will fit right in. Click to find out how to enter!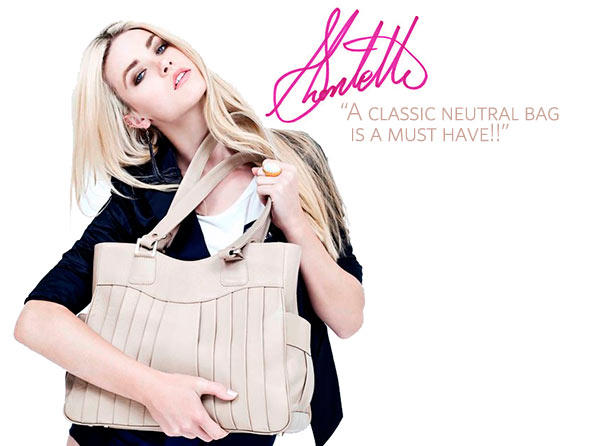 Looking for an instant classic? Our day 2 giveaway with Shontelle and Free Endearment may be up your alley.
For day two, we are giving away the Free Endearment Jessica in Bone. Both the shape and color of this bag make it extremely easy to wear season after season. Retailing for $385, this spacious tote (12″ x 16″ x 5″) features ample storage with plenty of pockets, including side pockets. If you are looking for a go-to tote, this bag would be ideal. Click to find out how to enter!