Fugly
cash flow problems that Versace has and how better handbag design could potentially alleviate some of their woes. No other brand makes bags that are such a consistent running joke in high-end bag circles, and they have little to no rabid following when it comes to their accessories.
Last month, I wrote about the
Sadly, the Versace Gree Shopper could not be a more apt example of why that is. Gaudy metallic? Check. Logos galore? Check. No leather to be found? Check. Astronomical price for a canvas tote? You better believe it. (more…)
Can someone, ANYONE, explain to me why this pastel-potholder-looking abomination against fashion costs 1100 freaking dollars? (more…)
I've got to say at least one nice thing about this bag: Dolce & Gabbana, I like your enthusiasm.
No, actually, I love it. Because the kind of chutzpah it takes to put together seven (that I can count) types of fuzzy animal print onto one bag is the kind of chutzpah that it takes to occasionally create a stinkin' awesome bag. But at this point, ladies and gentlemen, I have but one caveat: the Dolce & Gabbana Miss Martini Flap Bag is not that bag. (more…)
Normally I have a good amount of vitriol for fur bags. Not because I have lots of political opposition to them (although I don't wear fur), but usually just because they're pretty ugly. Puffy, shapeless and vulgar are normally words I would use to describe them.
But, for some reason, I'm having trouble coming up with my normal level of self-righteous rage over the Marni Alpaca Tote. It's not that I like it, because I don't think I do, but could it be that it's just not quite as bad as the average fur bag, while still being substantially worse than the average non-fur bag? (more…)
A little insight into the life of a blogger: every morning, I get up, brush my teeth (well, usually), flop down at my computer and read through the morning's news (both conventional and fashion-related) and the blogs that I myself enjoy reading. I also scroll through and pretend to read most of the email that I get overnight. When that's done, I start gathering the bags that I'm going to write about for the day. I have my regular haunts to look through, and sometimes if those don't work out, I try to find something tangentially related to handbags that I think everyone will like. Those are the tough days – as long as the subject matter comes easily, life is pretty much beautiful on my end.
And when I woke up today and saw the Fendi Skunk Fur Peekaboo Bag sitting in the New Arrivals section of Saks, I knew that today was going to be a good day. (more…)
I'd like to say, first and foremost, that I have no problem with eccentricity. Particularly in fashion, the desire to be willfully different is what finds new trends and charts new territory. It's what keeps things going. Without eccentricity, we'd all be wearing sensible shoes and toting around our belongings in canvas grocery bags. And there's nothing fun about either of those things.
But there's also usually a problem with creating eccentricity for its own sake, which appears to be what was done with the Dolce & Gabbana Miss Charleston Chain Flap Bag. And I think we can all tell that it didn't work out particularly well. (more…)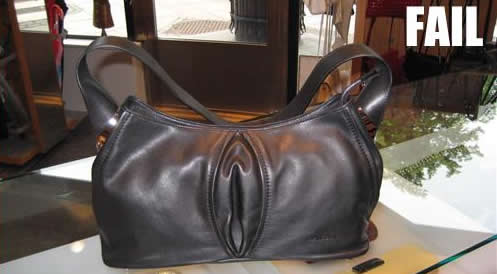 Sometimes we get caught up in our work that we forget to take a minute to step back and take it all in… (more…)
Pursebloggers, I am confused by the Barneys New York Chic Chain Bag on a few levels.
First, I'm confused that Barneys really makes house-brand bags. Of course, I knew on a factual level that they did, but really? Do luxury goods customers want house brands? Even if the house is a good house? I can't imagine anyone looking to spend a large amount of money on a bag would look first to something not even made by a proper design house. As much as I like buying supermarket-brand milk and cheese at the grocery store (it's the same stuff! Cheaper!), I would never do the same with money that I saved up to by something special and luxurious. (more…)
I drank a freakin' gallon of sangria yesterday and I'm trying to stop my head from exploding all over my couch, so we're going to get right to the point on this one: the Donna Karan Drawstring Shoulder Bag? It has a face. A FROG FACE. You see it, right?
The holes at the top corners are the eyes, and the top flap is the same shape as a frog's upper lip, with one of the bag's folds forming the lower lip. If it was green, it would be Kermit. And perhaps it would be better if it was, because it's not doing a very good job of being a handbag. I can't recall another bag that has left me so utterly confused as to what the designer was trying to accomplish. The body of the bag has a set of drawstrings running down each side and little loops hanging out the bottom, although I can't see any way to hold the drawstrings in place if you wanted to scrunch up the bag. And why would you? That would just make it awkward to carry and give the inside of the bag lots of folds inside which your stuff could hide, never to be seen again. Plus, it looks like an amphibian. I'll pass. Buy through Saks for $1595.
Anyone care to take a guess as to why I'm writing about this bag? Anyone? No? Ok. Well, I'm writing about the Versace Turquoise Fox Hexagonal Tote purely for my own entertainment. As of late, more or less everything Versace does makes me want to punch someone in the face (and even if one of their bags isn't bad, the price is atrocious), so when my mom somehow found this bag and emailed it to me earlier this morning, I couldn't NOT take the chance to make fun of them. And really, this bag is more deserving of ridicule than any other that I've seen lately.
It looks like the Cookie Monster and Snuffleupagus had sex, and the resulting baby was skinned and turned into a handbag (yes, I had to Google to find out how to spell 'Snuffleupagus' I thought it had more F's, personally). That kind of violence against muppets will certainly not be tolerated here at PurseBlog, and the immense cruelty towards children's entertainment that Versace has shown with this handbag will not soon be forgotten. For shame, Donatella. What are you going to do next, skin the Florida Gator's mascot and make a clutch out of it? Actually, on second thought, I would be completely ok with that. Just stay away from Big Bird. Buy through Bluefly for $3532.99.
Alright, I've done it! I've found a bag that not a single one of you will be able to say that Marc Jacobs ripped off from Chanel. Why? Because the Marc Jacobs Amazon Shoulder Bag is far too bizarre to be ripped off from any serious designer. I also think that this will be the first MJ bag in a while without a good bit of "I love it!"/"I hate it!" comment fights – I think you're all going to hate it (if you don't, then comment and prove me wrong!). I'm certainly not a fan. It's just an uninventive small crossbody bag with a layer flap that doesn't match. Not only does the purse not match itself, but it won't match anything else in your wardrobe, either. I'm all for doing odd things when they're done in a way that looks artistic or high-end, and this looks like neither of those things, sadly. It looks more home-sewn and pieced together than anything. Expect it on a sale rack near you very soon. Buy through eLuxury for $2850.