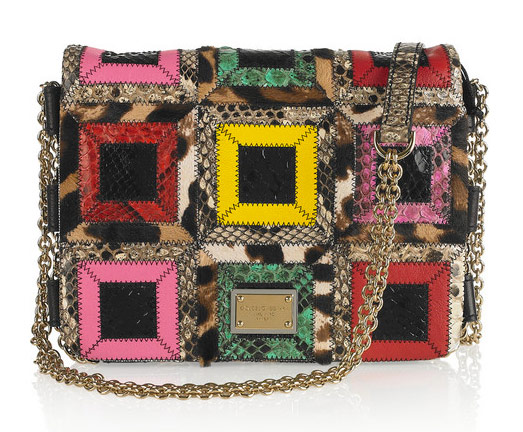 First of all, an apology: I'm sorry that I'm assaulting your eyes with this much look so early in the morning, but sometimes them's the breaks, eh? Consider it like your second alarm of the day – the first one woke up your body, but the Dolce & Gabbana Patchwork Shoulder Bag is here to wake up your senses, for better or for worse. Naturally, the bag makes a perfect candidate for the latest edition of Fill in the Blank. (more…)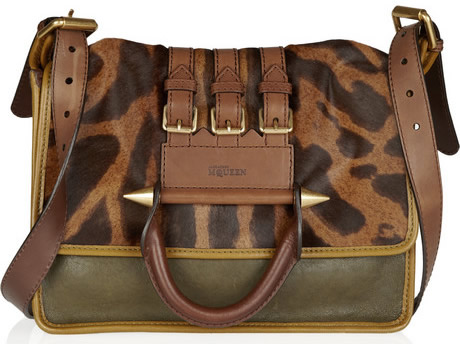 Designers took us on a safari with many of their spring 2012 collections. From Donna Karan to Michael Kors, we saw wooden accents, animal prints, and tons of browns and greens. Alexander McQueen took a stab at this trend as well with the Savana Satchel.
Pairing ocelot-print calf hair, brown leather, gold spikes, and earthy hues, the Alexander McQueen Savana Satchel is sure to be an attention-grabber. Whether or not that's a good thing depends on your own style, of course. Some safari prints are just too much while others are just right. Buy through Net-A-Porter for $2,525. What do you think?
Fill in the Blank: The Alexander McQueen Savana Satchel is ____________.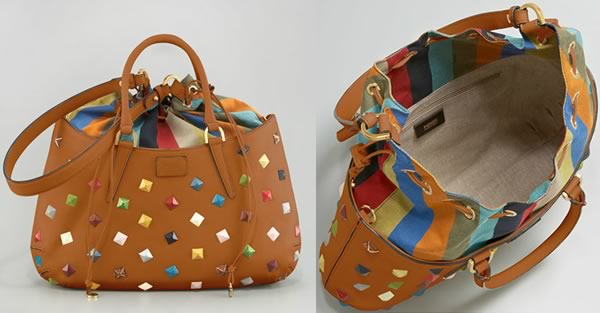 Lions and tigers and stripes, oh my! I can't help but think of the circus when I look at the Fendi Studded One + One Drawstring-Top Satchel. The pairing of a lot of color and additional texture makes this bag an attention grabber.
Fendi handbags have lost a bit of traction over the years since the heyday of the Fendi Spy, but the brand continues to make a real go at it, and I'm sure that they'll find that perfect, magic bag again. (The Peekaboo was almost there, but not quite.) This tote in particular is playful in so many ways and practical in very few. With all the multicolor pyramid studs and rainbow stripes on the drawstring-closure canvas top, it is easy to miss the double top handles, thin shoulder stap, and removable crossbody strap. But what works for some doesn't for others, which is precisely why I am leaving the judgement of this bag in your hands.
Fill in the blank: The Fendi Studded One + One Drawstring-Top Satchel is _________.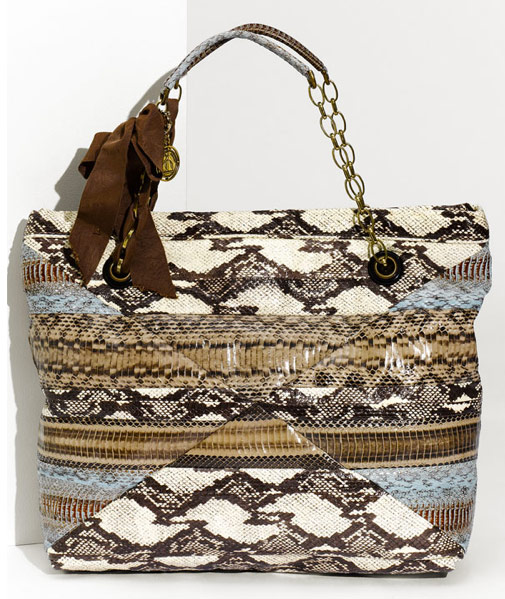 I've been trying all week to think of something appropriate to say about the Lanvin Amalia Patchwork Snakeskin Tote and I just…can't. I can't! It's Friday and I'm out of words, and this bag might be so complicated that it has now damaged my eyesight, which makes any attempts on my part to accurately review it utterly futile. So! That's where you guys come in.
In today's rousing game of Fill in the Blank, I want you to describe this tote to me. Y'all know how this works – either finish the title sentence in the comments or take a gander at this bag over at Nordstrom, where it's priced at $3498.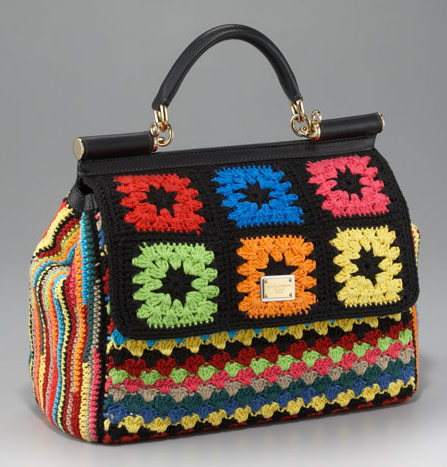 Spring 2012 is all about mixing color and textures, and as you can see, some designers took that idea to heart more than others. I normally love the Dolce & Gabbana Miss Sicily Bag in all of its sometimes strange iterations, but this 70s crocheted afghan version has me wondering whether it would have been best as a runway idea rather than a retail reality. More than anything, though, this bag seems like a perfect opportunity to play Fill in the Blank. You ladies already know how this works – finish our title sentence in the comments or, if you're so inclined, buy through Neiman Marcus for $2895. (more…)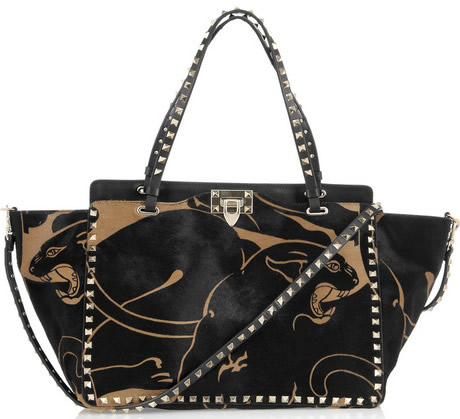 I've already got Fashion Week on my mind and one of my favorite things about Fashion Week is bag stalking. Come February, editors, buyers, and miscellaneous cool people alike will be hitting Lincoln Center both wearing and carrying their finest.
I have plenty of handbags in my arsenal, but sometimes an oddly different bag stands out and grabs my attention. This is precisely what this Valentino bag has done to me, lured me in and left me wanting more.
However, I realize not everyone loves the urban jungle feel of this panther-print calf hair tote with serious stud embellishments. Help us out and tell us what you think! Buy via Net-A-Porter for $2,995.
Fill in the Blank: The Valentino Rockstud Panther Print Calf Hair Tote is _______.
The famous duo who started off on one of my favorite sitcoms, Full House, is continuing to take the world by storm. The Olsens' highly talked-about fashion line, The Row, has given us bags to talk about because of their beautiful designs and exorbitant prices.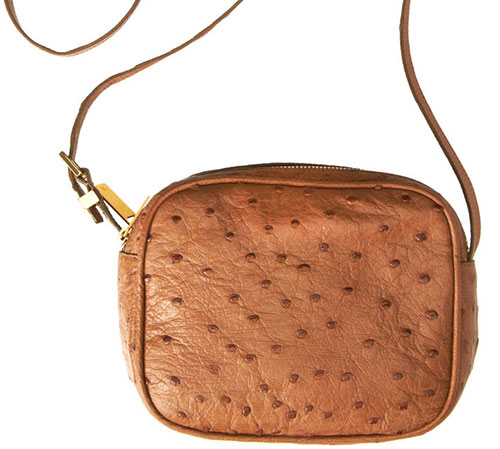 The latest creation from The Row packs a hefty price tag punch in a compact bag, 5″ height x 7″ width x 2.25″ depth. The Row Twin Mini Messenger Bag features contrasting pattern ostrich leather on either side. The shoulder strap is adjustable and long, and the interior has smooth leather lining and an internal zip pocket. The price is a whopping $4,700 via Barneys NY.
Start of the year by telling us what you think: The Row Twin Mini Messenger Bag is ______.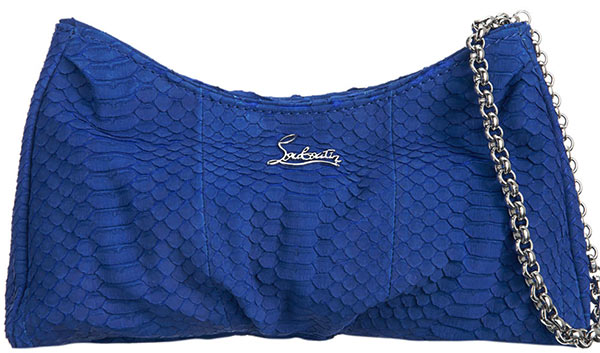 Christian Louboutin Bikini Pouch, $995 via NAP
I searched PurseBlog and realized we only have a handful of posts on (most likely) my favorite color: cobalt blue. Blue has always been my color, but there is something about a bright shocking blue that is not overly aggressive but still lures me in so strongly. Celine did this wonderfully and I count myself as one of the few and one of the lucky to own a Celine Cobalt Blue Luggage Tote.
On the other hand, I'm in a love-hate relationship with Christian Louboutin bags, but the Bikini Pouch immediately caught my attention. The royal blue stands out beautifully against the watersnake zip top pouch which is offset by a silver-tone chain link strap. The interior of course features a red grosgrain lining with a slip pocket. Many times I show a bag that I think is absurd for our Fill in the Blank category, but this week I am changing it up by showing you a bag I adore. Do you too? Buy via Barneys for $995.
Fill in the blank: The Christian Louboutin Bikini Pouch is ___________________.