Sex and the City 2 is so over now but I have to reference it when talking about this bag, because Samantha carried it in the movie. It was only seen for a glimpse of a second, but it was eye-catching and automatically made me feel happy. That is what yellow can do for you. And that is what a bag as gorgeous and stylish as the Salvatore Ferragamo Python Fiammetta Bag does to you too. It lures you in and has a way to make you want it.
In fact, we already covered this bag back in March. This time we also have the clutch version for you to drool over as well. Price for the larger bag was $4,579 in March. Request further info through Ferragamo. (more…)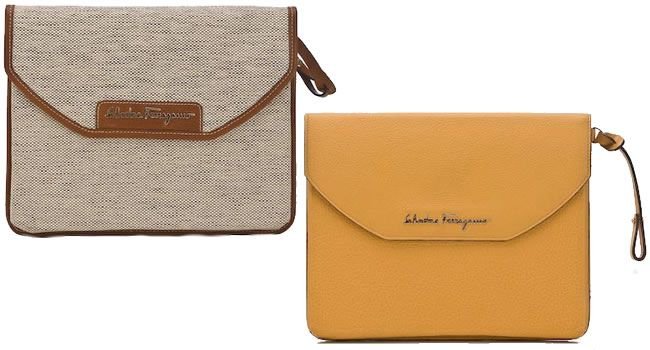 Every time we talk about Salvatore Ferragamo we also talk about how much we love the brand. And with that we talk about the quality and elegance of their products. We may not cover Ferragamo as much as other designers on PurseBlog, but that does not reflect on lack of beauty, style, or craftsmanship.
Joining the growing list of designers to release iPad cases, Salvatore Ferragamo announces they too will offer a collection of iPad cases ranging in price from $290 to $390. To be honest, as much as I loved the Louis Vuitton iPad Case and Gucci iPad Case, the Ferragamo iPad Cases might be my favorite. (more…)
When we covered this tote in yellow python back in March, what tripped up most people was the price – $4500 is a lot for a bag, whether or not it's exotic. Since then, I've been on the lookout for a regular leather version, and lo and behold, the Salvatore Ferragamo Plume Patchwork Bag finally came along to grant my wish.
Even in a decidedly more pedestrian material, the design of this bag holds up to scrutiny. It's a little bit left-of-center when you compare it to your average tote with an extra shoulder strap, and I couldn't be more pleased. (more…)
Why so serious Salvatore Ferragamo?
I suppose my thinking of this bag as being too structured and too serious goes hand in hand with the fact that my job does not call for me to dress up in a skirt and jacket or anything formal. EVER. I think if someday I needed to put on a pant suit I would quit. Ok that is a lie, because I sort of adore pant suits. But there is something too proper, too structured, and too refined about the Salvatore Ferragamo Gancini Icona Vitello Tote for my taste.
Don't get me wrong, the bag is gorgeous. It is just not for me. I love my laid back lifestyle, and when I say laid back, I mean laid back. The popularity of boyfriend jeans made my life better, and slouchy shoulder bags along with long strapped cross-body bags put a smile on my face. The most structured bags in my collection, other than clutches, are my Hermes Birkins. There is just not much need in my life for such a refined bag, which does not speak against the quality or beauty. (more…)
Although versions of that famous phrase appear in the works of both Homer and Shakespeare, I think that it is most usefully and accurately employed to describe my salivating, almost quivering reaction upon seeing the Salvatore Ferragamo Python Soft Sofia Shoulder Bag. To put it in more vernacular terms: holy crap, y'all. If a bag can be sexy, this bag is sexy. I want to settle down and buy a house with it – too bad its price would be a good start to a downpayment. (more…)
Ferragamo Spring/Summer 2010 offerings so far. The brand has never been at the top of my list in the past, but the bags from their line that I've seen lately have just been so summery that it's hard to ignore what they've got cookin' in their Italian factories.
I don't know about the rest of you guys, but I'm really, really digging the
Among my favorite of the brand's new looks is the Salvatore Ferragamo Python Fiammetta Shoulder Bag. If ever there was a color that's more warm-weather friendly than yellow, I can't think of what it is, and the python texture and wooden handle give the bag just a hint of safari flavor that plays so well when temperatures rise. (more…)
The Boston Bag shape is a highly used and coveted shape year after year. Gucci has made the term Boston Bag famous, but it is not just Gucci that designs a bag of this shape. And this Spring designers are implementing this easy day bag shape in various ways.
We simply do not talk about Salvatore Ferragamo enough on PurseBlog. But Ferragamo bags deserve more praise. I do not see them popping up on websites as often as I would like. Can the buyers change that, please? Ferragamo is known for high quality craftsmanship. The designs may fly too far under the radar for many though, which is why we don't see more Ferragamo bags.
Right when I saw the Salvatore Ferragamo Mediterraeno Companion Bag I thought of two things: 1) This is a great price for a quality leather bag and 2) I wonder if Amanda will love or hate this red color. You see, Amanda is very picky about the color red on a handbag. She loves red, but not orangey-reds, and not many other reincarnations. She needs the perfect red. Does this Ferragamo bag hit the mark? (more…)
The more I see of the Fall/Winter 2010 shows, particularly the ones from Milan, the more I become certain that the fashion industry glitterati have clandestine meetings after the season has been presented to decide what the trends for the next season will be, just so everyone else is on the same page. That, or it's secretly just one supergenius (or supercomputer?) behind every major collection, and that's why everything from Gucci to Fendi to Ferragamo this season has been so cohesive – not just within each collection, but across much of what has been shown at Fashion Week as a whole.
So, this is what we know: the 60s and 70s are being brought back, this time in a conservative and subdued way to match the mood of the culture. Classic shapes, particularly in accessories, are as classic as they've ever been. Brown is officially a thing, as is suede. The look of sueded croc is also gaining favor, after being embraced for the past few season by the bag designers at YSL.
Ferragamo's collection hit most of the high points of fall trendspotting, and the materials were lush and beautiful. A few of the shapes were too plain for me, but high points like asymmetrical croc clutches with tortoise shell closures made me forget all about them. That's probably a good metaphor for how fall is shaping up, in fact – the key will be finding the bags that take tradition to the next level. (more…)
I need more Salvatore Ferragamo bags in my life. This is a brand that flies under the radar but produces bags that are drool-worthy time after time. This time we are mentioning a classic bag from Ferragamo that was seen on Jessica Simpson back in 2005 in bright green. An aside, but is it not hilarious to read a post from 2005 that is talking about Newlyweds? Time changes many times.
Onward. The Salvatore Ferragamo Safari Calfskin Shoulder Bag is lux, classic, and relatively affordable. I have this bag in white and I can tell you personally that it is a timeless design made with high quality materials. The calfskin is textured to give a sophisticated finish. (more…)
While Salvatore Ferragamo is known for some exquisite handbags, I love when I find something a little different than what I am normally expecting. This bag fits into that category.
I am always on the look out for hot handbags perfect for day time use. When I am at the grocery store or out running any kind of errand, I tend to see way too many ugly handbags. Trust me when I say I understand that not everyone can afford to drop big bucks on a handbag, but there are plenty of fabulous bags out there to choose from. Hey, even take a look at some hot bags and find something that looks similar at a different price point, you know what I mean? (more…)
Exotic bags are always a hot topic of discussion, both around here and on our Forum. Some people love them, some people hate them, and others sit in the middle, fretting about their ethical implications without being able to completely convince themselves to dislike the bags. I was a member of the last group for a long time, but I finally came to a decision about it a while back: as long as the bag uses the skin to its fullest effect, I have no quarrel with it. And I certainly have no quarrel with the Salvatore Ferragamo Miss Vara Denise Python Hobo. (more…)