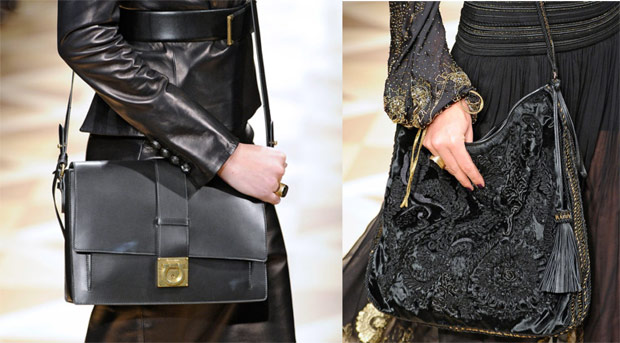 At the risk of employing a cliche, I think black might be the new black. The inky color beloved by fashion people and regular folks alike (especially in New York) has been oddly omnipresent in Fall 2012 collections; because it doesn't photograph well and more vivid colors are preferred for magazine editorials, black often finds itself relegated to a designer's non-runway line. But in Salvatore Ferragamo Fall 2012, among many other shows (Gucci, Versace, Dolce & Gabbana), black takes a starring role.
Ferragamo didn't show only black, but the brand started the show with a heavy dose of it before moving on to bags in brown, blue and a little bit of cranberry. The options ranged from minimal crossbodies with flat, broad leather straps to hippie-luxe bucket bags with lots of embroidery and gold detailing. The bags themselves didn't bring to mind any one woman; I could see the collection being worn everywhere from the boardroom to the farmer's market. (more…)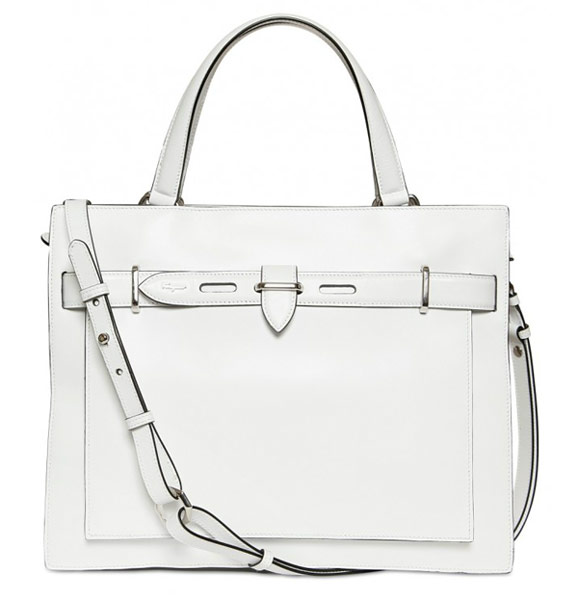 Salvatore Ferragamo Calfskin Tote, $2751 via Luis Via Roma
"You can't wear white after Labor Day or before Easter!"
Is there actually anyone out there who believes that anymore? I mean, besides little old ladies. Even I, as a daughter of the South and a woman introduced to pearls, slips and "proper dressing" at a young age, think this rule is beyond tired. Winter white is a beautiful thing, and if you're not entirely convinced, this gorgeous Salvatore Ferragamo Calfskin Tote is here to talk some sense into you. When Ferragamo speaks, you listen. (more…)
Images via Vogue.com
For Fall 2011, Salvatore Ferragamo gave us handbag after handbag in black, white or grey, and the collection served as a stark contrast the use of color that permeated most of the other collections for the season. For Salvatore Ferragamo Spring 2012, though, there isn't a trop of black or grey to be found. You might as well entitle this collection Ferragamo and the Amazing Technicolor Handbags.
There were a couple of multi-textured neutrals, but the vast majority of the bags were bright, cheery colors in suede, exotics or some combination of the two. The aqua blue alligator day clutch in particular attracted my attention (and admiration), but how could it not? That's the kind of bag that begs heads to turn. (more…)
I never shared my experience of the Salvatore Ferragamo Resort 2012 show with you. Shame on me because it was drop dead gorgeous, the kind of gorgeous that made me pinch myself to see if what I was experiencing was a dream. Held at the James B. Duke Mansion, this was the first time Ferragamo has shown in NYC and many celebrities and fashion insiders were in attendance. The paparazzi were out in full force trying to photograph the likes of Eva Mendes, Emma Roberts, Minka Kelly and more. I thoroughly enjoyed the celebrity spotting as well, but the show itself was what I was there for and it was breathtaking.
When the music began, the models began their walk through the mansion and the collection reminded us that resort is all about chic. Blue, white, and silver took over the runway and for twenty minutes I forgot where I was and was transported to the resort world of Ferragamo.
(more…)
Hats off to Amanda for holding down the PB fort as Vlad and I partake in a "vacation." So far on this particular trip, we rarely check our email and keep swatting one another's hands away when we see the other attempting to slyly work via our iPhones. But today, after a long day in the sun, we both caved and decided it was time to check in with you all. And this is a particularly fun check-in, because I come bearing handbag eye-candy.
Behold, this amazing oversized Salvatore Ferragamo travel tote. A few years ago Ferragamo caught my eye with its Carlotta tote and I was in love. I imagined it being my weekend bag in the back of my super cool imaginary convertible on our way to our imaginary Hamptons home. But I have found a replacement to drain my imaginary bank account filled with copious amounts of imaginary money, and it's this exotic Salvatore Ferragamo Alligator Travel Tote. (more…)
When we previewed the Ferragamo FW 2011, we also were given a glimpse at some of their favorite Spring Summer 2011 items. The Salvatore Ferragamo Gancio Belt Line is the collection of bags that caught my eye for spring. Right when I tried the turquoise satchel on (pictured above), I instantly fell for it.
The main attraction for this collection is the Gancio metal hardware closure detail with the belt. Large whipstitching gives a laid-back Western vibe but keeps the bag from turning too country and remaining fashionable. Suede is a material most associate with fall and winter, but the addition of it to spring/summer bags is both unexpected and welcomed. This season's trends revolves around maxi skirts and dresses alongside a cool 70's vibe and this line from Ferragamo will complete the look perfectly. Styles available at Salvatore Ferragamo boutiques nationwide 1.800.628.8916. See more from the collection below!
Contrasting and nonchalant. Femme sensibility and homme rigor. Splendid exotics and symmetrical patterns. A whole lot of black and white by Ferragamo, presented in B/W on PurseBlog. Enjoy: Click to view the full gallery

We've seen tons of color during the Fall 2011 shows that at times it has been hard for me to remember that these collections are intended for cold weather instead of warm. And I'm not complaining; the return of color is absolutely my favorite trend of 2011 as a whole and I couldn't be happier to wear pink and orange instead of camel. But for those of you who, like me, still appreciate a good bit of black and grey in our closets, Salvatore Ferragamo Fall 2011 has some handbags that are more than worth a look.
Ferragamo kept with the company's recent use of vintage-reminiscent shapes and leather to make a collection full of businesslike shoulder bags and sparkly evening bags that will surely be a hit on the red carpet. My favorite pieces were those that used pattern, like the sharp-edged herringbone day clutch, but if you prefer your bags neutral and textured, beautiful exotics and leather treatments also abounded in glossy black. (more…)
We don't give you all enough Salvatore Ferragamo here. And that needs to change. Especially when they have simple, exotic, and gorgeous designs such as this one. Ferragamo is one of those brands you can always turn to for a quality luxury products (similar to Bottega Veneta). The brand is known for its timeless appeal. And this clutch screams out perfection. (more…)
With hundreds of events happening for Fashion Night Out this year, we decided against saturating our website with every single event. Actually, we didn't even cover one. But that changes now and it is because I absolutely positively love the bag that is being launched. Ferragamo does FNO properly by giving us a fantastic bag to remember their event by.
To celebrate new Creative Director, Massimiliano Giornetti's first womenswear collection, Salvatore Ferragamo is launching the W Bag. The W bag is named for the House's matriarch, Mrs. Wanda Ferragamo, and was originally designed in the seventies by her daughter Fiamma. (more…)
Ferragamo is a brand we turn to for premium quality and luxury. For our trip to the Bahamas, Salvatore Ferragamo sent us this Resort bag to photograph. The white leather handbag featured brown trim along with tortoise shell closures. The bag itself has thick pebbled leather and a doctor bag top closure. The color combination was perfect against the crystal blue Carribean waters and lush greenery.
This bag delivers in November (call to reserve) at Salvatore Ferragamo Boutiques Nationwide for $2550 or www.ferragamo.com. (more…)