Feature My Bag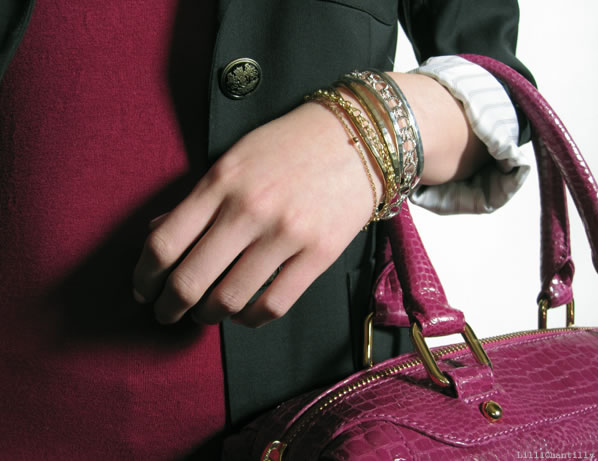 Last week was a combination of many personal problems colliding and we missed out on featuring winners for our weekly Twitter competition. The good news is we are back in action and next week's winners are going to get an amazing prize. That news will follow later!
The winner of this week's #featuremybag on Twitter was @LilliChantilly who showed us many photos of her stunning Rebecca Minkoff Morning After Bag. I was most drawn to the photo that featured the handles and top part of her bag next to all of her bracelets. Click to see the runners up!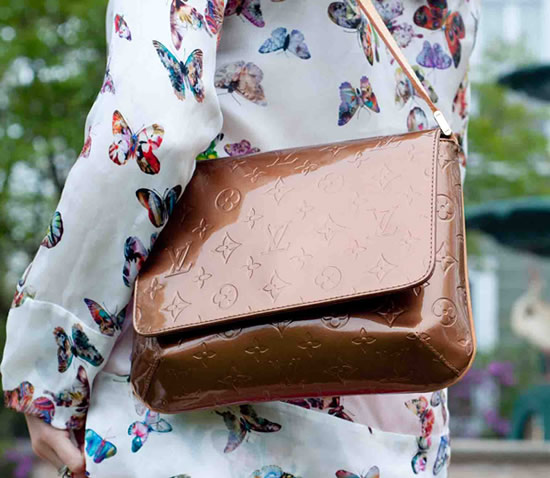 Another week and more amazing entries for #featuremybag on Twitter flooded in. It seemed Chanel bags were the top choices this week as were outdoor photos.
The photo @LeticiaGuerra submitted won us over because of its crisp look and delightful composition. @LeticiaGuerra showcased her Louis Vuitton Vernis bag along with a butterfly patterned top, which was the perfect combination. For this photo, Leticia wins a $25 Amazon gift card. Click to see the runners up!
Our Twitter followers got PURSEonal with us and shared many photos for #featuremybag this week. We expected lots of red, white, and blue and that is what we got.
What more is there to love than a classic red Chanel bag with the strap shaped into a heart?! You had us at Chanel. This photo was submitted by @siobhanisgone and we instantly fell in love. For this, Siobhan wins a $25 Amazon gift card. Click to see the runners up!
Our weekly Twitter contest, #featuremybag, continues to grow with more submissions and stiffer competition. If you haven't submitted a photo yet, you will want to for sure next Monday (details to follow tomorrow).
We found ourselves lured in by a photo of @MrsRance black and white bag with a rainbow burst finish. @MrsRance has been entering every week and her photos are always contenders. This week she started off with a black and white photo of her Chanel bag and added a colorful rainbow burst, which added such an amazing finish. Click to see the runners up!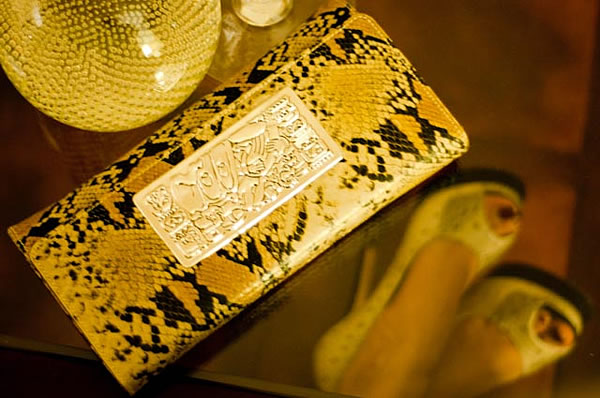 This past Monday was the dreadful Tax Monday which means many were rushing to the post office to send out their taxes. Because #featuremybag fell on this day, we decided to double the money amount and giveaway a $50 Amazon gift card. The entries flooded in and we started to see people getting ready for spring and summer by the beach and pool with their accessories.
It was hard to choose a winner this week, but we ended up loving @LeticiaGuerra's Snakeskin Clutch photo. Leticia showed us that Monday can still be fun day with her peep toe shoes peeking through the glass table which had her snakeskin clutch with Mayan hieroglyphic silver plaque resting on the top. Click to see the runners up!
As the weeks go by I know our #featuremybag competition on Twitter will continue to have more entries and better photos. This week many choose to opt for black and white photos which gave an artistic look to many of the photos.
Our winner this week is @CrisaMunteanu who put her Prada bag on display at 'aux Jardins du Palais Royal' in Paris.
We feel handbags are art pieces and it seems Crisa believes this as well, which is why we love her photo. With the setup of this photo, a black and white finish was the perfect answer. Click to see the runners up!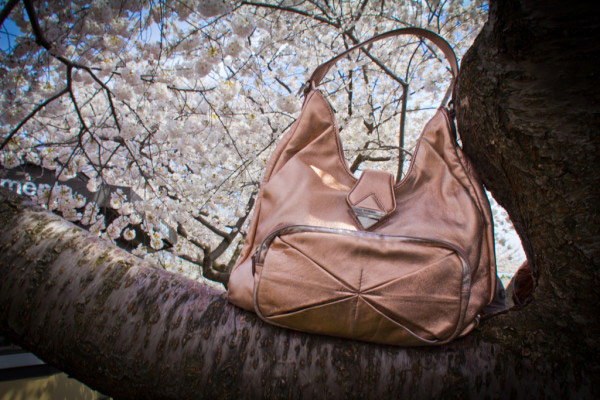 Our second week of #featuremybag on Twitter brought more photos and stiffer competition. From funky to classic, cherry blossoms to in the club, we had an array of images sent our way.
Our winner this week is @lamxing who showcased a Botkier Bag against the cherry blossom trees in DC.
This photo not only features the bag beautifully but also integrates the gorgeous cherry blossom festival which works perfectly with this bag. Congrats to Chris for taking this photo – his image is above and he will win a $25 Amazon gift card. Click to see the runners up!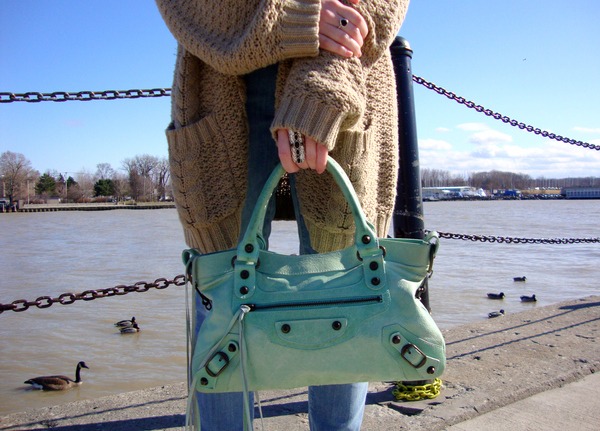 If you follow us on Twitter you know that we started a #featuremybag contest on Monday. I love sharing photos of the bag I am carrying but I am equally as interested in seeing what all of you carry. The first ever winner of our Twitter installment is @Breakfastatsaks who photographed her Balenciaga First.
Right when we saw the picture we could not get enough of the sea foam leather against her thick cable knit sweater and water in the background. Congrats to Ashley for her photo – her image is above and she will win a $25 Amazon gift card. Click to see the runners up!