I know I am not alone in complaining about my lack of closet space and desire for a much larger closet to organize my handbags and wardrobe. Every one of you reading this website may have felt this way at one point before (or still feel that way).
Tracy Hutson is one of the original style consultants on the show Extreme Makeover Home Edition. And she was always one of my favorites, pulling together finishing touches to give the transformed homes the "homey" feeling while remaining completely stylish. Tracy has teamed up with QVC to release a line of home accent pieces, the Love Where You Live Collection, to integrate her style into items for your home. Luckily, I was able to chat with Tracy Hutson on how to keep a tidy closet. Read her tips and thoughts below!
A common complaint among women is lack of closet space, not everyone has a Carrie Bradshaw closet. What simple steps can be taken to make the most out of your closet space?
Tracy: Who wouldn't want to have CB's closet! There are several things that can help achieve maximum closet space. Take a look at where your problem areas are. Are your clothes so packed in it's hard to see what you have? Doubling your hanging rods is easy and inexpensive. Is your coveted shoe collection taking over the floor? Adding extra shelving always comes in handy to display the goods. The Photo on the box trick is a must! It really does save a lot of time and heartache. Also, storing your last season's clothes elsewhere really frees up a ton of space. A friend in New York swears by the space bags, found at spacebag.com – genius! Just slide those sweaters and pea-coats under your bed until next winter! Also, hangers are a great space saver if they are all the same they fit nicely together. My faves are the bamboo hangers at bgreenhangers.com. (more…)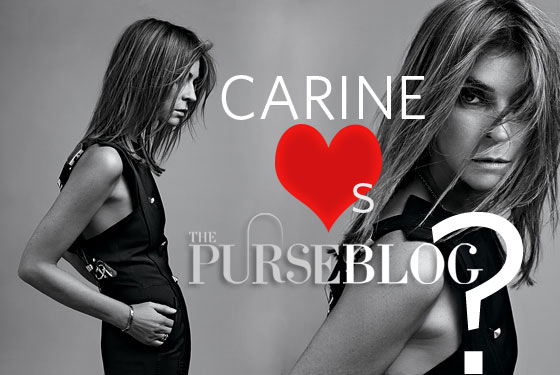 For about three minutes in my life, I was under the impression that Carine Roitfeld, Editor-in-Chief of French Vogue, loved PurseBlog. That ended up being short-lived, for after Carine Roitfeld followed us on Twitter, she quickly unfollowed. Clearly it was a follow mishap. The mouse-clicked-on-the-wrong-button kind of follow.
You see, having a designer, editor, or important person follow you on Twitter means they take a liking to what you and your tweets have to offer (that is unless they follow anyone that follows them, which I never understand). For one short second I thought, "WOW, Carine Roitfeld loves us!" There was a lot of excitement. Carine is only following a select handful of people, and somehow, by accidental mouse clicking, we became one of them. I'll take an accidental follow from one of the most influential women in the fashion industry any day. (more…)
You know, I am not really sure what to say here… and that rarely happens. So, let me see what I can conjure up given the fact that my mind is suffering from various states of confusion.
As I was catching up on some news (as well as daily celeb gossip), I came across a tidbit of information that I *HAD* to share with you all. Lindsay Lohan is planning on breaking into the handbag world. And no, I am not talking about her discussing the various expensive handbags she owns. Instead, I am talking about Lindsay designing handbags of her own.
If you are anything like me, you need to reflect on this a little bit. (more…)
After the faux-fur-on-ice (literally) escapades of Chanel's Fall/Winter 2010 collection, it was hard to predict the direction in which Karl Lagerfeld would go for his next collection, Chanel Cruise 2011. Well, after the collection's presentation in Saint-Tropez, we know that Kaiser Karl has his mind planted firmly in the Riviera of the 60s and 70s. Models arrived to the show by speedboat and Georgia May Jagger, daughter of Mick, graced the runways to give the show some retro cred (it also doesn't hurt that Georgia May looks like Brigitte Bardot. Startlingly so.)
The clothes recreated the era fantastically, even though a few pieces would probably have best been left in the time period from whence they came. Most of them, however, were a welcome contrast to the version of the 60s that graced fall runways – tailored, traditional, neutral. The flowing, flowered caftans, jumpsuits and crocheted overlays had a distinct flower-child appeal, and they look utterly appropriate for the cruise crowd: airy, light and perfect for the deck of a yacht. If you like what you see, order early, though – the Kate Hudsons of the world will likely buy the entire collection out from under you. (more…)
First of all: oops. I goofed. Between having surgery and trying to keep up with the various global Fashion Weeks for a month, I forgot to write about one of the biggest handbag brands in the world, Prada. My bad. So let's pretend like we're still in the thick of Milan Fashion Week and discuss went went on at the Prada show, ok? Please, no one tell Miuccia that we're late.
I'm always relatively down on Prada bags, mostly because I think that the brand makes enough money and has enough creative ability to do way better. They make great basics, but beyond that, things tend to go a little off the rails. I'd link you to some of those examples, but you probably already know what I'm talking about all too well. Well, it looks like I'm going to be a lot happier with the brand in six months' time, and hopefully that means that you all will be too.
Instead of the transparent vinyl and questionably bedazzled closures that we saw from the brand's last major collection, this line of bags was much more subdued and mature. There were three types on display: first, a small shoulder bag in patent leather with contrasting trim at the strap and closure, with lines that were reminiscent of the 60s aesthetic that we saw throughout most of the major collections. Then there were a few non-leather satchels in muted multicolor prints. Finally, the best bags of the show were hewn of sumptuous woven leather, proving once and for all that it's possible to do high-end weaving without aping Bottega Veneta. Sign me up for one of those immediately, if not sooner.
Alright, feel free to go back to remembering that Milan Fashion Week ended like two weeks ago. (more…)
If you just can't stop looking at the haunting pictures of Alexander McQueen's final collection, I've got a little Friday treat for you. Originally posted by the crew at Fashionista, the video shows details of not only the clothing, but also the shoes, bags and accessories that are on display at McQueen's buyer display in Paris. As expected, the tailoring and finishing are impeccable.
Video via Fashionista.com.
Looking through the pictures of an Hermes runway show can be almost anticlimactic – we know that Jean Paul Gaultier is going to do something brilliant and that Hermes only uses the absolute best in luxury materials and finishes. They've set such a high bar for themselves that even though the team behind the brand almost always turns out brilliant work, I find that the attitude tends to be, "Of course it's good. It's Hermes." Their perfection can feel repetitive at times.
For Fall/Winter 2010, however, Hermes did something that had a few people wrinkling their noses. Instead of the traditionally luxurious inspirations that we've seen them use recently, Gauliter went for a collection based on The Avengers and Emma Peel and created a retro superhero fantasy covered in the finest black leather. I'm not one of those people that's going to question them – I adored it, from beginning to end. It may have used more leather than some people would have preferred, but leather goods are their bread and butter – why not extend that to normal garments, as well?
As for the bags, you really can't go wrong with an enormous black crocodile Birkin. Or black croc anything – it was abundant in this show. The tiny Kellys attached to umbrella handles were adorable and irreverent, so long as you only intend to use the umbrella as a walking stick. The regular-size studded Kellys felt a little like they were grabbing on to the tail end of a trend, but the studding was fine enough that the bags still looked fairly fresh and desirable. (more…)
I don't always love what Chanel shows, but I almost always adore the great length to which Karl Lagerfeld goes to show it. Few people in fashion are capable of envisioning a great spectacle in the way that he does for his over-the-top presentations, and they're consistently a pleasure to watch, whether or not you enjoy the clothes.
Chanel's presentation at Paris Fashion Week involved the importation of giant chunks of an iceberg from from Scandinavia, and the models splashed down the runway in appropriate cold-weather attire. Well, it was as appropriate as Chanel gets – there were several of what only can be accurately called Wookie suits, plus lots of other arctic attire in messy, frayed brown tweeds and faux fur (that's right, all the fur in this show was fake).
About a third of the way into the show, the clothing got a little more wearable and some of the bags got seriously pretty. My personal favorites were the icebox clutches – although they may have not been the most practical bags shown (I think that award goes to the furry, tweedy backpacks), they were the ones that most accurately captured the frozen feeling of the collection and will probably make fantastic collector's items in the future. On the whole, ome of the bags were bizarre, but if you can get past the faux fur then there was some beauty to behold. (more…)
In a show with such an astounding number of beautiful handbags, I barely know where to begin. Who would have thought after last season's tribal tassel disaster that Marc Jacobs would come up with such a feminine, pretty, and functional collection of handbags at Louis Vuitton. I would have been the last one to guess it – in fact, I remarked to a friend last week that I was barely even looking forward to the Vuitton show.
But that's the genius of Marc Jacobs. Just when you think that you've got him pegged, when you think that you know what he's going to do and how you're going to feel about it, he veers off in the opposite direction at full speed and gives you the last thing you could have ever thought he would come up with.
This season, he took us straight back to 1940s France, with tea-length tweeds, tailored waists, and bosom-hugging dirndls. The look reminded me of the French farm girls in the opening sequence of Inglourious Basterds, but with an obviously high-end, Parisian twist. It was a beautiful collection, made only more beautiful by the gobs and gobs of gloriously detailed, traditionally wrought handbags in every material that one could imagine: crocodile, ostrich, leather, fur, lace, satin, beads, you name it. Almost all of the bags were plays on the traditional Speedy shape, with a few wristlets thrown in for good measure. Many Vuitton fans have been lamenting the loss of a certain amount of tradition from the staid fashion house – for those customers, this collection is a shot of sunshine straight from handbag heaven. (more…)
If there is a more haunting experience in fashion than watching Alexander McQueen's posthumous Fall/Winter 2010 presentation to a very small group of fashion's glitterati, I can't imagine what it would be. Presented in an ornate salon owned by the brand's parent company, the partial collection of 16 looks was brilliant, as we all knew it would be. It was also, in part, something totally unexpected: angelic.
The collection was inspired by 16th centurty painter Hieronymus Bosch, among other artists, who specialized in religious interpretation and commentary. Some of the patterns actually contained computerized and re-worked prints from the original artwork, including the Bosch masterpiece "The Garden of Earthly Delights." Outside of the professed inspiration, however, it's difficult to not ascribe a more personal and tragic meaning to the stylized angel wings that several models sported. Indeed, there were otherworldly aspects to many of the looks – pure white, gilded feathers. Perhaps the most pointed reference was in the show's final look, a golden jacket that could have been made of wings, fluted at the floor by gobs of beaded white tulle.
But this collection was anything but one-note. Alongside the angelic whites were brocaded and beaded dresses in hues of red and gold, plus digitally printed short dresses, seemingly a continuation of the previous season's much-lauded Plato's Atlantis collection. The show displayed only a fraction of what McQueen had probably completed, but even in its abbreviated length, it not only demonstrated the designer's unmatched technical prowess, creativity, and mastery of the female form, but also rendered in stark relief the stunning loss that the fashion industry and the world at large has suffered in McQueen's death. (more…)
In a season where nearly every designer has put out clothes that are classic and subdued, it's almost a relief to know that Christophe Decarnin is still making clothes for rock stars and supermodels at Balmain. I mean, someone has to, right?
Decarnin's collection would look aggressively glam in almost any context, but the effect is only magnified a thousandfold when juxtaposed with the somber browns and midcentury shapes of many of the season's other high-profile collection. Where others were doing ostrich leather handbags and tailored suiting, Balmain brought us rich brocade, gold foiling, leather pants and ostentatious furs.
Several recent Balmain signatures, like bold-shouldered, glimmering minidresses, heavily detailed military jackets, and skintight leather made their requisite appearances, but I was most struck by the slightly out-of-territory aspects of the collection. In particular, the gilded brocade jackets paired with skinny pants reminded me again and again of Keith Richards, and several deep-v belted evening dresses made me wonder who would be so lucky as to wear them on the red carpet. A fitting collection for a culture that has replaced royalty with music and film stars. (more…)