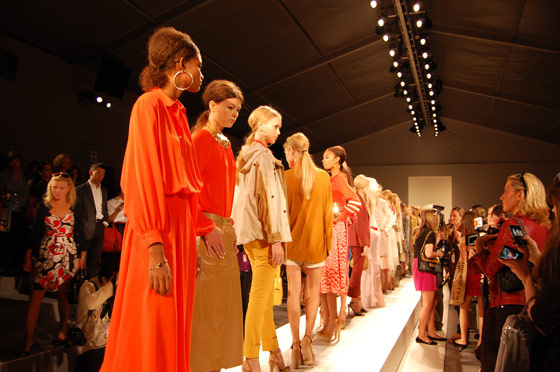 Since we've been noting a clear move from monogrammed cute to sleek and chic in Tory's shoes and bags, it's no surprise that the Spring 2011 presentation was nothing short of gorgeous. It also confirmed that the 70s really are going to be in style next spring – I know, I know, Marc Jacobs confirmed it too but Tory Burch has the power of mass appeal. Plus, her 70s-inspired pieces were paired with other items that gave them a decidedly modern twist. For example, bell-bottom pants were paired with things like a fine-knit sweater that reminded of Peruvian striped styles or just a simple long-sleeved tee. The shoes were pretty high, yes – giant-heeled espadrilles or high wedges – but there were easy sandals as well. (more…)
Marc Jacobs is almost inarguably the king of New York Fashion Week, and his Marc Jacobs Collection show is always the most sought-after invitation of them all (at least stateside). This year, the show livestreamed online to thousands of fans while the editors and buyers looked on in Manhattan, and what a splendid show Marc created to kick off the digital age at his company – if you like a good 70s reference in your spring wardrobe, that is.
Jacobs will also join us in the 21st century by launching online retail at MarcJacobs.com today, but you'll have to wait until next year if you want to scoop up the collection's fabulously wearable printed dresses and (slightly less fabulous) shiny pantsuits in a palette of plum, pumpkin and raspberry. While you wait patiently, we have photos of the best looks to entice you, after the jump. Oh, and the bags! How could I forget the bags? Jacobs took a refreshing turn back to normalcy this season, and the richly hued day clutch seems to be his bag of choice for spring.
From his runway to God's ears, as they say.
(more…)
It's been an undeniably fabulous year for Mulberry. The Alexa bag took off into the stratosphere with the endorsement of namesake Alexa Chung and brought hordes of new customers to the brand's signature British It Girl look, and it appears as though things won't be slowing down at all for Mulberry Spring 2011. At the brand's New York runway show earlier today, a well-edited collection of style mavens and fashion bigwigs looked on as the brand presented a polished-yet-fun line of ready-to-wear, shoes and bags.
And it's the bags, of course, that we're worried about here. Fans of the Alexa won't be let down – the design will be coming in several new colors and finishes for spring, and the brand has launched a new, similar satchel called the Tillie for anyone who already has enough Alexas in her closet. My favorite bags were the (little m) mulberry ones – purples with lots of red undertones have a spot in my heart and wardrobe any day. We have tons of detailed photos after the jump, and you can either let us know what you think in the comments or over at our Mulberry Spring 2011 discussion thread on PurseForum! (more…)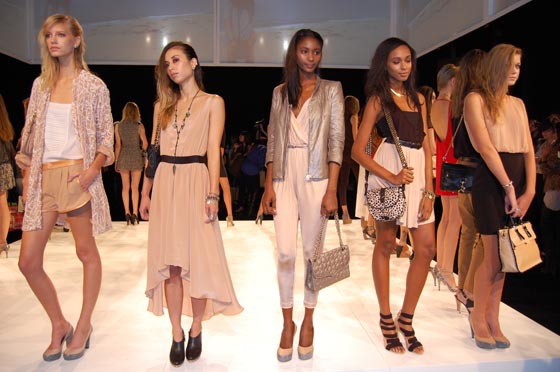 By far one of the best parts of my first week back at school was Fashion Week – I jetted (well, ok, I took the subway) to shows before and after class. But I was highly anticipating the Rebecca Minkoff Spring 2011 show, and now I can say with full confidence that it exceeded my expectations. (more…)
I don't dig the all-jean look that some people in fashion have embraced over the past six months, but it's hard to argue with any outfit that includes a giant Chanel Flap Bag in one of the dusky military colors favored by fall's trends. Photoblogger extraordinaire Tommy Ton, working the events at Lincoln Center for Style.com, managed to capture just that on the street in New York City.
You can find Ton's Fashion Week coverage at Style.com, or visit his blog at Jak & Jil.
In it's second year, the Anna Wintour-created Fashion's Night Out seemed to find its footing as both a social and media event. Capital-F Fashion people were sharing their experiences and photos all over Twitter, from Olsen Twin-anchored cattle calls at Barneys to velvet rope, guest-list-only fetes at Ferragamo and Madewell. The crowds were huge this year, bigger than last year by a wide margin, and nary a luxury brand or retailer with a New York outpost sat out the festivities.
By all of those metrics, Fashion's Night Out was a roaring success. But as an event that drives sales and gets people shopping, many critics still have their questions about its efficacy. During a rather awkward Late Night with Jimmy Fallon appearance alongside uberdesigner Marc Jacobs, Wintour bristled at Fallon's question of whether or not the event included discounts – it does not, or at least it's not supposed to. So we're curious – if you attended a FNO event in New York City or elsewhere, did you buy anything, or did you go to enjoy the crowd and the event (and maybe also the free cocktails)? (more…)
It's that time of year again! Time for runway shows and cool parties and capital-F Fashion. Even if you're not going to the shows or parties, your opinions still matter – you're one of the people who will be buying the ready-to-wear, shoes and handbags that come down the runway at Fashion Week. With shows starting today in New York for the Spring/Summer 2011 collections, let's whip out the PurseBlog Magic Eight-Ball-o-Fashionâ"¢ and predict what we'll be seeing this week and wearing six months from now.
And I predict…brights! Well, I didn't so much predict it as glean the knowledge from reading some insider-y reviews of collection previews (all while the actual views have yet to happen – the English language is wonky), but saturated, fun colors seem to be making a resurgence. For anyone who's sick of looking at all the beige and tan that designers decided we wanted to wear for fall, it will be a welcome change if brights do indeed retake the runway. So what are you looking forward to, and what do you hope to see? We'll have summaries of the best shows (and the best handbags, naturally) all week long!
At times, fashion can be difficult. It can be temperamental, confusing and subversive in ways both good and bad, and when you get into the upper echelons of the style world, not all good clothes are pretty. In fact, that's probably one of the biggest misconceptions about the fashion industry from those on the outside looking in – fashion is often not about being traditionally pretty.
Sometimes, though, it is. Elie Saab is a reliable purveyor of the beautiful and sparkly, and he certainly didn't fail to bring the glamour with his Fall/Winter 2010 Haute Couture collection. With a palette ranging from scarlet to baby blue, Saab explored the various and sundry ways to make a woman feel like a million bucks.
His goals may not be as high-brow (or pretentious, depending on how you look at it) as someone like Karl Lagerfeld, but he hit his mark admirably with everything from cocktail dresses to a stunning, couture-traditional wedding gown to end the show. I'd be amazed if every last one of these looks didn't end up on a high-profile red carpet sometime in the next year.
Who do you think will wear them? One of the gold numbers in particular screams "Angelina Jolie" to me. (more…)
Most people who follow fashion know the Chanel signatures very well: black, ivory, bouclé, suits, camellias, black, ivory. Rinse, repeat. Karl Lagerfeld's Spring 2010 haute couture collection of graphic white and silver was a significant departure from the Chanel aesthetic that we have all come to expect, and his Chanel Fall/Winter 2010 Haute Couture collection is yet another giant step into new territory.
The most startling things about this collection were the surprising choices in color and proportion. Normally Chanel's color palette is very predictable, but these clothes were rendered in the very un-Chanel shades of maroon, gold, navy and brown. Proportion was primarily at play in the collection's suits and coats – abbreviated jackets were paired with below-the-knee flared skirts, coats were often boxy and straight or puffed to comical proportions. As always with Chanel couture, the real fireworks started after the show's halfway point, where somewhat odd suits and jackets gave way to beading and embroidery so intricate and masterful that an in-person viewing would surely be required in order to appreciate the skill of the work in full. In the end, this collection should be counted as a bold achievement on the part of Lagerfeld and his team even if the suits and coats looked to hold it back at times. (more…)
I hate to say it, but John Galliano's haute couture collections for Christian Dior have been a bit repetitive over the past few seasons. The clothes have always been suitably beautiful and ornate, of course, but I left the last collection unsure if I had seen anything particularly interesting or memorable. Well. That certainly wasn't a problem I had with Christian Dior Haute Couture Fall/Winter 2010.
Perhaps it's a result of the collection's clear inspiration, but these completely gorgeous, pitch-perfect flower-themed dresses won't be leaving my head any time soon. The collection is exuberant, vibrant and bold while still maintaining an obvious femininity and softness, which is a combination of characteristics that makes for utterly modern romantic dressing. Haute couture may be out of reach for nearly everyone, but here's hoping that this aesthetic filters down the fashion ranks for the rest of us very quickly. The best looks, after the jump. (more…)