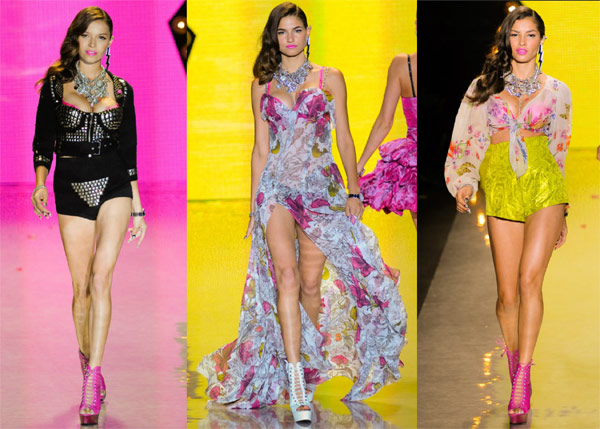 Images via Style.com
It's tempting to call Betsey Johnson "obvious," but to do so would be to entirely miss the point. Of course she's obvious. She's built an empire on being just that, and with Katy Perry and Nicki Minaj emerging as major pop culture style influencers, it's hard to underestimate the impact that Betsey's punk-rococo aesthetic has had on both fashion and entertainment.
With the Betsey Johnson Spring 2012 show at Mercedes-Benz Fashion Week, Johnson took even one step further into obviousness with a collection inspired by burlesque and lingerie. There were bra cups and straps sticking out of almost every top and dress, hot pants, see-through dresses, the whole works. It was all lively and girly and just a tad subversive, although not particularly high-fashion. I could see Katy Perry in every last one of these outfits, though, couldn't you? (more…)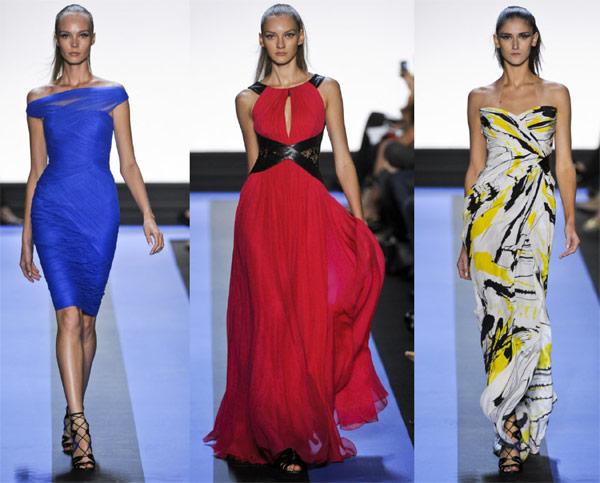 All images via Style.com
Monique Lhuillier is a collection that I always enjoy seeing but never expect to surprise me; the designer's roots in bridal always portend beautiful dresses both short and long, plus lots of red carpet options. Lhuillier's collections are generally pretty in a way on which everyone can agree. But Monique Lhuillier Spring 2012 at Mercedes-Benz Fashion Week New York was something more than that. The cocktail dresses were lean and athletically inspired; the ball gowns were patterned or wrapped in leather.
There was plenty of the Lhuillier we know and love to be found with the classic proportions of the evening dresses, but the mood seemed altogether more modern and, to use an overused word, slightly edgier than you might expect from the bridal maven. These dresses might appeal more to the fashion set than the red carpet set, but here's hoping that someone's brave enough to wear one of the patterned (Is it tie-dye? Splatter print?) ball gowns to some sort of public event in the near future. (more…)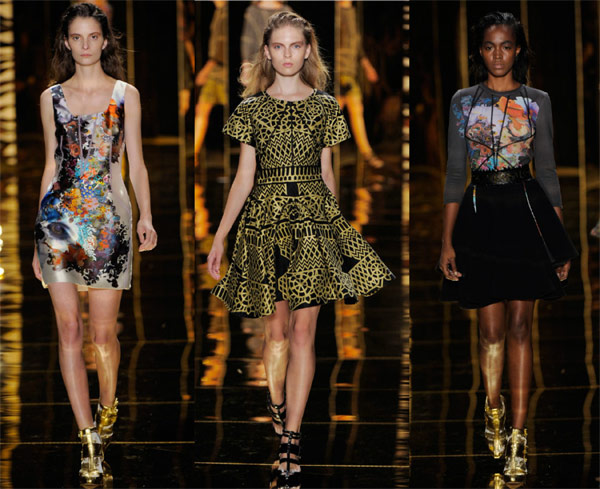 Images via WWD
Most fashion watchers have mental lists of designer that we don't think get enough credit, and these pictures of Cynthia Rowley Spring 2012 from Mercedes-Benz Fashion Week New York should say a lot about why Rowley has been on mine for some time. Sure, her aesthetic might nor be particularly innovative, but Rowley does a masterful job of making pretty, feminine clothes that don't cross the line into twee or sacharine territory.
Towing that line isn't simple, but the mixed florals on a background of black or ivory that constitute the overarching element of this collection are anything but obvious. The emphasis on structure amid the patterns makes the frocks feel modern where they might otherwise veer to the predictable, and the balance creates a line full of relevant, smart clothes for a girl who takes pleasure in being feminine. Dare I say that a few of the dresses felt a bit like Oscar de la Renta for a younger audience? (more…)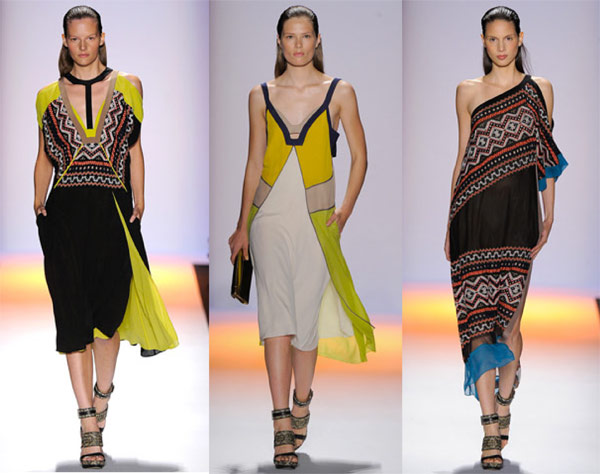 All photos via Style.com
Because BCBB Max Azria is a brand that's so widely carried an advertised, most of us probably have some preconceived notions about what the brand's collections will look like: pretty, contemporary, wearable. While those adjectives translate into strong retail sales, they can sometimes make for a forgettable runway, which is a problem for a collection that's shown so early in the show season. For Mercedes-Benz Fashion Week New York Spring 2012, though, Azria took a page from another New York designer, and I can't help but feel a tad excited. These are not clothes I'll forget by the end of the week.
Is it just me, or can you feel the specter of Proenza Schouler looming over this collection? And that's meant in the best way possible; what we see here are edgy, modern clothes that don't lose the wearability for which BCBG is known for even a second. The maxi dresses in particular, with their mix of patterns and solids, neutral and brights, will surely be a favorite by the time 2012's warm season rolls around. A gallery of show highlights, after the jump. (more…)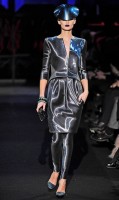 Is it just me, or did Paris Haute Couture Week catch anyone else a little off guard? Because we're an accessories site and haute couture and handbags don't mix on any sort of grand scale, these shows mostly serve as a harbinger for what's to come in the fast-approaching Fashion Weeks and the flurry of accessories that they bring, but a few of the collections are always interesting enough for us to break stride and take a look. This season, Armani Privé Spring 2011 is one of those collections.
Giorgio Armani's couture is often worn on the world's biggest red carpets, but the space-age fabrics and construction of this collection call to mind only one celebrity: Lady Gaga. Armani has provided many of Gaga's more spectacular outfits for events and awards shows, including her fantastic 2010 Grammy dress, and the singer's personal style has clearly made an impression on the legendary designer. Many of the lines retain Armani's traditional modernist flair, but the futuristic materials and embellishments found therein can be credited to the aesthetic that Gaga has ushered into favor. It's to Armani's credit that he has chosen to take the zeitgeist by the horns and make some interesting clothing in the process. (more…)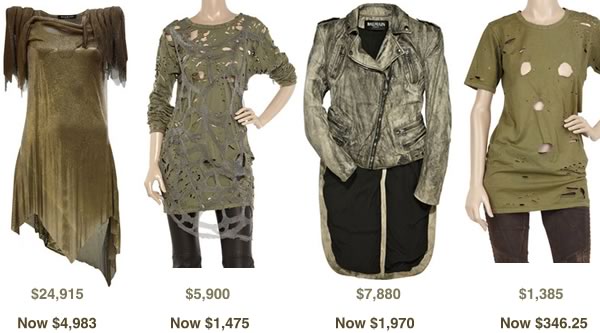 When I heard the Outnet was having a huge Balmain sale I knew many would be excited. But me, not so much. I appreciate Balmain for what they bring to the fashion world, but I simply do not get it. It is more the design aesthetic and price combination that does not compute. Sure, military chic has made a massive comeback and Balmain takes that to the highest level, but they also have sky-rocket prices with their mostly trendy pieces.
Above are some of the Balmain items that not only do not make sense to me price wise, even at 75-80% off, but also the design itself seems silly, like it is mocking us. Really, that distressed jersey shirt has large holes in all the wrong areas.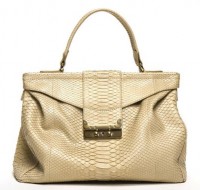 VBH handbags can be elusive little creatures. The brand has an extremely limited online presence, and when you combine that with limited in-store distribution in the US, it's easy to become envious of the numerous starlets who get to sport the brand's famous envelope clutches on the red carpet. Why should only starlets have unfettered access to such great evening bags?
The brand's Spring 2011 collection goes far beyond those familiar clutches, however. The slouchy python and structure crocodile pieces are the star of this line by far, and although there are a few missteps (hello, gold bedazzled bucket bag), the beautiful and straightforward use of exotics makes up for the rather meager sins to be found. And are those python iPad cases that I spy? It sure looks like it. (more…)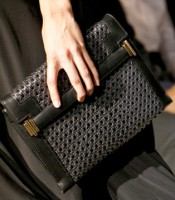 Even though Stella McCartney doesn't use animal products in her bags, that hasn't stopped her line from becoming popular among celebrities and other notable fashion-influencers. McCartney is perhaps most well-known in handbag crowds for the punky, chain-detailed Falabella Bag of Fall 2009, but it looks as though the designer has gone in an entirely different direction for the handbags of Stella McCartney Spring 2011.
With weathered "leather" and woven insets reminiscent of whicker furniture (and I mean that in the best way possible), McCartney took her handbag line in a decidedly traditional, 70s-inflected direction that called for lots of structure and intricate detail. What struck me the most, though, was the smooth, luxurious-looking faux leather – every time I look at these photos, I have to remind myself that these bags aren't made of the materials that we're all used to carrying. In that context, they're fine specimens indeed. (more…)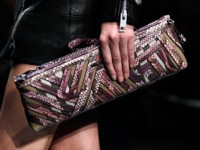 The bags of Burbery Fall 2010 are kind of a shame when you consider the brilliant collection from whence they came. Not only are they plain and boring, but they weren't even close to being the most interesting leather pieces in the show – that honor went to the many heavily-detailed leather jackets and vests that graced the runway.
For all the intricate leather work that clearly went into the jackets, the handbags were shown none of the same attention by Christopher Bailey & Co. In fact, they were arguably the lowest point of a line I really, truly loved in almost every way. I don't mind purses being used as bright, poppy accents to a larger look, but designers should at least take the time to make the bags special as well. The latticed python seen on a few pieces was an interesting-enough technique, but the simplistic shapes don't do anything to help the cause. Full pictures, after the jump. (more…)