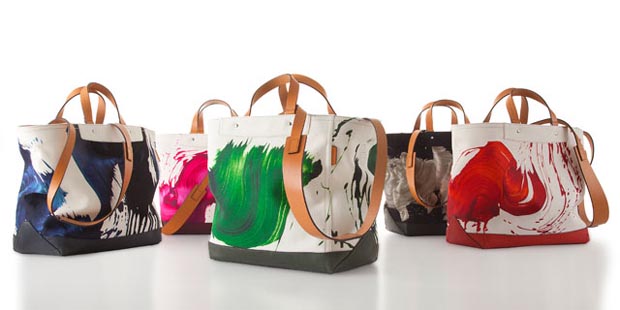 Louis Vuitton may have pioneered the idea, but now handbags designers collaborating with high-profile artists is all the rage. Everyone from Dior to Coach has given it a shot, and in the case of Coach, it seems as though the company has judged such collaborations to be a roaring success. Fresh off of a much-loved menswear teamup with Hugo Guinness, the American handbag company has tapped New York artist James Nares to lend his prints to a collection of totes that will debut a week from today.
Coach x James Nares will feature the artist's signature waves, which he paints on huge canvasses while hanging from a harness above them. Coach has translated those pieces into a set of six tote bags, each of which will be made in limited editions of 175. The leather-trimmed canvas totes will retail for $798 when they hit Coach stores and Coach.com on April 20. Check with your local store to see if they'll be receiving pieces from the collection, or better yet, sign up for notification of the bags' arrival at Coach.com. More images of the collection after the jump. (more…)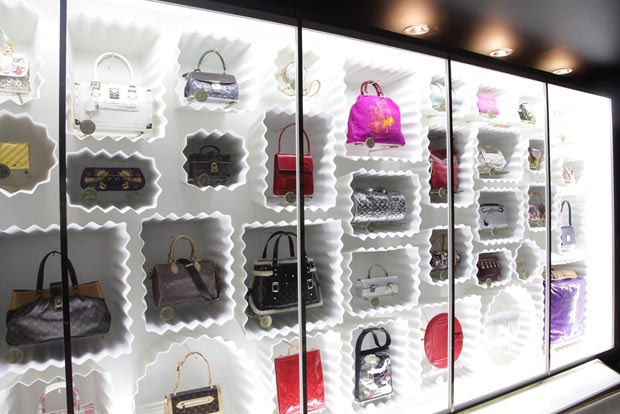 Louis Vuitton lovers have been in luck lately. Perhaps no other fashion brand in the world is more willing to throw open its archives and allow others to examine its DNA, whether it be a retrospective on historical travel pieces or a rumination on the contemporary work of Marc Jacobs. At Le Arts Decoratifs in Paris, both can now be seen simultaneously in the Louis Vuitton-Marc Jacobs exhibit, open to the public until September 16.
The show examines the relationship between Louis Vuitton, the trailblazing trunk-maker of the late 1800s, and Marc Jacobs, the one-time enfant terrible of the New York fashion world turned pop-art impresario at Vuitton since his hire in 1997. The resulting exhibit is a jarring juxtaposition of vintage charm and modern flash; 150-year-old French gowns next to futuristic latex nurse's uniforms, Vuitton's original monogram trunk next to candy-colored handbags displayed like actual candy. Can't make it to Paris this summer? We have some images of the exhibit from Women's Wear Daily for your enjoyment after the jump. (more…)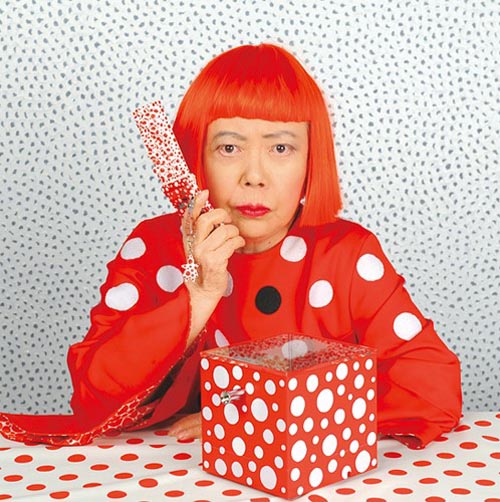 Many brands have tried out the designer-artists collaboration, but only Louis Vuitton has it down to a science (and an extremely profitable one at that). Even casual fashion watchers know the names of the artists that Vuitton has brought on – Stephen Sprouse, anyone? Takashi Murakami, does that ring a bell? Vuitton announced earlier this week that it's about to make another artist a household fashion name – Yayoi Kusama, an 82-year-old Japanese visual artist known for her love of dots.
Kusama is well known in the contemporary art world, but her name may be new to accessories lovers. Fret not, we've assembled a few samples of her work after the jump, and her bold, graphic aesthetic seems perfect for a Vuitton collaboration. Yayoi Kusama for Louis Vuitton will include ready-to-wear, handbags, accessories, shoes, watches and jewelry, and it will bow with special fancy-pants window displays in early July. (more…)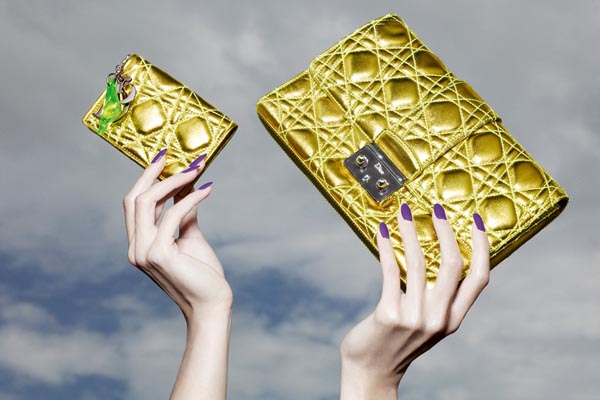 Images via WWD
Women's Wear Daily has announced that Christian Dior will team up with Berlin contemporary art star Anselm Reyle for a line of accessories, handbags and makeup just in time for Miami's Art Basel. I'm pretty sure that it cost me a hundred bucks just to write that sentence. In all seriousness, though, perhaps Reyle's thoroughly modern take on these bags and small leather goods is an indication that LVMH is done being so precious with the Dior aesthetic? (more…)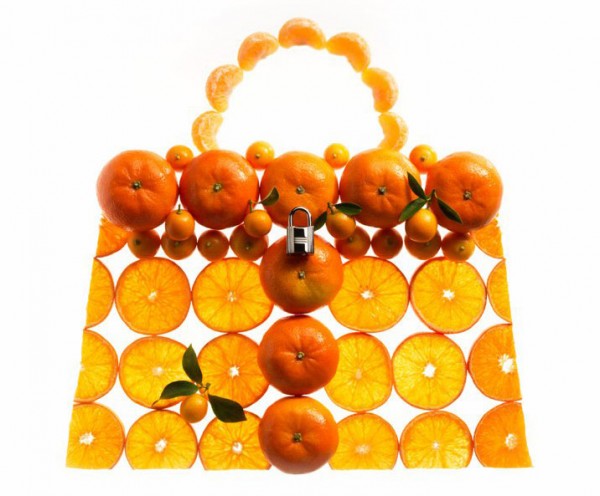 Photos via Hermes
We've all heard the phrase "good enough to eat" used to describe a whole range of visually delectable non-edibles, but it looks as though Hermes has taken the words to heart in celebration of its new Hermes Kelly Picnic Bag; the brand put together homages to the icnonic Kelly bag made out of all the foods you'd need for a proper outdoor meal.
As you might have quessed, the new Kelly Picnic is made out of the familiar woven wicker of a traditional picnic basket, only topped with a barenia leather flap and Kelly closure for that special Hermes touch. You can see it and the rest of the food Kellys after the jump, but considering the scorching heat that New York City endured this weekend, the oranges above are the most enticing of the bunch to me. (more…)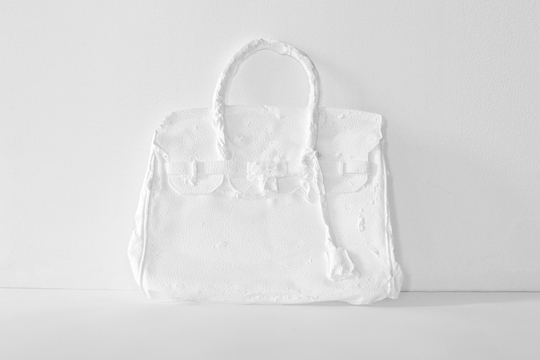 Have you ever noticed that there's a certain subset of people who (incorrectly) think they're very clever because they dislike the fashion industry, or they think they've got it all figured out? It seems like artist Shelter Serra, seller of the resin-casted Hermes Birkin pictured above, might be part of that group.
According to Refinery29, Serra calls the two-dimensional "art piece" a commentary on how an object that costs several months' rent does little more than the function of a simple plastic bag, and he thinks we take such things for granted. This whole premise is annoying for a couple of reasons that we'll explore after the jump, but first and foremost, it's annoying because it still costs $2500 and does even less than a simple plastic bag. (more…)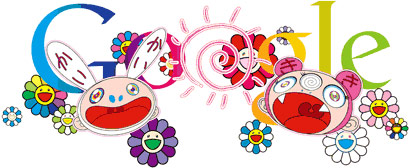 If you went to Google's homepage this morning and found yourself thinking that the search giant's new Doodle looked familiar, it might be because you have some of the artist's work hanging in your closet. (Or maybe because you're just a contemporary art fan in general.) The logo above, commissioned by Google to celebrate the first official day of summer, was created by famed Japanese artist Takashi Murakami, he of the longstanding Louis Vuitton collaboration that all of us know and some of us love. Personally, I'd be excited to see a Louis Vuitton or Chanel Google Doodle. Maybe we can lobby to get one for the start of Paris Fashion Week?
[Image via Google]