Five years ago, if you had told me that Posh Spice would be at the helm of a clothing and accessories line that people take seriously, I would have told you that you should probably consider laying off the drugs. It seems so utterly far-fetched that a 90s pop star would morph from a chaps-wearing WAG to a serious fashion person in the space of only a few years, and yet, Victoria Beckham has done just that. Not only are her collections shown at New York Fashion Week, but they are generally quite well-received and often worn by other stars on red carpets of all kinds.
I don't know exactly how much designing Vicky B. does, although she's said to be quite involved in the process, but at least she had the presence of mind to hire people who don't suck to create her line, which is a move from which other celebs with clothing lines would do well to learn. And now that she's doing accessories, the Victoria Beckham Matte Crocodile Shoulder Bag would seem to indicate that she took great care in hiring whoever's designing her bags as well. (more…)
Megs and I have an odd ability: We talk about things, and they happen. It's inexplicable, and there have been too many instances to completely enumerate here (Example: we joked that I would end up on the plane with a rapper on my last flight from Atlanta to New York, and I then found myself seated next to a guy from Public Enemy), but trust me, it happens. We're magic, but we don't know how to control it.
Recently, we found ourselves discussing a $16,000 partially sueded-croc Celine Luggage Tote that Megs had seen in the brand's Bal Harbour boutique, and we both agreed that Celine was missing an opportunity by not offering a Luggage Tote made entirely out of regular crocodile. Lo and behold, photos of Celine Pre-Fall 2011 gave us a look at exactly the bag we were hoping to see. And if a partially croc Luggage Tote costs 16 grand, I don't even want to speculate how much this one will be. Larger photo, after the jump.
UPDATE: We've heard this bag may be stamped instead of real croc, and if that's the case, one of these beauties may indeed be in my future. (more…)
It makes me so happy to see a young designer stay true to his or her aesthetic when launching handbags. Too often, accessories neophytes can get caught up not only in the potential dollar signs of successful bags, but also in the design challenges that they present, which different from those of ready-to-wear. An accessories designer gets brought in who isn't a great fit for the brand, and more mediocre bags flood our stores. Zac Posen, I'm looking at you.
Thankfully, it seems as though Jason Wu isn't going to fall into that trap. The Jason Wu Python Shoulder Bag, from the just-show Pre-Fall 2011 collection, is not only perfectly on-trend but also beautiful in its own right. (more…)
The work week: it's hard. That's why we need to be occasionally rewarded with images like this one, of the utterly perfect VBH Crocodile Keyhole Satchel. Since this is a Spring 2011 piece and the closest match we can find at an online retailer is the same bag in ostrich, we're going to estimate this bag's price to be in the low five figures. Or, if you prefer, the current-season ostrich version will set you back a cool seven grand. Either way, sit back and enjoy the view, which is free. It's almost Friday!
Photo via Style.com.
Over four season of careful study of the fashion on Gossip Girl, a few things become apparent: Lily loves Hermes. Rufus loves plaid. Nate loves his manbangs. What may not be quite so obvious, though, is Serena's appreciation of Carlos Falchi.
Falchi's bags often don't stand out as obviously his because they don't feature any sort of obvious logos, markings or hardware, but it wouldn't surprise me if a lot of people were noticing the Carlos Falchi Shiny Moroccan Croc Bag being toted around the Upper East Side set very soon. It just has "Serena Van Der Woodsen' written all over it. (more…)
Back in September, Amanda covered the Abaco Jamily Metallic Python Crossbody bag. The only thing she said could lead her to loving this bag more was if it were finished in gunmetal. LOOK AMANDA! They did it. Just for you. Amanda asks, and Abaco answers.
Right now I am finding myself in a bag lull. The ladylike minimalistic bags are great, but it is a little dull to continuously cover. In all reality, this bag stopped me quickly when doing my usual perusing of online shops. I am on the biggest crossbody kick right now, finding it so entirely helpful when walking around the City to have both hands free. And the design of the Abaco Jamily Metallic Python Crossbody Bag is something both Amanda and I love. It is a mixture of practical and hip. (more…)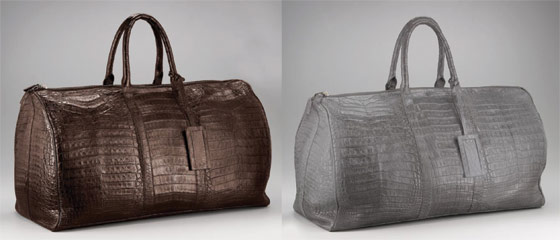 This is a tad embarrassing to admit, considering what I do for a living, but my luggage? It's kind of busted.
I don't travel all that frequently, maybe a couple of times a year at the most, and I generally prefer to use my money on things that I'll enjoy on a regular basis – bags, shoes, clothes, gadgets. Every time I go on a trip, though, I swear that I'll invest in some great luggage for the next one, but then the thought totally leaves my mind as I adjust back to my regular routine.
Now that I'm faced with the prospect of packing for a trip to New York City at the end of the week, I wish that I had remembered to buy some decent luggage. I also wish that I had the extra cash to go out and scoop up the Santiago Gonzalez Crocodile Duffel Bag – but would I choose grey or brown? (Ok, I'd choose grey, that wasn't even difficult.) (more…)
When we discussed Reed Krakoff's Fall 2010 handbag line last week, many of you mentioned that your favorite was one we had omitted: the Reed Krakoff Alligator and Felt Boxer II Tote. The bag's omission was intentional: I think it's beautiful enough to deserve its own post.
When it first appeared on Net-a-Porter two weeks ago, it managed to sell out before I even woke up (which, admittedly, was later than a real adult should be waking up for work), but a second shipment has come in. So, you know, gather up that extra seven grand you have laying around, because this thing doesn't come cheap. (more…)
At this point, if you've been a bag lover for more than the past fifteen minutes, you're used to a sizable markup for python. Some types of snakeskin, most notably watersnake, can be had at prices not far above those of regular leather, but python generally commands big bucks. For instance, the difference between a Chloé Paraty in leather and the same size in python is a solid $2000.
Don't tell that to the designers of the Abaco Jamily Python Crossbody, though. This bag might not be from a big-name designer, but the materials used are a nice reminder that it's not just the name-y labels who can make a fine exotic bag. The kicker? It costs barely over $1000. (more…)
Any regular reader of this blog knows that I'm drooling over a whole lot of bags for winter – Celine, YSL, Mulberry, Alexander Wang…my list is long and expensive, just as it always is. We can go ahead and add the Carlos Falchi Gathered Crocodile Tote to it, although I'd need a bit of a windfall to make it a practical option.
Since this blog is clearly not about practicality, however, let's pretend for a moment that we can all afford to spend over five grand on this beautiful bit of grey crocodile loveliness. This satchel is certainly more affordable than, say, a crocodile Hermes Birkin, and in my mind, that gives me a little bit of hope. Or perhaps it merely strengthens my delusion… (more…)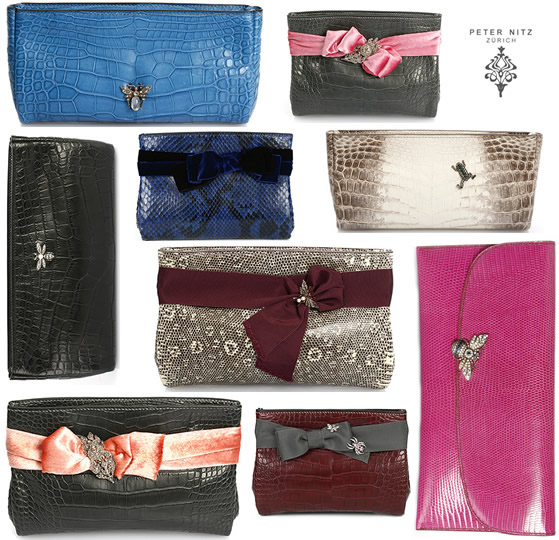 After five years of running PurseBlog, it is rare that I run into a brand new designer that I feel absolutely amazed, excited, and captivated by. That is precisely what I feel when I look at Peter Nitz Zurich designs. His designs captured my attention from the very first glance and have yet to let me go. Peter's dream was to own an atelier where he would shape and stitch the finest available skins entirely by hand and accent them with beautiful jewelry to create unique and precious handbags. And this dream has come true in his namesake company. Most of the designs from the masterpieces collection are custom made to order. The prices vary depending on the combination of the type and size of the skins used along with which piece of jewelry is used.
On using brooches in his designs Peter told me,
"I am a collector and lover of all things vintage and antique. I was always drawn to these amazing antique brooches that just do not get the attention they deserve because brooches are not really that fashionable these days. Bags on the other hand are! So I thought it would be a great way to bring these incredible pieces of jewelry back to life again."