Spring is around the corner and we have a sneak peak at the Botkier Spring 2010 collection! In October we sat down with Monica to see what was in store for us from Botkier. On top of that, we were finalizing our amazing PurseBlog + Botkier Limited Edition Handbag.
Monica shares her a couple of her favorite bags from her Spring 2010 line. Our personal favorite from the Spring collection is the the Howard Street Bag, which comes in a great luscious pink or a blue multi-colored embossed python version.
At the end of the video, Monica talks a bit about our collaboration together. We are thrilled to be working with Botkier and know there will be many more partnerships in the future!
Make sure to vote for Phase II of the PurseBlog + Botkier Limited Edition Handbag.
After thousands of you voted in Phase I of our PurseBlog and Botkier Exclusive, it is time we move on to Phase II. The shape/color/hardware options voted on the most from the first round were the popular Sasha Duffle (as seen on Angelina Jolie and other celebs), Distressed Grey, and Gunmetal hardware. To make the PurseBlog + Botkier Limited Edition Handbag even more refined, Botkier has mocked up four potential finished designs with the specs above. The goal was to design a one of a kind bag for this collaboration.
Our exclusive version of the Sasha will be made with luxurious distressed grey Italian washed lambskin with gunmetal hardware. Additional details include custom square rings and buckles, one front pocket, two top handle straps with whip-stitch detail, and a removable top handle strap that converts from a hobo to a satchel. (more…)
One of our goals for 2010 is to bring you more news from designers you may not know much about. Recently we brought you information on Notting Hill Design, a brand whose bags have been spotted on Gossip Girl and whose designs exude an uptown sophistication.
We have an exclusive look at the next clutch to make it to the Notting Hill Design lineup, the Lexi, which is inspired by the Electric Cinema in Notting Hill. (more…)
We have been working on this collaboration for months are are happy to finally be bringing you news of it. PurseBlog is teaming up with Botkier to design an exclusive PurseBlog and Botkier handbag. This handbag will be created by all of you, having choices for the silhouette, leather, and hardware. After this initial round of voting, Botkier will mock up a couple of options for the next stage. Once that is completed, Botkier will be making and selling the PurseBlog + Botkier Limited Edition Handbag on their website.
The first stage is voting on the initial categories. Monica Botkier and her team have picked out four styles, leathers, and hardware options for you all to vote on. Some of the styles are not in production right now and the leathers are exclusive for PurseBlog, none have been used before. This will truly be a one of a kind design when it is complete! (more…)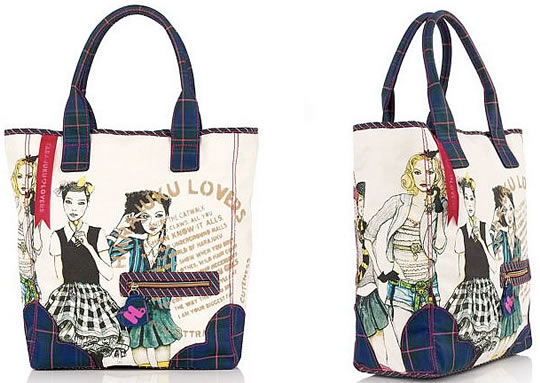 There is no better way to start off the new year than to bring you an exclusive interview and information on a fantastic collaboration. We are talking about the well-known artist Danny Roberts and his partnership with Gwen Stefani's Harajuku Lovers.
Danny Roberts has gained worldwide exposure for his artistic drawings. In fact, his work is now so easily-recognizable that you could pick a Danny Roberts drawing out without batting an eye. Roberts showcases his work on his blog, Igor and Andre, which includes blogger portraits, ad campaigns, and personal works among others.
Danny Roberts was approached for the opportunity of a lifetime. Gwen Stefani and her Harajuku Lovers approached Roberts to ask him to team up to create a mini Limited Edition line. The collaboration was released late July and consisted of four unique handbags, six shirts, and one sweatshirt.
Only problem for all of you is that many of the items are extremely hard to find and/or not available. I was hunting down the Mad for Plaid Precious Tote, which I have yet to find. Here is the good news though, there are three items that Danny Roberts helped me track down.
Mad for Plaid Satchel | $187 via Asos
The Tall Music Tee | $40 via KarmaLoop
Tall Girls Flash Drive Hoodie | $72 via KarmaLoop (more…)
" On the twelfth day of Bottega Veneta we have our best photos and bags yet, a duo of Croc bags, the finest we have ever met!"
How can I begin to describe our final day of Bottega Veneta without typing in all caps followed by an absurd number of exclamation points? It is nearly impossible. I want to stand on top of my couch with my lap top in my hands and scream my excitement over these two bags and the photos Vlad took.
To answer one of your first questions, yes that is a live alligator in our photos. To be precise, he is a four year old alligator named Wally who lives at Everglades Holiday Park in Florida. Next answer is also yes, that is two exotic Crocodile BV bags that Wally is posing with. So let's get to it! (more…)
We followed up with our Rebecca Minkoff Spring Preview with a short interview with Rebecca Minkoff. We asked some forum members what questions they had for Rebecca Minkoff and here she answers.
Find out what is next for the brand, how the economy has affected her business, and when the next sample sales are!
One of the most amazing aspects of my job is the opportunity to look at handbags in showrooms. It is triple the delight when the bags we are looking at are months away from being available to the general public. If you asked me five years ago what I would be doing today, this would not be on my list. But I am beyond thrilled it is.
Visiting the Bottega Veneta showroom was a highlight of our NYC trip. Just as we arrived in the showroom, we were greeted by a fresh set of Spring 2010 handbags. The bags had only been seen previously on the runway in Milan a week prior. Now it was our turn to examine them closely in all of their glory.
When you look at a Bottega Veneta bag, one of the main aspects that intrigues me (and should be taken into consideration by any buyer) is how exactly the bag was made. Tomas Maier and the Bottega Veneta team continue to go above and beyond when creating their pieces. There is a story behind every item, every color, every technique, and every material. Now if we could have the pleasure of sitting down with Tomas Maier to see into his vision our lives would be complete. We can dream, right? (more…)
For our last business trip to New York City, we knew it was time to step up our game. For the purpose of showcasing wonderful new bag candy, images did the job, but video was definitely better. Without further ado, we're proud to present our first official Purse Blog Video coverage. In full 720p high definition and then some!
Our first victim of this cunning stunt was successful designer and friend Rebecca Minkoff. She took her time to present her upcoming goodies for Spring 2010. In our next video, we will have a whole interview with Rebecca, along with a further preview of her creations.
Please let us know your comments and suggestions below and look forward to more reel-licious coverage from Purse Blog in the coming weeks.
A few months back, we've partnered with our friends at Bluefly to put together a fabulous Purse Blog Store in their handbag section. We had the chance to pick some of our favorite bags, at any price point and put them all together in one fabulous store! Well, the store was a huge success and we've had a chance to update it with some of our favorite bags they are carrying now. Isn't it great to head to a fabulous online retail store like Bluefly, go to one spot and see some of their best bags? We love it!
So, head on over to Bluefly and check out our new picks. We have some of our favorites, but within the store, which bags are your favorites?
Diane von Furstenberg has solidified herself as a designer, becoming widely popular for her wrap dresses and clothing line. But DvF continues to excite us with her success in the handbag world. This past Spring the handbag world was a buzz with the unique DvF Stephanie Hobo, which I am still head over heels for. Now I find myself checking out all of the handbags that DvF has to offer and loving her more and more as an accessory designer.
Diane von Furstenberg wants to give PurseBlog readers a sneak peak at her small leather goods for Resort 2010. This collection is named "Her Name is Rio" and will hit stores this November. The collection has four styles: Estella Long Wallet (pictured in White Leather), Estella Coin Purse, Estella Card Wallet, and Estella Makeup Bag (pictured in Violet Sea Leather). Color available will be black, white, and violet sea. Prices will range from $65 for the card wallet to $195 for the long wallet. (more…)