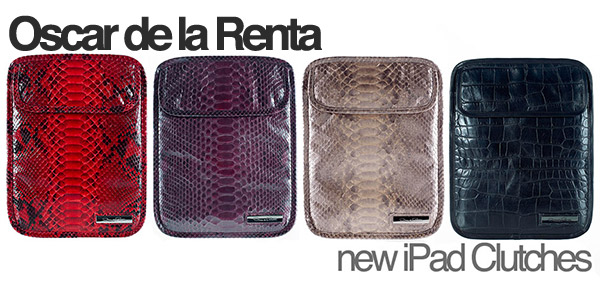 Oscar de la Renta continues to prove he is not only ahead of the curve but also completely able to relate to all of us who spend our days glued to gadgets.
Today we have the exclusive preview of the second batch of Oscar de la Renta iPad Clutches. The first iPad cases (which Oscar endearingly calls a clutch) were spotted on the runway of the Resort 2011 show. Just before that show, Oscar himself purchased an iPad which prompted him to create a fashionable clutch to cover his new omnipotent tablet. (more…)
We are extremely excited to be sharing this video with you not only because it has been eagerly awaited, but also because of the copious amount of work it took to turn this collaboration from idea to reality.
The Limited Edition Botkier+PurseBlog Sasha Duffle is now exclusively available at Saks.com for $635 and also at the Saks flagship store in New York City!
Enjoy the video reveal of this anticipated bag. Click here for the reveal in its full, high-definition glory.
Let us know in the comments below if you liked it!
The brand to turn to for exotic skins is Bottega Veneta. I have never been let down by the skins Bottega Veneta chooses for their bags, from leathers to exotics. When the Fall Winter 2010 collection went down the runway, I had a hard time keeping myself from actively drooling on my keyboard. Not only did I see gorgeous designs, but also there was use of color that worked perfectly for fall and winter while not being drab. One of the colors that immediately caught my attention was a rich hue of blue.
It just so happens the blue bag that I found myself yearning for was also designed in a gorgeous exotic skin. Welcome the Bottega Veneta China Soft Crocodile Fume Loop Bag to your screen. Gorgeous, right? (more…)
I got an email last week of a PurseBlog reader looking for a sneak peek at an upcoming Louis Vuitton bag. Lea asked and we can deliver! Welcome the Louis Vuitton Damier Rivington which is said to be available starting August 1st.
You know why I love this bag? There is a large shoulder drop and a seemingly good sized body with the sturdy Louis Vuitton Damier Canvas. The Damier canvas is a favorite of mine. It works well with many outfits, seasons, and years. Keep your eyes out for more from Louis Vuitton items hitting stores this summer! Approximate price will be $1030. Shop via Louis Vuitton online.
The Proenza Schouler PS1 bag has made a strong name for itself. With a large following, the design continues to entice fashionistas worldwide. When you have a design that does not need to be edited, the only way to spruce it up is by changing the colors and materials. That is precisely what Proenza Schouler continues to do, and with these slight changes I find myself on the edge of my seat each season seeing if the perfect color is being released.
Luckily for both me and all of you, Net-A-Porter is giving PurseBlog readers an exclusive first look at the new colors of Proenza Schouler PS1 bags coming to their store. (more…)
Now that Saks officially has announced their participation, we can break the silence and share the extremely exciting news that we've had to keep secret for a few weeks.
The Botkier + PurseBlog Limited Edition Handbag, which was democratically created by our readers in a two phase process, will be exclusively carried and sold both at the Saks 5th Avenue flagship in New York City and Saks.com, starting in July!
We can not begin to describe how exhilaratingly wonderful this is. Needless to say, when we first discussed a possible collaboration with Monica Botkier and her crew, we did not envision the final product to be exclusively carried by one of the biggest fashion retailers worldwide. We are even more thrilled because it was YOU, our loyal readers and fans, who participated in the creation of this unique bag.
Stay tuned for a full video reveal of the Botkier + PurseBlog Limited Edition Handbag. A very special thanks goes out to Saks and Botkier for making this possible!
It has been a little while since we have updated you on the Botkier + PurseBlog Exclusive Sasha Bag. Finally we can preview this exciting collaboration, it was all of you who contributed after all. The exclusive bag is just about ready to be sold and we got to see a first prototype. We can say with confidence that it is far more amazing than we could have ever imagined. (more…)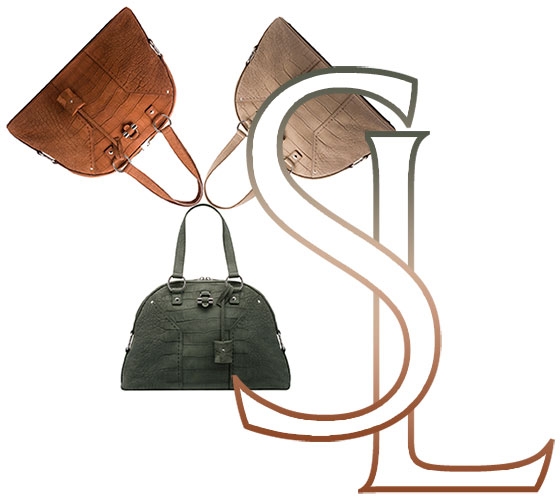 Yesterday, Yves Saint Laurent relaunched YSL.com with a fresh assortment of iconic YSL products that are exclusive to their online store. Many of the products are never-before-seen in boutiques, but we have the inside scoop on some of the items hitting the site.
Yves Saint Laurent have perfected many techniques, one being embossed sueded crocodile fabrications. I have been a long time fan of this process, as YSL has found a way to make it look luxurious and authentic, without being forced. (more…)
Everyone can go into a store and buy a handbag off of the shelf. Many of those bags we buy are very meaningful to us for different reasons. I now have a handbag in my collection that is so meaningful, so special, and so rare, it has a slight golden glow coming from behind it whenever I look at it. This bag did not come from a shelf. It was part of a special order process, considered personally by Tomas Maier himself, for a small group of PurseForum members. (more…)
When we first met Jason Salstein (formerly of Hunting Season), we immediately sensed his ambition and readiness to stand out above the rest of the pack. A few days ago, Jason reached out to introduce his latest venture, namely his new line "Our Lord & Saviour". This was just too good to pass up. (more…)
Congrats to Kelly and Joanna Smith!! You are our Tory Burch winners
We brought you news of the Tory Burch and Leanna Shapton Valentine's Day Collaboration. And after sharing the items with you, we thought it would only be fitting to feature an exclusive interview with famed fashion designer Tory Burch. Not only do we find out more about the collaboration, but we have the pleasure of getting a peek into the personal life of Tory Burch.
Tory Burch was able to find a few minutes in her hectic schedule and answer some questions exclusively for PurseBlog. Along with that, Tory Burch will be giving away two items from the line below. Remember to shop the Tory Burch Valentine's Day Collaboration via Tory Burch online! (more…)