This is my favorite phase of our exclusive bag design collaboration with Rebecca Minkoff thus far, because in Phase III we get to see the brand new bag designs Rebecca and her team have developed! We have five options to choose from, and we took every single one of your votes into account to create what we think will be the ideal Rebecca Minkoff bag for her PurseForum Minkettes fanbase.
Time is running out to put your vote in before we move to the next and final stage! Don't miss out on this amazing opportunity and give us your vote!
Phase I of of PurseForum + Rebecca Minkoff Exclusive Bag Design Collaboration took the PurseForum readers and voters by storm. The overwhelming number of votes went to the coveted Satchel, which we all know Rebecca Minkoff designs amazingly. Phase II is well underway and this is the phase I have been most excited about.
Have you ever wanted to tell a designer EXACTLY what you want to see in a handbag? How you prefer adjustable straps or tech-friendly pockets or a zipper top? Now is your chance, and I am not sure anyone has been able to say this before. With the help of every reader, customer, and Rebecca Minkoff fan girl, the final bag design will take into account your direct feedback.
Time is running out for an unprecedented opportunity, one in which you can speak to a designer and tell her what you want to see. With your votes and direct input, the finished product may be exactly what you are looking for. How amazing is that?
You have no idea how excited I have been while sitting down with the Rebecca Minkoff team to come up with an opportunity that has never been seen before in the handbag world! We knew we wanted to collaborate on a bag design, but it was super important for us to include Rebecca's very first fan base, the PurseForum Minkettes, in the process. We took it a step further from simply allowing the fans to be part of designing an existing bag, because the finished product will be a brand new shape and style. And since we are taking it back to the original fan base, we are also taking production back to a domestic factory. That means this bag will be made in the USA!!
There will be many phases of voting and you do not want to miss any of them. Your vote is going to help create a bag that will walk the Rebecca Minkoff runway show in February. What are you waiting for?! Vote in Phase I now!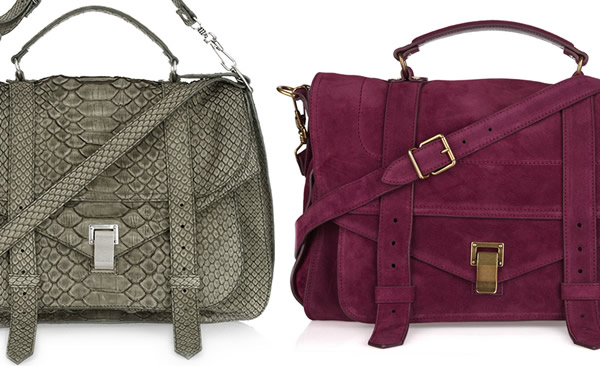 Shop Proenza Schouler via Net-A-Porter
Today Vlad and I traveled down to South Florida for a much-needed vacation. We plan to spend this time flopping from the pool to the beach with drinks in our hands, but I couldn't go to bed without sharing a sneak peek I received in my email today. Our friends at Net-A-Porter know how much we love Proenza Schouler bags and decided to give our readers an exclusive look at two new PS1 bags hitting their virtual store today.
From a gorgeous wine hued suede to a luxurious brushed python, I find myself yearning for each of these bags. (more…)
Shop the Coach Classic Collection at NET-A-PORTER.com
As the Coach brand expands rapidly, offering everything from the youthful Poppy line to the more refined Kristen collection, many fans of the brand still yearn for the Coach Classics. To many, a "classic Coach bag" might mean the small signature Demi Pouch, but the brand became known for their simple and refined leather Heritage collection in the 1970s, long before its logo fabric became a signature touch.
With the current 70s trend in full swing, NET-A-PORTER Buying Director Holli Rogers felt it was the perfect moment to bring back some of the original Coach designs and introduce them to a new generation of women. The five bags of the Coach Classics Collection will be exclusively carried at NET-A-PORTER.com and are sure to sell out quickly. Click for more on the Coach Classic Collection!
Right now the Rebecca Minkoff website is hosting a major sale of some of its most coveted bags. If you were not able to attend a sample sale, think of this as a virtual one that you can attend from the comfort of your home computer.
Because Rebecca loves the PurseForum and the PurseForum loves Rebecca, there is an exclusive bag marked down ONLY for tPFers. The highly coveted Rebecca Minkoff Elisha is a classic bag from the designer that is both timeless and effortless. Its roomy interior and casual style makes it the perfect everyday bag. Price is marked down from $550 to $302 via this link only.
Note: We have extended this through April 25, 2011!
The folks at Treesje love PurseBlog and all of you so much that they designed a one-of-a-kind iPhone case to giveaway. By one-of-a-kind we mean this is the absolutely only case being made, no one else can buy one, and it will not be replicated. This is clearly something special and we are really excited to be part of this collaboration.
Let me get to the details of how you can enter to have your exclusive Treesje accessory… Click for more photos and how to win!
Need a Wednesday morning pick-me-up? Net-A-Porter.com has delivered in a way that gets your handbag-loving heart desiring every bag previewed in this clip. I have the exclusive first look at Net-A-Porter.com's Annual Bag Guide Video for you all and I know it will put a smile on your face.
Which bags do you see that you know you must have? Shop all bags at Net-A-Porter.com.
We will continue bringing you the latest Mercedes-Benz Fashion Week New York news throughout the week. And luckily, for both you and us, we have the exclusive first look of a few Rebecca Minkoff F/W 2011 Bags. Let's all just outwardly admit how totally cool this is.
We will be at the Rebecca Minkoff show today and bringing you a full runway review with many more photos later! But for now, delight in this sneak preview that you can't get anywhere other than PurseBlog.com! (more…)
Tomorrow will begin an Outnet Bag event! This means great deals on some of the hottest bags out there. Lucky for all of you we have an exclusive preview of what will be on the Outnet along with probable prices. The Outnet will be offering up to 70% off all the bags in the sale, so start looking under your couch for extra change because this is an event you will not want to miss! (more…)
We love our friends at Bluefly! Whenever there are new handbags hitting their online shop, Bluefly gives PurseBlog readers the first look. Starting today Bluefly has a Gucci Sale. For all who love Gucci, this is an event you won't want to miss. So give it a good glance and see if there are any last minute Gucci gifts you can buy for yourself or someone else.