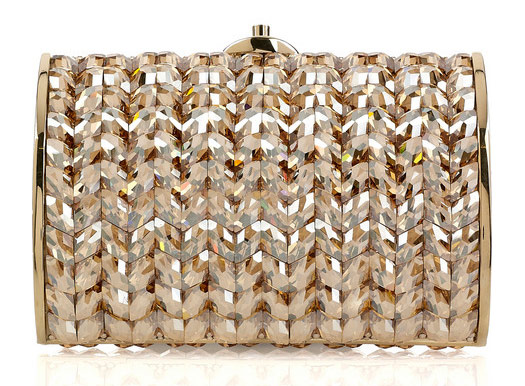 I know that we're all supposed to put on a happy face, sing holiday songs and pretend like we just love dealing with our various and assorted sociopathic family members this time of year, but let's face it – Christmas is often as stressful as it is exciting. I'm blessed with a small extended family, almost all of whom I get along with swimmingly, but not everyone is so lucky. If you're one of the people who will have to drink for your entire trip home so that you don't stab your sister-in-law with a fork, then perhaps a little present to yourself is in order. Might I suggest something sparkly, fun and entirely anti-utilitarian like the Judith Leiber Crystal and Bead Embellished Clutch? (more…)
Since tomorrow is Thanksgiving in the US and the ceremonious eating of the turkey has become an unofficial start to the Christmas season (no matter what stores wanted us to believe by putting up their decorations weeks ago, I'm still going with Thanksgiving), now's a great time to discuss holiday wardrobe. Red, green and metallics of almost any variety are usually what people tend to wear to holiday parties, and although it's great to be festive, incorporating those colors too heavily makes you look like just another Christmas decoration. Do you want to look like someone mistakenly draped you in tinsel? No, you don't.
My advice would be to dress how you would to a normal cocktail occasion but incorporate one accessory in a season-appropriate color, and if I had an unlimited budget, the Lanvin Jeweled Nyota Shoulder Bag would be my red bag of choice for this year's party rounds and beyond. (more…)
There are plenty of designers whose entrance to the wedding-bag market might seem counterintuitive: Rick Owens, Maison Martin Margiela, Commes des Garcon. (Although I'd personally love to see what all of those companies would do with the genre.) Judith Leiber? That company definitely not among them. In fact, the question shouldn't be, "Why is Leiber entering the wedding market now?" but, "Why didn't it make this totally obvious decision decades ago?"
Exceptionally few people can rationalize the purchase of one of Leiber's tiny, crystal-encrusted minaudieres. Even some women who could potentially afford them don't go to the kind of events that would allow one to carry, say, a miniature, glittering dachshund. But a wedding, the most formal (and some would say most important) day in a woman's life, just might provide the perfect opportunity to purchase a very special little handbag. (more…)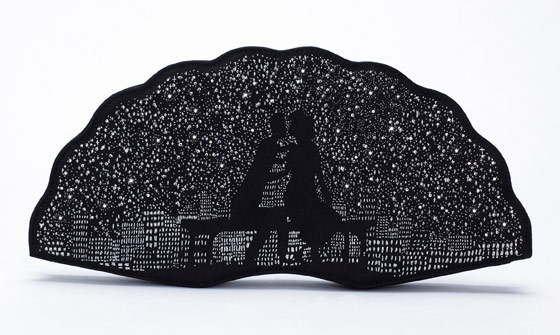 It's not every day that I wake up and find photos of bags like the Lulu Guinness Fan Clutches waiting to greet me in my inbox, but every now and then, I get lucky and beautiful bags just appear. Yesterday was one of those days, and to make the whole thing even better, these clutches are here for a good cause.
Lulu Guinness partnered with British visual artist Rob Ryan to create the one-off collaboration that you see above. The clutch, which is signed by both Guinness and Ryan, is currently being auctioned off via eBay to benefit African AIDS charity ASAP. If it's not your style, Guinness has also released two other handmade fan clutches in very limited editions, inspired by former model Sophie Dahl and singer Paloma Faith. Pictures of those are after the jump. (more…)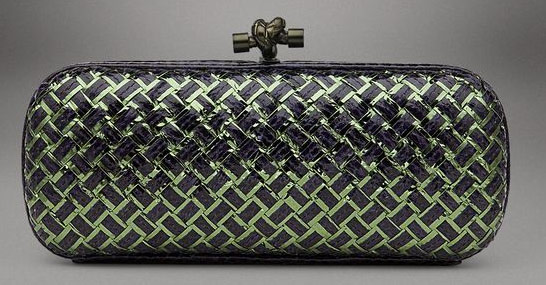 Looking at the Bottega Veneta Snakeskin and Papier Elongated Knot Clutch makes it exceptionally clear to me why I'm a writer instead of a designer. Not only would I have never thought to combine purple-navy snakeskin and metallic green foil on a single clutch, but if someone had suggested it to me, I probably would have told them to think harder and come up with a better idea. As it turns out, the combination already looks pretty great. (more…)
Sure, alligator or crocodile versions of the highly collectable Bottega Veneta Knot Clutches might be enough to satisfty the luxury lust for some people, but for those who want something a bit more unique, the Bottega Veneta Sterling Silver Knot Clutch is just the ticket. (more…)
It's not often that a bag review requires me to gather my personal technology and a ruler, but the Christian Louboutin Eden Pompom Clutch is clearly a special little bag. Whether you take that to mean special! or "special" is, of course, up to you.
But when my very scientific measuring was done, I found a problem. At its very widest point, this clutch is barely five inches wide. Since it's a sphere, the width of the clutch starts decreasing immediately as you move away from that narrow point. My phone, a relatively new Blackberry, is four and a half inches tall and almost three inches wide without a case. That's a problem – smart phones are now more or less de rigueur among people with expendable income, and you certainly have to expend a lot of it to buy this clutch. Sadly, it seems as though never the two shall meet. (more…)
If you haven't realized that leopard print is a huge and soon-to-be omnipresent trend for fall, you haven't been paying very close attention. In fact, we discussed the impending importance of leopard bags just last month.
As with all things, though, bedazzler to the stars Judith Leiber is here to take the trend to its absurdly literal extreme. If you're attending a very glamourous event this fall and want to be on-trend, these clutches are one of the best (and sparkliest) ways to do it. My favorite is the tiger – which would you choose? Pricing information and larger images, after the jump. (more…)
A evening bag is hard to find, and it's even harder to find at a reasonable price. Most people won't use a tiny clutch multiple times a day like they might use a shoulder bag or tote, so spending big bucks for a glittery little minaudiere usually isn't a particularly palatable option. Bottega Veneta's knot clutches and Alexander McQueen's skull clutches may be totally covetable (not to mention collectable), but the prices for both start in the four figures and climb steadily from there.
If the thought of spending that much makes you uncomfortable but you'd still like a similar bag (or maybe several), then Diane Von Furstenberg's recently launched line of box clutches is perfect for you. Prices vary depending on size, but this oh-so-current version of the Diane Von Furstenberg Lytton Minaudiere rings up at a very reasonable $300. (more…)
I'm so relieved that Alexander McQueen (the brand) will continue to function after the death of Alexander McQueen (the man). He was a visionary, and his legacy deserves to be continued in the wake of his passing. By all indications, the McQueen clothing and accessories that we will see in the near future owe a considerable debt to the founder's aesthetic, just as it should be.
Skull clutches have been a McQueen accessory signature for some time, and the brand looks to continue that tradition with the Alexander McQueen Union Jack Stud Clutch. Skulls, studs and Anglophilia were all motifs which McQueen embraced, and if this bag is any indication, they're not going anywhere in the brand's forthcoming work. (more…)
When we talked about the Louis Vuitton and Lanvin striped mother of pearl clutches last week, I still partly believed that the similarities of the two evening bags were a coincidence – after all, two bags does not a trend make. Three bags do, however, and that's exactly what this Judith Leiber Resort 2011 is: a sign of a burgeoning trend.
The method of inlaying more closely resembles the Louis Vuitton, as does the diagonal inlay, while the color choice is more similar to the Lanvin. The major difference is that the bag is framed with gold, which unfortunately gives me flashbacks to the 80s – as a result, this clutch is my least favorite of the three. (more…)