Images via Vogue.com
While we wait for the Milan shows to start in earnest, now seems as good a time as any to post the small but very beautiful collection of bags that graced the runway for Marchesa Spring 2012. I know that bags are an afterthought for the gown-heavy line, but they're always so beautiful and special that I really wish Marchesa would do more. Like, lots more. One for every dress? Is that too much to ask?
It probably is, so we'll have to deal with the four that the show gave us for the time being. For me, the clear winner is the lunar-beaded blue-grey option at top, which is so pretty that I'd like to sit it on my desk and gaze at it longingly while I blog. Maybe I'll print out the picture, tape it to my wall and do the same thing. Check out the rest of the bags after the jump. (more…)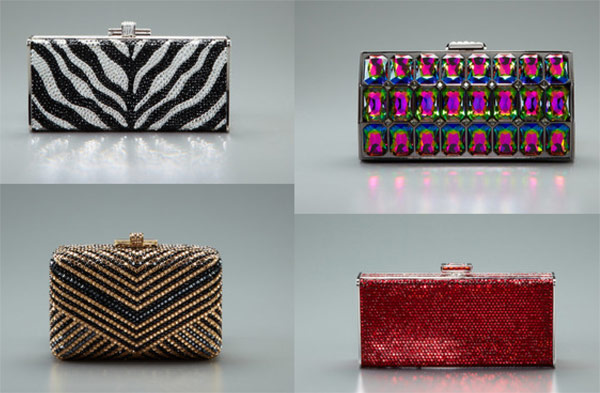 Judith Leiber is one of those brands that you don't often see at a big discount. Leiber's tiny, sparkly evening bags are a favorite of collectors and hold a special place in the heart of so many bag owners that seasonal discounts are often unnecessary; one of her bags is like dessert after a steady diet of functional, durable leather bags.
That's why the Judith Leiber sale at Gilt Groupe is all the more exciting – these are some seriously good prices on some incredibly special bags. My favorite is at top right, the one with the large, lovely, emerald-cut multichrome crystals. Check out the entire selection via Gilt Groupe, but don't delay – the sale ends tomorrow.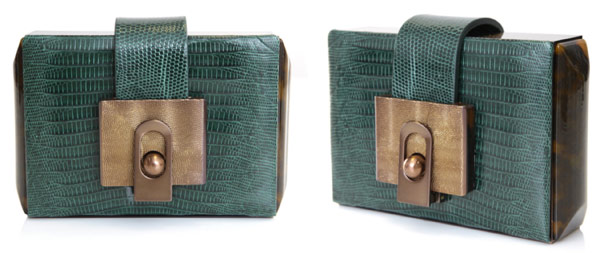 Lanvin Lizard Box Clutch, $2127 via Matches
Yesterday, I got to talking about my love for Lanvin in general and Alber Elbaz in particular over at TalkShoes, and now I'm prepared to do to do the same here. Bags like the Lanvin Lizard Box Clutch just inspire that in me. I could look at this little bag all day, mostly because it shirks the traditional conventions of evening bags in order to pursue a look that's a bit more unexpected; you won't find any gleaming hardware or intricate beading here. (more…)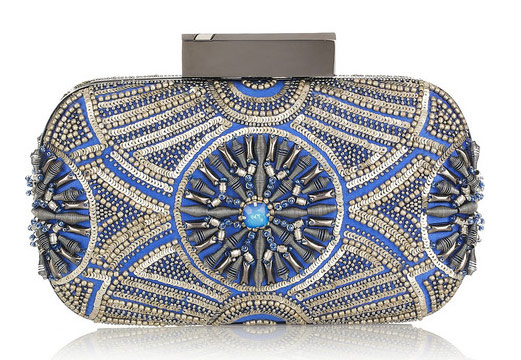 Matthew Williamson Embellished Satin Clutch, $1610 via Net-a-Porter
Judith Leiber bags are undeniably beautiful, but it's also hard to deny that they skew to a certain customer – older, well-established women with a penchant for straight-up glitz. Leiber's done extremely well with that demographic and they wouldn't dream of going elsewhere for a small, sparkly evening bag, but what of the women who want something that's as modern as it is tiny and detailed?
That's where the Matthew Williamson Embellished Satin Clutch comes in. This bag has all of the intricacy of a Leiber minaudiere with none of the bold shine, opting instead for a matte look that will likely appeal to women who want a slightly younger feel. (more…)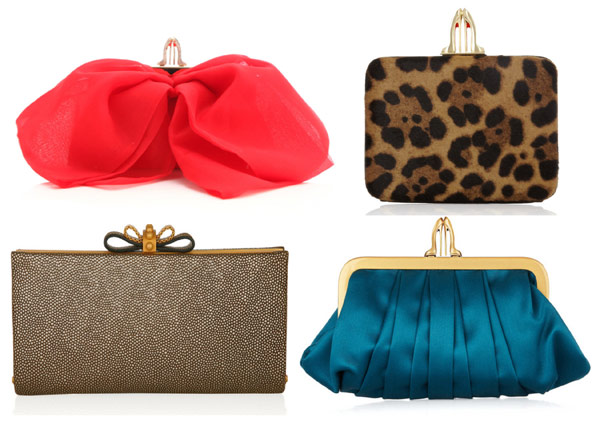 We've heavily covered Christian Louboutin's hit-and-miss record when it comes to handbags in general, but when it comes to the footwear master's clutches, I rarely have a negative review to report. Something about the small size and structure of an evening bag lends itself well to Louboutin's design sensibility, probably because the scale and rigidity make clutches more similar to designing a shoe than other types of bags. And we all know that Louboutin has his shoe game on lock, now don't we? Here are four of our current favorite CL clutches for your consideration; we think you'll agree that Louboutin has something of a flare for these particular bags. (more…)
Christian Louboutin Sweet Charity Glittered Shoulder Bags, $795 and $995 via Neiman Marcus.
We're longstanding fans of the Christian Louboutin Sweet Charity Bags, which come in virtually every size, color and texture that you could think of, and the advent of the Christian Louboutin Sweet Charity Glittered Bags only makes our affection for the line grow. The structured shape and signature metal bow mean that the design is a perfect candidate for an evening out, and these two miniature sizes make that dream a reality. (more…)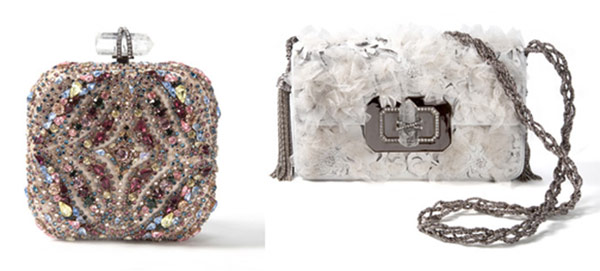 To say that the Marchesa aesthetic is distinctive would be a massive understatement; season after season, the brand creates over-the-top, elaborately feminine evening wear and cocktail dresses that are as architecturally impressive as they are glitteringly ornate. Ruching, draping, beading, laser-cutting – not only might it all appear in one collection, but it might all appear in one dress. Marchesa's handbags have a lot of visual splendor to live up to.
And mostly, they do a fine job of it. Marchesa's Fall 2011 Handbags are exactly what you'd expect them to be, but with a few new shapes thrown in to expand on the brand's first handbag outing. The exotics are of particular interest; I'd love to see Marchesa make day bags, and it looks as the the designers' feel for crocodile may be pointing in that direction. Or maybe I'm just hoping that if I say it out loud, it'll eventually come true. (more…)
Judith Leiber Blue Bows Crystal Minaudiere, $6995 via Judith Leiber
Do you know what day it is? Of course you do, it's Royal Wedding day! The ceremony started at 6 a.m. but your mimosa hangover will surely last into the afternoon, so while you contemplate why you got up before dawn to watch two strangers get married in another country (Go ahead, guess who among us doesn't have Royal Wedding fever! But that's ok, Megs has enough for both of us.), we thought you might also like to contemplate some pretty, sparkly, too-small-to-be-functional wedding handbags.
Wedding bags don't have the rarified spot in bridal lore that wedding shoes enjoy (and for a rundown of those, check out yesterday's feature from TalkShoes), but that doesn't mean that they're any less important for those of us who love purses above all other things in fashion. Plus, bags have the special distinction of being able to be worn by the bride or the guests, so long as those attending don't choose all-white ensembles to go with their special little clutches. Our picks for the best, after the jump. (more…)
Judith Leiber Houston Semiprecious Beaded Clutch, $4995 via Bergdorf Goodman
Even if most women don't have many occasions on which they might use a Judith Leiber clutch, looking at the tiny, sparkly, intricately beaded evening bags is a pastime in which we can all participate. Bergdorf Goodman has recently added a six-bag Judith Leiber Fall 2011 preview to its website, which not only gives us a closer look at what Leiber is doing for the season, but also lets you pre-order from the selection for delivery at the end of July, if you're so inclined. Pictures and prices, after the jump. (more…)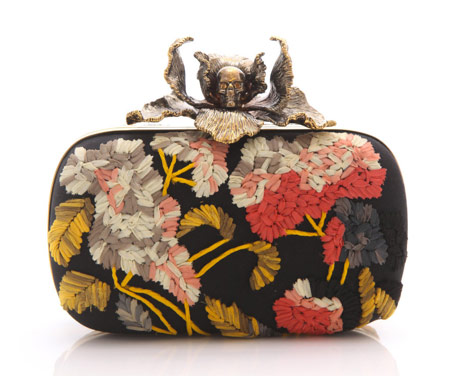 The Alexander McQueen Iris Skull Clutch is one of those bags that needs to be seen in the largest photo possible at all times; at a distance, you might mistake the detailed embroidery for printed fabric, and that would be a tragedy indeed. A bag like this can look like a hippie craft project without a very careful hand, but Alexander McQueen Spring 2011 took flowers and butterflies and someone manages to make them look beautifully transgressive. The juxtaposition of a skull with delicate flowers is something that only McQueen can pull off in a high-end way. (more…)
If brevity is the soul of wit, what's the soul of fashion? I like maximalism as much as anyone (in fact, probably far more than most people), but the grandiosity of it can feel exhausting from time to time. The trends toward layering textures, colors and prints are some of my favorite fads in years, but that doesn't mean I can't look at the Valentino Satin Bow Box Clutch and think that it seems positively refreshing by comparison.
Valentino often goes maximal with its accessories, so the subtle charms of this little clutch are even more welcome. From the perfect shade of blush to the expertly obscured slot for hand-carry, this is an evening bag that doesn't try to overshadow whatever beautiful dress with which you've surely paired it. (more…)