Diane von Furstenberg
Page 3

With every season, it seems as though Diane von Furstenberg gets more and more serious about this whole handbag thing. Almost every look of Diane von Furstenberg Fall 2011 had a corresponding tote, shoulder bag or clutch, and the majority of them were the kinds of bags that you want to start incorporating into wardrobe immediately without waiting the requisite six months for them to arrive at retail.
In keeping with last season, von Furstenberg's small shoulder bags and clutches are by far her best work; the diminutive size and more rigid structure allows the designer's signature mix of textures, colors and prints to be vividly realized in wearable doses. If you're sick of taking a black clutch to every party on your calendar, DVF has about a dozen alternatives for you, all of which will likely be less than $600 when they reach retail. Back off the cerulean Harper Day Bag, though – that one is mine. (more…)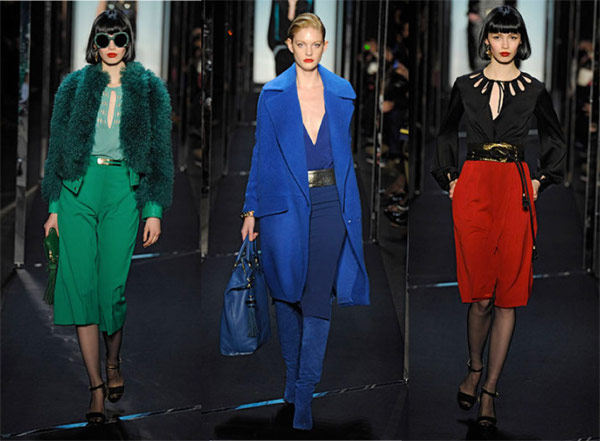 Let's get one thing straight: I don't care who makes them, I'm never, ever wearing gauchos again. The voluminous short pants had a resurgence back when I was in college, and I've seen enough pictures of myself and others from that year that I know better than to be fooled (again) into thinking that gauchos are a good idea. Not even the fancy gauchos from Diane von Furstenberg Fall 2011 can make me reconsider that decision. It's final.
Luckily, DvF provided plenty of other drool-worthy options in her Wild West-tinged show. As always, color and pattern abounded, but some of the most interesting looks were the most monochromatic. Head-to-toe cerulean or seafoam in textures ranging from silk to wool to fur might be a difficult prospect for the average woman, but then again, when has Diane von Furstenberg ever dressed average women? (more…)
Valentine's Day falls smack in the middle of February Fashion Week. We all heard Rachel Zoe's hubby lament over this fact and right now I might possibly lament over it as well. Granted I am not super Valentine's Day obsessed, but I like some flowers, chocolates, and a nice romantic dinner. This year we will be hectic and busy with Fashion Week which means my Valentine's Day gift might as well be fashion-related, say a handbag (ok, you can give me a handbag any time of the year and I will love it!).
The last big hit we covered from Diane von Furstenberg in the handbag world was the many reincarnations of the Stephanie. The next bag from DvF that is supposed to be a hit is the Harper Daybag. Amanda already covered Valentine's Day goodies for all the ladies, but I need to add this bag to the list. (more…)
So I've been staring at this bag for a while. I continue to look at it and all that pops into my mind is Thanksgiving. Our Thanksgiving table is always decorated appropriately and I feel like this year I could add this DvF bag into the centerpiece and it would work beautifully. I'm not quite sure that is a good thing for the bag though.
In fact, we have seen a different reincarnation of this bag previously – in which majority of you deemed it crazy. But this version of the Diane von Furstenberg Piper Day Bag is designed with the right color scheme in mind. And that might be its saving grace. (more…)
I think I know how this one is going to turn out, but in the spirit of Friday, let's have a poll!
The Diane Von Furstenberg Piper Sequined Shoulder Bag is a lot of look, in the immortal words of Tim Gunn. Sequins, feathers, multicolor metallic leather, studs, two straps…the design has a lot of competing visual ideas on a rather modestly sized bag, and my first reaction reflected that pretty accurately. But sometimes, stuff that seems totally awful is actually just weird enough to work, on the right girl. Standing out in a crowded contemporary handbag market takes some guts, which this bag has in spades, but I'm just not sure that the ends justify the means in this case in particular. What do you think? Vote and let us know in the comments.
[poll id="70″]
A evening bag is hard to find, and it's even harder to find at a reasonable price. Most people won't use a tiny clutch multiple times a day like they might use a shoulder bag or tote, so spending big bucks for a glittery little minaudiere usually isn't a particularly palatable option. Bottega Veneta's knot clutches and Alexander McQueen's skull clutches may be totally covetable (not to mention collectable), but the prices for both start in the four figures and climb steadily from there.
If the thought of spending that much makes you uncomfortable but you'd still like a similar bag (or maybe several), then Diane Von Furstenberg's recently launched line of box clutches is perfect for you. Prices vary depending on size, but this oh-so-current version of the Diane Von Furstenberg Lytton Minaudiere rings up at a very reasonable $300. (more…)
Diane Von Furstenberg Marisa Large Shoulder Bag significantly less expensive than its denim counterpart?
There are a lot of things in life that I don't understand, but one in particular has been bothering me for the last two days. Why is the leather version of the
When I stumbled upon this bag, I expected it to cost far more than the very reasonable $595 that the fine folks at DVF would like us to pay for it. Not only is it a large, functional bag made out of sumptuously soft (I've fondled it, so I feel comfortable using such purple language) leather, but I saw the $725 price tag for the denim version first and automatically assumed that the leather one would carry a price tag several hundred dollars steeper. Does anyone have any idea why the leather version is less expensive? (more…)
In my mind, there are two types of designers: those that make us think about fashion and its relationship to philosophy and art, and those that make fashion accessible and wearable to the average fashion fan. Each pursuit has its own challenges, but it's without question that Diane Von Furstenberg has the second type of clothing on lock.
Menswear was a dominant theme in DVF's Fall/Winter 2010 collection, but it was styled in such a way that it would be totally accessible and wearable outside of an office setting. Blazers were layered over floaty chiffon, a girly rose-covered bolero was layered over a suit, and it all looked functional and fun to wear. The textural layering continued with chunky knits over sparkly patterned dresses, and Von Furstenberg threw in a few of her signature wraps for good measure. So what does this collection tell us? (more…)
Diane von Furstenberg continues to slowly but steadily make her way into the handbag and accessory world. Our favorite DvF bag thus far has been the Stephanie, which has garnered massive amount of buzz and press from editors and celebrities.
Check out the video above to see accessories from the Resort line for DvF and let us know what you think of DvF continuing to break into the handbag world.
So many of you said the Diane von Furstenberg Stephanie was too big. That bag is super-sized and super fabulous. But if you still think it is too big but you liked the look, DvF has come to the rescue. The Diane von Furstenberg Stephanie Clutch is the baby sis to the larger Stephanie and is the perfect size. We are obsessed. The body of the clutch features the chain-link metallic leather design, which is truly a technique I have not seen on another bag EVER. Dimensions of the clutch, 5.5″H x 11.5″L x 3″D, are tiny when compared to the large hobo [$395 via ShopBop].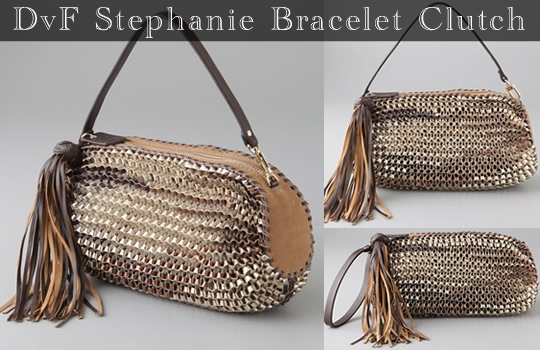 Now Diane has taken over the handbag world, continuing to bring us DvF Handbags that we can not get enough of. Not only does Diane understand a woman's body and how to make the perfect dress among other clothing items, but she also understands the handbag world. Therefor we adore Diane von Furstenberg and look forward to seeing many more of her bags.
Read our full review on Purse Blog Savvy HERE.
Guest blog courtesy of Joe from Luna Boston
Everyone at Luna Boston loves a good party, and a couple weeks ago was no exception. The Diane von Furstenberg event was one of the biggest we've ever had – there was a line around the block to get in before the doors even opened! Amanda and Jennifer started setting up for the event at 9am and didn't stop until 10 minutes before the event started, when they finally had time to get ready!
For those of you that weren't able to attend, we held the event in a penthouse suite at the FP3 condominiums in the Fort Point section of Boston. I felt like a rockstar at this place – it has 2 bedrooms, 2.5 baths, a terrace, and a roof deck! (And it's on the market for a cool $2.5 mil if you're interested!) Hillary France, our representative from the Diane von Furstenberg showroom, was there to help us show the Fall collection to attendees. (Did we mention that Hillary looks like a goddess? Tall with long, bright red hair, looks awesome in everything she wears; Basically, she's perfect. We're jealous. But I digress.) (more…)