Diane von Furstenberg
Page 2
Diane von Furstenberg Snakeskin Embossed Clutch, $350 via Matches
It may not seem like a revolutionary handbag, but I've been waiting for this teal and black version of the Diane von Furstenberg Harri Clutch to make its debut for what seems like 800 years – ever since I saw it on the Fall 2011 runway way back in February. In reality, it's a matter of months, but in fashion time that's an utter eternity. Still, something about the simple color combination and clean lines of this clutch gets under my skin, and I'd like it to get into my closet.
This type of texture is the perfect (and perfectly affordable) in-between for someone who wants to experiment with color but who isn't quite sure if they're ready to make, say, turquoise a wardrobe staple quite yet. Because the clutch is half black, it's a little more accessible for someone who tends to stick with dark colors for evening events. If you're a little more adventurous (or just sick of snakeskin), DvF has two more interesting options in the same shape that I've included after the jump. If you prefer the snake texture (as I do), you can get it for $350 via Matches. (more…)
Images via Vogue.com
As we already discussed in our general review of Diane Von Furstenberg Spring 2012, DVF was all about lightness for spring, much more so than usual, and that choice certainly carried over into the season's handbags. There are a lot of whites, ivories, lilacs and dove greys to be found among these leather goods, with an occasional shot of emerald or cobalt to make sure that everyone stays awake.
Not that it would be a problem without the brights, of course. Von Furstenberg's company has shown great growth in its handbag designs, and although I'd chuck the folded, hand-slotted clutches out of this collection entirely, everything else makes beautiful sense, both in the context of the clothes and the season itself. Pay special attention to one of the newcomers: a ladylike, structured shoulder bag with an elongated top flap. I can't wait to see the full range of colors it will be available in at retail. (more…)
Images via WWD.com
Even though the notes for Diane von Furstenberg's Spring 2012 runway show at Mercedes-Benz Fashion Week New York indicated that the inimitable DVF had been inspired by modern Africa, the clothes that can down the runway felt a lot more like early-1960s California to me. Between the soft color palette (the show opened with white, a first for von Furstenberg), the midcentury modern floral prints and the models with beehive hairdos, I could have sworn we were all in Palm Springs.
Regardless of location, though, this collection is where I want to be in my mind. It looks like a place of relaxation and chic comfort, and even though lavender flowers on an ivory background have precious little to do with my personal style, DVF pulls it off so well in some of these looks that I can't resist. After all, who works with pattern like she does? (more…)
Diane von Furstenberg transitioned so flawlessly into the world of handbags that every designer trying to follow suit should take note. Not only did DvF bags quickly gather attention from department stores and shoppers alike, but they're also easy to spot on the streets of New York. The latter part is the most important; a designer not only wants his or her designs to be recognized, but also to be worn.
I have professed my love for my two DvF Stephanie Hobos countless times (here here here) and now my DvF love is being geared toward the Elaine line of bags. Amanda already covered the Shoulder Bag, and today I want to share the DvF Elaine Festival Crossbody with you. (more…)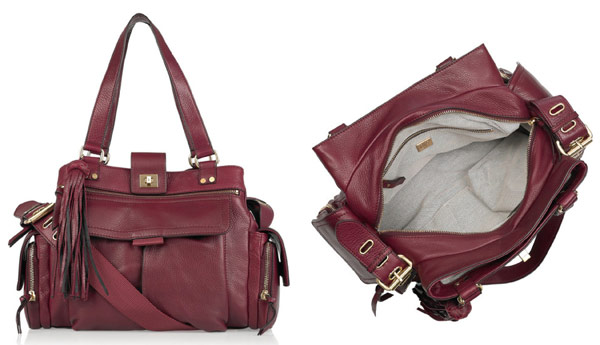 Diane von Furstenberg Elaine Shoulder Bag, $650 via Net-a-Porter.
When we talk about bags around here, we usually show one shot: The exterior. That's what attracts almost everyone to a bag in the first place, not to mention that most retailers aren't as thorough as our beloved Net-a-Porter when it comes to photographing a bag's ever facet. But in the case of the Diane von Furstenberg Elaine Shoulder Bag, we just couldn't restrain ourselves from giving you both shots. After all, when you're going to be carrying a bag for your daily activities, the structure matters a great deal. And in this particular case, the bag's interior setup is just as good as its exterior aesthetics. (more…)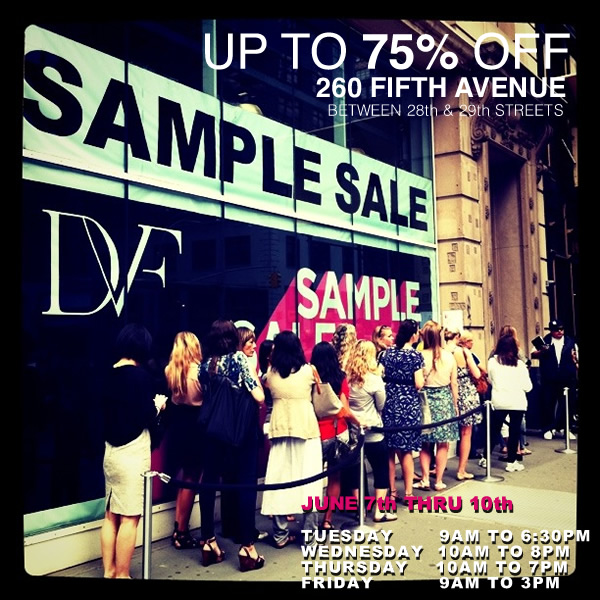 This morning the Diane von Furstenberg Sample Sale opened its doors to the press. I rolled out of bed earlier than usual but it was all in the name of fashion, obviously worth it. The line was manageable, with only about 15 people in front of me, and I was allowed in soon after the doors opened at 8AM. (more…)

Diane von Furstenberg Harper Small Tasseled Shoulder Bag, $212 via Net-A-Porter
I am on end of the season sale overload right now. From Net-A-Porter to ShopBop, I am not sure where to start or how to whittle down my list of wants to a somewhat manageable number.
I started quickly browsing all of the bags that landed in the virtual sale racks of NAP. My eyes were drawn to the Diane von Furstenberg Harper in the geometrically color blocking pattern of white, olive, and black. A small bag that packs a fashionable punch, I absolutely adore this little bag. (more…)
I've already explained how much I love Diane von Furstenberg's Fall 2011 Handbags, but with the advent of some more detailed stock photos to add to the conversation, I feel like it bears repeating: These bags (and the huge selection of clutches in particular) are genuinely quite good, and at a more reasonable price point than many brands with such a well-known name offer. From embellished box clutches to big everyday bags, DVF has something in a color and texture that could suit nearly anyone's taste.
And that's probably what draws me to this line – instead of just a group of nice bags, it feels like a complete accessories wardrobe for the quintessential DVF girl. That takes a good bit of thought and planning on the part of a design team, which usually means that the individual pieces were also carefully considered and created with an aesthetic purpose in mind. But enough about that nonsense, which is probably the type of thing that only fashion writers care about. Most of these bags are really cute. Enough said. (more…)
It takes any handbag line a couple of seasons after launch to find its true voice, but being the industry veteran that she is, Diane von Furstenberg's accessories collection seems to have found its niche in record time. The brand had a breakout hit with the Stephanie in its first season and has continued to produce well-priced favorites since then, but of all the choices, DVF's Harper bags have always been my favorites. The addition of a tote to the line only further cements that feeling.
The Diane von Furstenberg Harper Leather Satchel is the kind of bag that we routinely praise around here: Functional, neutral, but with enough interesting details so that it doesn't fade into that background as another purse that sacrificed aesthetics for utility. This is a Fall 2011 bag, so you'll have to wait until July for delivery, but take it from someone who knows about waiting for a pre-order all too well: When your perfect new bag arrives one day, it'll all be worth it. (more…)
I have to give you all a peek at my newest addition to my handbag family, my Diane von Furstenberg Medium Stephanie in navy. You all recently saw my large version of this bag, and my love for it only deepens with the addition of the medium size. (more…)
For Spring 2011, we see Diane von Furstenberg emphasizing much more on her bags and accessories line, which we welcome very much. We see many new bags, as well as some old ones with new features. The popular Stephanie relies now on much lighter leather, making it much more wearable than the previous interation (which was a bit of a weighty pig, if I may say so). While the Harper gets the suede treatment, DvF brings back old print patterns from the mid-70s for fun vintage accessories.
Enjoy a look at the current DvF offerings for Spring, soon we will be looking at some of our favorites in greater detail. Click to view the gallery!