Dior
Page 5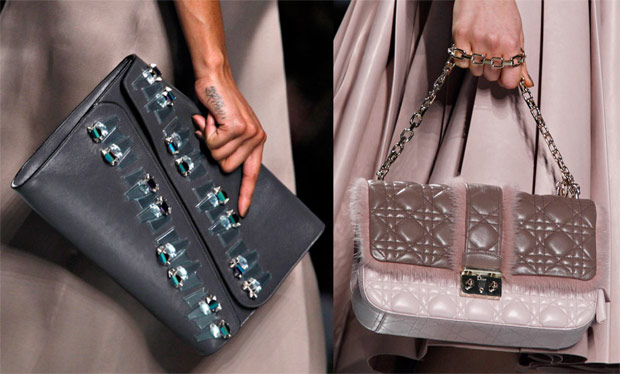 Have you been following along with the endless rumors about who is or who is not going to be replacing John Galliano at Dior? I have, partly because it's my job and partly because I love a good, public mess, and it would seem that LVMH is no closer to naming a successor than it was the day it dismissed Galliano over his anti-Semitic verbal attacks against patrons at a Paris café. The latest scuttlebutt is that Raf Simons demanded too large of a salary, and that in a rage, Dior CEO Sidney Toledano signed interim designer Bill Gaytten on for six more seasons.
I don't know if I believe the particulars of that rumor, but I wouldn't be shocked if Dior did keep Gaytten around for the foreseeable future. Not only is he less expensive to retain than a "name" designer, but his collections, which critics have derided as too safe and too obviously pretty, are also incredibly wearable. Dior Fall 2012 may not be a conceptual tour de force, but right down to the handbags, I could see wealthy Dior clients wearing basically everything that went down the runway. That's not always true for collections that are high on concept; after all, Gaytten's first year at the helm of the brand netted Dior a more than 20% increase in profits, despite the protestations of unimpressed fashion writers the world over. Check out the bags for fall after the jump. (more…)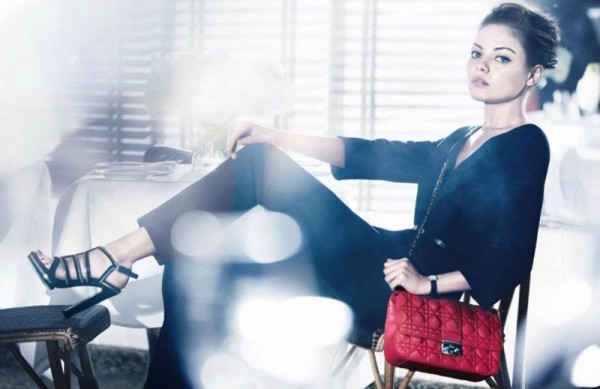 Images via Dior
Fresh on the tail of her Black Swan costar and longtime Dior spokesperson Natalie Portman, Mila Kunis has been tapped to front the Christian Dior Spring 2012 ad campaign. Her first set of shots for the company features a group of products that is very relevant to our interests – handbags!
More specifically, these three shots include the Miss Dior handbag line in Mila's lovely grasp, which has long been my favorite of Dior's classic accessories collections. In particular, I adore the snakeskin version featured in one of the additional shots that we have after the jump. Do you like Mila as a model? (more…)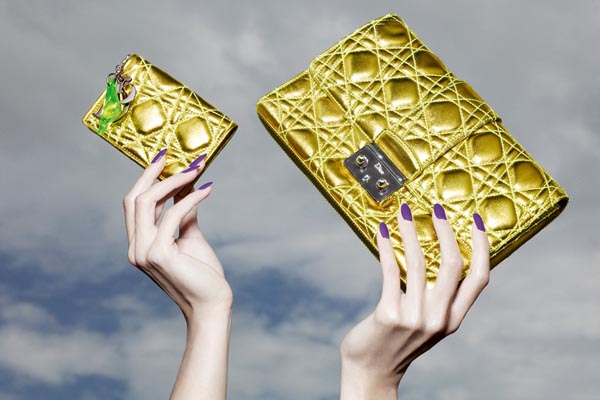 Images via WWD
Women's Wear Daily has announced that Christian Dior will team up with Berlin contemporary art star Anselm Reyle for a line of accessories, handbags and makeup just in time for Miami's Art Basel. I'm pretty sure that it cost me a hundred bucks just to write that sentence. In all seriousness, though, perhaps Reyle's thoroughly modern take on these bags and small leather goods is an indication that LVMH is done being so precious with the Dior aesthetic? (more…)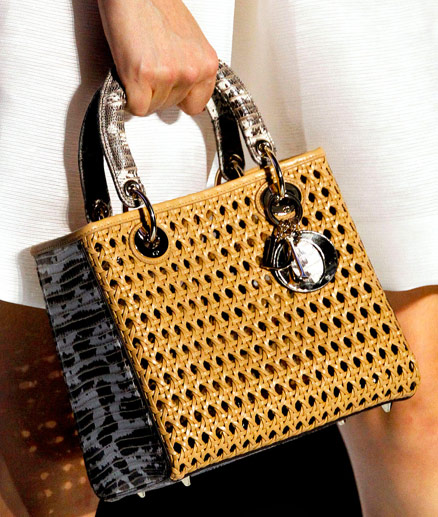 Images via Vogue.com
Excuse me while I echo the sentiments about the Dior Spring 2012 collection that have already been expressed by everyone else in the fashion industry: It's kind of a placeholder, yes? Months have passed and Dior still doesn't have a replacement for John Galliano, so the collection is being designed by what the French call "le studio." Bill Gaytten, long Galliano's right-hand man, has taken the reins, along with the rest of the Dior creative team.
The clothes and handbags that they created are serviceable, but not surprising or innovative. The purses are all shapes that we've seen before from Dior, but in varied fabrications and colors, much like the clothes were. Dior seems set on making pieces that will retail reasonably well until LVMH can find a real creative voice to lead the brand, and the intention is written all over this collection. (more…)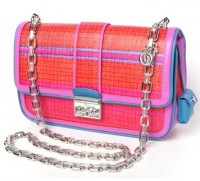 While none of us know for certain where Dior is headed, if the snaps that have come out of the Dior Resort 2012 handbags are any indication, accessories addicts don't have much to worry about. During recent years, John Galliano's Dior gave us season after season of mediocre accessories, never quite recreating the success that the brand had with the Saddle Bag years ago. I don't see the Next Saddle Bag in this array, but I do see some very fun designs.
The Lady Dior bag with clear beads will remind a lot of people of Prada's stellar Spring 2010 accessories collection, and there are certainly worse steps in which to follow while the brand finds its new direction. The rest of what we see so far is solid, functional and colorful in a way that will likely make it move off store shelves very quickly; the bags feel very of-the-moment, which is something that's been largely missing from Dior accessories for some time. Several more pictures after the jump. (more…)
Like most businesses, fashion tends to gloss over whatever moral and ethical quandaries that might be encountered on the road to aesthetic fabulousness. The use of animal fur, the health and employment rights of models and garment workers, and the absence of women of color not only from magazine pages, but also from the upper echelons of the corporate fashion world are just a few of the matters that industry bigwigs would rather weren't discussed.
But when John Galliano, Dior's top creative mind and one of the richest designers in the world, was hauled to jail for an anti-Semitic attack on a couple at a Paris café, the fashion world was too shocked to let it slide. When a video of a second verbal attack emerged, in the grand French tradition, it was off with Galliano's head. With Galliano's Spring 2011 Dior collection just hitting stores and Fall 2011 to come later in the year, that puts fashion lovers in an odd spot: If you love the work but disapprove of the man behind it, do you still buy the bags? (more…)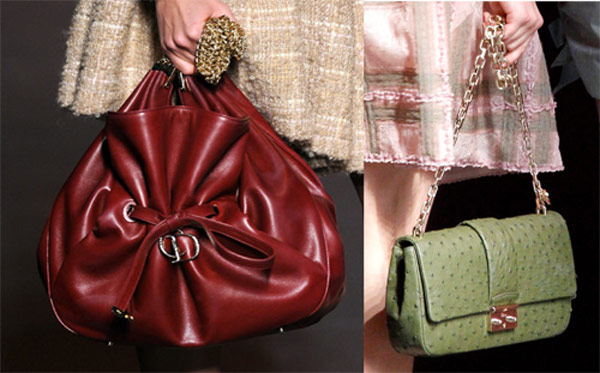 It's been an upsetting and sad week at the Christian Dior offices. Creative director John Galliano was arrested at a French café on a variety of charges including anti-Semitism, which saw him swiftly suspended from his duties at Dior. Once video emerged of a second public neo-Nazi tirade, his ouster from the brand was just as decisive. Galliano's Christian Dior Fall 2011 collection became an awkward and impromptu swan song, and the dark, moody lighting that might have looked cool under different circumstances just looked somber at the Rodin Museum in Paris.
Galliano likely had little to do with the collection's handbags, though, and that's what we're here to discuss. At a house as big as Dior, accessories and shoes are largely handled by a separate department, and although the head designer has creative input into their development, they're the work product of a set of people who toil largely in obscurity. And that's what this Dior show did exceptionally well – at the end, the brand honored the people behind the scenes whose livelihoods and careers were thrown into tumult by Galliano's cowardly words. If this set of lovely, luxurious bag is any indication, they were doing excellent work under a very troubled man. (more…)
Dior made more than a bit of a statement with its Spring 2011 accessories collection, and if you're itching to get your hands on a piece of the brand's lighter, younger handbag aesthetic, Bergdorf Goodman would like to let you start that process now.
The Dior Cannage Tote was first introduced as a Resort 2011 piece, but with Bergdorf's pre-orders expected to arrive in April, that seems to indicate that it will be part of the Spring 2011 non-runway collection as well. (Or maybe instead? Has anyone seen earlier-arriving orders for this bag?) (more…)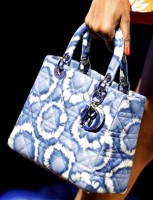 I can't remember the last time I was excited for a Dior bag collection, but ladies (and gents), I'm excited about Christian Dior Spring 2011. Perhaps it's because John Galliano stepped away from the patrician well that he had been mining for the past year or two, or maybe it's just the residual effect of staring at so many bright colors over the past week, but it seems to me that Dior finally has turned the page on the bland, predictable bags that we've seen from the Parisian label in recent seasons.
Spring 2011's bags mark a return to exuberance and spirit that had been lacking lately, and Galliano managed to put even the unchanged leather Lady Dior bags in a new context with this florid, tropical collection. The multicolored fringe crossbodies likely won't be a huge hit with Dior's traditional customers, but the look found its sweet spot in colorful, perspective-changing takes on old favorites like the Dior 3D and the aforementioned Lady Diors. If this collection serves as any sort of indication of the future, bag lovers have much to anticipate. (more…)