Coach
Page 8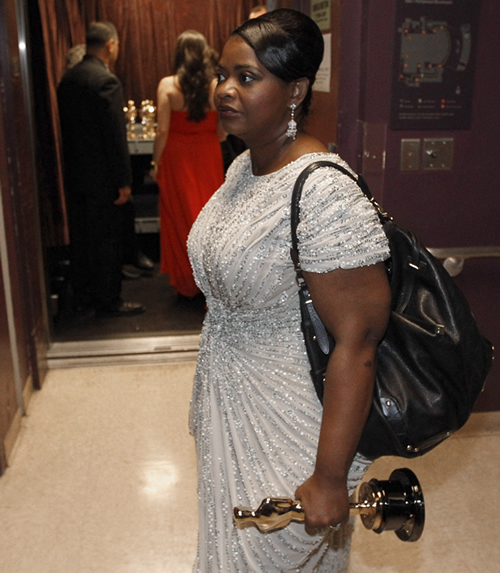 One of my favorite winners from this year's Oscars was Octavia Spencer. The Best Supporting Actress from the movie The Help heard her name called out and was completely and totally in shock. I love seeing someone genuinely surprised and thrilled by an award, and clearly Octavia was. Her acceptance speech was personal and moving as she stood at the podium barely able to hold it together, I was jumping off my couch clapping.
During the red carpet arrivals, Octavia wore a beaded, shirred white Tadaschi Soshi gown. But after the award show she was caught backstage gripping her golden Oscar and carrying a more spacious bag, the Coach Pinnacle Allie (more…)
I have shared this before, but my first ever handbag was a Coach bag. From that day forward I was hooked on bags and it clearly changed my life going forward, as I get to talk about the accessories I love every day. While many designers have come in and out of my collection, Coach will always have a special place in my heart. Over the past few years, Coach has churned out higher quality and priced items season after season. The true Coachies (a name given to Coach bag lovers by our loyal Coach PurseForum members) have grown with the brand and found the collections that they love most.
For $800, brands like Alexander Wang and Louis Vuitton can be purchased, but right now I am crushing on the Coach Pinnacle Leather Allie. (more…)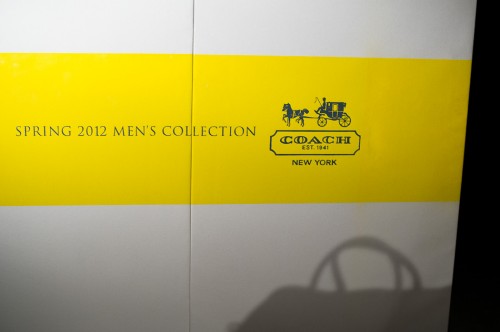 A couple months back we had the privilege to take a first look at the Coach Men's Collection for Spring. The line mixes rugged and cool with some influences of boxing and baseball.
Particularly interesting was the line of wallets that were made out of old baseball gloves. The gloves were taken apart by Coach artisans and then each wallet was sown together by hand. I like my leather accessories to show a nice patina over time with use, with these wallets you get the rugged shine, smell and touch right from the start.
I never seriously considered Coach as a major contender in men's accessories until I saw this preview up close. The prices are great and the style is on-point.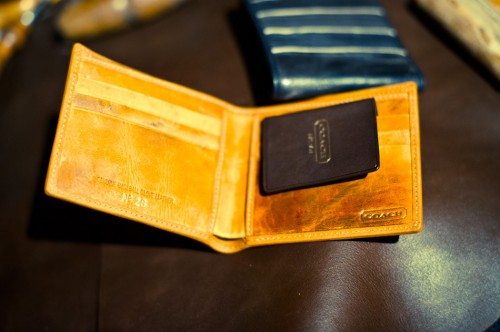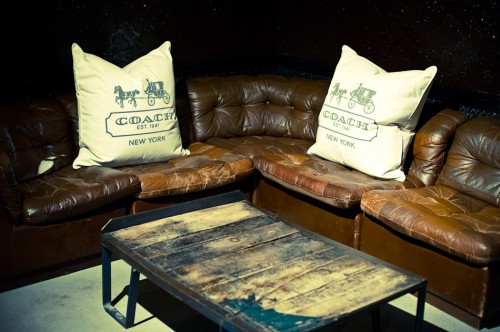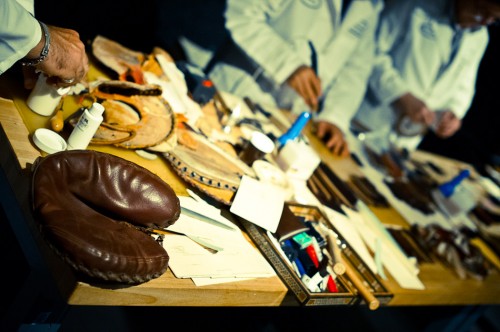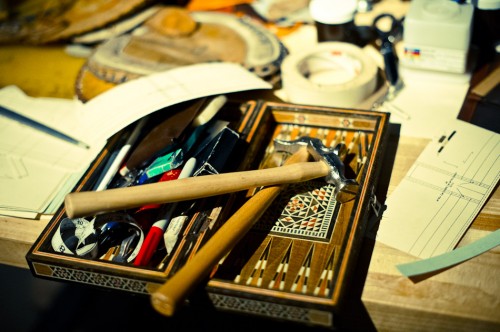 See the full gallery!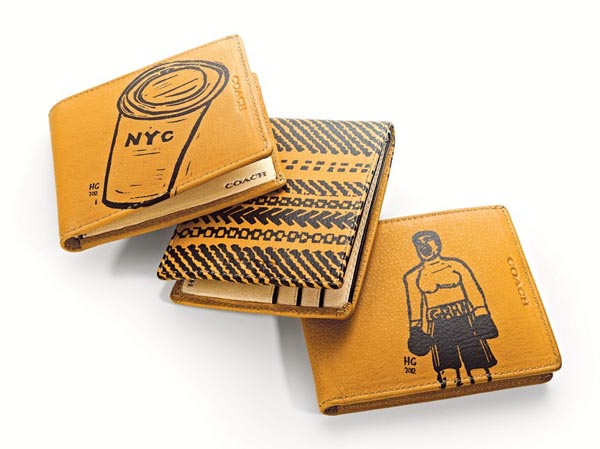 Images via WWD
First Louis Vuitton, then Dior, and now Coach – the artist-designed handbag doesn't seem to be a trend that will fade any time soon, and based on the lovely, modern pieces that make up the Hugo Guinness for Coach collaboration, that's a boon to both the accessories and art worlds. Guinness, a London-born, Brooklyn-based artist, lent some of his drawings to a range of 17 Coach men's accessories that will debut in stores in February with prices ranging from $68 to $398. Even if they're meant for the fellas, I'd still line up to get my hands on a few of these pieces. Check out a preview, after the jump. (more…)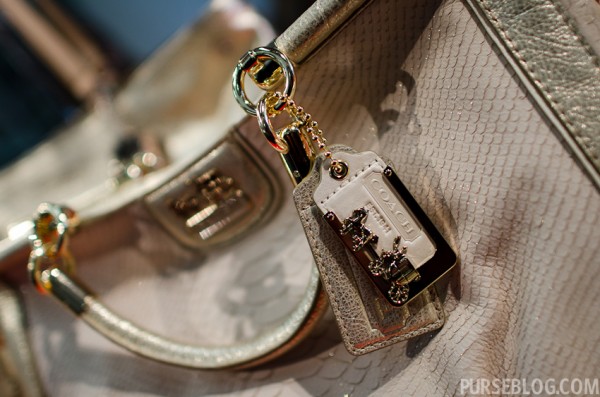 Yesterday, Vlad, Amanda and I headed west to what seemed like the end of the world, aka the Hudson River. (Geography for anyone living in Manhattan is utterly skewed.) I would gladly walk 6 avenues any day for the chance to preview Coach's upcoming collection of bags and accessories, especially when hosted in the Archive at the Coach Carriage House. While we were there to focus on Spring 2012, my eyes continuously wandered to case after case of Coach staples from the past. But that will come another day; today is all about the upcoming collection. (more…)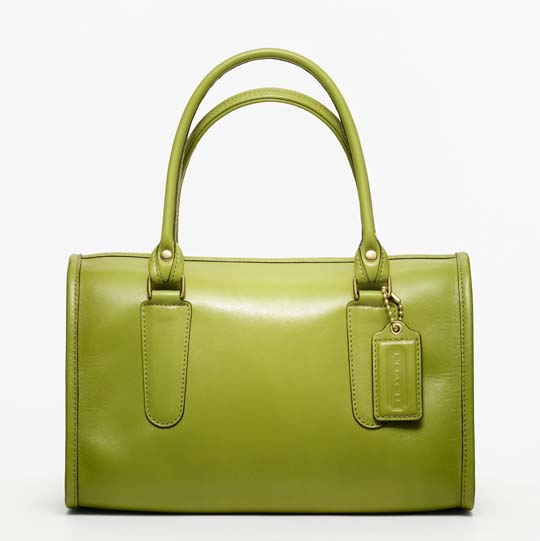 Photos via Coach
We all know that I'm not exactly the kind of girl who's happy with a closet full of black, tan and chocolate brown bags. I need variety! I need color! I need chartreuse and coral, if possible! Not to mention that a classic shape with a crazy color is just about the freshest thing going in handbags right now. It's wearable, it's modern, it's bold – what's not to like?
Obviously Coach knows this stuff, so the Coach Classics Collection that everyone was excited about last month has gotten its second wind, this time with fun new colors like lime green, watermelon pink and ivory. (I don't have a cute fruit description for ivory, so just go with it.) I'm going to continue to wait for the small crossbody to come in colors that aren't already represented in my bag wardrobe, and if you'd like to find out if you'll be doing the same, check out the new options after the jump. You can pick up these bags via Coach.com. (more…)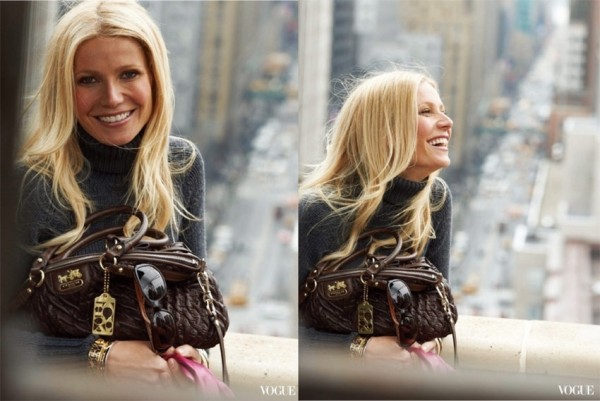 Images via Vogue Taiwan
There was a time when huge celebrities who largely avoided domestic advertising in order to maintain their pristine images for fans did ad campaigns overseas for big bucks and Americans were none the wiser. That time was before the Internet, and it has very clearly passed. Via Vogue Taiwan, we now have a peek at Gwyneth Paltrow's first ads as the international brand ambassador for Coach. (more…)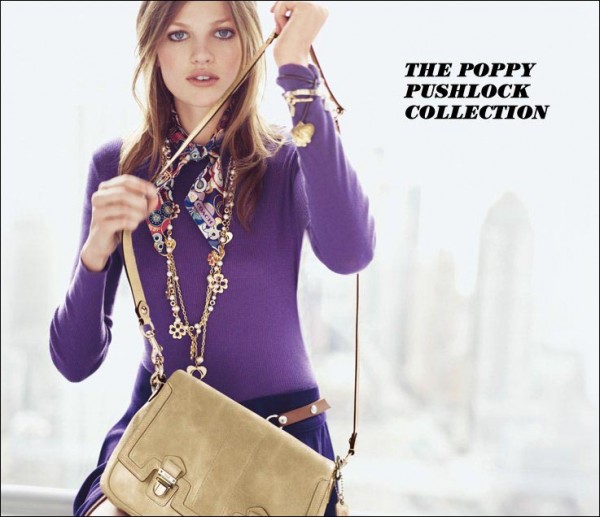 Photos via Coach
In my experience, most people other adore Coach Poppy Handbags or they hate them, there's not much of an in-between. And that's true of most lines that really go for it when it comes to having a point of view – the more personality a bag has, the wider the gulf between the lovers and the haters becomes. With their bright, in-your-face, pink-and-sparkly persona, the Poppy bags were about as divisive as it gets. They were also less expensive than other Coach bags and positioned to appeal to a younger customer, which clearly worried some lifetime Coach devotees.
It looks as though the brand might be trying to establish a little bit of middle ground with the new Coach Poppy Pushlock Collection. (Not to be confused with Mulberry's similarly named Polly Pushlock bags.) These monotone leather designs are still something of a steal compared to average Coach pricing, but the feel is a bit more chic and upmarket without losing the line's youthful appeal. More photos of the line and prices after the jump, or you can shop the line via Coach.com. (more…)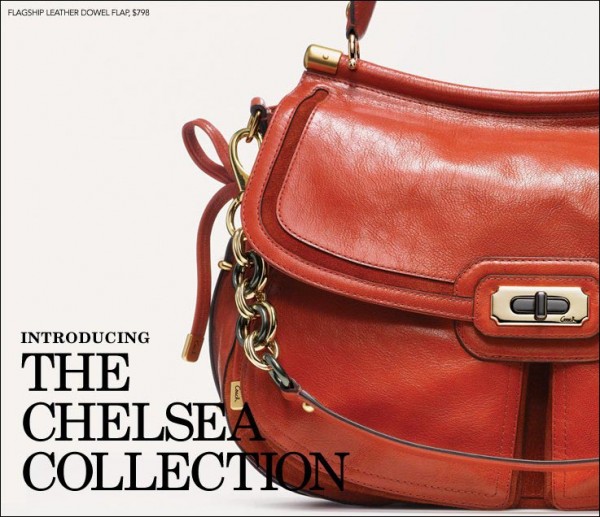 It's hard to think of an American accessories brand with as devoted a following as Coach; in fact, the New York-based leathergoods giant might not have any domestic competition in the "ardent fandom" department. Those of you who consider yourself a part of that very large group will be excited to check out the new Coach Chelsea Collection, which features totes, satchels and shoulder bags in a variety of leathers and fabrics. Several more pictures, after the jump. (more…)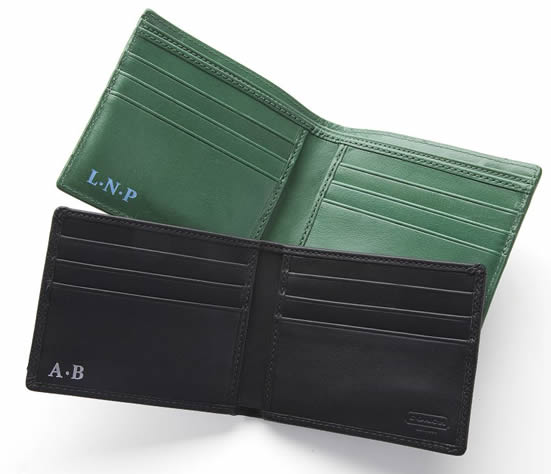 Ok, so this post a little last minute for a Father's Day gift idea but honestly, I know many of you may be like me and procrastinate. When it comes to both Mother's Day and Father's Day, I always try to find a gift that can be sentimental. It gets hard to come up with something year after year, but as much as my dad loves Hermes ties, sometimes a tie gets a little too repetitive.
If you are looking for a last minute Father's Day gift option, have an accessory from Coach monogrammed.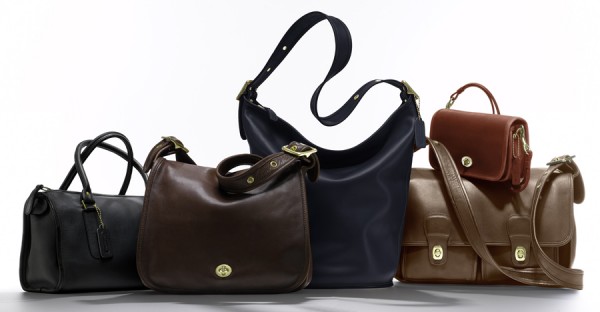 Shop the Coach Classic Collection at NET-A-PORTER.com
As the Coach brand expands rapidly, offering everything from the youthful Poppy line to the more refined Kristen collection, many fans of the brand still yearn for the Coach Classics. To many, a "classic Coach bag" might mean the small signature Demi Pouch, but the brand became known for their simple and refined leather Heritage collection in the 1970s, long before its logo fabric became a signature touch.
With the current 70s trend in full swing, NET-A-PORTER Buying Director Holli Rogers felt it was the perfect moment to bring back some of the original Coach designs and introduce them to a new generation of women. The five bags of the Coach Classics Collection will be exclusively carried at NET-A-PORTER.com and are sure to sell out quickly. Click for more on the Coach Classic Collection!