I know I've said this plenty of times before, but I still find it absolutely confounding that a former Spice Girl now designs a range of totally luxurious, well-crafted handbags that are sold by some of the finest retailers in the world. Is this real life? Am I taking crazy pills?
Beckham's aesthetic has come a long way since the days when she was the leather-chap-wearing queen of the British WAGs (wives and girlfriends of soccer players, for the uninitiated), and pieces like the Victoria Beckham Two-Tone Lizard and Leather Clutch demonstrate the classic, heavily tailored look that Vicky B's been working to great effect for the past couple of years. (more…)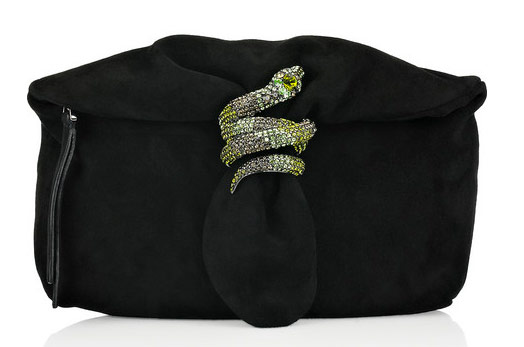 If you spend as much time on the Internet as we do (for your sanity's sake, we hope you don't), you've surely heard that a poisonous cobra has escaped from the Bronx Zoo and is now amusing and terrifying much of New York City. No one has any idea where the snake has crept off to, but now has its own hilarious Twitter account and has taken the place of Charlie Sheen as the Internet meme du jour. The Bronx Zoo cobra is doing all the winning now, Mr. Sheen.
There's only one proper way to celebrate this slithering little wastrel, and no, it's not with a snakeskin handbag. That would probably just upset him, and if you were to come across a poisonous cobra, the last thing you would want to do is hurt his feelings. (Or worse, make him think that you want to catch him and make him into a tasteful evening bag.) No, ladies, you need to immortalize the Bronx Zoo cobra in gemstones with the help of the Jimmy Choo Candice Snake Suede Clutch. I think there's a "snake charming" pun in here somewhere. (more…)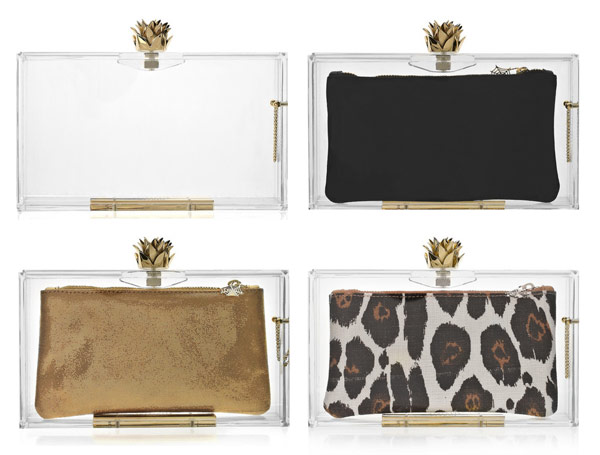 I can't even begin to explain how excited I am that Charlotte Olympia designer Charlotte Dellal has decided to grace the handbag world with her presence. I've been singing that praises of Dellal's sharp, modern, sexy footwear over at TalkShoes for some time now, and her witty sensibility is a welcome addition to the accessories marketplace. The Charlotte Olympia Pandora Plexiglass Clutch, with its three included inserts and confident lines, is a very promising start for this handbag neophyte. (more…)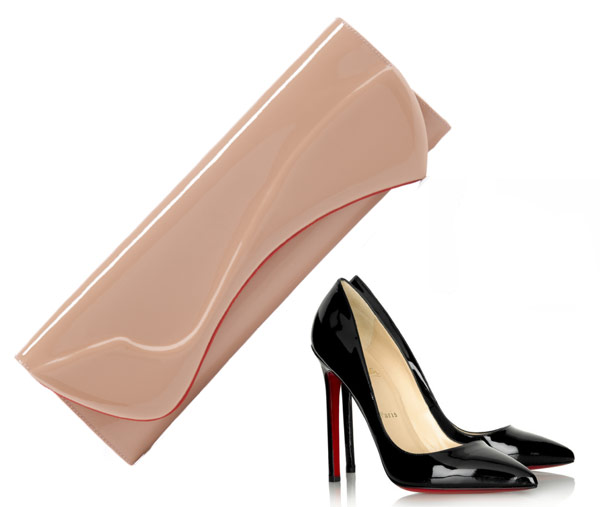 We all know that Christian Louboutin has the footwear world on lock, but the stiletto master's results in the handbag world sometimes don't have the aesthetic consistency of his shoes. Translating success in one design realm to success in another can be difficult, so creating a clutch that appeals directly to the hearts of those who already love Louboutin's shoes is a great way to turn footwear customers into potential handbag customers. But this design goes even a bit further than that; the Christian Louboutin Pigalle Clutch takes what should be a novelty and elevates the sophistication level to make this clutch something truly impressive. (more…)
One complaint I've long had with Balmain's handbags and shoes is that they never seem to embody the luxe-punk aesthetic of the brand in quite the way that the clothes so convincingly do. As the old saying goes, it looks like I should have been careful what I wished for.
For what it's worth, the Balmian Safety Pin Leather Clutch is a bag that finally looks like it belongs under the same name as Christophe Decarnin's ready-to-wear. As it turns out, though, that's not such a great thing. (more…)
This may seem like bold talk, but casual clutches are a totally under-appreciated and under-carried type of handbag. Please allow me to use the brand new Mulberry Alexa All In One Clutch to explain why.
On the surface, clutches may have a rather singular purpose: to look cute and unobtrusive with a nighttime outfit. But really, a good one can be so much more than that. Depending on your lifestyle and the size of bag you carry normally, this thing could do double-duty as everything from an oversized wallet to a tampon-obscurer to a place to neatly organize your travel documents. Or it could be all three of those things at once, plus act as a clutch on the weekends. Bags like these have many talents, even if they're only marketed one way. (more…)
When we first talked about the Oscar de la Renta Grafton Clutch, many of you shared my love for the design. I rekindled my love for this sleek design from designer-extraordinaire Oscar de la Renta over the weekend. (more…)
Depending on who you ask, feathers can be the most loved or reviled adornment in all of fashion. Some people find feathers cheesy and costume-y and prefer not to wear them, others think exactly the same things about them but feel that those are actually admirable qualities. I normally find myself in the second group, if only for variety's sake, and the Maison Martin Margiela Feather Clutch is something I'd wear without a second thought.
Margiela's stock-in-trade is a sort of cockeyed minimalism, and the simple backing for this bundle of tonal green feathers helps this design walk the line between interesting and odd that the brand loves to walk so often. (more…)
Prices of handbags continue to grow (as well as prices of my Starbucks drinks among other things). I spend much more time thinking about my handbag purchases now, contemplating both price and quality. We first covered LaLucca a while back and they are more than worth coming back to discuss again.
The aptly named LaLucca Art Bags are comprised of a usable clutch shape which has been interpreted in canvas and leather and hand-painted by artist Aleksandar Kirilov. That makes each bag a unique design, as Kirilov transforms each cut pattern into a 3-D art piece. The colors and prints vary from subtle to bold. Best part is you can own a truly one-of-a-kind bag for $375. In today's handbag market, the price is beyond agreeable and the design stands out. (more…)
For one reason or another, some designers go absolutely bonkers when it comes time to decorate a simple little box clutch. I'm not sure if it's because the small proportion lends itself more easily to making big ideas wearable or if the structured feel of the bags makes them easier to decorate intricately, but it seems as though Corto Moltedo Spring 2011 takes note of both of those advantages.
I took the liberty of using the spider clutch as a feature because Halloween is quickly approaching and it's my favorite holiday, but the motifs you'll find in this collection are as varied as a summer day is long. From a pale, modernist American flag to sunny painted python to sober forged metal leaves, relative newcomer Moltedo offers a little something for everyone. Everyone who likes a crazy clutch, that is. (more…)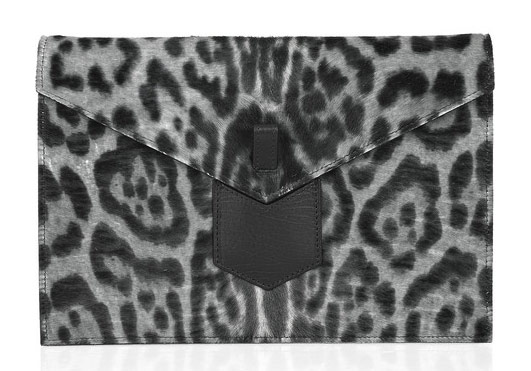 There's nothing to dislike about the Yves Saint Laurent Printed Calf Hair Clutch and I won't let you or anyone else tell me otherwise! (more…)