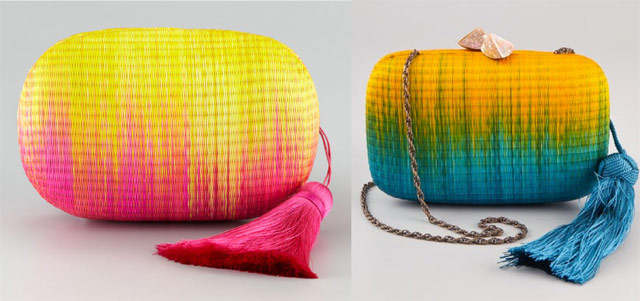 When I was looking for bags to feature in one of last week's wedding guides, I came across the stunning Kotur Barnes Ombre Woven Clutch. I was immediately smitten – the way that the ultra bright colors mingle in the middle is so unique and so memorable that I couldn't get the bag out of my head. It seems as though I wasn't the only one who had that reaction; since that post went up, I've had a few friends mention the Kotur clutch in particular as a standout.
$450 isn't an outrageous price in the least when you compare it to some of the bags that we write about, but we try to be sensitive to the fact that it's still a lot to pay for a bag that you might only use a few times per season. Naturally, that's where this edition of Look for Less and the Serpui Marie Marrakech Minaudiere come in. (more…)

Clutches are such a conundrum. Not only are they the smallest, least often-used bags of all the major categories, but they're some of the most expensive purses on the market because of the amount of embellishment and detail that goes into some of them. It's hard to believe that what is essentially a frame-structured silk pouch can sometimes cost as much as an all-leather everyday bag from the same brand, but that's exactly the case with the Valentino Silk Georgette Rosette Clutch, which rings up at $2495. If you're keeping score, that's only $100 less than the white Valentino Rockstud Tote that I'm so obsessed with.
Of course, that just means that we had to go out and find a less-expensive alternative for this pretty little clutch, and that's exactly what we did. Check out our alternative (and its much lower price) after the jump. (more…)
Over the past few years, clutches molded out of clear lucite or acrylic have enjoyed wide popularity, at least on runways. It's a trend that nearly every brand has touched on at one point or another, but because not everyone jumped on the bandwagon at once, a clear evening bag still feels fresh and modern. Don't let that fool you, though; see-through clutches have been around for decades and are often the best thing that a vintage store's handbag selection has to offer.
If you want something with a more modernist edge (or if vintage shop-trawling simply isn't your favorite hobby), we've done a little bit of legwork for you. In this edition of Save, Spend, Splurge, we highlight three clear plastic handbags at three very, very different price points. Check 'em out after the jump and tell us whether or not this is a trend that you'd ever buy into in the comments. (more…)
Translating a winning design aesthetic from shoes to handbags can be tricky. Just ask Christian Louboutin, who has the footwear world by the tail but is still trying to figure out his perfect handbag formula. Brian Atwood, another shoe designer that inspires fainting spells among the heel-inclined, is also taking his first serious steps into the handbag arena, starting with a collection of clutches that launched yesterday on Gilt.com.
Clutches are a smart place to start for shoe designers; not only do their existing customers (buyers of many pairs of impractical, expensive shoes) likely have the lifestyle to need clutches, but smaller bags lend themselves well to embellishment and experimentation. In this small group (and no, just because the sale is on Gilt doesn't mean there's a discount), the geometrically embellished minaudieres are what really shine. The envelope clutches, on the other hand, are a bit basic, but based on his shoes, I'm sure Atwood will find his footing and expand on these ideas soon. Check out all of the clutches, priced from $1050 to $1850, after the jump, or shop now via Gilt.com. (more…)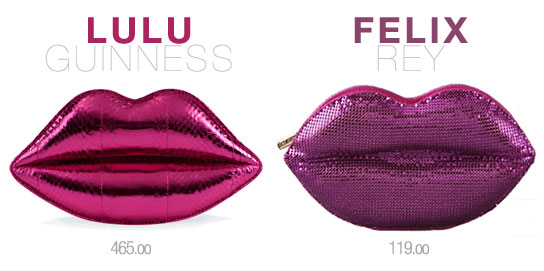 You know how they say time flies when you're having fun? I am certain that this is both cliche and true, as I have no idea how it is nearly the middle of February. For the fashion world, this means Fashion Week (aka month) is here, and for the rest of the world it means Valentine's day is upon us. As much as I love getting gifts, I look forward to putting together a Valentine's outfit more than anything.
I've been obsessing over the Lulu Guiness Lips Clutch for years and I am not the only one. My mom went gaga for this clutch and Vlad and I bought it for her for Christmas this year. This novelty item is cutesy without being over-the-top. It would make for a great Valentine's day gift but also for the perfect clutch to carry to your romantic Valentine's day dinner. But if you love this look and want a look for less, we found the perfect option. (more…)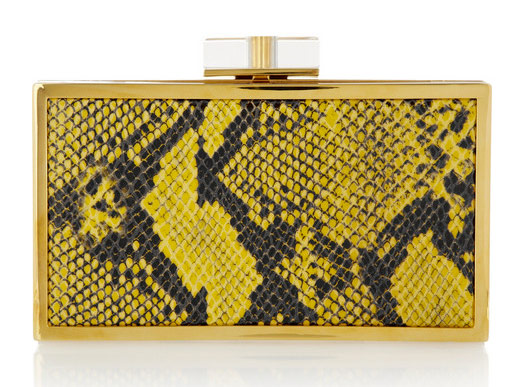 Stella McCartney Ava Faux Python Clutch, $1995 via Net-a-Porter
Like any proud lover of luxury goods, I spend my fair share of time trying to explain to people that we're not all slaves to a famous name when it comes to paying for accessories. Sure, some of the reason that prices are the way they are is that many of the brands we love have built of a reputation and history for themselves as employing the kind of aesthetic and artistic talent to craft the finest leather goods on the planet. The name is something, particularly when it stands for a history of craftsmanship and quality, but it's not everything. Or so I argue. When I look at a bag like the Stella McCartney Ava Faux Python Clutch, though, I can't help but wonder if I'm merely brainwashed. (more…)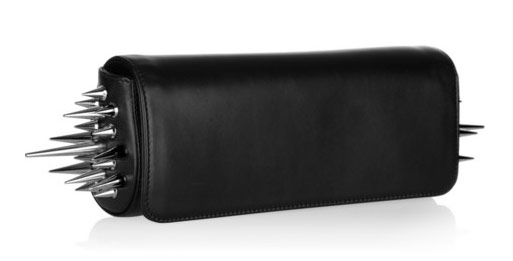 Christian Louboutin Marquise Clutch, $1295 via Net-a-Porter
A few months ago, I wrote a funny little post about bags that could be used as weapons. As fashion's penchant for embellishment grows increasingly inescapable, it seems as though most high-end accessories can be repurposed for self-defense in an emergency, and with the prices that designers charge, it's frankly nice that they have the extra utility.
If I had only known that the Christian Louboutin Marquise Clutch would be coming out, I would have waited to write that post. This bag may be the first I've ever seen that would actually allow you to stab a mugger, a cheating husband, that jerk in front of you in the line at Target, whoever strikes your stabbing fancy. I wonder if this bag could be classified as a deadly weapon? (more…)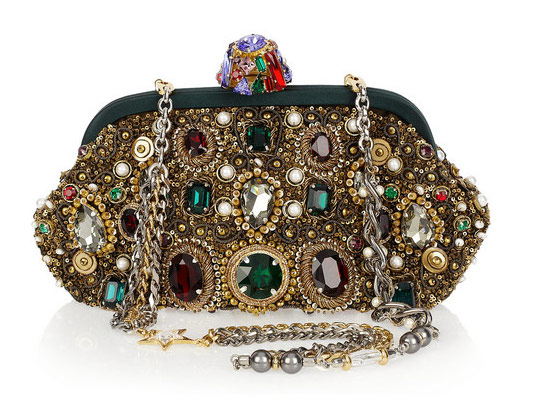 Dolce & Gabbana Jewel and Pearl Embellished Clutch, $6895 via Net-a-Porter
The most important thing to note about the Dolce & Gabbana Jewel and Pearl Embellished Bag, right up front, is that it's a full foot wide. I'm going to allow you to adjust to that information for a moment, perhaps measure an air-foot out with your hands to get an idea of the scale that we're talking about here.
Ok, are we good now? Great. (more…)