Translating a winning design aesthetic from shoes to handbags can be tricky. Just ask Christian Louboutin, who has the footwear world by the tail but is still trying to figure out his perfect handbag formula. Brian Atwood, another shoe designer that inspires fainting spells among the heel-inclined, is also taking his first serious steps into the handbag arena, starting with a collection of clutches that launched yesterday on Gilt.com.
Clutches are a smart place to start for shoe designers; not only do their existing customers (buyers of many pairs of impractical, expensive shoes) likely have the lifestyle to need clutches, but smaller bags lend themselves well to embellishment and experimentation. In this small group (and no, just because the sale is on Gilt doesn't mean there's a discount), the geometrically embellished minaudieres are what really shine. The envelope clutches, on the other hand, are a bit basic, but based on his shoes, I'm sure Atwood will find his footing and expand on these ideas soon. Check out all of the clutches, priced from $1050 to $1850, after the jump, or shop now via Gilt.com. (more…)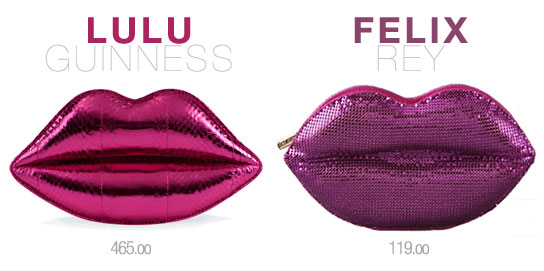 You know how they say time flies when you're having fun? I am certain that this is both cliche and true, as I have no idea how it is nearly the middle of February. For the fashion world, this means Fashion Week (aka month) is here, and for the rest of the world it means Valentine's day is upon us. As much as I love getting gifts, I look forward to putting together a Valentine's outfit more than anything.
I've been obsessing over the Lulu Guiness Lips Clutch for years and I am not the only one. My mom went gaga for this clutch and Vlad and I bought it for her for Christmas this year. This novelty item is cutesy without being over-the-top. It would make for a great Valentine's day gift but also for the perfect clutch to carry to your romantic Valentine's day dinner. But if you love this look and want a look for less, we found the perfect option. (more…)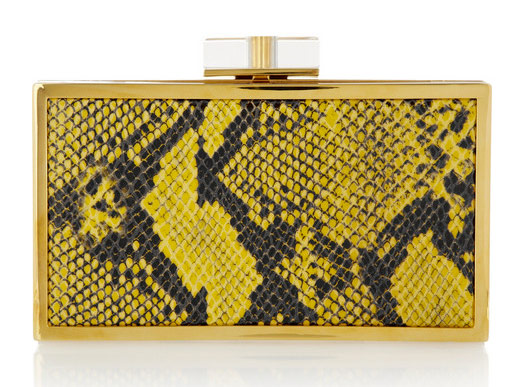 Stella McCartney Ava Faux Python Clutch, $1995 via Net-a-Porter
Like any proud lover of luxury goods, I spend my fair share of time trying to explain to people that we're not all slaves to a famous name when it comes to paying for accessories. Sure, some of the reason that prices are the way they are is that many of the brands we love have built of a reputation and history for themselves as employing the kind of aesthetic and artistic talent to craft the finest leather goods on the planet. The name is something, particularly when it stands for a history of craftsmanship and quality, but it's not everything. Or so I argue. When I look at a bag like the Stella McCartney Ava Faux Python Clutch, though, I can't help but wonder if I'm merely brainwashed. (more…)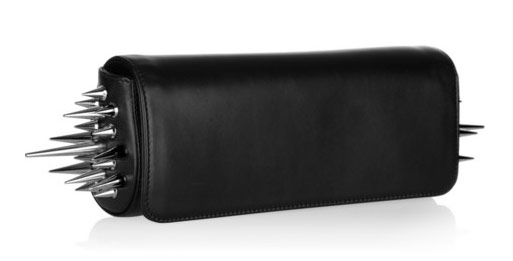 Christian Louboutin Marquise Clutch, $1295 via Net-a-Porter
A few months ago, I wrote a funny little post about bags that could be used as weapons. As fashion's penchant for embellishment grows increasingly inescapable, it seems as though most high-end accessories can be repurposed for self-defense in an emergency, and with the prices that designers charge, it's frankly nice that they have the extra utility.
If I had only known that the Christian Louboutin Marquise Clutch would be coming out, I would have waited to write that post. This bag may be the first I've ever seen that would actually allow you to stab a mugger, a cheating husband, that jerk in front of you in the line at Target, whoever strikes your stabbing fancy. I wonder if this bag could be classified as a deadly weapon? (more…)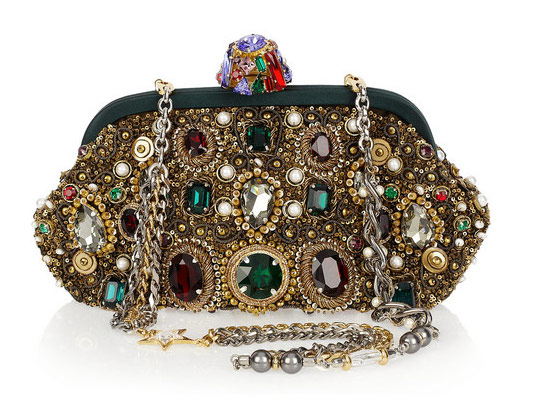 Dolce & Gabbana Jewel and Pearl Embellished Clutch, $6895 via Net-a-Porter
The most important thing to note about the Dolce & Gabbana Jewel and Pearl Embellished Bag, right up front, is that it's a full foot wide. I'm going to allow you to adjust to that information for a moment, perhaps measure an air-foot out with your hands to get an idea of the scale that we're talking about here.
Ok, are we good now? Great. (more…)

Christian Louboutin Anastasia Clutch, $2345 via Neiman Marcus
If you're a regular PurseBlog reader, you know how I feel about fur bags, even though I've softened enough this season to allow fur accents without too much griping. And then I see something like the Christian Louboutin Anastasia Clutch and I remember why fur bags are a bad idea all over again.
Only one word came to mind when I saw this bag: Pomeranian. Because the bag is made out of fox fur, it already has the look and color of a canine to it, and the coppery shade and length almost exactly match the tiny dogs beloved by people who want to carry their pets in their handbags. Unfortunately, this clutch looks like you're trying to carry your pet as your handbag. I'm just waiting for it to poke its little head out from under the fur and start begging for a Snausage. (more…)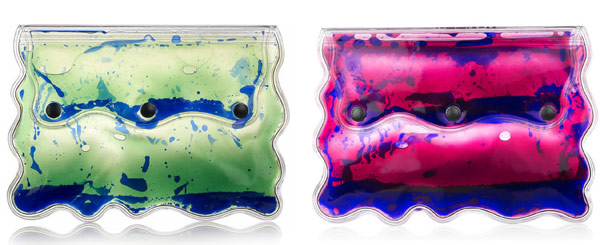 Christopher Kane Aqua Gel-Filled Clutches, $720 via Neiman Marcus in green or pink
There are plenty of indications that I've fallen a little too far down the fashion rabbit hole. The foot-long neon pink feather earrings that I searched out for a month? A telltale sign. My urge to apologize to both friends and strangers for the sensible shoes I've been wearing since I hurt my ankle a few weeks ago? Another one. But perhaps the most obvious sign yet is that upon viewing the Christopher Kane Aqua Gel-Filled PVC Clutches, my first thought was, "Well, I'd totally carry the pink one." (more…)

Halston Heritage Susan Cluctches: Metal Mesh, $295 via ShopBop. Watersnake, $195 via ShopBop.
For how small they are, it can be difficult to find a reasonably priced box clutch. I've yet to figure out exactly why it is that they seem to be marked up more than their soft counterparts; does the rigid structure cost more money or use more manufacturing time? Do brands simply know that consumers are willing to pay a little more for a bag that they perceive as more formal? I'm guessing that it's some combination of the two, which makes the reasonable price tags for the Halston Heritage Susan Box Clutches all the more exciting. (more…)
I'll be the first to admit that I appreciate a dose of absurdism in my life. I like weird movies and funny hats and people who wear bowties to daytime events without a note of irony. The weirdness that people bring to everyday life almost always makes me think that humanity might be ok after all, which is probably why the Les Petits Joueurs Mondrian Lego Suede Clutch makes me smile. Except for the price, naturally. (more…)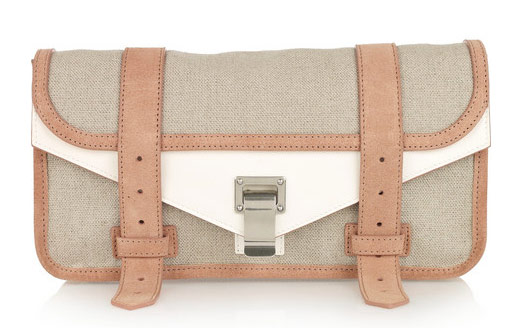 Proenza Schouler PS1 Linen and Leather Clutch via Net-a-Porter for $735.
This may sound crazy, but I swear that when I first laid eyes on the Proenza Schouler PS1 Linen and Leather Clutch, the room immediately felt a few degrees cooler. Things are starting to heat up in Atlanta, as always happens so quickly after we get those first few perfect spring days, and ceiling fans and air conditioners are working overtime to keep everyone below the Mason-Dixon Line from going outside, lying facedown in the grass and falling asleep in the sun. This clutch, though, made me feel like I was standing right under a vent with the temperature turned all the way down. (more…)
When I think of summer and straw clutches, greige is not exactly the first color to spring to mind. Although it's my favorite neutral (besides leopard print, which is a neutral too, I swear), there comes a time when winter has lasted far too long and the last thing you want to see is another sullen, pallid handbag. For me, that time came this past weekend when it felt like November during my trip up North.
If that time has yet to arrive for you, perhaps you'd like to bring greige into the new season with the Matthew Williamson Raffia Leather Clutch. Although this bag has all the island-themed elements of a prototypical straw clutch, they're rendered in a shade that still screams fall. Well, as much as greige can scream anything, anyway. (more…)