Christian Louboutin
Page 4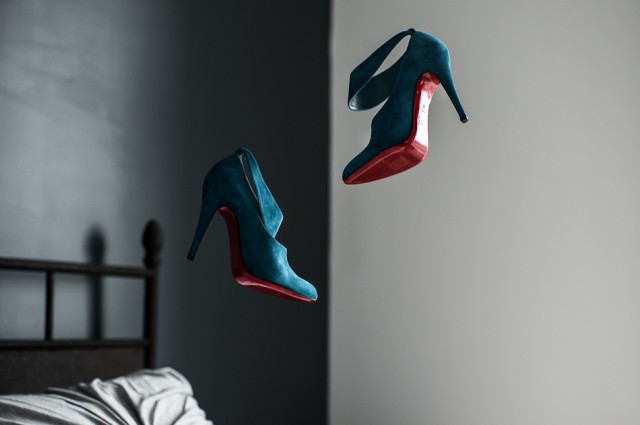 This weekend, we were busy ending summer and falling straight for fall. These lovely Louboutin Miss Zora Necklace Boots make for a great companion.
Happy Labor Day, hope your summer was as amazing as ours!
Shop Christian Louboutin via Net-A-Porter

Did you know that the shoe department of Saks Fifth Avenue's flagship New York City store has its own zip code? It does, and trust me, it is that good. If you are in the New York area, plan a trip to the store and set aside a few hours to peruse the shoes. Of course, you can't talk about shoes without mentioning the master himself: Christian Louboutin and to be honest, we think Mr. Louboutin's bags have become essential in the accessory world as well.
The Christian Louboutin Spring Collection has arrived at Saks and each item is better than the next. From the perfect girly pink pump to an edgy black bag, you must check out all the Christian Louboutin spring arrivals that Saks has to offer. I was hard pressed to pick nine favorites, so make sure to check out the entire offering.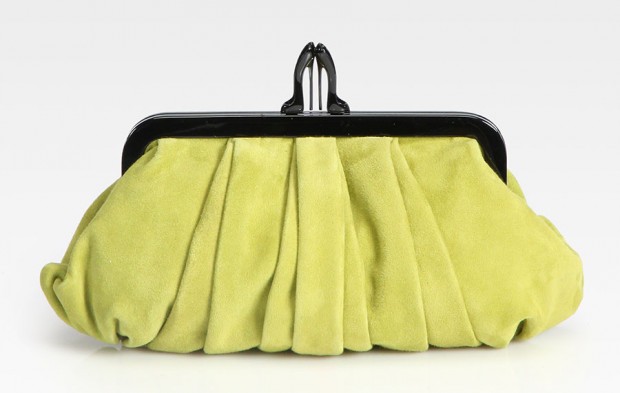 Christian Louboutin Loubi Suede Croissant Clutch | $895 via Saks
I've been a fan of this chic ruched clutch from Christian Louboutin for quite some time, and the chartreuse suede version for spring immediately caught my attention. The buttery-smooth suede calfskin and black signature frame top work together perfectly. This bag will add the perfect pop of color to your spring accessory wardrobe.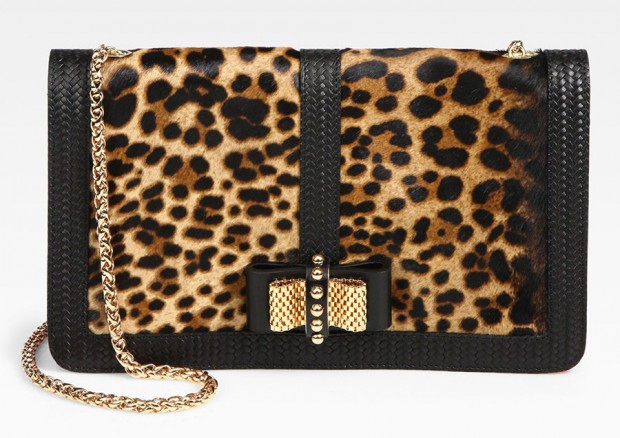 Christian Louboutin Sweet Charity Clutch | $1,595 via Saks
The Sweet Chairty Clutch is the perfect option when you are looking for an accessory that is both fun and dressy. I love adding extra pizzaz with the leopard-print haircalf while the braided black calfskin completes the look. The chain-link bow is the signature add-on for this bag and it works wonderfully. Completely lined in red, this clutch mixes every bit of Christian Louboutin that I know and love.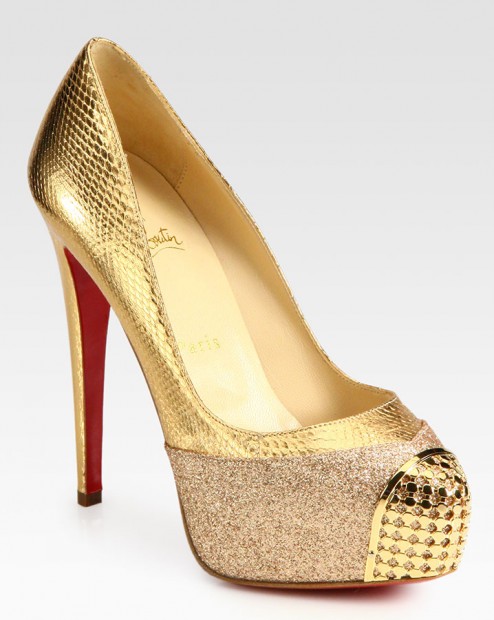 Christian Louboutin Maggie Glitter-Coated Metallic Platform Pumps | $1,395 via Saks
Looking to make a statement with your shoes? These gold Christian Louboutin pumps will catch the eye of everyone in a 5 block radius, and not in a bad way. The snake-print metallic leather features a shimmering glitter-covered platform and goldtone metal toecap. Pair them with jeans or the perfect little black dress to make a metallic statement. (more…)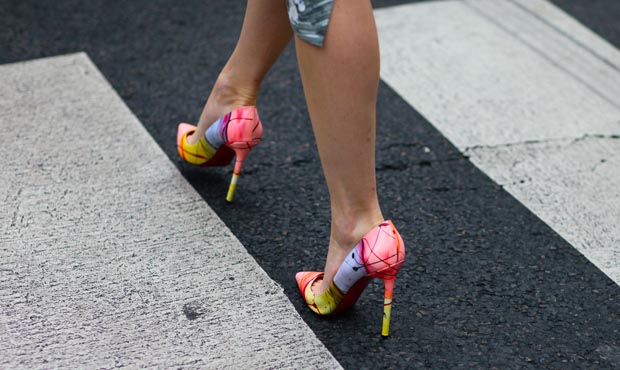 Looking through street style photos during Fashion Week is always fun and almost always makes me start doing mental budget math to see if I can maybe, possibly justify the purchase of, say, a giant feather-covered coat this month, but rarely do street style photos stop me in my tracks. Yesterday, while flipping through Phil Oh's shots for Vogue.com, that's exactly what happened. Holy shoes, you guys. I can't think of a single piece that more deserves to be the object of our Want It Wednesday affections than the Christian Louboutin Pigalle Pollock. (more…)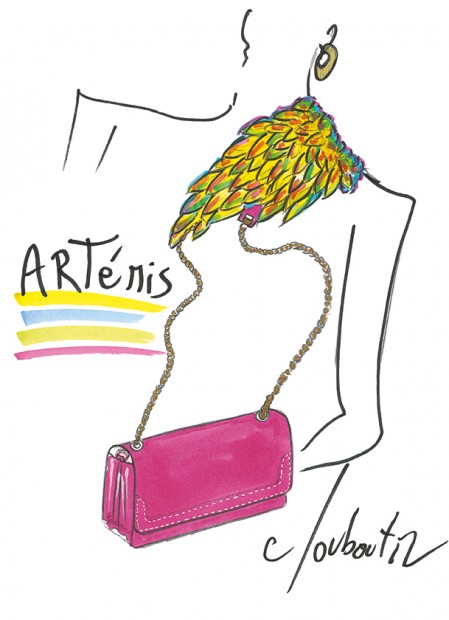 Happy 20th Anniversary to the famed Christian Louboutin! To celebrate 20 years of amazing bags and shoes, the Christian Louboutin Capsule Collection has been released that showcases 20 iconic shoe styles and 6 bags that have been redesigned to celebrate the occasion. The collection is being shown on the official Louboutin Facebook page.
Tomorrow we will show you the true beauty of this bag, but today here is a sneak peek at a sketch of one of the six soon-to-be-released bags. Behold, the Christian Louboutin Artemis Plumes. What are your thoughts?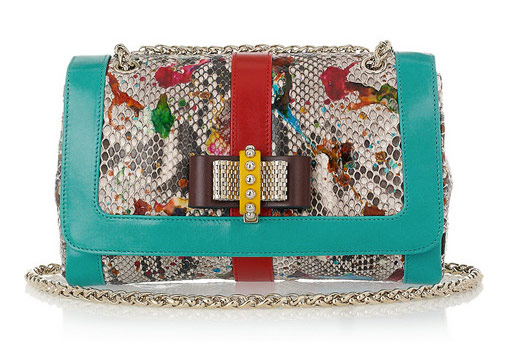 Over on TalkShoes, I've mentioned several times that the paint-splattered natural python seen on several of Christian Louboutin's Spring 2012 shoes is my favorite exotic finish that the footwear master has ever done and one of my favorite python finishes ever, from anyone. The little splashes of color add just the right amount of signature Louboutin wit to the skin without obscuring its natural beauty, and I've been in love with it ever since I saw Blake Lively wearing a pair of the shoes at the Louboutin 20th anniversary party at Barneys a few months ago. Thankfully, Louboutin has seen fit to bring the material to handabgs with the Christian Louboutin Sweet Charity Python Shoulder Bag. Still, though, something's a little off. (more…)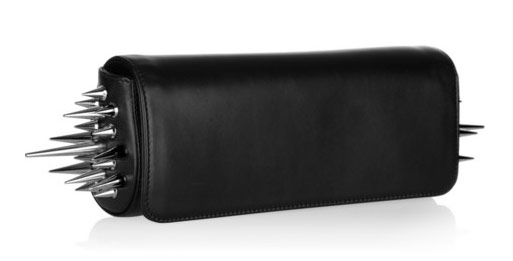 Christian Louboutin Marquise Clutch, $1295 via Net-a-Porter
A few months ago, I wrote a funny little post about bags that could be used as weapons. As fashion's penchant for embellishment grows increasingly inescapable, it seems as though most high-end accessories can be repurposed for self-defense in an emergency, and with the prices that designers charge, it's frankly nice that they have the extra utility.
If I had only known that the Christian Louboutin Marquise Clutch would be coming out, I would have waited to write that post. This bag may be the first I've ever seen that would actually allow you to stab a mugger, a cheating husband, that jerk in front of you in the line at Target, whoever strikes your stabbing fancy. I wonder if this bag could be classified as a deadly weapon? (more…)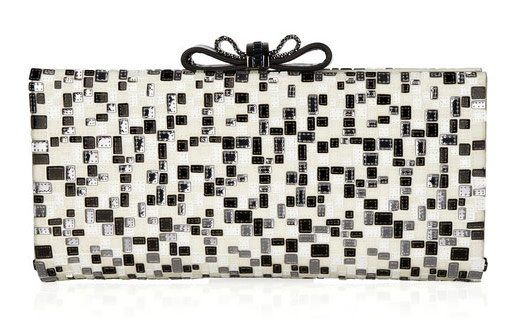 Christian Louboutin Cleo Sequined Satin Clutch, $2095 via Net-a-Porter
I miss a lot of things about college, and the crossword puzzle from the University of Georgia student newspaper is probably a lot higher up on that list than you'd expect. It was the perfect level of difficulty – I could finish it in about 45 minutes and feel challenged while still ultimately being victorious. Related: 45 minutes was approximately the length of one lecture class period at UGA. Over my four years there, I did hundreds of them.
Getting your news online brings with it a noticeable lack of crossword puzzles, which has left a sad little gap in my procrastination habits since 2008. The Christian Louboutin Cleo Sequined Satin Clutch isn't literally a crossword puzzle in the same way that Louboutin has made literal tape measure shoes, but when I squint, it's close enough for me. (more…)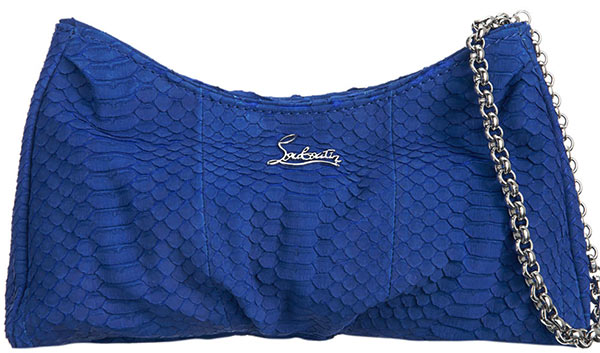 Christian Louboutin Bikini Pouch, $995 via NAP
I searched PurseBlog and realized we only have a handful of posts on (most likely) my favorite color: cobalt blue. Blue has always been my color, but there is something about a bright shocking blue that is not overly aggressive but still lures me in so strongly. Celine did this wonderfully and I count myself as one of the few and one of the lucky to own a Celine Cobalt Blue Luggage Tote.
On the other hand, I'm in a love-hate relationship with Christian Louboutin bags, but the Bikini Pouch immediately caught my attention. The royal blue stands out beautifully against the watersnake zip top pouch which is offset by a silver-tone chain link strap. The interior of course features a red grosgrain lining with a slip pocket. Many times I show a bag that I think is absurd for our Fill in the Blank category, but this week I am changing it up by showing you a bag I adore. Do you too? Buy via Barneys for $995.
Fill in the blank: The Christian Louboutin Bikini Pouch is ___________________.