Briefcases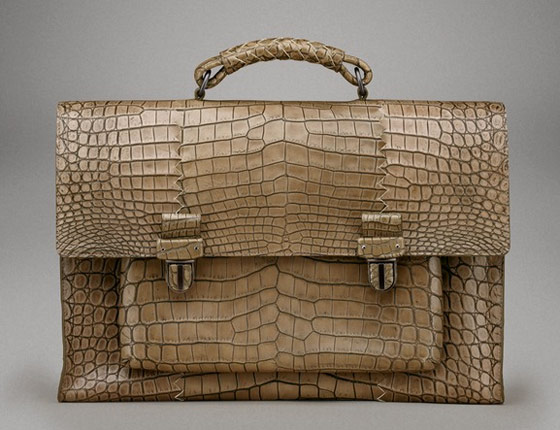 I'm not the kind of person who's prone to inappropriate effusiveness or quick superlatives, but I'm not sure what other way to approach the Bottega Veneta Uniform Cocco Lave Briefcase. Superlatives were made for this bag. (more…)
Marc by Marc Jacobs man bag today for PurseBlog Savvy, and it got me thinking about man bags in general. Most of them are fairly unisex – a woman could easily use most of them as travel or office bags. Also, many are beautiful in their own right, although they don't show up when I go looking for handbags to write about at Saks or Nordstrom. So I decided to go searching for one to gush over for the enjoyment of everyone here.
I wrote about a
And did I ever find one. The Bottega Veneta Quilted Briefcase has some of the most gorgeous details of any man bag I've ever seen. (more…)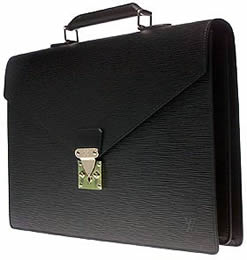 While I was tweaking the blog tonight, I noticed that the Briefcases catagory has collected some dust in the past months. Strange actually, for there is so many elegant and chic briefcases to talk about. I figured I might as well freshen things up. And why not go all out with my favorite of all, the Louis Vuitton Ambassador Briefcase. I want it, now. Worked in LV's textured Epi leather, it truely does not even need an LV logo at all. It features a classic s-locl closure and a lined interior with pockets for cell, wallet and miscellaneous other accessories. An exterior back pockets rounds of the 16 by 12 inch briefcase. How very lovely, once I get done with my grad studies, I sure know what I'll be sporting to work. At a price of over $1,800, I better start saving already. via eLuxury.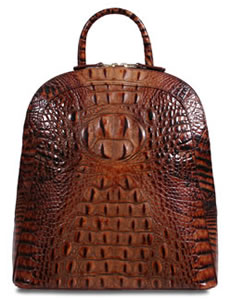 On with Viewer's Choice Tuesday, we have a designer never spoken about here. Let's all give a round of applause to Brahmin Leather Works! Hopefully we can all find something that meets our fancy on their site. Swetha, yet one more loyal reader and poster on the forum, would love for us to feature the Brahmin Rosemary Bag in Toasted Almond. Swetha said: "I was at Bloomingdales the other day and saw the bags there and positively loved the bags. The leather is absolutely gorgeous and it feels amazing. I really like the ROSEMARY design (esp. the tricolor) and the toasted almond." The color of this bag is truly gorgeous, although the name is frightening. I suppose I am frightened because I am allergic to almonds, but the name is still clever. Actually, to me this bag strongly resembles the Alexander McQueen Novak , in a much more affordable form. This bag is actually a backpack with adjustable shoulder straps. There are also some pockets for anything you may need to store in there; cell phone pocket and two organizer pockets. The overall dimensions are 11 x 11.25 x 4.25. While I'm not looking for a backpack, possibly some of you ladies are! This bag is on sale via Brahmin for $290.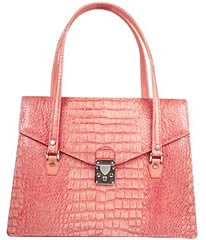 I'm all about taking over the business world. As far as I'm concerned any woman can make it out there- in fact, any person can. I tend to think of myself a bit like the character of Elle Woods, from Legally Blonde.
Before you take it the wrong way- let me explain how. I may be blonde and say some ditsy things from time to time and I may dress in all designer clothes, but I truly know what is going on in this world. Just because a woman makes it in this world, doesn't mean she needs to lose her sense of style and girliness. So why not strut your stuff with a bold briefcase that shows everyone your bold style.
The L.A.P.A. Pink Croco-style Leather Double Gusset Briefcase is made to look like croc but is actually made of embossed calf leather. The briefcase has a top flap cover with a zip top underneath and I am sure some inside compartments and pockets. Just like many briefcases, this bag is not the cheapest. Buy it online via Forzieri for $798.