Bottega Veneta
Page 3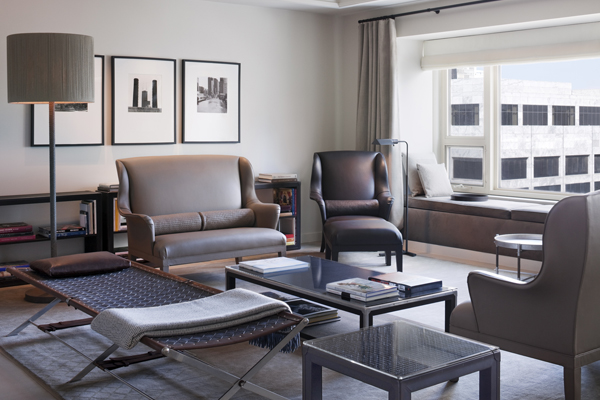 While I was reading about the gorgeous new Bottega Veneta Suite at the Park Hyatt Chicago (above) yesterday, I got to dreaming about what it would be like to stay in a room like that. Anyone who's ever picked up one of the Italian brand's luxurious handbags knows exactly how luscious and soft the leather is, and rolling around on a couch of the same provenance must be what dreams are made of. Just as I was thinking about booking a trip to the Windy City to do just that, I realized that this was likely something Bottega had done before at other hotels.
As it turns out, I was right. In the past decade, Tomas Maier has designed at least two other luxurious hotel suits, both for St. Regis hotels in New York and Rome. There also seems to be talk of a St. Regis room in Florence, but since all the pictures I find of it are the same as the pictures from Rome, we'll have to make due with just those two. Check out both setups after the jump – personally, Chicago is my favorite. (more…)
Last night Vlad and I sat down with a huge bowl of popcorn (among many other treats) to watch the 2012 Oscars. Only a few of the attendees outfits really caught my attention, but from the moment Michelle Williams graced my TV screen, I was obsessed.
She picked a stunning coral Louis Vuitton dress that was both feminine and delicate. I could not stop staring. With her perfect pixie cut and smile, Michelle Williams was the belle of the ball as her dress brought back feelings of old Hollywood glamour. And instead of picking a clutch in a color that was too safe or too match-y, Michelle opted for the iconic Bottega Veneta Knot Clutch in a girlish blush crocodile. Her look was flawless from head to clutch. Shop Bottega Veneta via Net-A-Porter.
Divine! She was by far my best dressed last night. Who was yours? (more…)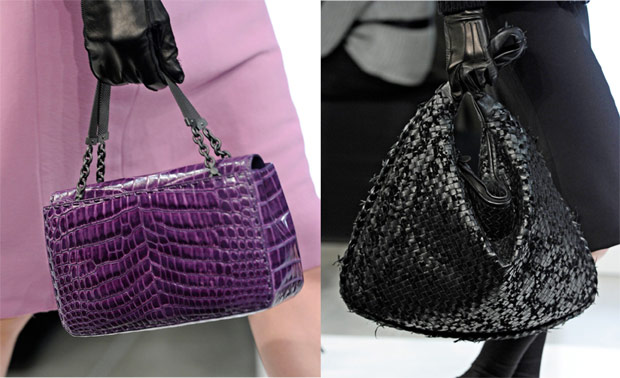 Images via Vogue.com
For a brand that uses no external logos, monograms or even so much as a tiny name stamp, a Bottega Veneta bag sure is easy to spot from a mile away. Not only does any handbag addict know Bottega's signature intrecciato woven leather well, but Tomas Maier's reign at the Italian company has brought with it signature flourishes that make the leather goods uniquely Bottega without making them any less elegant or subtle.
Maier's use of crocodile, for one, is always a highlight, and that's absolutely true for Bottega Veneta Fall 2012. I can't put my finger on exactly what it is – perhaps something in the quality of the colors that he chooses, or maybe the hardware in which its trimmed – but those bags always look not only so chic, but also so Bottega. This collection plays slightly more with layered embellishment than Maier has done in his handbags in the past, but the effect is one of slightly restrained, utterly elegant adornment. (more…)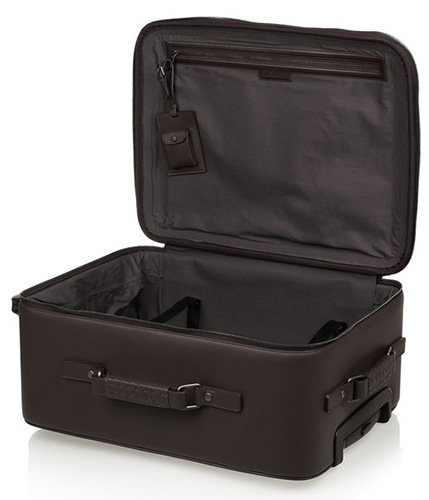 Thanks to Amanda for holding down the virtual PurseBlog fort while Vlad and I spent Christmas in Germany and the Czech Republic. I planned to do some work while abroad, but we spent every minute of every day exploring new cities and taking in the culture (and cuisine). For this reason, I took a straight eight days off work and it was glorious. But now I am back and Amanda will get a little downtime before 2012 begins.
I'm not the only person who spent the holidays traveling, as this is the season for millions to leave home. I have finally come along to the idea of having a more luxurious carry on bag, and the Bottega Veneta leather travel trolley is my latest want. (more…)
I used to associate black and blue with bruises, but going forward I will always think of this stunning Bottega Veneta Knot clutch instead. Leave it to Bottega to know exactly what I adore and design it in a way that has me going gaga. We have discussed their Knot clutch ad nauseum and my two favorite renditions have been their crocodile version and their intrecciato metal version. But now I have both in one place and that feels like Christmas came early.
With the perfect touch of sophistication, the Bottega Veneta Crocodile and Intrecciato Metal Box Clutch integrates textures and colors in a completely fashion-forward combination. (more…)