I don't always get a chance to see a bag before I write about it, but in the case of the Botkier Ava Crossbody Bag, my opinion is one based on familiarity and use. I received one of Fall 2010's original Ava bags in black from the fine folks at Botkier last year, and it's a bag I continue to use regularly. It's the perfect size for a daytime crossbody – big enough to hold your essentials and a little bit more, but not big enough to weigh you down. In fact, I've taken it out for several evenings without feeling as though I was lugging a day bag; it's one of the few designs that I own that is truly day-to-night. But the shape isn't the only thing with which I've had in-person experience… (more…)
'Tis official, the holiday shopping season has arrived! We will be bringing you gift guides and holiday picks from some of our favorite designers and stores in the upcoming weeks. To kick it off we asked Monica Botkier what's her favorite bag for the holiday season.
Monica chose the Botkier Bleecker Satchel in oro – which she is currently carrying herself. When asked why she picked this bag Monica said, "I am obsessed with my Bleecker satchel in Oro- it is the perfect bag for the holiday season! The soft muted gold color and woven chain and leather handle add a super glam element for a little holiday festiveness." And Monica is giving the bag away to one lucky PurseBlog/Botkier facebook fan!
How to enter:
1) Like Botkier on facebook and PurseBlog on facebook.
2) Leave a comment on PurseBlog's Facebook Page telling us why you want to win this bag!
We will choose one random winner on Monday, November 29th, at 10:00 AM EST. Good luck everyone and thanks to Botkier!
While the main purpose of our trip to NYC a couple of weeks ago was to find an apartment, Vlad and I knew we had to make a trip to Saks Fifth Avenue NYC to see the Botkier + PurseBlog Limited Edition Bag. Not only did we find the bag on display on the front table of floor five among the contemporary designers, but also is it featured in one of the window displays right off of 5th Avenue!
As far as high points in our blogging life go, this is one of the very top. I wanted to scream with excitement and tell everyone walking by the window that the bag on display was designed by the readers and members of our website. But I didn't – I should have, right?!
The bag is still available for sale online but it is also for sale at the Saks 5th Avenue Flagship store in NYC. If you are in the area, you must check it out!
Thank you again to Botkier and Saks for the amazing partnership. And of course, thank you to all of you – who made this collaboration one of the most reader and brand involved processes I have ever been a part of or seen!
(more…)
The Botkier + PurseBlog Limited Edition Collaboration Bag has been a long time in the making. We started with an idea, which transformed into reality when we had over 10,000 votes from all of you, and now the bag has not only been produced but also is being sold exclusively at Saks. The entire process has been nothing short of thrilling for us and I know all of you.
We wanted to make sure to integrate this fabulous collaboration with both our Twitter and Facebook pages as well, and for that we turned to the talented Dallas Shaw.
Check out the day look and evening look Dallas Shaw came up with to showcase our collaboration. Right now we have the evening look rocking out Twitter background. Both illustrations are perfectly fitting for the bag, as this neutral grey lambskin bag is the perfect accessory to transition from day to night. On top of that, we know this design will be stylish for years to come!
(more…)
We are extremely excited to be sharing this video with you not only because it has been eagerly awaited, but also because of the copious amount of work it took to turn this collaboration from idea to reality.
The Limited Edition Botkier+PurseBlog Sasha Duffle is now exclusively available at Saks.com for $635 and also at the Saks flagship store in New York City!
Enjoy the video reveal of this anticipated bag. Click here for the reveal in its full, high-definition glory.
Let us know in the comments below if you liked it!
Now that Saks officially has announced their participation, we can break the silence and share the extremely exciting news that we've had to keep secret for a few weeks.
The Botkier + PurseBlog Limited Edition Handbag, which was democratically created by our readers in a two phase process, will be exclusively carried and sold both at the Saks 5th Avenue flagship in New York City and Saks.com, starting in July!
We can not begin to describe how exhilaratingly wonderful this is. Needless to say, when we first discussed a possible collaboration with Monica Botkier and her crew, we did not envision the final product to be exclusively carried by one of the biggest fashion retailers worldwide. We are even more thrilled because it was YOU, our loyal readers and fans, who participated in the creation of this unique bag.
Stay tuned for a full video reveal of the Botkier + PurseBlog Limited Edition Handbag. A very special thanks goes out to Saks and Botkier for making this possible!
It has been a little while since we have updated you on the Botkier + PurseBlog Exclusive Sasha Bag. Finally we can preview this exciting collaboration, it was all of you who contributed after all. The exclusive bag is just about ready to be sold and we got to see a first prototype. We can say with confidence that it is far more amazing than we could have ever imagined. (more…)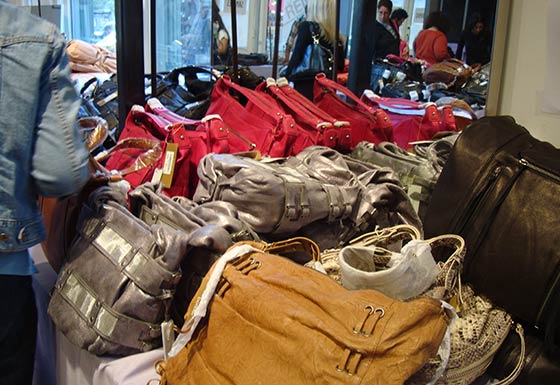 What better way to unwind after a long day of final exams than to go shopping? I know. It's hard to beat. I headed downtown to the Botkier Sample Sale to celebrate another year of college successfully finished. I had strict orders from my mother for what she wanted, and I also planned to get something for my grandmother, who's currently visiting from Mexico. As for me, I needed to purchase my first Botkier, and I was completely besotted with the Dion Satchel in chamois lambskin. (more…)
It truly is Sample Sale time! Just for PurseBlog and PurseForum members, Botkier is inviting you to their special Friends and Family night. Meaning you are invited before everyone else is, that is how much Botkier loves you all! If you can make it, don't miss it and make sure to tell them you are from PB and tPF. Click on the image for a larger version so you can read all of the details.
Also, keep checking back to PurseBlog for an update on the exclusive PurseBlog + Botkier Handbag. We will be bringing you very exciting news on this gorgeous bag and one-of-a-kind collaboration soon!
My current obsession is the hot pink Botkier Venice Hobo. Not only is it designed with supple lambskin, but it also rocks a pop of hot pink color. The Ad campaign photo is one of my favorites, simple yet striking.
Read the entire review of the Botkier Venice Hobo at PurseBlog Savvy
Spring is around the corner and we have a sneak peak at the Botkier Spring 2010 collection! In October we sat down with Monica to see what was in store for us from Botkier. On top of that, we were finalizing our amazing PurseBlog + Botkier Limited Edition Handbag.
Monica shares her a couple of her favorite bags from her Spring 2010 line. Our personal favorite from the Spring collection is the the Howard Street Bag, which comes in a great luscious pink or a blue multi-colored embossed python version.
At the end of the video, Monica talks a bit about our collaboration together. We are thrilled to be working with Botkier and know there will be many more partnerships in the future!
Make sure to vote for Phase II of the PurseBlog + Botkier Limited Edition Handbag.