Tomorrow I have the pleasure of hosting a Be&D Trunk Show and Personal Appearance in South Miami with one of the founders, Steve Dumain. I met Steve previously and have been looking forward to having the chance to see him again. What better way than to spend time together talking about Be and D bags and meeting people.
If you are in South Florida, stop by. We will be at Capretto Shoes in South Miami from 11 am until 5 pm. Hope to see some of you there!
Without knowing for sure, I am guessing the Be&D Bowery Leather Satchel is in fact named after Bowery which is a street and small neighborhood in the southern part of NYC. I am sure Be and or Steve will confirm. The reason I can 100% tell you that this bag is awesome is because of the leather. The leather on Be&D bags is beyond supple. It is so soft that you will find my oddly caressing my Be&D bag from time to time. Odd but you will see what I mean when you touch their leather.
Be&D is all about the studs, but it is a welcome treat to see a studless bag from them. The Bowery Satchel has a downtown cool feel, most likely the feeling associated with the Bowery District. The front zip pocket is perfect for easy access and there is a magnetic snap closure there. The chain shoulder strap brings a nice touch alongside the double handles. I know this handbag is simple, but sometimes simple is what we all need. Buy through Bloomingdale's for $665.
I have an obsession with soft lambskin leather. Touch is one of our most important senses which comes into play when I shop for handbags. I kid you not, Be&D has some of THE softest leather I have ever felt in my life. I can't even put into words how soft it truly feels. And then Be&D pairs that leather with rocking studs for a combo that gives you opposite ends of the spectrum which works out magnificently.
I was totally digging the Be&D Garbo Studded Leather Baguette when we recently reviewed the Be&D Garbo line. The baguette is not only a type of bread I love, but is also a fun name for the shape of this bag. There is an optional chain strap with a massive 21.5″ drop. And while I typically take off the chain strap, I loved the chain strap on this bag. Furthermore, you can double the chain strap to wear it as a shoulder bag, or leave it long to wear as a crossbody bag, or go chainless and carry as a clutch. (more…)
Tonight is the season premiere of Gossip Girl. I am attempting to hold back my extreme excitement over one of my favorite guilty pleasures. Gossip Girl not only brings the drama on screen but it also brings some of the most fashionable style on the characters. The prim and propper Blair Waldorf brought back the headband trend along with structured handbags, while Serena van der Woodsen gives us her edgy laid-back looks.
We have a sneak peak at one of the handbags you will see on the premiere tonight! A new character to the Gossip Girl set, Joanna Garcia is rumored to be the love interest of Nate Archibald. Tonight with the introduction to Joanna Garcia, whose name is Bree on the show, we see her carrying the Be & D Cosette Satchel in Navy. (more…)
Last fall we had the pleasure to meet with the designers and co-founders behind Be&D, Be Inthavong and Steve Dumain. Be&D reintroduced the Garbo when we were at the press preview and we could not have been more thrilled. In 2004, most handbag designers were sticking to the basics. At this time I was still exploring my love of handbags (this is pre-PurseBlog days). Though many bags continued to look similar, there was a standout that caught my attention. It was studs. Glorious studs on the Be&D Garbo satchel.
At the time the idea of a studded handbag was foreign. No other designer was doing it and in my mind Be&D was one of the first brands to release a studded handbag. The duo became known for their studs. So while they did follow up with other successes, like the KanKan, the studs were dearly missed. (more…)
Another day, another studded bag. If you're sick of this trend, wait a month – you'll be more sick of it. I promise. But as it stands now, I still love it, and I'm still happy to write about it. Studs have not jumped the shark just yet.
And despite my lack of love for shiny gold hardware, and in particular shiny gold studs, I can't help but enjoy the Be & D Garbo Convertible Tote. Even though it's over the top and a bit gaudy, the bag just works. (more…)
What a perfect season for Be&D to make a comeback. They first did multitudinous studs years ago, before it was popular and trendy, and then they mysteriously disappeared from the face of the earth for a little while.
Their studded bags really didn't tickle my fancy back then; they were shiny, smooth, and gold, which is really not my thing. The bags they've introduced recently have been much better, though, whether they're studded or unstudded. I'm having a really difficult time choosing a favorite; my opinion on the matter changes from day to day. But today, it's the Be&D Cosette Hobo. (more…)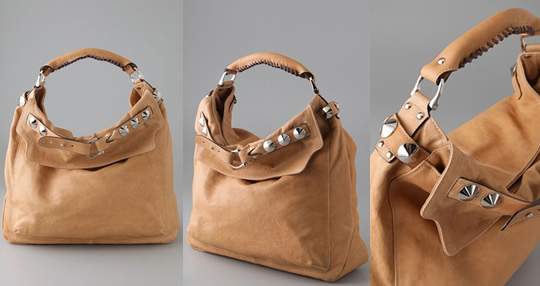 Like it or not, studded bags are a huge hit still for fall. So many of us continue to love the studded trend while others are ready for it to be over. While this may be a newer endeavor for some designers, the duo behind Be&D has been adding studs to their handbags for years. (more…)
We continue to have the pleasure of meeting some of our favorite designers, designers that I have always admired and looked up to. Meeting Be and Steve of Be&D was a total treat. The duo are inherently different yet compliment each other wonderfully. And because just one interview was not enough, we are able to share another fun read with you! Both Be and Steve from Be and D let us in on some of their Valentine's Day traditions, thoughts, and wants.
From Be Inthavong, Co-Founder/Designer Be & D
Valentine's Day, worth the hype or overrated? I think Valentine's day should be viewed like any other holiday. Do we really need a designated day out of the year to remind us to love our parents, to exchange gifts, to be thankful, and to love? I think any designated day to anything wonderful is worth it!
Your favorite part about Valentine's Day as a child: I loved buying Valentine's day cards and passing them out in class. But when I was younger, I had just moved to America and spoke no word of English. I would pass out birthday cards and get well cards to my classmates for Valentine's Day! I was glad the teacher didn't call me out on it!
Your favorite part about Valentine's Day as an adult: I'm such a hopeless romantic sucker. I love to make plans to go out and celebrate. I love dressing up, having dinner at a nice place, having drinks at a cozy bar, and all the romantic things I could think of. (more…)
When we first entered the crowded showroom back in November, we did not quite know what to expect. Our previous experiences of meeting new fashion designers had overall been pleasant ones, we did not think that meeting Steve Dumain and Be Inthavong of Be & D would be any different. Still, knowing the smashing success the two have had since 2004, one could not help but be intimidated just a bit.
Besides lots of bags on sale, this Be & D's seasonal sample sale offers shoes to the public for the first time! Sizes are 36-40.
Who:
Be & D
What:
30-75% off shoes and handbags
When:
Wednesday, November 19 – Thursday, November 20th 9am-7pm
Where:
Be & D Showroom
35 West 36th Street, 10th Floor
between 5th/6th Avenue
Examples:
Jessica Alba favorite Perry White Calfkskin Satchel – orig. $895 now $375
Mena Suvari's Beatty Black/Champagne wedges – orig. $485 now $195
Belafonte Pump: orig. $585 now $275
Georgia Satchel – orig. $795 now $295
Cosette Red Plush – orig. $995 now $495