Balenciaga
Page 8
Balenciaga bag from S/S08. Seriously, could this bag pair together a more luscious green with the right amount of an oversized floral pattern?
I have mostly all kinds of Balenciaga envy right now. And the bag that I am currently not only super envious of but also feeling like I absolutely must track one down myself is a floral
The image was pointed out to me on Twitter and was taken by AJ Mukamal, you know, the other star of Kell on Earth. I'm a big AJ fan, a big Balenciaga fan, and now all I want this Wednesday is this exact Balenciaga bag. (more…)
Moving to NYC will ensure an easy in-person shopping experience for just about every item I want to check out. It doesn't mean I will stop online shopping (hello, what are late sleepless nights for), but I will have the fashion world at my finger tips. Don't get me wrong, South Florida is filled with amazing shopping, like our hangout Bal Harbour Shops, but we all know it is not the same as NYC.
I desperately need a Balenciaga store next to me because their colors are haunting me. I can not seem to find the perfect color and much of that is because I am not seeing the bags in person. You all followed my recent Balenciaga purchase and return. The color Seigle just didn't do it for me. And now my hunt continues.
I am not hitting the checkout button just yet, but I am really digging the Balenciaga Giant City in Murier. (more…)
First off, thank you to everyone who left great comments on the post about my Balenciaga City in Seigle. Ultimately, I decided this very Balenciaga bag was not the one for me. So I returned it and it was a bittersweet feeling. I know it sounds entirely materialistic, petty, and silly, but returning this bag not only took a great bit of thought but was also kind of sad, since it is entirely gorgeous just not the right bag for me. Have you ever had that feeling when returning a bag you bought? (more…)
Even for a dedicated lover of Balenciaga handbags like me, it can sometimes be hard to remember that the brand makes purses other than their famed motorcycle bags. When the brand is mentioned to me, I always conjure up an image of a City or Day bag with giant silver hardware, but there's much more to Balenciaga's accessories that just that. If you haven't seen (and felt) the Balenciaga Chaine Bag in person, you're missing out.
BlueFly claims that this bag is made of calfskin and I have no real reason not to believe them, save for the fact that it might be the softest leather that I've ever felt in my entire life. I'm not one to exaggerate needlessly, so believe me when I say that you've got to feel it to understand just how divine this leather really is. (more…)
Seriously, I feel bad for all of you that I have taken on this roller coaster ride with me that is titled "Finding my perfect Balenciaga Bag". My problem always came down to finding the right color for my Giant City (that I was already set on purchasing). I thought maybe Anthracite would be the perfect color choice but then realized I have plenty of grey bags in my collection. So while browsing Balenciaga.com over the weekend, I felt an overwhelming feeling of excitement when I saw the Giant City in Seigle.
The color was absolutely everything I was looking for and needed. My handbag collection lacks a tan/beige neutral and I loved the lightness of the color. The color Seigle looks fresh, crisp, and stunning. I own brown bags, but nothing light like what I thought this color would bring. So I ordered the bag and paid for overnight shipping, because I HAD. TO. HAVE. THE. BAG.
Yesterday the bag arrived and I varied in feeling disappointed, to liking the bag, to being unsure if I had the right bag, to questioning my eye sight. This Balenciaga bag may not have been the exact color I expected, but in different lighting it looks close to it. That is why this leather is a true chameleon. (more…)
I did it, I finally finally did it!!! You all had to listen to me go back and forth for many months (it feels like years) over which Balenciaga bag I would ultimately buy. I had my mind set on getting a Balenciaga Bag, the decision process came down to the color. Balenciaga is known for their rich and vibrant use of color and BBag lovers wait with bated breath every season to what colors will be released from the house [check out Fall 2010 colors here]. (more…)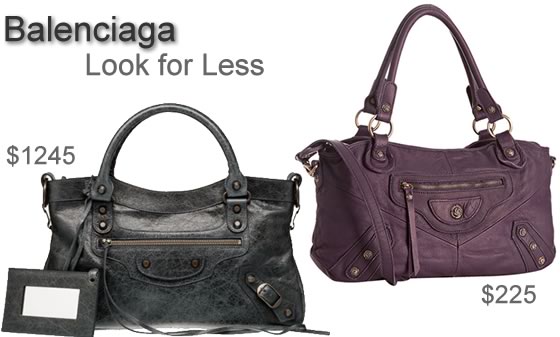 While the comparison is not spot on, there is still a resemblance between the Balenciaga First Bag and the Rough Roses Riley Bag. The good news is there are also differences; so we don't have to get into the debate of it copying too closely to Balenciaga and maybe some might like the different leather of the Rough Roses bag.
Let's take a look at the details of the two, shall we? (more…)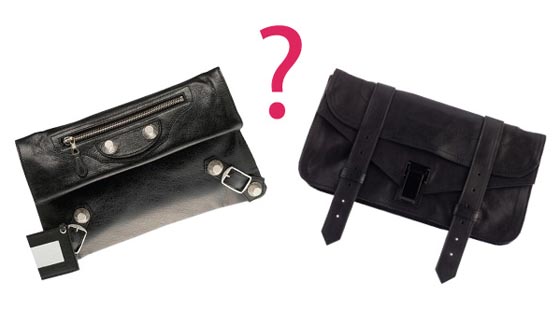 I need a new bag. It's been quite a long time since I bought one – far too long for a person that spends eight hours a day pondering the finer points of various designer purses. I'm moving to Atlanta soon and I think that getting a grown-up clutch would be a great way to mark the transition. You see, I've spent the past two years taking something of a post-graduation victory lap around my college town, and when you go to college bars, a fancy clutch is kind of a dangerous thing to have.
It's not that I was afraid it would get stolen – that would have been the least of my worries. It's just that my usual haunts are beset by sticky floors and puddle-laden bar tops, and it seemed like there would be dozens upon dozens of ways for me to ruin a nice bag in one of them. Now that I'm going to have the opportunity to frequent some slightly classier joints, I want something a little bit more appropriate. The only problem is that I can't decide which clutch I want. PurseBloggers, I need your assistance. For your convenience, I have created a poll. (more…)
When it comes to Balenciaga, I have been more of an obsesser than a buyer. I watch each collection hit stores and I spend hours stressing over which color will be the perfect choice for me. In fact, I worry and over-analyze this so much that I end up never buying a Balenciaga bag (that is until recently, when I bought 2).
Known for their array of eye-catching leather colors, it is no wonder Balenciaga has garnered a cult following over the past 10 years. The Balenciaga Fall/Winter 2010 Colors have hit the PurseForum and now I can share them with you. While color swatches of leather never give you the full effect of the end product, they are a helpful start. (more…)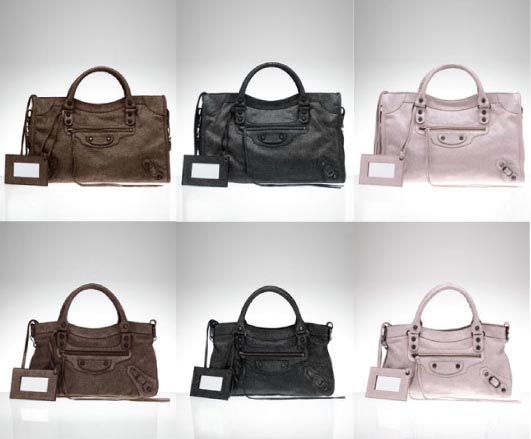 Can you believe that it's already been 10 years since Balenciaga started making their iconic motorcycle bags? It seems like it was just yesterday, but these bags have been a fashion must-have for a full decade.
To celebrate the design's anniversary, Balenciaga and Neiman Marcus have teamed up to carry a limited edition collection of six exclusive motorcycle bags. The three Firsts and three Cities will come in cracquele-finish calfskin in Noir, Bronze or Bois de Rose (pale pink), but perhaps the most exciting parts of the bag are on the inside… (more…)
As PurseBlog.com's resident Balenciaga fangirl, I'm always excited when the brand decides to expand their line of ever-popular motorcycle bags, and they've done so twice this season. Right now, however, we're going to focus on the merits of just one of those new designs: the Balenciaga Velo Bag.
To explain this bag to Balenciaga fans that haven't gotten a chance to see it in person yet, the shape is sort of like that of a City bag that has been stretched vertically. It still has an easy-to-carry medium size to it but has a bit more interior space than the City does, appeasing those that don't need something as large as the Work but still want to easily hold a little bit of extra stuff. (more…)