Balenciaga
Page 6

We don't often get a peek behind the scenes at the business and logistical decisions that go into making our favorite handbags a reality, but thanks to a recent Women's Wear Daily interview with Balenciaga genius Nicolas Ghesquiere, we now know a little bit more about one of the most popular bag designs in the modern accessories world: The Balenciaga Motorcycle Bag.
Namely, we know that it almost never existed in the first place. Ghesquiere tells WWD that he made the prototype at the behest of company brass, and they dismissed it as too soft, too lightweight and too lacking in structure. As it turns out, all the things that they thought would make it unpopular are what make the design so beloved. Those of us who have loved and adored our fair share of Balenciaga bags over the years have one group of people to thank for it: Models. (more…)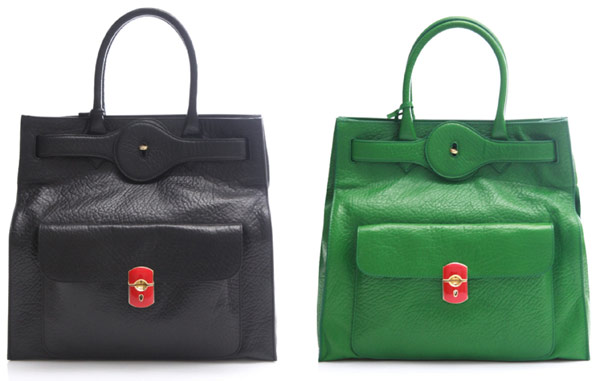 Balenciaga Padlock Totes in black or green, $2077 via Matches
I'm a big lover of Balenciaga bags both familiar and lesser-known, and often, I find myself even more attracted to the non-Motorcycle styles that don't grace quite so many arms. Don't get me wrong, though, my favorite bag I've ever own is a Balenciaga Day Bag and I doubt that's going to be changing anytime soon.
But I also have a lot of love for the bags like the Balenciaga Padlock Totes, which don't drive revenue to the brand quite like the moto bags, but are beautiful accessories nonetheless. What I'm really loving about this design in particular is the little red enamel closure at the front, which got me thinking about hardware choices and how few3 of them we have as modern accessories consumers. Gold, silver, weathered, shiny. Maybe a little gunmetal or matte black, if we're lucky. Why can't we have more color? (more…)
I've always been appreciative that Balenciaga sees fit to sell its most popular products on its website, because for a long time, that was more than many similar brands were willing to do. But in this time of exponentially increasing digital investment from fashion brands, just selling motorcycle bags and leather jackets alongside a few of the season's campaign images isn't going to cut it anymore.
And now we have a shiny, new Balenciaga.com to explore, complete with a fully stocked retail outlet, all of the images from the current-season campaign, historical information on the brand and a very cool behind-the-scenes video from the ad shoot that features some good close-ups of the season's bags and shoes. You can see the rest of the Fall 2011 campaign after the jump or check out all the cool new features at Balenciaga.com. (Really, watch the video. We can't embed it here, but it's worth a look for the closeups.) (more…)

Balenciaga City Bags, $1445 and $1795 via Barneys
The fashion industry has been talking about brights for the better part of the past year, but when I think of bright bags, I only think of one brand: Balenciaga. The French house has been cranking out vividly hued motorcycle bags for far longer than such a thing has been widely mimicked in fashion, and it will surely continue doing so long after the trend-following horde is on to the next thing. Fads shift, Balenciaga brights are forever. I should know; I've been enjoying my purple Balenciaga Day Bag since 2007, which might as well be forever in fashion years.
So if you're looking for a bag that will make you look like a veteran of the brights bandwagon and won't look dated once the trend is over, you'd be hard-pressed to make a better choice than a Balenciaga City Bag. And naturally, all of Balenciaga's bags are just about as lightweight as any you'll find on the market and very easy to carry. But you guys already know that I'm an inveterate Balenciaga fangirl. (more…)
Balenciaga Raffia Tote, $965 via Barneys. Rebecca Minkoff Endless Love Straw Tote, $250 via ShopBop
It is here, it is here!!! 'It' being summer. Well, kind of here, not totally 100% here but it is trying to arrive. With warm weather and vacation season knocking at our doors, many are working on their beach bodies and prepping their summer wardrobe. For an accessory lover, that should include a raffia tote.
While raffia totes are clearly only suited for May, June, July, and August, that is still a third of the year and that means it will be a great wardrobe addition. If you do not want to splurge on a designer option like the Balenciaga Raffia Tote, we found a look for less with the Rebecca Minkoff Endless Love Straw Tote. (more…)
Having spent all of Friday carrying my yellow Kate Spade Essex Scout Crossbody Bag around a series of furniture stores in pursuit of a new bed and mattress, I cannot extoll the virtues of a small, bright bag highly enough. Being hands-free for shopping is as convenient as you might imagine, but the flourish of color that such a bag provides is the real reason I was carrying that purse.
If you'd like something a little different than the Kate Spade bag but still in much the same wheelhouse (or if you're just a Balenciaga nut like I am), check out the Balenciaga Arena Perforated Brogues Hip Bag. It's bright, small and brimming with trendy details to get you all the way through to fall with use of both of your hands. (more…)
I'm a noted Balenciaga fangirl and would gladly carry either of the woven, multicolored Balenciaga Papier Cannage Imprime Totes, although the lighter of the two is my favorite. I have a feeling that this is going to be a controversial bag for some of our readers, though, which makes it all the more fun for a rousing game of Fill in the Blank. You guys know how this works by now – have at it in the comments.
I never turn to Balenciaga for bucket bags. But that all changed today after I saw the Arena Cross Pampille Mini in Barneys. The black version was on the shelf as well, but there was this gorgeous mint green option that I was coveting. Actually, I snapped a photo – here it is. I started to feel the itch when I laid eyes on the bag. The only thing that held me back was its size. While I appreciate a nice bucket bag, I need a long shoulder strap and a sizable body of the bag for it to work. And unfortunately, this Balenciaga bag does not get the job done.
However, if you want a smaller bucket bag with a 10″ shoulder drop the new Balenciaga Arena Cross Pampille Mini could work for you.
(more…)
You all know about my seemingly never-ending quest to find the perfect Balenciaga bag right? If you follow us on Twitter (do that now), you will know that the hunt is over. In fact, rather than it being me that finally found the one, it was Vlad who surprised me with the bag. He took away the constant worry and stress over this BBag hunt that I have been actively taking part in and simply got the job done. Matter of fact, I could not have picked a better combination if I tried. My bag is a color that I spoke of highly from Balenciaga in a hardware finish that I never considered: rose gold.
Let me tell you something, the Rose Gold Hardware on Balenciaga Bags is the perfect touch of glam. The post all about my new bag will come next week, but for now I have another option that my eyes are currently stuck on, the Balenciaga Giant City in Military Green with Rose Gold Hardware. (more…)