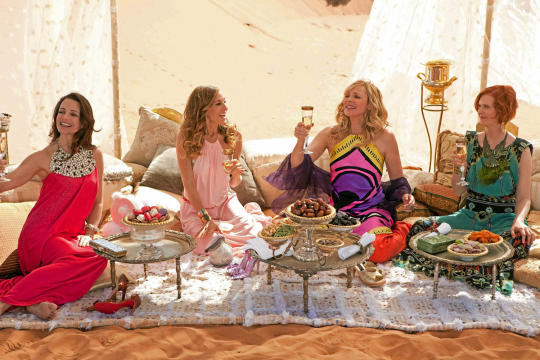 If you have the ability to read, a functioning internet connection and at least a passing interest in female-focused pop culture, you've probably read some truly and utterly scathing reviews of Sex and the City 2. I certainly did before going to see it with my best girlfriend on Saturday night, and when you combine their description of the movie with the residual anger that I'm still having over how face-numbingly awful the first SATC movie was, my expectations were so low as to be almost nonexistent.
And then, a weird thing happened: I sorta liked it. I grinned for almost the entire two-and-a-half hours, laughed out loud on more than a few occasions, and may or may not have gasped something along the lines of "OH MY GOD IT'S THE DIOR NEWSPRINT DRESS" loud enough for several rows of women to turn around and look at me, even though I already knew that particular item was going to be in the film. And it all made me wonder – what were all of those critics so angry about anyway?
Don't worry, there won't be any spoilers in my review. I promise. (more…)
Lanvin? Well I've scouted out some heart inspired handbags and accessories to get in the mood for Valentine's Day. I'd much rather receive a handbag than perfume or candy, wouldn't you? (more…)
Believe it or not, Valentine's Day is just around the corner. I am a fan of the day of romance, in spite of the overblown commercialism. A true romantic at heart I adore all things pink, girly, and sweet – but all in good taste of course. And even better if there is an edge to the sweetness! Can you say
Marc by Marc Jacobs again channels color blocking in a clever combination of hues. The "R Special Color block" collection palette reminds me of the circa 1962 Eero Saarinen designed terminal at JFK. Or at least the colors of the very chic flight attendants of that era. Very retro, in a sophisticated kind of way. It may not be for everyone, but the graphic sensibility of a color blocked handbag really appeals to me. Definitely pair these bags for a casual downtown look. Think distressed boyfriend jeans and a cozy slouchy cashmere cardigan sweater. This summer wear it with flowy puffy sleeved a-line mini dresses and gladiator sandals. I am looking forward to NYFW in February to see what MJ has up his sleeve for us in Fall 2010! (more…)
Along with his continual throwback to the'60s this spring,
chain link totes seems like an obvious choice this season. Although totes are somewhat on the practical side of the handbag spectrum, the addition of chains to ordinary totes makes them into something special. These totes featured are far from your generic 9-to-5 envelope tote and are just as adept at toting around loads of stuff during your busy weekdays. Or they would also serve a practical purpose on weekend getaways.
The trend toward
Chain straps do add a few extra ounces of weight to a handbag, so they are not for everyone. I know that when I overpack a tote I feel the strain on my shoulders at the end of the day. If you are looking for just a touch of chain link on your bag for added glam then there are also styles such as the Burberry Barbed wire that feature just a touch of chain as an accent. (more…)
rainbow hue handbags feels just right, like a breath of fresh air as we say au revoir to 2009. These candy colored bags are decadent treat, satisfying the handbag lover's craving for wit and whimsy. They also have an ulterior motive, as they will coordinate with a myriad of outfits. With at least three colors shown on each bag, there are many opportunities to mix and match with most of the items in your closet. Multi colored bags also pair perfectly with black or white for an instant dash of springtime freshness. (more…)
Not only does a new year bring a fresh start, but it reveals an interest in fresher brighter hues as we inch our way towards spring. The recent trend of colorful
Lanvin Aumoniere satin pochette. Inside you'll find a small pouch pocket with just enough space for keeping your keys and cel phone in place. The expandable sack-like shape of this bag, although small is perfect for toting your evening essentials as you welcome in 2010! (more…)
If you are in search of a unique evening bag for your holiday and New Years celebrations consider the Lanvin Aumoniere satin pochette ($750 at Net-a-Porter). This adorable petite bag has a very vintage inspired look to it. This bag could have been your grandmother's and looks just as modern today as it might have fifty years ago. Translated as "little pocket" the Lanvin Aumoniere is made of classic black satin and features satin drawstring handles which gather up to close the bag. There is also an optional gold-tone metal chain strap which I think detracts from the elegant simplicity for of the
Coco duffle has been one of the most sought after bags of the season. Congrats to you if you can get your hands on one. It is sure to become a future classic. Wang's relaxed, clean lined modern style has set the ball in motion for more handbag designs such as this slouchy shoulder bag ($780 at Net-a-Porter). Exclusive to Net-a-Porter, this Alexander Wang handbag is perfect for those of you on the wall as to whether you covet the blue denim printed suede or black stamped leather. Now you can have the best of both worlds – black leather and blue suede denim in one handbag. I am also on the fence about this bag, in one sense it is over-sized and unstructured which I love. I also am excited about the dual straps which open on either side instead of a single strap. (more…)
Alexander Wang's
Believe it or not the house of Lanvin is 120 years old! In the past few years the brand has enjoyed a renewed popularity amongst fashionistas, and we couldn't be happier. Of course we are fans of the house of Lanvin inspired by the Impressionists and founded by Jeanne Lanvin in 1889. The brand is famous for its pretty delicate palette, detailed trimmings, embroideries and embellishments. Lanvin's designs experienced a wide popularity in the 1920's and '30s and became an icon of roaring '20s feminine Parisian chic. Today designer Alber Elbaz's modern touches to the house of Lanvin bring a luxurious edge to its trendsetting designs. (more…)
gold metallic clutch paired with these dramatic DKNY "Dotty" snake print metallic gold sandals and your favorite little black dress? The accessories can make or break your look.
What would be more becoming at a holiday party than a decadent
An eye catching evening clutch for a holiday party will definitely put you in a party mood. Add some sparkle, just a touch. Moderation is the key to not looking like you are trying too hard. Pair the gold accessories with solid colors such as black, charcoal gray or perhaps even fuchsia if you dare. But most of all, have fun with it and rotate your gold toned accessories with various outfits, perhaps add some classics to your handbag collection in shades that are hot right now, including a shiny metallic gold, an antiqued gold and even a bronze finish. This would make a great statement piece though! (more…)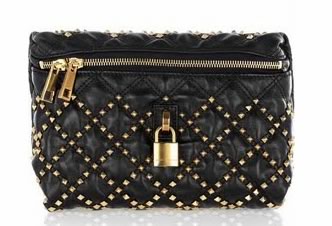 Marc Jacobs has combined two of the season's top trends into one compact clutch. The Marc Jacobs Python Thrash Clutch ($1895 at Barneys) touts a python quilted and embellished with studs. The quilting AND studs seem to be a bit of texture overdose on this very petite bag. But somehow the angular shape of the diamond shaped studs combined in a criss cross pattern of quilted stitching seems to unify the design. Although, I am a bit confused about the metal padlock which seems to be dangling without a purpose in the middle of the bag. (more…)
2.55 Chanel handbag there are a number of handbags incorporating this the quilting trend. Quilted handbags feature various patterns primarily stitched onto leather. Many of the Marc Jacobs handbags incorporate quilting into the styling of the bag as well.
As an ode to the iconic
Quilting can also be seen on accessories like this Stella McCartney Wide Quilted Waist Belt (upper left on model, $525 at Net-a-Porter) and of course winter puffer jackets. Embroidered patterns are laid out in vertical and horizontal patterns overlap to create diamond or other patterns that add dimension and texture. (more…)