It's here! A few months ago, we covered the impending arrival of this Marc by Marc Jacobs Happy Dot Mabel Tote to Shopbop. Lo and behold, it's here, and right in time for summer.
As expected, the price is rather reasonable, at $228. It's a rather large bag, though. Would you carry it? It's very on-trend with it's mixed prints, but I find the choice of prints to be rather matronly""giant dots and gingham. Surprisingly, the braided handles pull it all together and bring it out of the boondocks. (more…)
It's not even funny how much I've lusted after this Botkier Dion Satchel, but in the chamois, light nude color. In person, the lambskin is super soft and thin but strong. The ruching goes perfectly with the leather belting in the center. The two little buckles work so well with the whole design of the bag, and are similar (but not the same) as the buckles that attach to the convertible strap. (more…)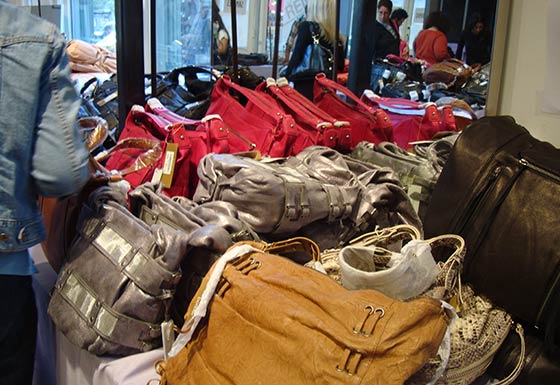 What better way to unwind after a long day of final exams than to go shopping? I know. It's hard to beat. I headed downtown to the Botkier Sample Sale to celebrate another year of college successfully finished. I had strict orders from my mother for what she wanted, and I also planned to get something for my grandmother, who's currently visiting from Mexico. As for me, I needed to purchase my first Botkier, and I was completely besotted with the Dion Satchel in chamois lambskin. (more…)
My days of being slightly frightened by Mr and Miss Marc are over, completely done with. In fact, I can barely remember why I was so creeped out in the first place! Oh, right- because they are kind of creepy. However, they're extremely cool in an odd Tim Burton sort of way. But I'm over the creepiness. (more…)
As PurseBlog's resident proponent of the bohemian style, I feel it's my duty to introduce yet another Antik Batik style to you readers. This Antik Batik Ciena Big Bag is quintessentially boho, but manages to be rather un-messy and simple as far as the style goes. That's quite a feat, no? Let's take a look.
The bag is an easy messenger shape, if slightly rounded and loose. And, gasp, it lacks the ubiquitous fringing and beading and embroidery that one might find easily on a more traditional boho bag, like, oh, anything by JADETribe. Here, there's not an ethnic print to be found. (more…)
Pour La Victoire designs admittedly awesome shoes; from tweaked gladiator sandals to cutout booties, they're all exceptionally cool. Whenever I stare at their selection on Shopbop, which is often, it's clear to me that everything they design is gold. But not so fast, Anna. Not so fast.
I wasn't aware that they were designing handbags as well until I spotted this Pour La Victoire Brown Studded Leather Megan Large Hobo. I'm a bit disappointed, to say the least. Though the shape is nice, when paired with the massive size of the bag it becomes unruly and overbearing. It weighs four pounds- need I say more? (more…)
I know what you're going to say: that this Treesje looks like it's being grasped from the sides by long, mechanical fingers, probably belonging to some incredibly fierce future android. Oh, what's that? That wasn't what you were going to say? I see. Well, that's what I imagine the bag as, so clearly I have a strange mind. (more…)
We mentioned way back when the emerging trend for perforated bags, and now it's coming full circle. Back in the fall when the trend was just being birthed, you may have scoffed. "Perforation? Who wants a bag with holes in it?" Well, remember the uber-popular Louis Vuitton neon and perforated collection? I think that answers your question, you disbeliever, you. (more…)
I have an affinity for sort of strange types of things that mesh different styles and textures, like nubby hiking socks pulled up and paired with sleek black ankle boots and two-toned tights. The other important fact is that I'm forever on the search for the elusive casual clutch. This Felix Rey Jungle Love Basket Clutch manages to fit that decidedly small and hard to fit bill.
It's difficult to make a leopard print look organic and green and slightly bohemian, but Felix Reysomehow does it, dashing my boycott of the print in one fell swoop. The texture of the woven straw makes the leopard look softer and more print-like rather than glaringly projecting an image of leopard-sexy-animal. This is good, my friends. Aren't you excited to have debunked this stereotype? (more…)
Kooba does particularly well by producing bags that are useful, functional, and chic in the most simple of ways. They always experiment with the lines on their handbags, whether they're diagonal or vertical, thin, thick, or fluted. This Kooba Millie Vertical Shopper is probably the best example of that- the lines of the bag take center stage.
Rather than relying on studs or heavy hardware to make a spring statement, this shopper goes back to what classically makes a spring bag: the color. The vibrant turquoise is all you need to know that this bag is made for the days of beach balls and ice cream trucks. (more…)