We've covered a lot of interesting bags on PurseBlog, but this Christian Louboutin Eden Vision Fur Ball Clutch takes what could be termed as an "interesting" bag and just makes it beautiful.
Of course, it's expensive for such a teeny bag, but it's mink and it's Christian Louboutin. The best thing about that, though, is that it looks amazing and subtle and understated. Most importantly, it doesn't look like this. (more…)
We've written about Foley + Corinna's fabulous line of City bags so many times that it just can't be counted. They're just shaped so well – they look easy and effortless, everything that a proper blase hipster or uptown girl wants to be. And this latest version is also miniature, like the shrunken leopard City Tote I wrote about recently.
But what's newer and edgier about this Foley + Corinna Dumond Disco City Studded Leather Cross Body Bag is that it's studded – but only slightly. Rather than just taking the same road as many handbag designers by splashing studs all over their bags, this bag does it sparingly and in an innovative manner. The studs function as the bag's hinges, which makes them look utilitarian but in the most glam way possible, of course. (more…)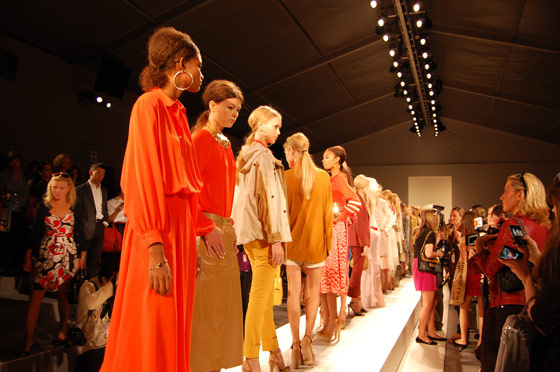 Since we've been noting a clear move from monogrammed cute to sleek and chic in Tory's shoes and bags, it's no surprise that the Spring 2011 presentation was nothing short of gorgeous. It also confirmed that the 70s really are going to be in style next spring – I know, I know, Marc Jacobs confirmed it too but Tory Burch has the power of mass appeal. Plus, her 70s-inspired pieces were paired with other items that gave them a decidedly modern twist. For example, bell-bottom pants were paired with things like a fine-knit sweater that reminded of Peruvian striped styles or just a simple long-sleeved tee. The shoes were pretty high, yes – giant-heeled espadrilles or high wedges – but there were easy sandals as well. (more…)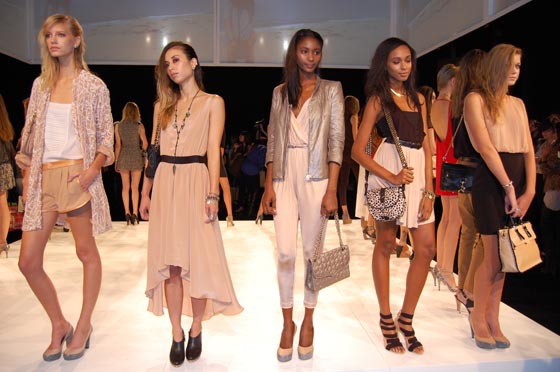 By far one of the best parts of my first week back at school was Fashion Week – I jetted (well, ok, I took the subway) to shows before and after class. But I was highly anticipating the Rebecca Minkoff Spring 2011 show, and now I can say with full confidence that it exceeded my expectations. (more…)
One of my friends likes to say that because Marc Jacobs is so amazing, he can get away with doing ridiculous thinks like having the little Miss Marc characters – and still sell bags emblazoned with her image. I'm pretty sure this Marc by Marc Jacobs Dogs of Marc Shopper qualifies to prove that her little axiom is correct.
Why? Because, while walking with the same friend, we spotted a gal slinging this bag over her shoulder. It's not a bad bag at all – just rather ridiculous. But it's ridiculous enough that it crosses the line into cuteness. Just like poppy Japanese characters. (more…)
Well, nothing. We previously reviewed the See by Chloe Slouchy Drawstring Crossbody Bag, loving it for its shape and lusciously soft-looking leather. Now, See by Chloe has made a mini version of the same bag- if there's one thing I just can't resist, it's mini things.
So besides the fact that this See by Chloe Cherry Mini Bag is miniature (yes – just like mini M&Ms and tiny notebooks, I'm not over it), I know that this patterned version is adorable because I spotted it over the shoulder of a trendy girl in the meatpacking district. Even though the leopard print might look a bit kitschy with the spots not quite close enough, in person it is pretty adorable. (more…)
It could be. And while it's a cute bag, I have a tiny problem with it. The Marc Jacobs Parachute Cammie Crossbody Bag looks, to me, like it was made out of greenish golden tin foil. Someone just bunched that stuff up and stuck it under the zipper.
But there's a general problem with this. First of all, it's called the Parachute, so the designer must know that it looks like it was made out of flimsy parachute material (which pretty much looks like tin foil to my inexperienced eye – when it comes to adventurous air travel). The other problem is that I'm disappointed with the stock photo. (more…)
I feel like I've seen this bag before. No, scratch that. I know that I've seen it before. They're all over Mexico, sold by little street vendors and made of exquisitely thick leather; so thick that the first few times the flap is opened, it has to be pried.
But this bag is the WGACA Floral Leather Mini Bag, not a bag from the streets. So is it a bad thing that it reminds me of a bag that I could buy in Puebla for less than 200 pesos (that's about 16 US dollars), or a good thing? I think it's good, mostly because I had a ton of those growing up. But maybe you don't want to get a bag for $118 that looks like it could be made for much less.
In its defense, the ones in Mexico didn't have the awesome leather stitching at the corners, though they did have the embossed flowers and you could get your name burned on there. This bag, though, exudes the effortless, slightly western and boho aesthetic that What Goes Around Comes Around embraces. I, for one, am glad to see that unity. Buy through Shopbop for $118.
As I scrolled over this Tory Burch Heidi Mini Bag, zooming to take a closer look at the details, I thought, " Of course Tory Burch is doing pigskin!". The fact is that Tory's expanding her brand, and it seems like every week I come across a new item from her line, each chicer and more forward than the past item.
Add that to the fact that I adore purple and that I hold a special place for pigskin in my heart (my personal diaries have been pigskin Smythsons for many years), and this bag fulfills an Anna recipe of success"" one of many, I may add. The best thing, though, isn't the pigskin or the purple, but all the funky and unexpected details on the bag. (more…)
We've already raved about the qualities of Beirn's unique and exotic medium: the watersnake. Am I going to do any different right now? To be brutally honest, no. However, I'm am here to make you aware of a different shape that's available in Beirn's watersnake.
It's a classic tote, and Bluefly has it in a variety of colors, from this beautiful, pooly teal to hot pink and a light, leafy green. They're easy and low maintenance bags to own, but they look like no other exotic out there (besides bearing a slight resemblance to snake, of course). (more…)
Every once in awhile, I see an article of clothing, a pair of shoes, or something, anything that makes me cringe and wonder "Why in the world would anyone desire to make something so; awkward?".
That's what happened when I spotted this Coach Julia Transparent Op Art Logo Tote on the Nordstrom website. Frankly, I'm glad I didn't see it passing by a Coach flagship store here in New York because I might have been mentally scarred. (more…)