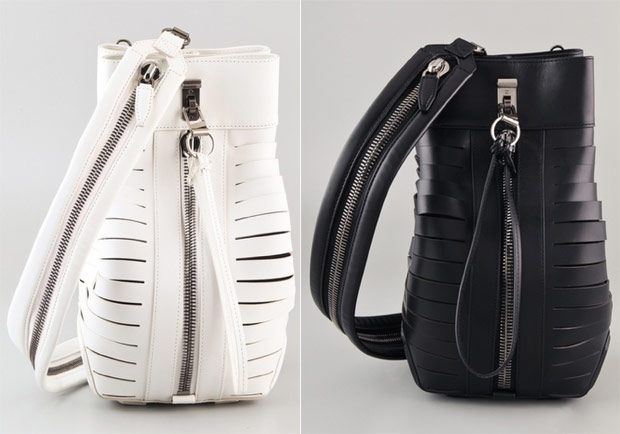 When you think of golf, what designers do you think of? I'm guessing that your mind probably went immediately to a company like Ralph Lauren or Lacoste, both of which go out of their way to associate themselves with the leisurely sport. If you're super preppy, maybe you even thought of Lilly Pulitzer and her bright printed shorts. The last person on your mind (other than maybe Rick Owens) was likely Alexander Wang.
And yet, fans of the brand know that on his Spring 2012 runway, Wang was inspired by a number of athletic activities, and the golf influence among his bag designs was impossible to ignore. In fact, some of his handbags looked nearly big enough to hold an actual set of clubs, with the Alexander Wang Small Golf Bag providing an alternative that can actually be carried. The question is, though, would you carry it? (more…)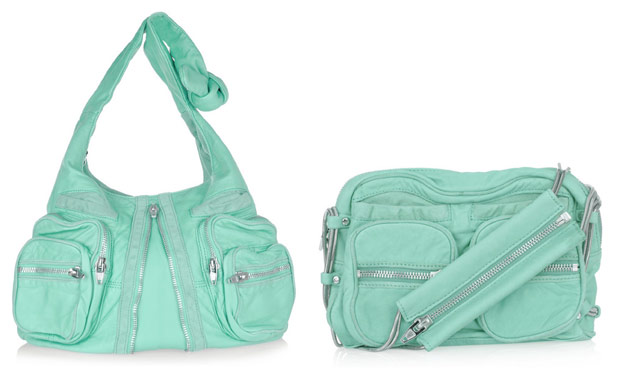 When Spring 2012's shows were done and it had become clear that pastels were one of the biggest trends in accessories that the season had to offer, I was somewhat disappointed. Pastels just didn't feel as exciting or vibrant as spring trends usually are, and back then, I made a mental note not to buy in when it came time to make my purchases for the season. And then I saw the Alexander Wang Donna and Brenda Bags in mint leather, and my mind changed entirely. Who would have guessed that prince of darkness Alexander Wang would bring me over to the light side? (more…)
When I posted about the Alexander Wang Fall 2012 runway bags a few days ago, some of you seemed concerned that Wang was going too grown-up and leaving his young, hip downtown girls behind, at least when it comes to accessories. I promised you then that you shouldn't fret, and now I have proof by way of the Moda Operandi Alexander Wang Fall 2012 accessories pre-sale.
If you're getting tired of the Rocco, Wang has a slight reboot ready in the Alexander Wang Rockie Bag. The weekenders and clutches that dominated the runway will be known as the Pelican line, and the best of the bunch is one we're just seeing for the first time – the quilted Alexander Wang Pelican Satchel, above, which retails for just under a grand. There are also new versions of old favorites like the Emile Tote and the Marion Shoulder Bag. Check out all the bags from the presale after the jump, or get to ordering at Moda Operandi. (more…)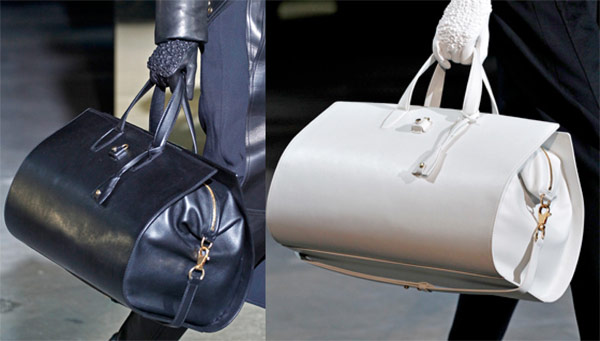 Images via Style.com
As Alexander Wang's line grows and grows, he shows fewer and fewer bags on the runway, much to my dismay. Alexander Wang Fall 2012 yielded enough accessories for us to get an impression of what we should expect come fall, but too few to really satisfy my curiosity as a Wang fangirl. I'll be waiting impatiently for images of the full line to emerge.
Until then, it seems like we're in for a little bit of Wang by way of Louis Vuitton, at least where the runway bags are concerned. Big, crisp duffels and smaller clutches alike sported locks and clochettes that were more reminiscent of the great French accessories houses than Alexander Wang's particular brand of downtown cool. A more complete look would have been nice, but my interest is piqued and I'm looking forward to seeing the entirety of what Wang does with the somewhat foreign elegance of these handbags. (more…)
Shop Alexander Wang bags via ShopBop
I am much more of a college football fan than I am a pro-football fan, but since moving to New York City, I've begun embracing the Giants and will cheer them on tonight. I love Super Bowl Sundays for the commercials, food, and casual clothing. To show my support for the team I am rooting for, I gave myself a Giants manicure, and to finish off the perfect football Sunday look, I am carrying my oddly amazing Alexander Wang Football Clutch. A total novelty bag, this football shaped clutch from Alexander Wang is the perfect accessory for Superbowl Sunday.
What team are you cheering for?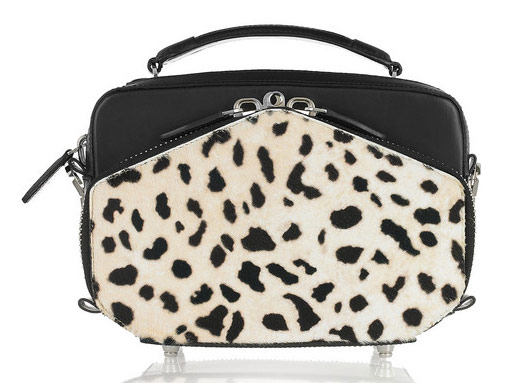 Happy Chinese New Year and welcome to the Year of the Dragon, everyone! Since our cultural knowledge of the traditions of Chinese New Year is admittedly somewhat limited, we thought that the best way we could join in on the festivities would be by highlighting the work of one very talented Chinese American designer – Alexander Wang. After all, what better way to celebrate a culture than by appreciating the contributions of its people?
Wang's bags are likely familiar to most of you already, but he's done something a little different for Resort and Spring 2012 – he used color. The man known for black and grey did an admirable job of brightening things up and even incorporating a print or two for the new season, and today seemed like a perfect day to feature several of our favorites. Take a look after the jump and let us know how you're celebrating in the comments. (more…)