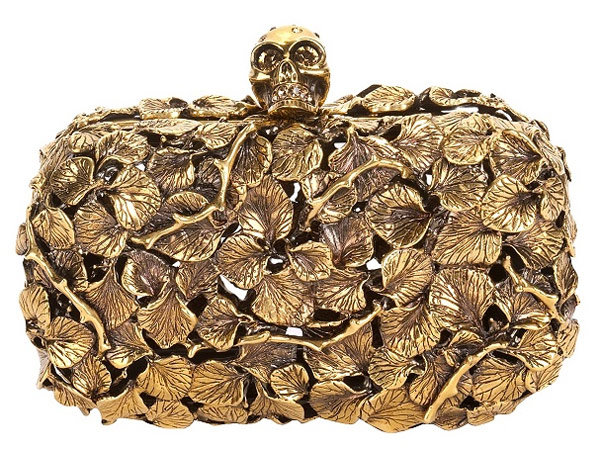 Alexander McQueen Gold leaf Metal Skull Box Clutch, $3295 via Alexander McQueen.
With the vast majority of handbags, I tire of a design almost immediately. So many beautiful options abound that I find myself in a constant state of "on to the next one," and brands that rely largely on seasons-old products with only cursory changes from collection to collection grate on my nerves something fierce. (I'm looking at you, Chloe.) If a brand is going to charge four figures for its bags, I want something legitimately new.
But for some reason, I never get sick of the Alexander McQueen Skull Box Clutches. Part of that is because many of the new versions are wildly creative and do a great deal with the limited visual real estate of a box clutch, but that doesn't tell the whole story; I love the plain leather versions too, even though I've been seeing them season after season for years. For me, these clutches are as close as it gets to a perfect product. Let us know which bags keep tickling your fancy, season after season, in the comments. (more…)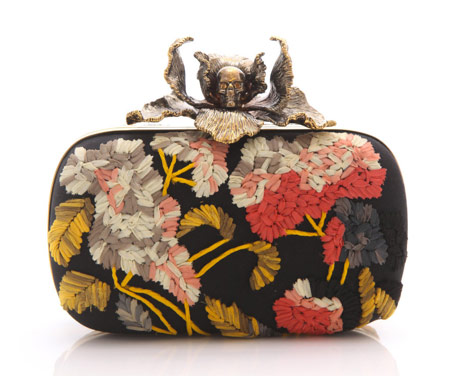 The Alexander McQueen Iris Skull Clutch is one of those bags that needs to be seen in the largest photo possible at all times; at a distance, you might mistake the detailed embroidery for printed fabric, and that would be a tragedy indeed. A bag like this can look like a hippie craft project without a very careful hand, but Alexander McQueen Spring 2011 took flowers and butterflies and someone manages to make them look beautifully transgressive. The juxtaposition of a skull with delicate flowers is something that only McQueen can pull off in a high-end way. (more…)
After Rachel Zoe confirmed her pregnancy, the fashion world began to buzz about her stylish baby on board. While many speculated if she would have a boy or girl and what her baby would be spotted wearing, I was busy wondering what diaper bag Rachel Zoe planned to carry.
Luckily, Rachel Zoe shared with us that she is going bananas for her Alexander McQueen diaper bag. (more…)
Sarah Burton had large shoes to fill when she stepped in at Alexander McQueen. But her transition has not only been seamless but has also continued to bring us gorgeous pieces. Right now I am absolutely obsessed with the Alexander McQueen 3D Hobo. While Neiman Marcus describes this bag as flower-detail, I would like to clarify: this my friends is black leather cutwork leaves. In a time when we have come to expect florals from the likes of Valentino, I feel refreshed with this look from McQueen.
Truth be told, leather flowers are gorgeous but with these floral leaves we have an earthy spirit brought to the design. The Alexander McQueen 3D Hobo is an ethereal beauty, and I can not stop any part of me from wanting it. (more…)
When it comes to Alexander McQueen accessories, the box clutch with skull clasp closure is iconic. With countless renditions ranging from plain leather to overall studded, there is an option for everyone out there. I always enjoyed the studded versions, but I also never saw myself carrying one. I like a little bit of spunk and rock, but I have my limits.
Even though ample studs take over the front of the Alexander McQueen Brittania Punk Leather Box Clutch, the perfectly toned down green leather offsets the studs in a manner that leaves the final product much less harsh. (more…)
Spring 2011 bag collections have already started to emerge for preorder on all of the major luxury retail websites, but some brands are quicker about having their items posted than others. I have yet to find any Alexander McQueen Spring 2011 handbags up for grabs, but I was able to find a few press pictures of the collection for our mutual enjoyment.
McQueen's new creative director, Sarah Burton, only showed one bag during the line's runway presentation, so finally getting to see these promo shots is enlightening indeed. Alongside the requisite fantastical skull clutches, the brand is also offering several pieces that look downright functional under their leather foliage. If these pieces are an indication of what is to come from the brand's handbags, then Alexander McQueen certainly remains in capable hands. As if spring's runway show even left any doubt. (more…)
In the last few seasons of his work in particular, Alexander McQueen became famous for the incredibly intricate, digitally-rendered patterns that he used in everything from reptile-reminiscent cocktail dresses to Hieronymus Bosch-referencing pantsuits. The prints were at first only used for clothing, but the art has made its way to accessories with the Alexander McQueen Samurai Print Canvas Tote.
Printed bags can be a bit hard to wear, but if it's doable in any season, it's winter. People tend to regress to their favorite dark neutrals when weather gets cold and foreboding, and the warm, classic-meets-modern feel of this pattern is the perfect way to incorporate some colors into a fall outfit that aren't black, navy or charcoal grey. Not that there's anything wrong with black. Of course not. (more…)
I didn't get an invitation (lost in the mail somewhere, surely) to the 2010 Emmy Awards, so I'm just going to show you a life-size picture of the Alexander McQueen Crystal-Encrusted Skull Clutch and imagine it in my hand. Because of that lost invite, I was also forced to give back my Marchesa dress and let Heidi Klum wear it, but she didn't have the clutch to pair with it. So, in that regard, I still win. Except that she's Heidi Klum, and I'm a blogger who doesn't actually own this clutch either, technically speaking.
Ok, so maybe I don't win. Either way, you can keep up with our coverage of Emmy fashion and weigh in on your favorites (and least favorites, because that's way more fun) over at BagThatStyle.com!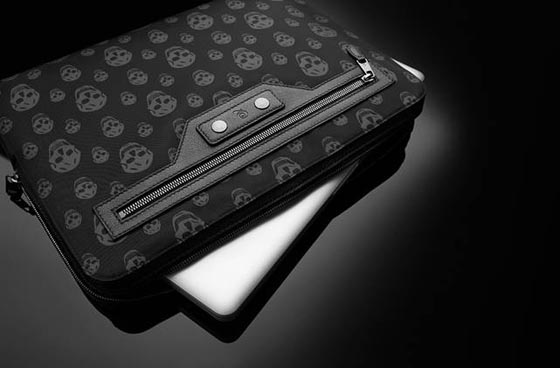 For the fashionable student who has everything (Or maybe the intrepid fashion blogger on the go. HINT HINT.), we present the Alexander McQueen Skull Print Laptop Case, available exclusively via Net-a-Porter.
Emblazoned with the same skull motif as McQueen's iconic scarves, this canvas and leather case will keep your laptop safe inside your school or work bag and look chic while doing it. If you like to get practical mileage out of your designer accessories or if you like the skulls but don't want the scarf that everyone else already has, this is laptop case is certainly not a bad way to go.
The available information doesn't specify which laptop sizes will fit, but based on its dimensions, it seems like it's intended to accomodate a a 14- or 15-inch machine. Buy through Net-a-Porter for $395.
I'm so relieved that Alexander McQueen (the brand) will continue to function after the death of Alexander McQueen (the man). He was a visionary, and his legacy deserves to be continued in the wake of his passing. By all indications, the McQueen clothing and accessories that we will see in the near future owe a considerable debt to the founder's aesthetic, just as it should be.
Skull clutches have been a McQueen accessory signature for some time, and the brand looks to continue that tradition with the Alexander McQueen Union Jack Stud Clutch. Skulls, studs and Anglophilia were all motifs which McQueen embraced, and if this bag is any indication, they're not going anywhere in the brand's forthcoming work. (more…)
You know what? This clutch may work very well for those of you that have a slight affinity for skulls but do not want too much. Alexander McQueen was known for infusing skull accents into his designs. Sometimes in masses, sometimes as a clasp closures, and now embossed.
The Alexander McQueen Demanta Leather Skull Clutch features skull-embossed black leather.
(more…)