Alexander McQueen Woven Cord Box Clutch, $2075 via Neiman Marcus
There are a lot of reasons that I'm a person who writes about handbags instead of a person who designs them, but one of the big ones is that when I think about a bag like the Alexander McQueen Skull Clutch, I have no idea how I'd move forward with it. Skull clutches have been done in basically every color, finish, embellishment and theme of which I can conceive, and it seems like we should have hit some sort of back corner of creativity by now.
And yet, we haven't. The team at McQueen continues to churn out both amazing clothes and beautiful accessories at a rate that would surely satisfy the man himself, were he around to supervise. Spring 2012 brings with it an impressive array of box clutches from the brand, and we have a few of our favorites for your perusal after the jump. (more…)
Images via Vogue.com
The first Monday back from a holiday weekend is so, so cruel. It's like a little reminder of the immutability of life; no matter what we do, the calendar marches on while we cling to our leftover turkey legs and half-eaten pumpkin pies, trying to extend the avarice a bit longer. It's Monday now, though, which means that it's time for gluttony of a different kind. A handbag kind.
To make your return to real life as soft and comfortable as possible, we've assembled a gallery of the Alexander McQueen Spring 2012 Skull Clutches, which are always so much fun to look at. They don't taste like stuffing, admittedly, but you probably don't need another helping of that anyway. (Seriously, though, pass me that pie. I'll eat it for breakfast.) (more…)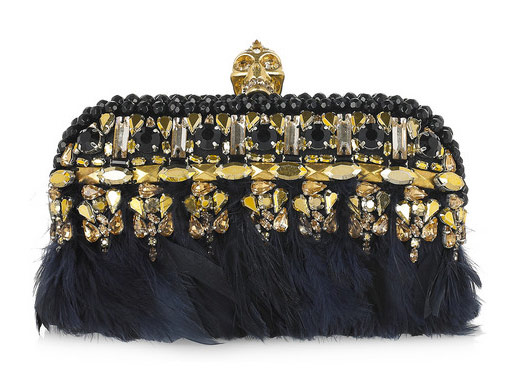 Alexander McQueen Punk Skull Box Clutch, $2720 via Net-a-Porter
We're readying a much more extensive guide to sparkly little bags for the holiday season, but while that's in the pipeline, I couldn't help but post about the Alexander McQueen Punk Skull Box Clutch – after all, it really deserves to stand on its own. Feathers and rhinestones and beads, oh my!
With the bag, McQueen manages again to do what it always does so well – successfully combine multiple heavy design elements in a way that doesn't feel overwrought or silly. The company makes that kind of light touch look easy, but it's not – just as whoever's behind Christian Louboutin's handbags. A clutch like this one is to be celebrated as something of an accomplishment. (more…)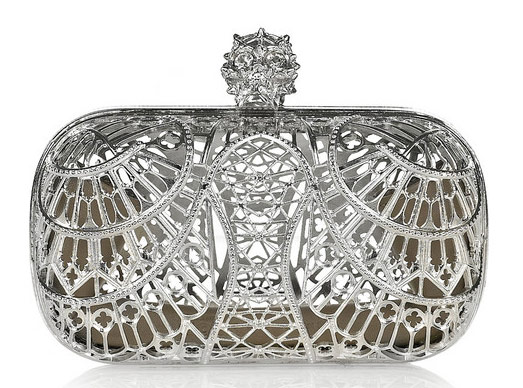 Alexander McQueen Cathedral Skull Box Clutch, $2960 via Net-a-Porter
Longtime PurseBlog readers already know how I feel about Alexander McQueen's skull clutches. They're easily my favorite line of evening bags ever, and the legacy of McQueen as a brand always manages to shine through in their design, even though a box clutch is an exceptionally tiny canvas. If I had unlimited income, I'd collect these bags, and I can't say that about any other brand on the market right now.
Without question, the Alexander McQueen Cathedral Skull Box Clutch would be the crown jewel of that collection. If I were to carry it, the bag would serve as a tiny gilded cage for my belongings, but let's face it – this is the kind of bag that I'd want to display instead of use. (more…)
Whenever I see an intense cobalt blue bag, I am in love. If someone asked my favorite color, I would explain to them that a very vibrant and bold electric blue always gets me. That is why tracking down the perfect Celine Mini Luggage Tote was one of my biggest accomplishments in the handbag world to date.
When I opened up Net-A-Porter.com today, I got that same feeling of joy upon seeing another pretty blue bag. But this is not a Celine bag, it is an Alexander McQueen bag. To further my love, the Alexander McQueen Cites Chanter Hobo Bag is designed with supple matte python skin which is my favorite way to see the skin used. DROOL. (more…)
Images via Fashionologie
You all know that I'm an Alexander McQueen fangirl, but I love the entire line just as much as I love the company's accessories. I'm particularly fond of the artistic direction that McQueen's ads have taken since his company changed hands following his tragic passing, and the Fall 2011 ad campaign is yet another reassurance that Sarah Burton was the right choice to lead the brand. The ball gown above is just as astonishing in photography as it was in the fall runway show, which means that it's the object of my lust for this week's Want It Wednesday. Two more campaign images after the jump. (more…)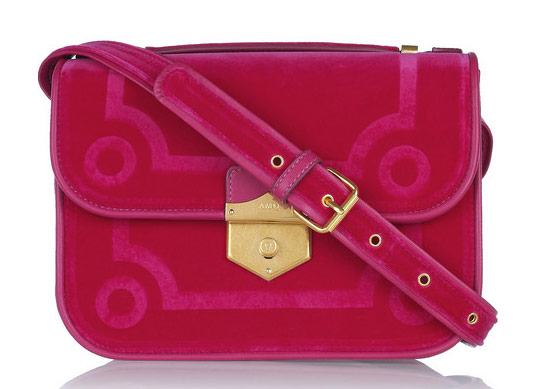 Alexander McQueen Wicca Velvet-Covered Leather Shoulder Bag, $1365 via Net-a-Porter
Designers seem to be trying to make velvet happen once again for fall, and despite being a child of the 90s and an unashamed fan of the era's grungy, highly questionable fashion, I've been slow to warm to the almost-trend. I remember having velvet T-shirts and dresses too vividly in elementary school for velvet to be an automatic winner in my mind as an adult.
But I'm a McQueen fangirl of the highest order, which means that I'm willing to consider basically anything the brand designs with an open mind. As a result, I might kind of totally love the Alexander McQueen Wicca Velvet-Covered Leather Shoulder Bag. If only I understood exactly what "velvet-covered leather" means. (more…)