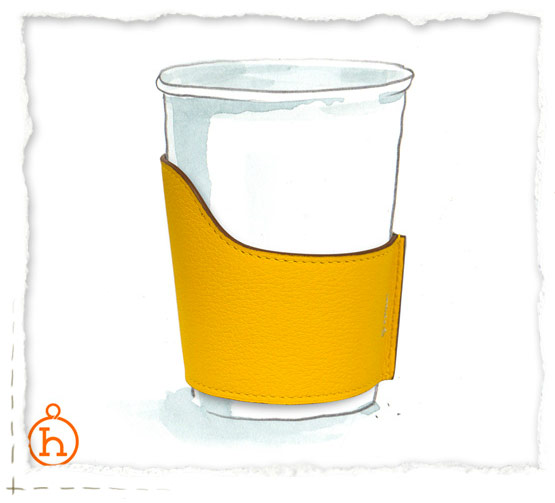 Hermes Cup Cozy, $190 via Hermes
File this under: Things I Never Expected to See.
Hermes makes a lot of unexpected products; the company has done a great job transitioning from a leather goods brand to a full-on, ultra-luxury lifestyle brand, and with that comes unexpected pieces (flask, anyone?) to help Hermes devotees spread the French leather love into all areas of their lives. Now, with the Hermes Cup Cozy, you can Hermes-ify your day from the very beginning with your morning cup of coffee. After all, who wants to wrap their $5 latte in cardboard? That's so pedestrian. (more…)
Gucci Oliver Pug Dog Key Chain, $185 via Net-a-Porter
Have any of you ladies ever seen Life with Father? It's a 1947 movie starring Irene Dunne and a 15-year-old Elizabeth Taylor, and it is absolutely hysterical. If you've never seen it, it's a great movie to watch with your mom while visiting over the holidays, if you can get your hands on a DVD copy. I can personally promise that you'll laugh more than you ever have at a classic movie.
The reason that Life with Father is relevant to a post about the Gucci Oliver Pug Dog Key Chain should be obvious to anyone familiar with the movie – in it, Irene Dunne has an unbelievably funny argument with her long-suffering husband over how she intends to get their son a suit of clothes for free from a department store by returning a ceramic statuette of a pug (which she calls a "pug dog" each time she refers to it), and the idea of returning one item to justify the purchase of another and convincing yourself that you're getting the second for "free" should sound familiar to most shopping addicts. I'd never return this cute little pup, though. Not a chance. (more…)
It's upon us, you guys. The holiday shopping season. It keeps starting earlier and earlier, but I refuse even to utter the words "holiday shopping" before Halloween is dead and buried. Today's date is November 3rd, so I guess it's time to stop pretending that Christmas isn't barreling at us at top speed and start thinking about potential gifts. For those of you who refuse to think about Christmas until after Thanksgiving, I completely understand, but I like to beat the rush.
Today, I'd like to tackle the question of what you buy for a bag lover when your budget isn't huge. Someone who regularly treats themselves to bags worth four figures is a hard person to shop for, after all, when your target price range for a gift is likely somewhat lower. For me, the perfect answer is a bag charm. All of the ones we've chosen can double as a chic key fob if the recipient would rather not hang anything on the outside of her bag, but I'd display any of these proudly. Sometimes it's fun to make your bag your own. (more…)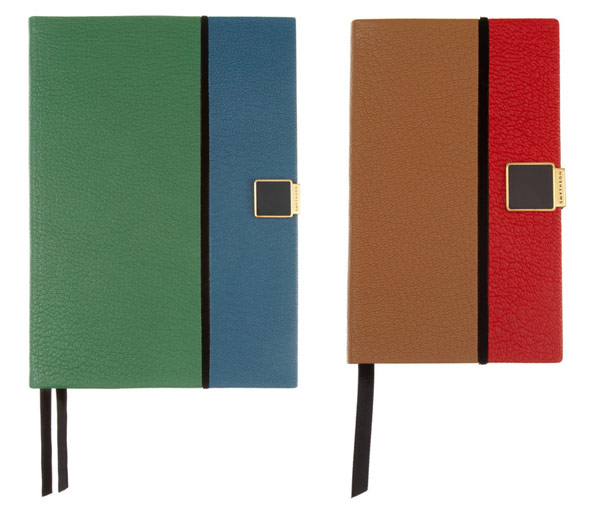 Smythson Soho Diary, $515. Jonathan Saunders x Smythson Panama Diary, $245. Both via Net-a-Porter.
I am a huge Jonathan Saunders fangirl, and it has long been my fervent hope that Saunders would dip his very fashionable toe into the accessories pool. Although Jonathan Saunders x Smythson doesn't include any handbags, the lovely colorblocked notebooks and iPad cases give me hope that some day, maybe not too far in the future, I'll get to review a bonafide Jonathan Saunders purse. Or just a wallet. I'd settle for a wallet!
In the meantime, the Jonathan Saunders x Smythson Soho and Panama Diaries will have to do. What chic notebooks to carry in your purse or work bag! I know that most of us probably use our smartphones for short notes now, but doesn't a leather-bound diary seem positively civilized in comparison? (more…)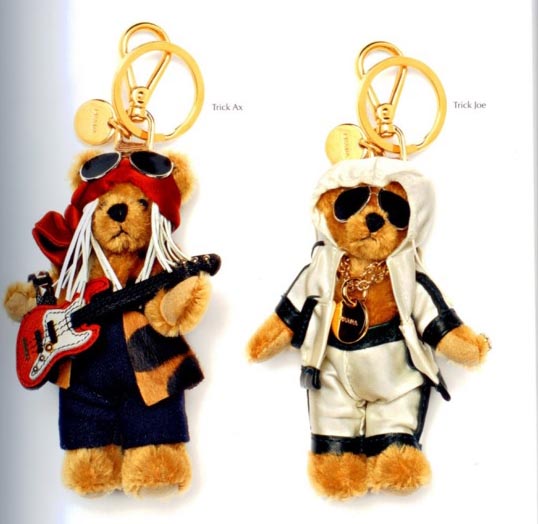 Images via Fashionista.com
You guys, it's Friday. May I repeat for everyone who's glazed over in front of the computer at work: IT'S FRIDAY. So it's time to have some fun, ok? Today, I'd like to do that with these images from our friends at Fashionista.com of the latest and greatest Prada Tricks, which is what the company calls its absolutely adorable bag charms, which are often ursine (Fancy word for bear-like, y'all. Haven't used that one since the SATs.) in nature.
Fashionista scanned these images out of the new Prada Gifts lookbook, which is why they're a tad wonky, but these little guys and gals are totally awesome nonetheless. From a thinly veiled take on Axl Rose to bears dressed as crystal-studded robots, these are the kind of whimsical, silly little things that I actually would hang from my bag with a great deal of joy. Fashionista estimates that they'll cost around $150, and we'll update you when they become available. Check out the rest of the Tricks in the gallery after the jump. (more…)
Images via Vogue.com
While cutting the photos for yesterday's post about Louis Vuitton's Spring 2012 runway bags, I almost missed this little darling. Cutting photos is mind-bendingly tedious work, and it's easy to glaze over and become something of a Photoshop robot while in the process, particularly for a show as handbag-heavy as Vuitton's. Just before I went into full zombie mode, though, I realized that a lone model wasn't carrying a bag at all, but instead a Louis Vuitton Flask.
But this wasn't the only flask to make an appearance on the Paris runways. Hermes showed one too, and it had a neck strap so that you wouldn't get sauced and lose it. How convenient! For a photo of that one (and a Friday-appropriate discussion of all the designer boozing to be done), you have to make the jump. (more…)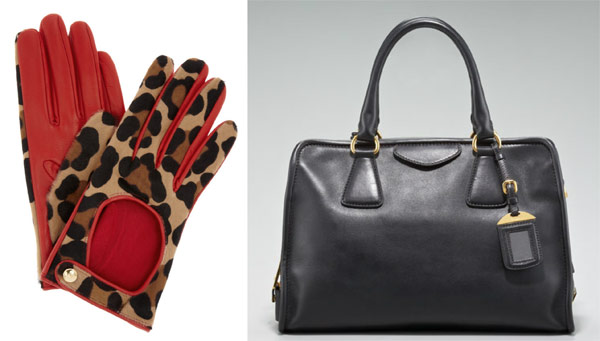 Agent Provocateur Leopard Print Calf Hair Driving Gloves, $500 via Net-a-Porter. Prada Calfskin Tote, $2500 via Neiman Marcus.
Good news: Megs and I have returned to Manhattan! Bad news: We're still getting back up to speed, so things will be a bit slow today and then totally back to normal tomorrow, and we hope that readers who were affected by the hurricane are also well on their way back to normalcy. For now, though, I'd like to spend a moment touching on my aversion to black bags.
Black, as a color, is one of my favorites. It always has been, even during childhood when most little girls fawned over pink; when everyone else in my first grade class had a pair of white Keds, I had black ones. But now, because I wear so much black clothing, wearing black accessories and shoes just feels really…dull. Even a black bag as beautiful and functional as the Prada Calfskin Tote can't make it into my wardrobe without a good game plan for spicing it up. I think that the Agent Provocateur Leopard Print Calf Hair Driving Gloves would do just the trick for fall. (more…)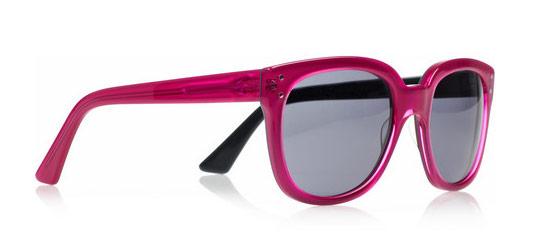 Selima Optique Amanda Sunglasses, $350 via Net-a-Porter.
Somehow, when my name comes up as the moniker for a new handbag or pair of shoes, it's always a piece that I don't like. At all. Something I'd never consider buying and likely wouldn't even wear if it were to find its way to me for free. So you can imagine my delight when I was checking the new arrivals at Net-a-Porter.com this morning and found the Selima Optique Amanda Sunglasses, which I loved even before I realized that the universe had conspired to name them after me. (Ok, they're not named after me at all. Except in my head. In my head, they're definitely named after me.) What better fodder for this week's Want It Wednesday? (more…)
I have to be completely honest: I've never been much of a bag hook girl. I completely understand the idea behind them and know that some people live for using their bag hooks, but not me. When I was first contacted by Mon Mode, I glanced over the email and gave the image a quick glance. What first caught my eye is the design of the Mon Mode Fashion Purse Hook, sleek and entirely fashion-forward with options of exotic skin and jewel like finishes. So I decided to try the hook out myself. (more…)
Over the holiday season, we go on and on about the perfect stocking stuffers. That is great for the holidays, but there are other times that we need other small 'stuffers' for different parts of our lives and today I want to bring you a great bag stuffer. As in, an accessory for your accessory that is not just taking up space but is also stylish and usable.
I use a Tory Burch Large Cosmetic Case for my makeup which has lasted me for years now. It is durable and really spacious. The large size would be overly cumbersome to pack in your everyday bag, so I only use it for traveling. But I just found the small Tory Burch Logo Cosmetic Case with burlap body and pink piping trim version that is calling my name. (more…)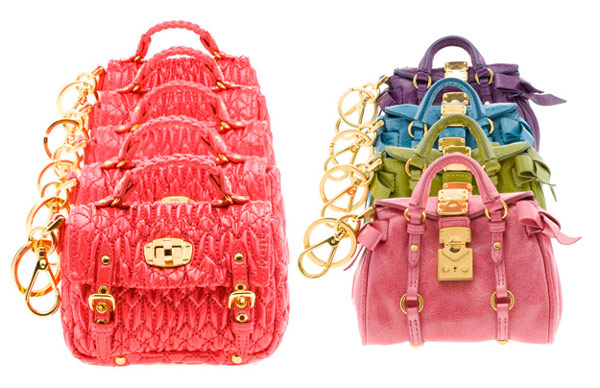 I coveted the tiny bag keychains that Balenciaga released in limited numbers last fall to celebrate the ten anniversary of its iconic motorcycle bags, but alas, I wasn't able to get my hot little hands on one in time. If you were similarly late to the bag-as-bag-accessory party, fret not; the Miu Miu Mini Bag Charms are here to give you a second chance at a very cute accessory.
These little charms look like someone too a sci-fi shrink ray to Miu Miu's regular handbags, complete with all the flaps and buckles that you'd expect from the full-size versions. The charms are priced from $115 to $380, and they're available now at Miu Miu boutiques worldwide. When you consider the prices of the real bags, perhaps the brand is on to something here. At the very least, I can't think of a more fashionable fob to hold your keys. Pictures of more styles, after the jump. (more…)