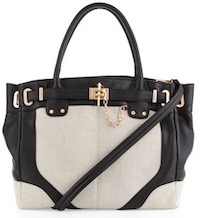 Beginning today, save 25% on shoes and handbags at Last Call!
I perused the selection and found some really nice Rachel Zoe and Foley & Corrina handbags, and some Stuart Weitzman and Frye in the shoe section. Let us know what you find!
I've been a longtime Valentino fan, and since the brand hit handbag paydirt with its Rockstud collection, it's been fun to watch how the accessories continue to evolve. When I first heard the news that the brand would release a camouflage collection, I immediately felt excitement.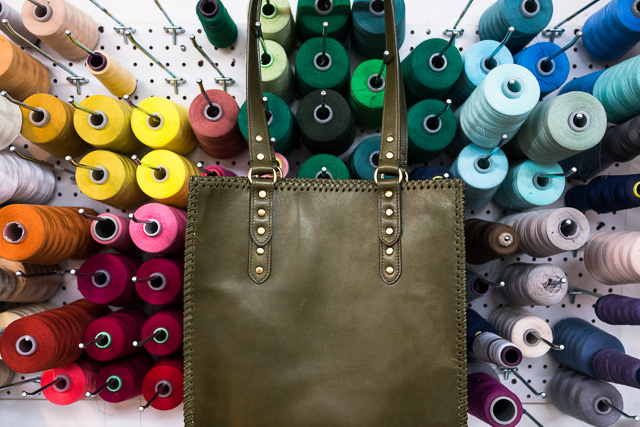 Miley Cyrus has been a busy little bee as of late, buzzing from press gig to Cosmopolitan cover party to New York Fashion Week show. Here she is in NYC rocking a bowler hat, a LOT of beaded fringe and a Versace Signature Tote.
For a long time, I held out hope that maybe, if we waited long enough, Real Housewives of Beverly Hills would give us some sort of juicy B-plot to fill out the season, beyond just the Adrienne-Brandi fight.
Marc Jacobs isn't as widely revered for his handbags as he used to be (although it's a different story with his work for Louis Vuitton), but the accessories that liberally dot his runway show every season are still just as influential within the industry as everything else the models are wearing.
The Marc by Marc Jacobs Clearly Crossbody has had me intrigued ever since it appeared on the MbMJ Spring 2013 runway. This is far from the first high-end clear bag to hit stores, but many of the others were novelty items meant for a relatively small number of consumers.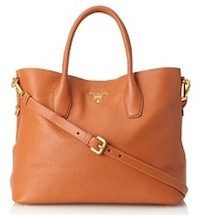 How do we love Prada? We can't even begin to count the ways. I've always thought of owning a Prada bag as the entree into a world of chic that I only aspire to be part of. Today on MYHABIT, an offering of of classic totes and bowlers in neutral colors and buttery leathers is the perfect time to take the leap and invest. These gorgeous bags will never go out of style.
Oh, and don't forget to check out the Archive: Hermes Scarves sale on MYHABIT. Both are launching at 12 PM EST. Between these two sales, your wardrobe is about to have some serious class.
Happy President's Day! To everyone who has a 3 day weekend, hope you are enjoying it! For the unlucky folks chained to their desks today, here's a little post we hope will cheer you up. Like nearly every holiday, President's Day is an excuse to throw some serious markdowns your way, and it's about time!