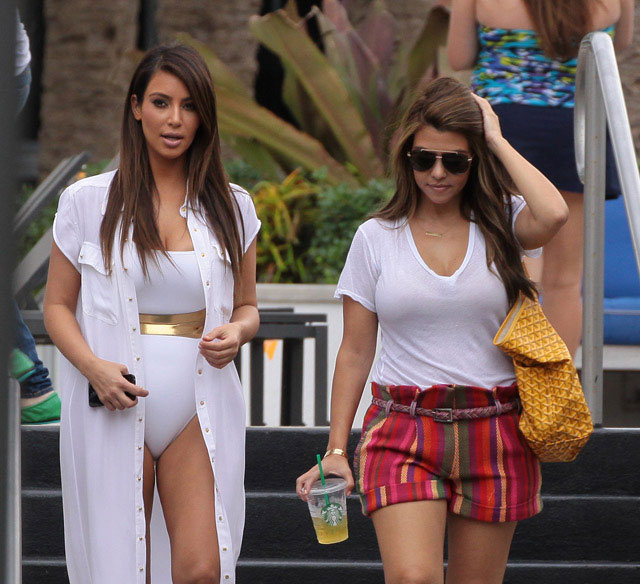 I know, I know. From the title of this post, I know what you must be thinking. Oh joy, another Kardashian-inspired post! (Apply either a sarcastic or gleeful tone, whichever you feel is correct.) The Kardashian sisters are in Miami filming yet another season of Kourtney and Kim Take Miami, and earlier in this week, Kim and Kourtney Kardashian spent a glamorous day at the beach. Well, maybe "glamorous" isn't the correct word – their presence brought out both a huge paparazzi mob and lots of rubber-neckers. So maybe for them, it was just another typical day at the beach.
Kim was spotted wearing a white one-piece Michael Kors swimsuit, a somewhat out-of-the-ordinary wardrobe choice for her killer curves, while sister Kourtney was dressed, oddly, like a totally normal person. Wearing rainbow-stripped shorts and a plain V-neck tee, her most glamourous accessory was her yellow Goyard St. Louis bag. (more…)
We were just notified of a private sale happening over at Ella Moss, purveyor of super soft pieces with a west coast style. I've always been a fan of the brand's striped, stretchy pieces and they've expanded their product offering to include sweaters, outwear and even shoes!
Now through 9/28, save 30% on select merchandise during the Ella Moss Private Sale.