Translating a winning design aesthetic from shoes to handbags can be tricky. Just ask Christian Louboutin, who has the footwear world by the tail but is still trying to figure out his perfect handbag formula. Brian Atwood, another shoe designer that inspires fainting spells among the heel-inclined, is also taking his first serious steps into the handbag arena, starting with a collection of clutches that launched yesterday on Gilt.com.
Clutches are a smart place to start for shoe designers; not only do their existing customers (buyers of many pairs of impractical, expensive shoes) likely have the lifestyle to need clutches, but smaller bags lend themselves well to embellishment and experimentation. In this small group (and no, just because the sale is on Gilt doesn't mean there's a discount), the geometrically embellished minaudieres are what really shine. The envelope clutches, on the other hand, are a bit basic, but based on his shoes, I'm sure Atwood will find his footing and expand on these ideas soon. Check out all of the clutches, priced from $1050 to $1850, after the jump, or shop now via Gilt.com. (more…)

So far in our Fall 2012 Trend Week, we've talked a lot about trends with big personality – fur, giant studs, jeweled embellishments, velvet and calf hair. The question, of course, is how do designers manage to take those bold ideas and translate them into something wearable and chic instead of kitschy and silly? For fall, the answer seems to be all about the Minimal Shapes on which those embellishments appear.
Clean, efficient lines are the thing that makes all of the season's other trends work, so that's why we're closing out or seasonal roundup with some of the best basics that the runways have to offer. These shapes provide a strong, modern canvas on which embellishment and detail can take center stage, but by themselves, the effect is still pretty nice. (more…)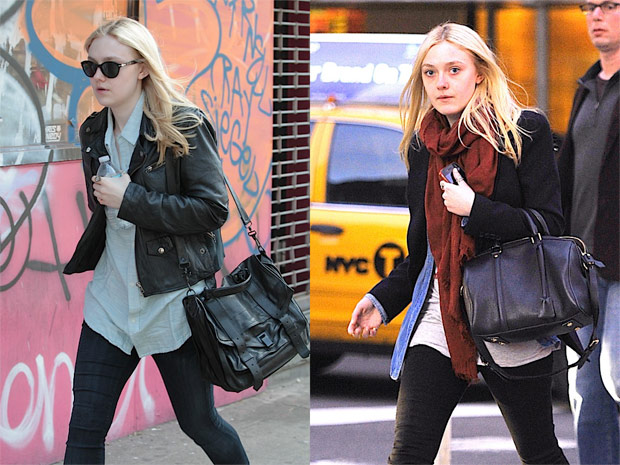 Lately we've been asking you guys to pick which celeb looked better carrying a particular bag, but today, we'd like to turn the tables a little bit: one celeb, two different days, two different bags. The star in question is actress Dakota Fanning, who I love for a lot of reasons, including that we both share the hometown of Atlanta. Dakota and I also share a love for fashion, and in particular, a sense of personal style. Based on these two outfits, at least.
The fashion industry loves Dakota because she loves it right back; both of these outfits would look perfect on most of the young women I know who work in the industry. With these looks she paired two perfect bags – first a classic black-on-black Proenza Schouler PS1, which has always been a personal favorite, and then a Louis Vuitton Sophia Coppola Satchel, which I was publicly lusting over just last week. Which look do you prefer? Check out larger images of the looks after the jump and then vote in our poll.
[poll id="91″] (more…)
Calling all Coachies, Gilt.com has an array of Coach handbags and accessories on their site today for the very first time. The classic Coach bags you have come to know and love will be offered at a discounted price and you better be ready to shop shop shop before someone else snags the bag you are eying. Ready, set, go!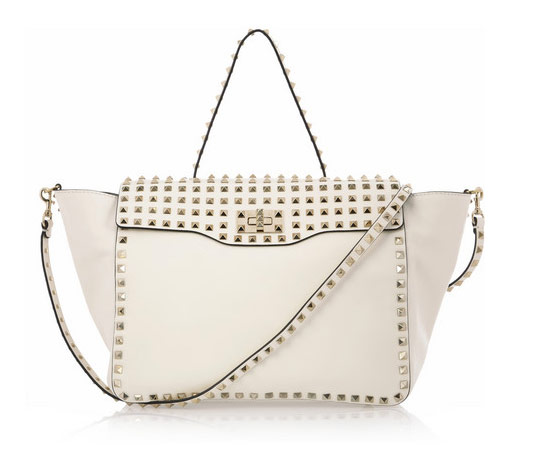 Every now and then, Megs and I will both get totally obsessed with the same designer or piece at the same time, but without really telling the other about it. At some point, we then realize that we've both been spontaneously lusting after the same stuff, and we spend several minutes gushing about how much we want something, quickly followed by much whining about how much it costs for us to make those dreams a reality.
The other day, that happened with the Valentino Rockstud Collection. And not even one bag in particular…the entire thing. Shoes, bags, whatever. Valentino came into the studs trend at the tail end, and since then, the brand has made the look into its own signature mix of edgy and ladylike. I didn't love these bags at first, but given enough time, they've grown on me in a huge way. My personal pick is the tote at top, which rings in at $2595 via Net-a-Porter, but we've got a whole selection for you to drool over after the jump. (more…)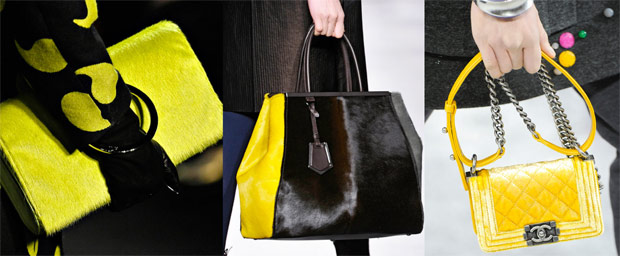 For today's installment of our Fall 2012 Trends Week, we're actually bringing you two, two, two trends in one! Calf Hair and Velvet were both all over the accessories on the Fall 2012 runways, and although I was initially tempted to split them up, talking about them together makes more sense. They're both soft, low-pile materials that have rich visual and tactile texture, and they can both look incredibly expensive when used correctly.
Chanel's collection made the biggest velvet statement of the season, using the material in saturated jewel tones on the lust-worthy Boy Chanel bags. Calf hair, on the other hand, looked best in the Tangerine Tango iteration of Mulberry's much-loved Alexa bag. In general, velvet is a more difficult material to pull off than calf hair, so unless you're going for the gold with one of Chanel's bags, use caution. Or just use calf hair, which almost always looks chic and polished. (more…)
The April issue of Vogue magazine features Jennifer Lopez on the cover and has a spread with Kate Moss inside. Much of the issue focuses on the glory and glamour of the storied Ritz Paris, which is having its doors closed down for renovation. Kate Moss took to the Ritz Paris to pose in haute couture one last time before the immaculate renovation takes place.
My favorite image by far is Kate coyly lounging in an amazing suite surrounded by a vast amount of Chanel boxes and shopping bags. This photo is helping me get through the mid-week hump, isn't it lovely?
We all know and love Moda Operandi as an exclusive website to pre-order runway looks before they ever hit stores, but the e-tailer offers more than you may realize. For one, it's not a strict members-only club anymore; all shoppers are welcome. Secondly, and perhaps most importantly, MO fleshes out its pre-sale schedule with some of the most gorgeous vintage around from time to time, and until April 3, that includes some of the most spectacular pre-owned and vintage Hermes bags on the Internet.
The menthe green Hermes Kelly ($18500) up top is my easy favorite, but the sale includes everything from several not-so-basic black Birkins in a variety of leathers to a gorgeous aubergine crocodile Travel Birkin. Prefer pastels? There are also Birkins in white and rose dragee. Feeling rich? A custom-made black and graphite crocodile 35cm Birkin rings up at $98,000. Check out all of the bags in the sale after the jump, or get to shopping via Moda Operandi (no invitation required!) (more…)
BREAKING NEWS!
Jimmy Choo just hit Rue La La on serious discount and all your Choo fantasies are about to be fulfilled. I'm having heart palpitations. Glittery shoes, buttery bags…
Stop reading. Now. Just go check it out for yourself.
Thank me later!