Last night, the Real Housewives of Orange County continued their race to the bottom by trying their hands at comedy. Slade and Gretchen, specifically, which went just about how you'd expect it to go. Because nothing else even remotely interesting has happened in Slade's life except his perpetual housewife-adjacency, his routine was all about how to hunt and capture your very own reality star.
Some other stuff happened, but it was only vaguely entertaining at best. Vicki's daughter accused her of being herpetic, Eddie made a joke that made it sound like he once peed on Tamra, Tamra tried to give Vicki some sex toys. The Orange County housewives are like the collective fart joke of the Bravolebrity universe. Adjust your expectation accordingly. (more…)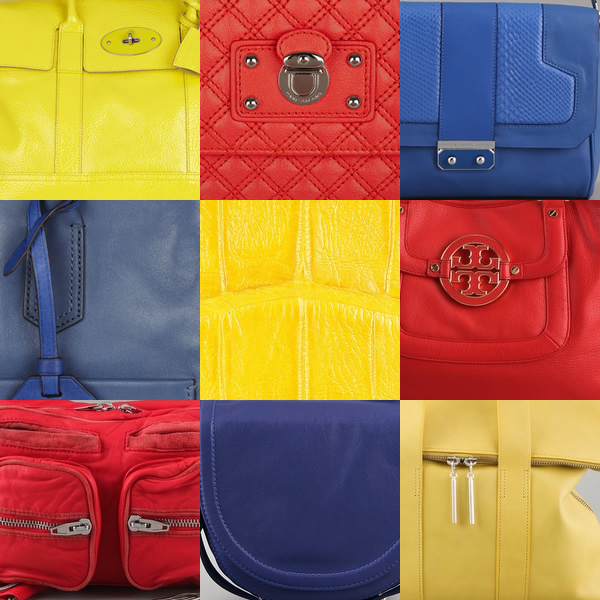 When I see red, yellow, and blue paired together I am immediately reminded of my childhood. I specifically remember my first watch that featured all of these colors and some silly designs. From these primary colors we can make a range of other colors, but today's feature is solely about red, yellow, and blue.
With many of my favorite online shopping haunts showing bright primary color handbags, I wanted to round up my 9 favorite to help you get on trend. (more…)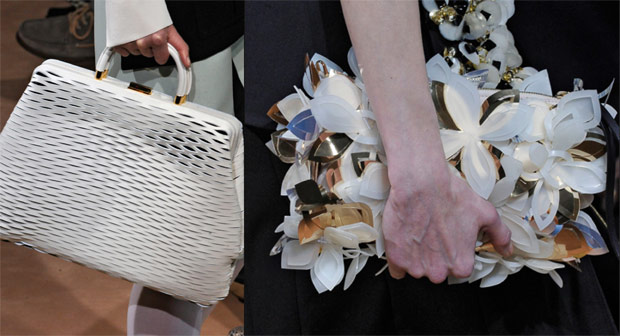 A few days ago, PurseBlog friend BryanBoy tweeted that Marni designer Consuelo Castiglioni would be the perfect replacement for Karl Lagerfeld once he's ready to move on from Fendi, and I can't help but completely agree. Marni's signature retro-minimal approach gets better and more fully realized by the season, and Consuelo's sense for accessories and embellishment keeps improving right along with it.
It probably won't surprise anyone that I think the handbags from Marni Fall 2012 are excellent. They have the signature quirky Marni look without being unappealing to the buying public at large, and the addition of a few flower-embellished pieces alongside the standard neutral leather is a welcome one. Fendi's aesthetic has been going in a similar direction in recent seasons, and just like Lanvin designer Alber Elbaz seems like Karl's heir apparent at Chanel, I hope that Castiglioni will be the woman for the job at Fendi. (more…)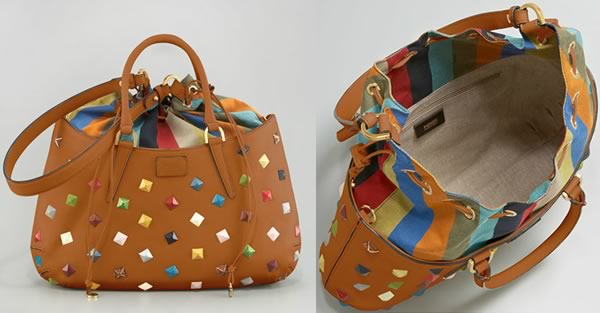 Lions and tigers and stripes, oh my! I can't help but think of the circus when I look at the Fendi Studded One + One Drawstring-Top Satchel. The pairing of a lot of color and additional texture makes this bag an attention grabber.
Fendi handbags have lost a bit of traction over the years since the heyday of the Fendi Spy, but the brand continues to make a real go at it, and I'm sure that they'll find that perfect, magic bag again. (The Peekaboo was almost there, but not quite.) This tote in particular is playful in so many ways and practical in very few. With all the multicolor pyramid studs and rainbow stripes on the drawstring-closure canvas top, it is easy to miss the double top handles, thin shoulder stap, and removable crossbody strap. But what works for some doesn't for others, which is precisely why I am leaving the judgement of this bag in your hands.
Fill in the blank: The Fendi Studded One + One Drawstring-Top Satchel is _________.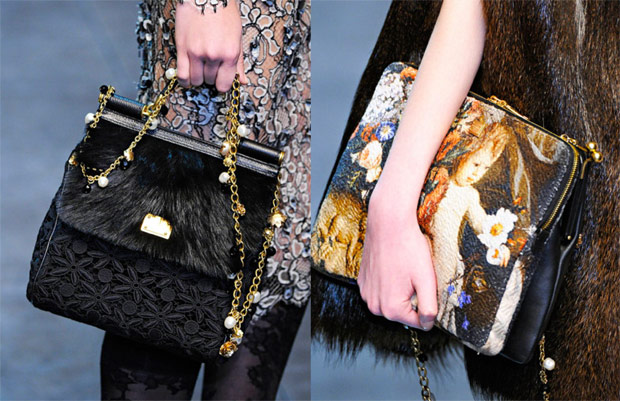 For some reason, I would really love it if Dolce & Gabbana wowed us all with an It Bag. I'm not sure exactly why I'm so interested in Dolce in particular having a big accessories moment, but every time one of their collections comes around, I mentally cross my fingers in hopes that they'll give us the next Celine Luggage Tote. Instead, every time, they give us more Miss Sicily bags.
There's not anything wrong with the Miss Sicily, of course, but Dolce & Gabbana Fall 2012 has such a grand sense of drama and fun in its exceptionally Italian ready to wear that I wish I felt like the bags were something more than phoned in. There's a little bit of floral needlepoint here and there, but in general, Dolce has given us lots of textures and sizes in the black Miss Sicily, and almost all of them feel like they've seen the runway sometime in the last few seasons. If someone told me that Dolce has a set of bags that they use on the runway every season, filled in with a few collection-specific bags to distract everyone, I'd actually believe them at this point. The brand is clearly creative and well-funded, so the choice not to do more with its huge accessories potential confuses me greatly. Maybe next season. (more…)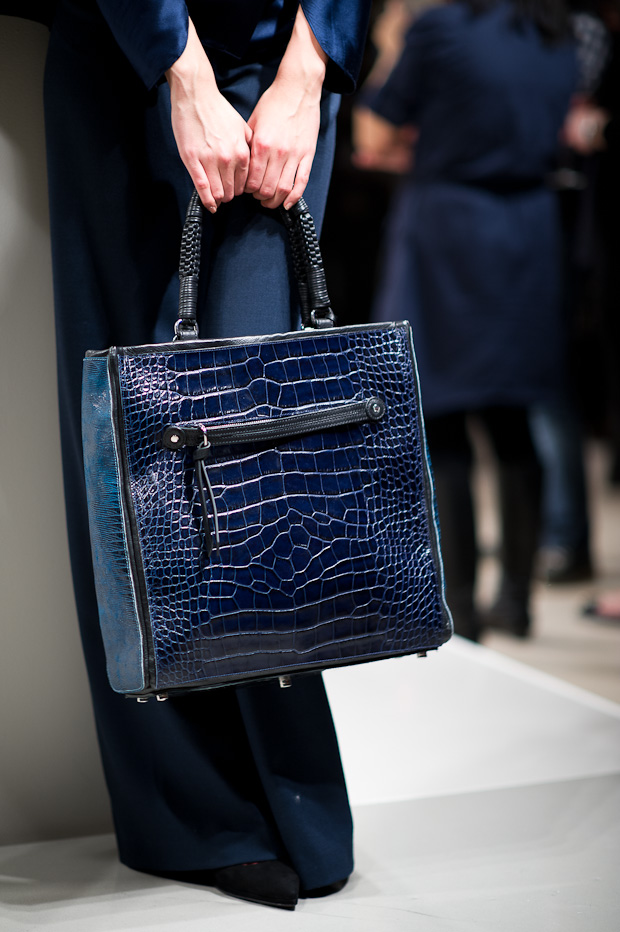 Elie Tahari Fall '12.
Moda Operandi is great for a lot of reasons, but I like it for one of the less talked-about ones: It gives us the opportunity to see a bunch of non-runway accessories immediately following a brand's runway show, long before those images would normally find their way to public consumption. That's the case with MO's presale of Marc by Marc Jacobs Fall 2012 Handbags, which runs until March 1st.
We all know about the somewhat underwhelming runway bags, but the collection really shines when you consider those pieces that didn't grace the runway. The oxblood red Marc by Marc Jacobs Irina Shoulder Bag, above, is totally lust-worthy. Thankfully, though, Marc has stayed true to the brand's price range – all of the presale options are under $600. Check out the sale now via Moda Operandi, or take a look at all the options after the jump. (more…)
Last night Vlad and I sat down with a huge bowl of popcorn (among many other treats) to watch the 2012 Oscars. Only a few of the attendees outfits really caught my attention, but from the moment Michelle Williams graced my TV screen, I was obsessed.
She picked a stunning coral Louis Vuitton dress that was both feminine and delicate. I could not stop staring. With her perfect pixie cut and smile, Michelle Williams was the belle of the ball as her dress brought back feelings of old Hollywood glamour. And instead of picking a clutch in a color that was too safe or too match-y, Michelle opted for the iconic Bottega Veneta Knot Clutch in a girlish blush crocodile. Her look was flawless from head to clutch. Shop Bottega Veneta via Net-A-Porter.
Divine! She was by far my best dressed last night. Who was yours? (more…)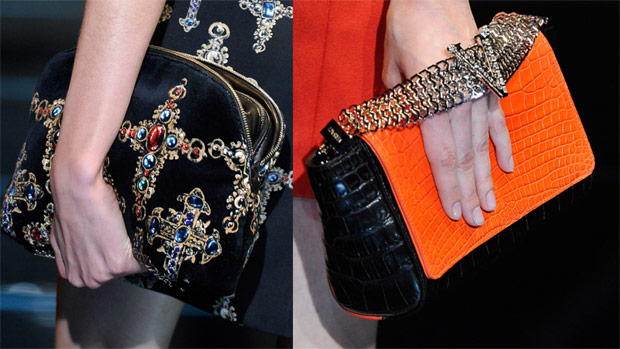 Images via Vogue.com
Before taking a look at the stills from Versace Fall 2012, I had heard the collection repeatedly described as Rooney Mara-inspired and high-end goth and all of these other things that made me think that the handbags stood a chance in hell of being really, really good. I was hopeful, you guys. Genuinely hopeful. I should know better by now. When Versace is involved, that sort of hope can only end in disappointment.
The bags in this collection could have been darkly luxurious and full of interesting detail. Instead, it looked like Ed Hardy had provided the accessories for Donatella's runway show, all tacky cross prints and unfortunate bling. Although I'm not sure if it's fair to criticize Versace for being too crassly and uncreatively 80s – after all, that's perhaps similar to criticizing Dior for being too New Look. And actually, the clothes themselves were in fact quite nice at times. The clutches, though, were terrible, and they were only saved in part by the distraction of a few bicolor croc flap bags that showed a bit of promise. Even then, Donatella just had to festoon the straps with a giant, blinged-out V, because apparently the brand can't help itself but to go at least one giant step past good taste. (more…)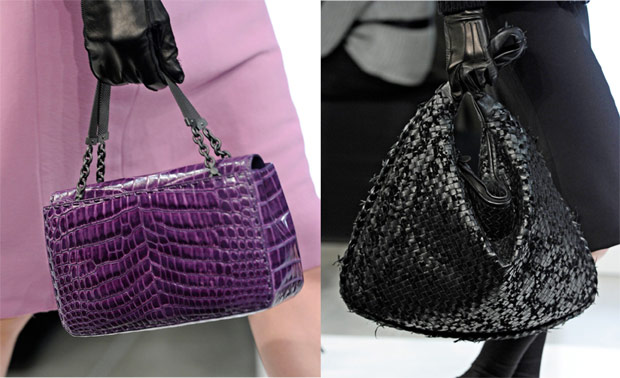 Images via Vogue.com
For a brand that uses no external logos, monograms or even so much as a tiny name stamp, a Bottega Veneta bag sure is easy to spot from a mile away. Not only does any handbag addict know Bottega's signature intrecciato woven leather well, but Tomas Maier's reign at the Italian company has brought with it signature flourishes that make the leather goods uniquely Bottega without making them any less elegant or subtle.
Maier's use of crocodile, for one, is always a highlight, and that's absolutely true for Bottega Veneta Fall 2012. I can't put my finger on exactly what it is – perhaps something in the quality of the colors that he chooses, or maybe the hardware in which its trimmed – but those bags always look not only so chic, but also so Bottega. This collection plays slightly more with layered embellishment than Maier has done in his handbags in the past, but the effect is one of slightly restrained, utterly elegant adornment. (more…)
I spent the vast majority of my life as a competitive athlete. In fact, PurseBlog wouldn't exist if it weren't for me being an athlete; Vlad and I met on our college swim team. The day I was done swimming, I was done swimming. Actually I was done working out entirely. I was burned out and ready to veg out on the couch for years.
Recently, I started to get the urge to get back in shape and going to the gym involves picking out a gym bag, which was a great way to entice myself. Right when I spotted the Diane von Furstenberg Sporty Drew python-effect leather tote, it struck my fancy. Easy to use as your city-schlepping bag, this bag will look cute while being practical to carry workout essentials. (more…)