I've never been a great fan of Real Housewives reunions in general, so when I say that part one of the Real Housewives of Beverly Hills Reunion was actually pretty interesting, I mean it. Not everything that was talked about was particularly amazing, but the way that the other cast members systematically picked at Lisa was worth watching if only for how incredibly bad they were at doing it.
Taylor also gave some very frank answers about her life with Russell and the highs and lows of an abusive relationship, all of which sounded exactly like you would expect from someone who's in intense therapy six months after the suicide of her estranged husband/abuser. I found them perfectly reasonable and satisfying, but as always, Taylor seems to be something of a human Rorschach test – people see in her what they want to see. As is customary for reunions, let's talk about the things we learned last night after the jump. (more…)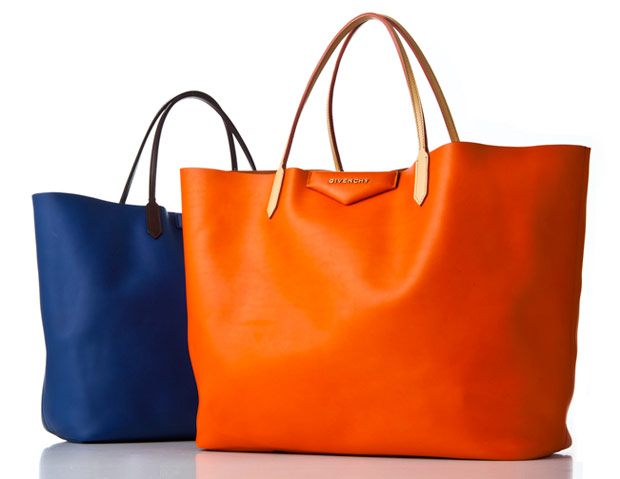 As we all know by now, Pantone announced last month that 2012's Color of the Year would be "Tangerine Tango" – a vibrant, saturated, deep orange that looks almost hot to the touch. With so many blazing bright colors dotting the runways as of late, the declaration seemed like Pantone's most accurate in a long time. When I clicked over to Bergdorf Goodman today and saw the beautiful, sunny Givenchy Antigona Tote daring me to get out my credit card, I knew in my heart that Pantone was indeed on to something big. (more…)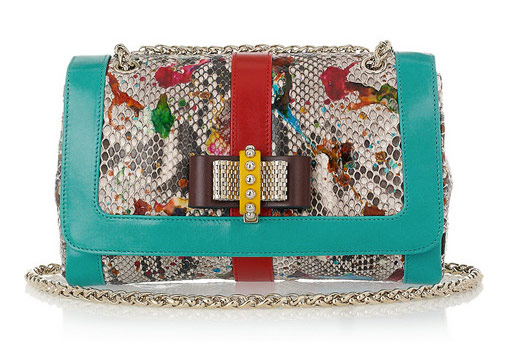 Over on TalkShoes, I've mentioned several times that the paint-splattered natural python seen on several of Christian Louboutin's Spring 2012 shoes is my favorite exotic finish that the footwear master has ever done and one of my favorite python finishes ever, from anyone. The little splashes of color add just the right amount of signature Louboutin wit to the skin without obscuring its natural beauty, and I've been in love with it ever since I saw Blake Lively wearing a pair of the shoes at the Louboutin 20th anniversary party at Barneys a few months ago. Thankfully, Louboutin has seen fit to bring the material to handabgs with the Christian Louboutin Sweet Charity Python Shoulder Bag. Still, though, something's a little off. (more…)
As the Fug Girls so eloquently put it on Twitter last night, all of the crazy that was missing from the SAG Awards ceremony fortunately found it to the new episode of Real Housewives of Atlanta. For as much as this season has been boring so far, last night really brought the drama. Marlo didn't cut anyone, but I think she was pretty close.
The episode consisted mainly of our ladies' first day in South Africa, although other than a few minutes on the deck of a yacht, they spent the entire time inside cars, boats, hotel suits and the Cape Town airport, fussing at each other about god knows what. One day down, nine more days of international vacation to go. Hopefully this will be the only argument they have through the side of a staircase. (more…)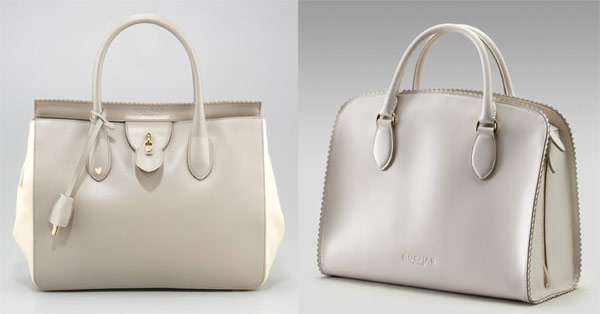 Even for someone like me who loves all manner of embellishment when it comes to accessories, the endless parade of brights and neons and rhinestones and patterns and fur and feathers and god knows what else can get a little…tiring. It's like I have fancy fatigue. Amid the cacophonous roar of Spring 2012's many trends, it's nice to occasionally get a little bit of a palate cleanser before heading back to maximalism. Today, that palate (palette?) cleanser comes courtesy of Rochas. (more…)
It's my most favorite Man Bag Monday of the season, you guys! As far as big handbag brands go, Louis Vuitton is without question the line that gives the most amount of love to its male customers instead of just focusing on us ladies. Not only does Vuitton do a full runway show of menswear in Paris during Men's Fashion Week every season, but the clothes area always accompanies by a litany of utterly gorgeous manbags.
Some seasons the designs skew more feminine than others and seem as though they might actually be intended to be carried by women and they gay men who are seriously jealous of our accessories. Louis Vuitton Fall 2012, on the other hand, was full of bags that almost anyone could appreciate – gay men both feminine and masculine, straight dudes, ladies. The color palette was one of neutral tans and greyed-out navys, with hardware and embellishment kept to a minimum. Something tells me this collection is going to sell quite briskly once it hits stores in late summer. Check out more pictures after the jump. (more…)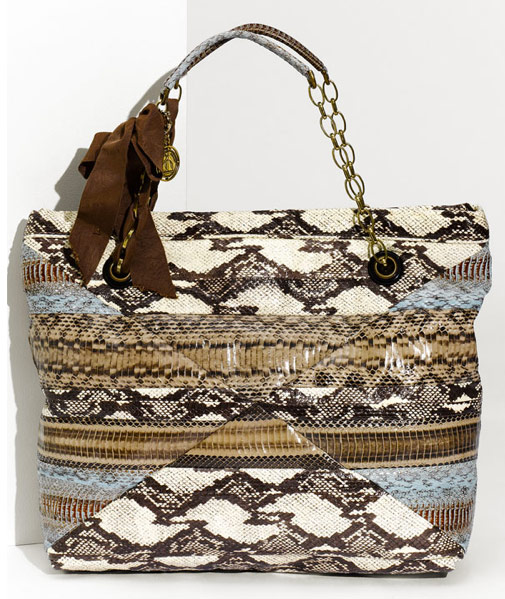 I've been trying all week to think of something appropriate to say about the Lanvin Amalia Patchwork Snakeskin Tote and I just…can't. I can't! It's Friday and I'm out of words, and this bag might be so complicated that it has now damaged my eyesight, which makes any attempts on my part to accurately review it utterly futile. So! That's where you guys come in.
In today's rousing game of Fill in the Blank, I want you to describe this tote to me. Y'all know how this works – either finish the title sentence in the comments or take a gander at this bag over at Nordstrom, where it's priced at $3498.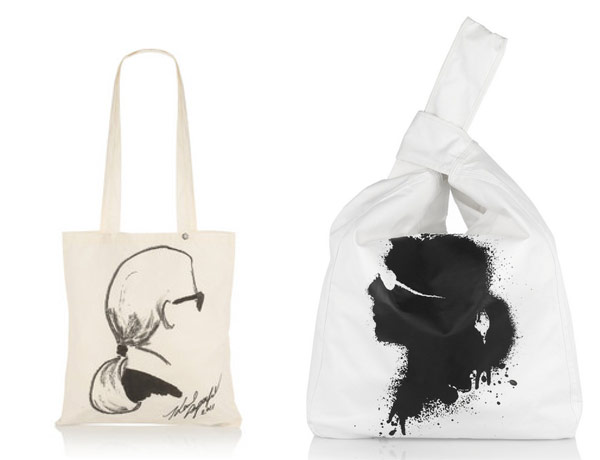 Karl Lagerfeld's aptly named Karl "masstige" (that's the portmanteau meant to denote almost-luxury items at a relatively-not-terrible price) line debuted at Net-a-Porter to much fanfare and hype on Wednesday, and I do have to admit that there were a few items I considered picked up: the faux leather pleated skirt, sequined collar, leather moto gloves, silver high-tops…okay, maybe there were more than a few. I like black, just like Kaiser Karl. But what of the handbags? And what of that slightly batty video of Karl interviewing himself, which we have provided for you after the jump? It's Friday, after all. (more…)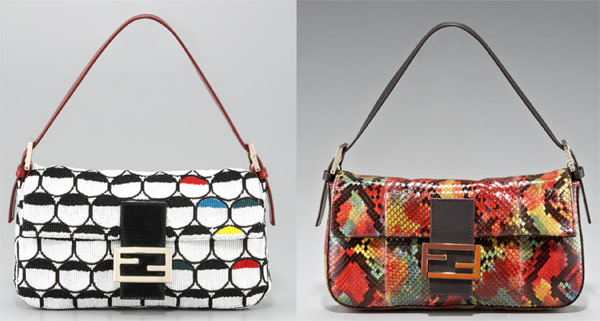 Back in October, we discussed whether or not the legendary Fendi Baguette, the first real It Bag and practically the fifth cast member of Sex and the City, might be poised for a return to prominence. Based on the Baguettes that are starting to surface for Spring 2012, I'd say that we might all be carrying Fendi in a year's time. Can I request a crossbody version, please? (more…)

Judging by the date on the calendar and the state of my email inbox, New York Fashion Week is upon us. Like everyone else in the industry, this is about the time when I look at my wardrobe and whine pathetically about how you guys, I just don't have anything to wear. While my lack of sartorial options is objectively not true, not even a little bit, it sure does feel that way when you're staring down the barrel of a week of nonstop industry events.
Given the part of the industry that we focus on over here, having good accessories is always the first priority on my list when planning an ensemble, particularly for a fashionable occasion. I'm more satisfied with my bag collection than any other part of my wardrobe, but that doesn't mean I wouldn't love a new bag, particularly a Reed Krakoff Atlantique, to debut at Lincoln Center in February. (more…)
You can always rely on Margiela for a good dose of the unexpected – a magnifying glass made to look like a pair of broken glasses, peep toe shoes that peep in an entirely different way, a clutch covered with broken reflective plastic instead of sequins. Whatever your expectations are, Margiela delights in turning them on their ear.
Similarly, when you consider a grocery bag, you probably have one material very clearly in mind – thin plastic, usually white or beige. The Maison Martin Margiela Studded Leather Grocery Bag, on the other hand, takes the expected shape and turns it totally luxurious with black leather and studs. (more…)