Thanks to Amanda for holding down the virtual PurseBlog fort while Vlad and I spent Christmas in Germany and the Czech Republic. I planned to do some work while abroad, but we spent every minute of every day exploring new cities and taking in the culture (and cuisine). For this reason, I took a straight eight days off work and it was glorious. But now I am back and Amanda will get a little downtime before 2012 begins.
I'm not the only person who spent the holidays traveling, as this is the season for millions to leave home. I have finally come along to the idea of having a more luxurious carry on bag, and the Bottega Veneta leather travel trolley is my latest want. (more…)
Images via Chanel
The posting of any Chanel collection brings a wide range of responses – joy, rage, the sounds of overcome shoppers fainting and terrified credit cards weeping. Sometimes, it also brings consternation from fans of the traditional Chanel aesthetic – where have our classics gone? What is Uncle Karl doing with our beloved brand?
For those of you who fall into that last group, Chanel Cruise 2012 Handbags should be a sight for sore eyes. Even with the addition of the Boy Chanel bags and a few new takes on the quilted flap, most of these designs are the sort of stuff that quickens the pace of a Chanel fangirl's heart. Be careful, the pictures after the jump may cause spontaneous shopping – after all, these bags are available now at your friendly local Chanel boutique. (more…)
Gucci Soho Medium Boston Bag, $1395 via Neiman Marcus
Perhaps it's merely the inevitable grind onward of the fashion industry that's causing me to feel this way at the moment, but I'm really sick of winter clothing. We've all been looking at the bags, shoes and clothes that are currently on the sale circuit since they debuted at the various global Fashion Weeks nearly 10 months ago, and although resort is starting to slip into stores, it's stil winter outside and in our closets. Frankly, I'm done with it.
Cold weather may bring with it lots of great texture for accessories, but it usually means darker colors, more neutrals and less fun. What's the best way to cure that ennui with something that is still totally appropriate to carry right now? Winter white, darlings. Winter white. May I suggest the Gucci Soho Medium Boston Bag? (more…)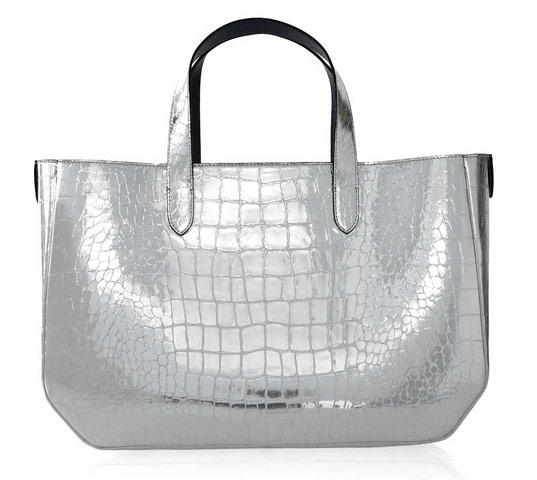 Marc Jacobs Cosmic Croc Embossed Leather Tote, $1995 via Net-a-Porter
I've been visiting my family in Atlanta for the last week, and because of the relatively temperate weather we've been having the South, I'm having a hard time remembering that the intense part of winter has yet to come. I haven't worn a coat of any kind for seven full days. It's sunny and shiny and happy outside. Snow? What's snow? I've never heard of snow.
That being said, that's probably why I looked at the Marc Jacobs Cosmic Croc Embossed Leather Tote and thought, "Oh, how perfect to take on a swanky resort vacation or pair with a sundress or, you know, whatever as long as the weather's warm!" Except that the weather isn't going to be warm for, like, four or five months. Sigh. (more…)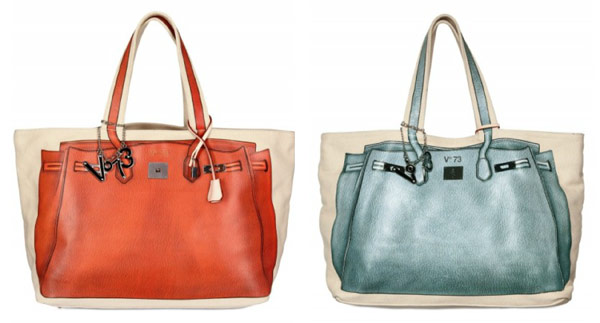 V73 Canvas Printed Tote, $265 via Luisa Via Roma
Today's start to feel a little bit like Groundhog Day, isn't it? A few hours ago, we brought to you a story about Louis Vuitton suing a media company for violating its trademarks, and now we have news of a company that thinks it's a good idea to print the visage of an Hermes Birkin on a canvas bag: the V73 Canvas Printed Tote. The day's handbag news is downright retro. (more…)
Image via Gawker
We know that Louis Vuitton is willing to sue anyone and everyone in order to make sure that its logo or name isn't used in any ways of which it doesn't approve; after all, the company sued Hyundai last year over the brief appearance of a monogrammed basketball in one of its commercials. The ball didn't even have an "LV" on it, but that didn't stop Vuitton from filing a trademark infringement complaint against the Korean carmaker. When it comes to trademark issues, LVMH is perhaps more steadfast and humorless than any other company on the planet.
The latest target in the crosshairs of the LVMH legal department is Warner Brothers, the production company behind The Hangover 2. The movie apparently contains some faux luggage that one of the characters refers to as real, which has Vuitton brass none too pleased. (more…)
3.1 Phillip Lim 31 Hour Bag, $795 via Moda Operandi
When we talked about the 3.1 Phillip Lim 31 Hour Bag last week, several of you inquired about when we might expect to see the uber-covetable bicolor versions of the bag hitting stores. It seems as though my suspicion that we'd have to wait for Spring 2012 pre-orders to drop for those bags to grace normal retailers was accurate, but look what I found in my email yesterday: the very first opportunity to get your name on the list for the bag that's shaping up to be the biggest accessories debut of the new year. (more…)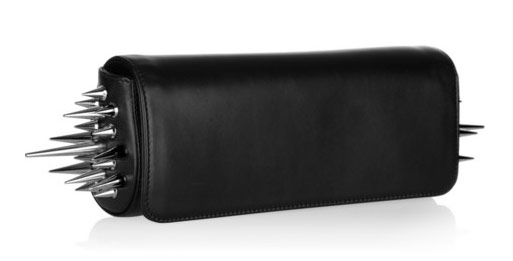 Christian Louboutin Marquise Clutch, $1295 via Net-a-Porter
A few months ago, I wrote a funny little post about bags that could be used as weapons. As fashion's penchant for embellishment grows increasingly inescapable, it seems as though most high-end accessories can be repurposed for self-defense in an emergency, and with the prices that designers charge, it's frankly nice that they have the extra utility.
If I had only known that the Christian Louboutin Marquise Clutch would be coming out, I would have waited to write that post. This bag may be the first I've ever seen that would actually allow you to stab a mugger, a cheating husband, that jerk in front of you in the line at Target, whoever strikes your stabbing fancy. I wonder if this bag could be classified as a deadly weapon? (more…)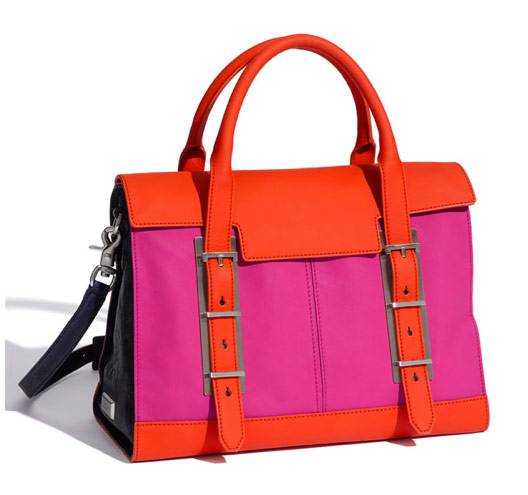 Botkier Eden Satchel, now $394 via Nordstrom
Sorting through the miasma of after-Christmas sales is difficult, no matter whether you're trying to do it in person or via the Internet while you're supposed to be working. (It's your boss's own fault for not giving you an extra day off.) That's where your friendly neighborhood bloggers come in – I spent yesterday wading through the debris of the holiday season to find you the best deals on the bags that you might actually want to buy and carry.
This season's sales are particularly heavy on contemporary bags, so if you're looking for a new accessory under $500, you're in luck. We have a few from premier designers as well (including a Balenciaga that I love), but this is the time of year to really score on the lower end of the designer price spectrum. Check out all of our picks after the jump! (more…)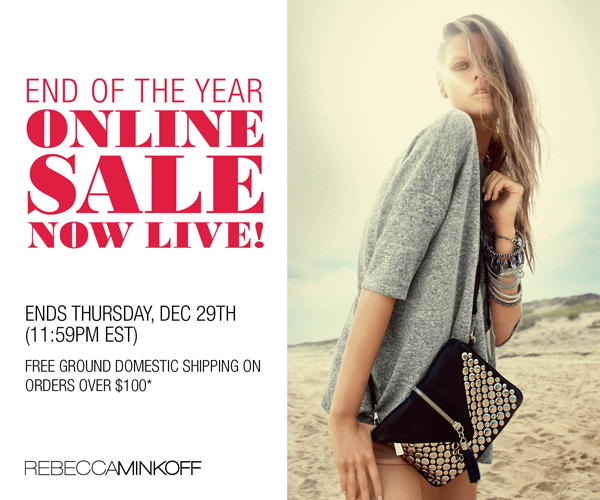 Rebecca Minkoff is notorious for her excellent day-after-Christmas sales, and this year's just launched at noon. You'll find a big selection of the year's bags, all up to 50% off! Hurry hurry…