Neiman Marcus's Black Friday and Cyber Monday sales weren't all that exciting, and now we know why: The company was holding back for its big Women's Designer Sale, which launched online this morning! It includes literally hundreds of bags, some at very notable discounts, so we'd highly recommend jumping on this sale while it's hot.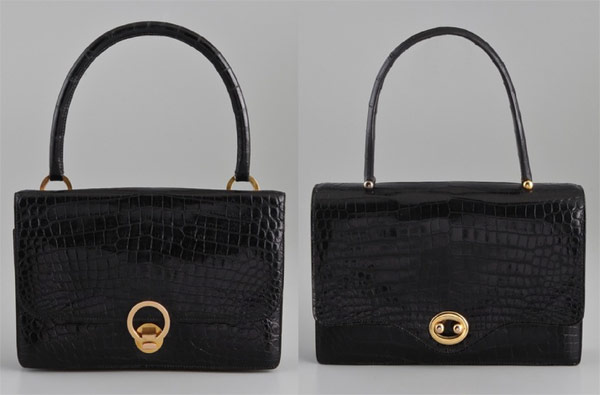 WGACA Hermes Vintage Crocodile Bags, $8000 ShopBop here and here
If you're not familiar with vintage powerhouses What Goes Around Comes Around, you should be. The New York-based retro aggregator, often abbreviated WGACA, searches out and resells some of the best pre-owned duds in the country, and today, that includes two lovely Hermes Vintage Crocodile Bags that are up for grabs via ShopBop. They're very Betty Draper, right? Or maybe they're more Trudie Campbell… (more…)
Well, that was kind of a lame episode of Real Housewives of Beverly Hills. There were some tense conversations and a fashion show, not to mention more Russell than I really wanted to see, but nothing of particular note happened. Other than Brandi's Alaia cocktail dress, anyway. Alaia is always of note.
What looks like it will be really interesting is next week's episode, so maybe Bravo thought we'd all still be in a food coma from Thanksgiving and unable to pay attention to anything complicated. Or maybe they simply thought that we'd all still be bleaching our brains in an attempt to forget last night's episode of Real Housewives of Atlanta, which is accurate. (more…)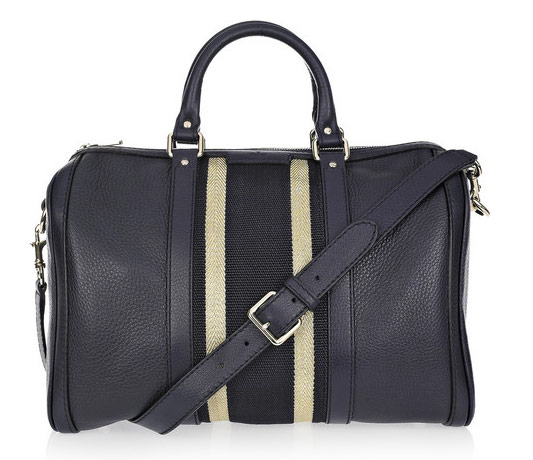 Gucci Striped Bowling Bag, $1350 via Net-a-Porter
Over the past couple months, I've written about a couple different Gucci Boston Bags – one had logo fabric, the other had a signature check flanking the webbed center stripes. I liked both, but I don't make a habit of buying bags that cost more than $300 or so if the main material isn't leather, so neither option was on my radar for personal use.
This version of the bag, though? This I can use. And would use. And maybe will use? $1350 isn't a price tag to sneeze at, but for a classic, functional leather bag (with a little bit of flair) from a highly sought-after handbag brand, it's not as bad as it could be. Particularly not when you consider how much a Louis Vuitton bag with a similar design would go for. (Hint: three times as much.) (more…)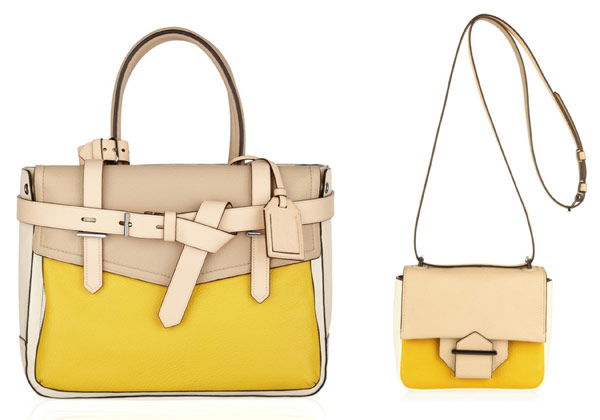 Reed Krakoff Boxer Satchel, $990 or Reed Krakoff Standard Mini Shoulder Bag, $525. Both via Net-a-Porter.
Although I'm something of a switch-hitter and can change back and forth between large and small day bags with relatively little thought (mostly because I work from home), it seems clear that most women either prefer something large and spacious or something smaller and easy to carry. Reed Krakoff, being a master of all things handbag-related, clearly wants to appeal to both groups with the Reed Krakoff Boxer Bag and Reed Krakoff Standard Mini Shoulder Bag, both in the same color palette of spring-friendly neutrals and brights. With both falling into the under-$1000 price bracket, which would you pick for yourself? (more…)
A while back, we showed you the collection of animals that British artist Billie Achilleos made out of Louis Vuitton small leather goods. I love the idea of bringing art together with fashion, and Billie tackled that challenge in an amazing way.
With the new George Street Maison Louis Vuitton location opening in Sydney, Australia, Billie created a trio of animals specially for the occasion. The Louis Vuitton Kangaroo with the baby Joey in its pouch is my favorite, but all three combine fashion and art wonderfully. (more…)
I…I don't even know where to begin. I don't know how to recap most of last night's episode of Real Housewives of Atlanta for a family website, so I hope you'll bear with me while I try to think for as many PG-rated euphemisms as possible for what went on, particularly at the very end.
Actually, never mind, let's talk about Phaedra instead. I found myself endlessly amused by her in this episode, and not in a mean-spirited, Grinch-hearted way. Other cast members have said that she's not nearly as ridiculous off-camera as she is on the show, and I think a little bit of that came through last night. Plus, she's an expert in basically everything – lawyering, home-building, funeral-having, necklace-wearing, eye shadow-applying. Phaedra's a regular ol' Renaissance woman, but she's nice enough to leave her gun in the car if you invite her to your party. (more…)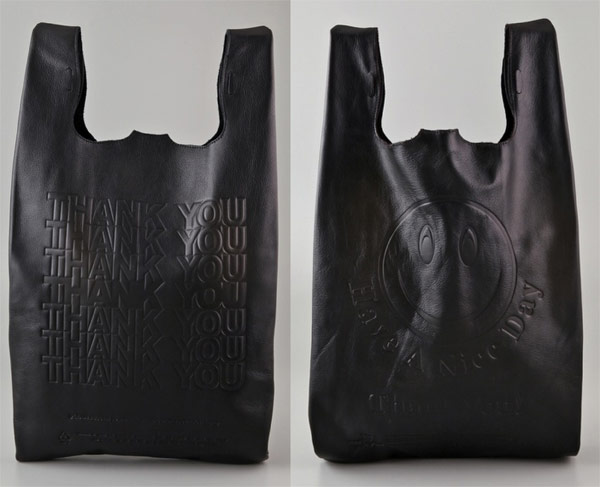 Cast of Vices Corner Store Leather Totes, $240 via ShopBop
Everyone is familiar with the plastic bags that the Cast of Vices Corner Store Leather Totes mimic, but as I've come to learn over my first six months in Manhattan, New Yorkers have have an even deeper connection to these little plastic totes. New York's healthy population of bodegas, delis and mom-and-pop takeout joints keeps a steady stream of these bags flowing into use in the city, and where suburbanites might find themselves using a Target or Kroger bag to line their bathroom waste baskets or carry their lunches to work, in New York, the odds are that it'll be one of these generic designs instead. (Or a Duane Reade bag, but I try to pretend Duane Reade doesn't exist.) (more…)
Images via Vogue.com
The first Monday back from a holiday weekend is so, so cruel. It's like a little reminder of the immutability of life; no matter what we do, the calendar marches on while we cling to our leftover turkey legs and half-eaten pumpkin pies, trying to extend the avarice a bit longer. It's Monday now, though, which means that it's time for gluttony of a different kind. A handbag kind.
To make your return to real life as soft and comfortable as possible, we've assembled a gallery of the Alexander McQueen Spring 2012 Skull Clutches, which are always so much fun to look at. They don't taste like stuffing, admittedly, but you probably don't need another helping of that anyway. (Seriously, though, pass me that pie. I'll eat it for breakfast.) (more…)
The Row Suede and Leather Doctor Bag: Was $4750, Now $2375 via Net-a-Porter
Not all sales are created equal, and when bargain-hunting, it's best to remember that if you didn't love something at full price, it's probably not worth buying it at a discount. We know that you're busy with friends and family and keeping your teenage cousins out of the leftover turkey, so we did all of the searching for you on this beautiful Black Friday. From a bag from The Row that originally retailed in the mid-four figures to a Milly bag that's been marked down to under $200 (but was still a steal at its original price), here are the bags that we've been fawning over since they first debuted, now on sale for your shopping pleasure. (more…)

Her sample sales are the stuff of legend, but not everyone lives in a place that allows them to shop Rebecca Minkoff's wares at a deep discount in person. If you've been lamenting the loss of those good deals, the Rebecca Minkoff Black Friday Sale is what you need to do with yourself today. Some bags have already sold out, so I don't want to see any dilly-dallying from you guys.